We use affiliate links. If you buy something through the links on this page, we may earn a commission at no cost to you. Learn more.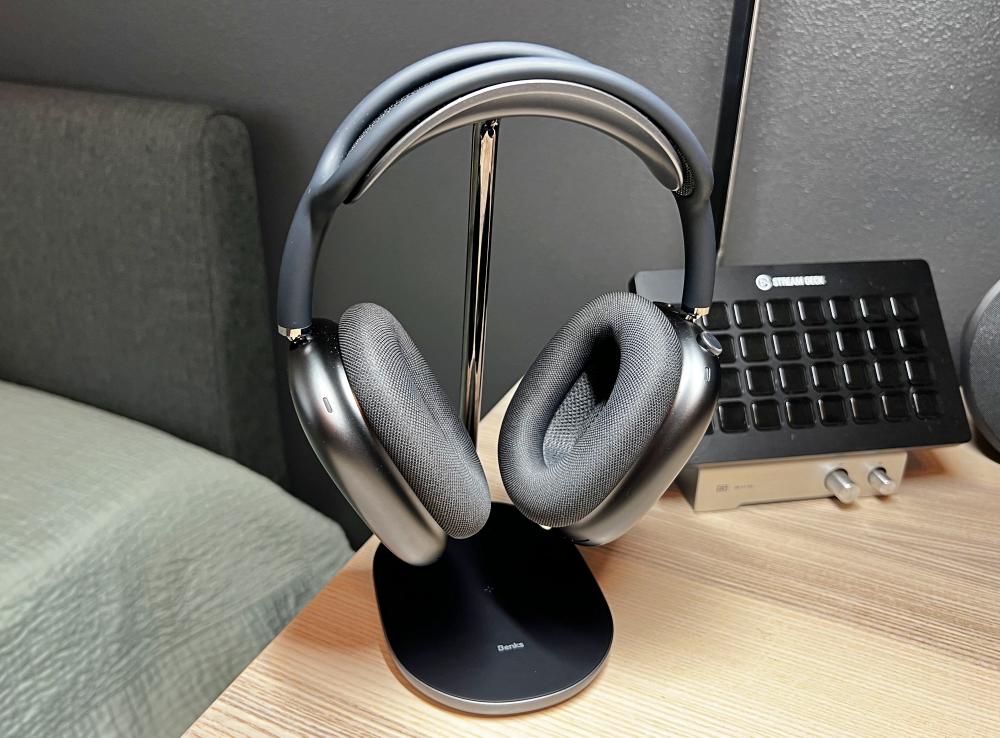 REVIEW – There's no shortage of headphone stands out there, but if you want to support the entire headband length of your AirPod Max headphones, I haven't seen any that do that as well as the Grand Pro Headphone Stand from Benks. It's not the stand's only feature either, so dive into the review with me and take a closer look.
What is it?
The Benks Grand Pro is a Headphone Stand as the name implies, but inside the base is a 15w wireless charger for juice your phone or any other Qi compatible devices.
What's in the box?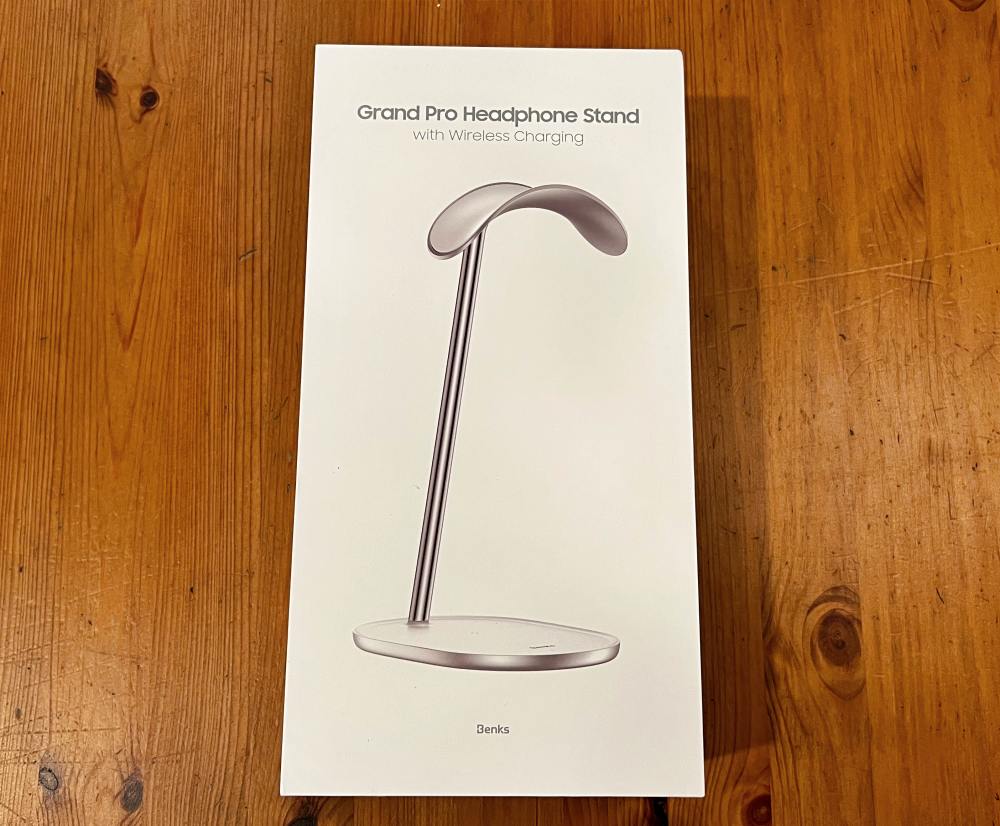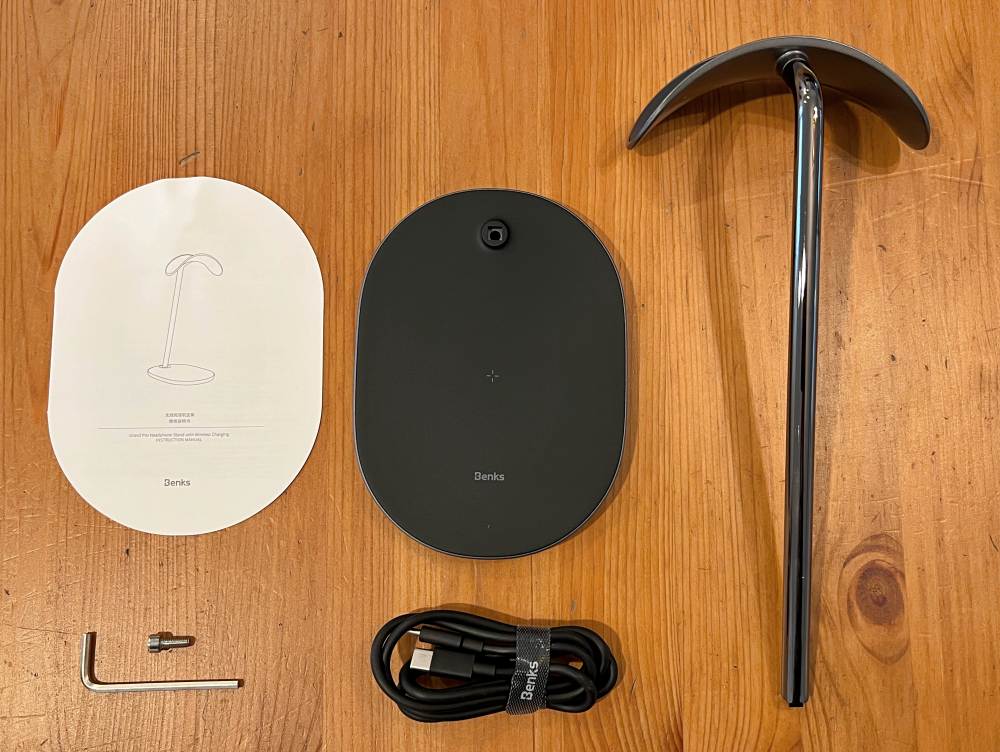 Charging Base
Headphone Hanger
Hex wrench and assembly screw
USB-C cable
Instruction manual
Hardware specs
Materials: PC/ABS, Silicone and Chromed Zinc Alloy
Wireless: 15w Qi charging
Cable: USB-C (bring your own power adapter)
Design and features
As purely a headphone stand, there are a couple of features worth calling out about the Benks Grand Pro Headphone Stand. First, the headband cradle is curved specifically to match the curve of Apple's AirPods Max.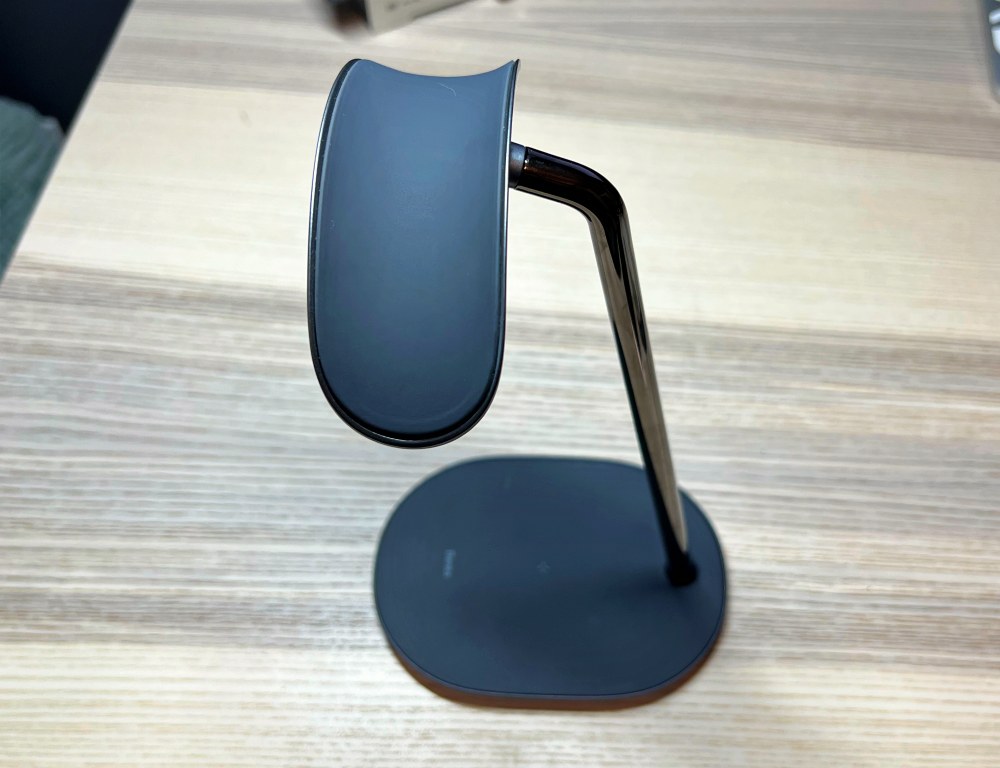 The support rod for the hanger leans forward putting the center of gravity directly over the middle of the weighted base giving it a solid stance.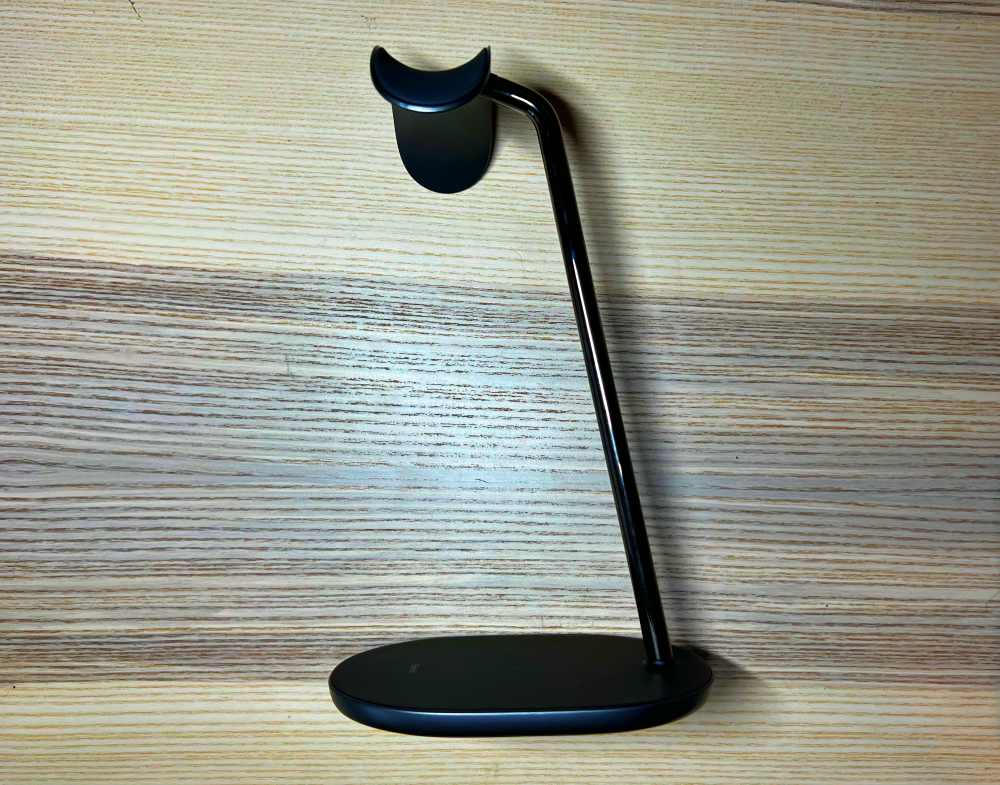 A silicone pad on the underside of the base keeps the stand from moving around which is helpful with heavier headphones.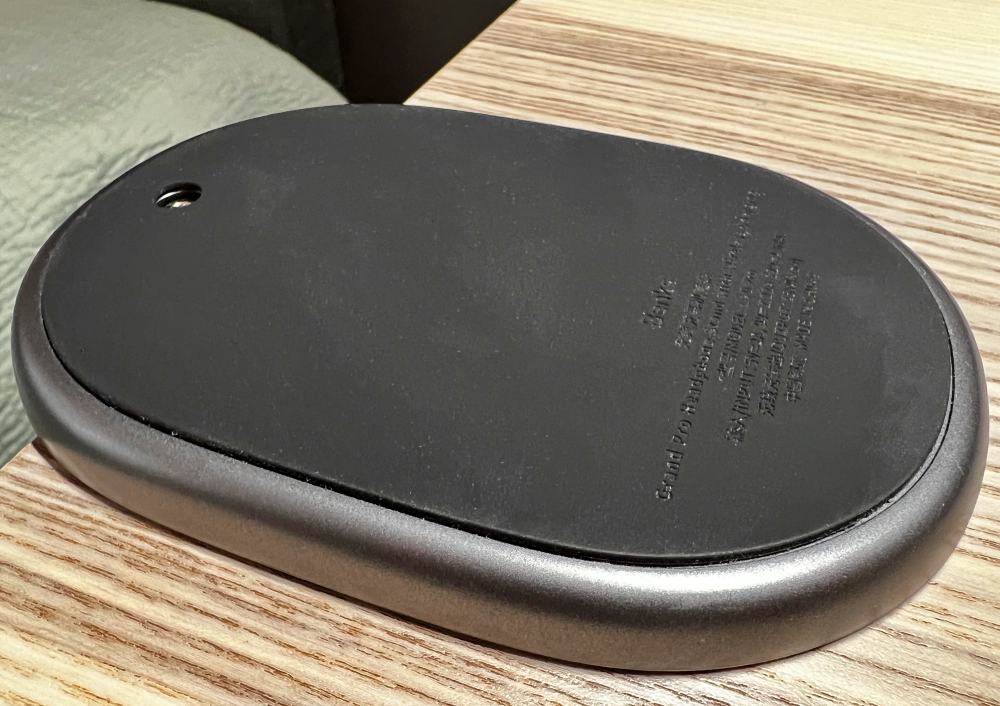 Additionally, a Qi charger is included in the base of the Benks Grand Pro Headphone Stand and will quick charge compatible devices up to 15W when connected to a suitable power adapter.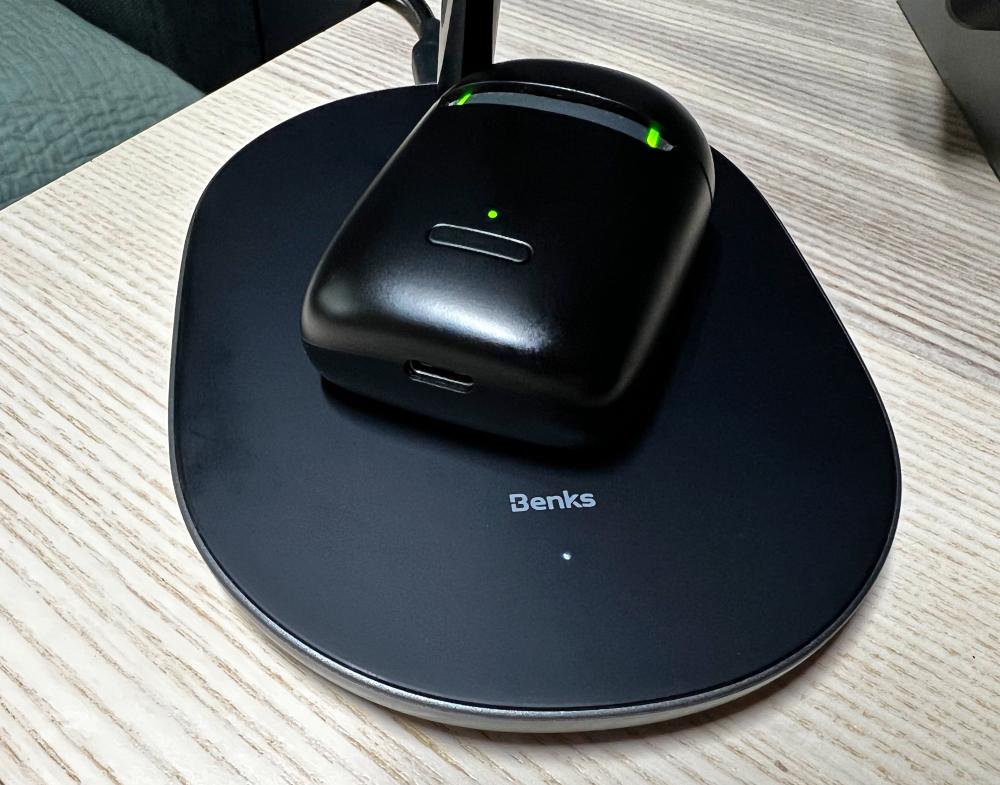 Setup
Insert the post of the stand into the square hole on the top of the base.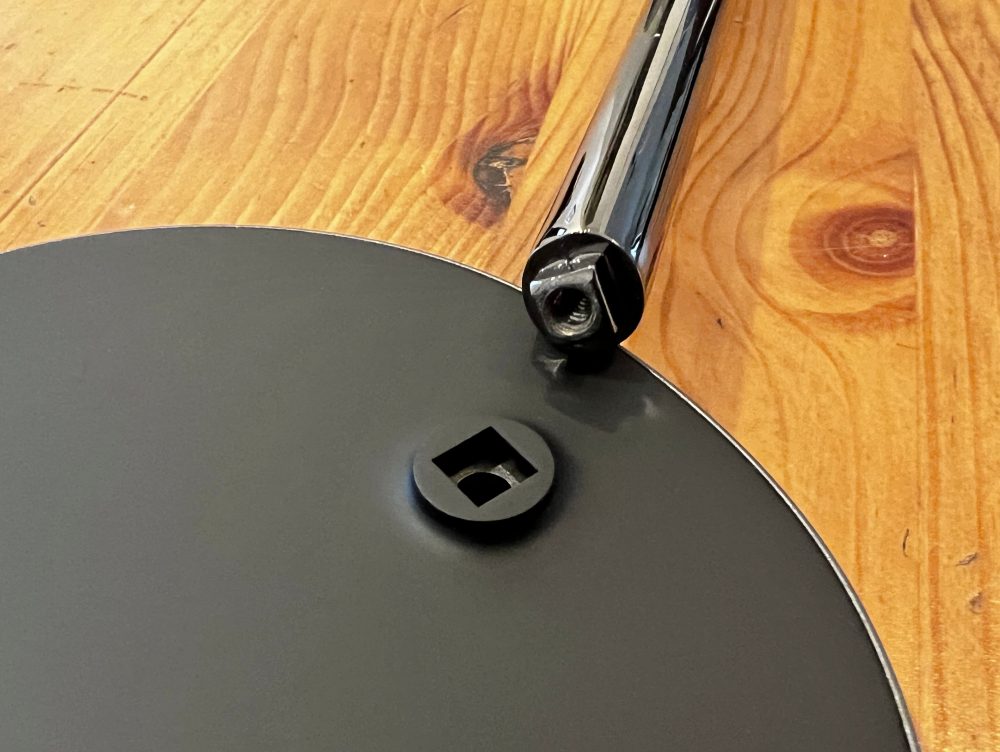 Then flip the base over and install the retention screw until nice and snug with the included hex wrench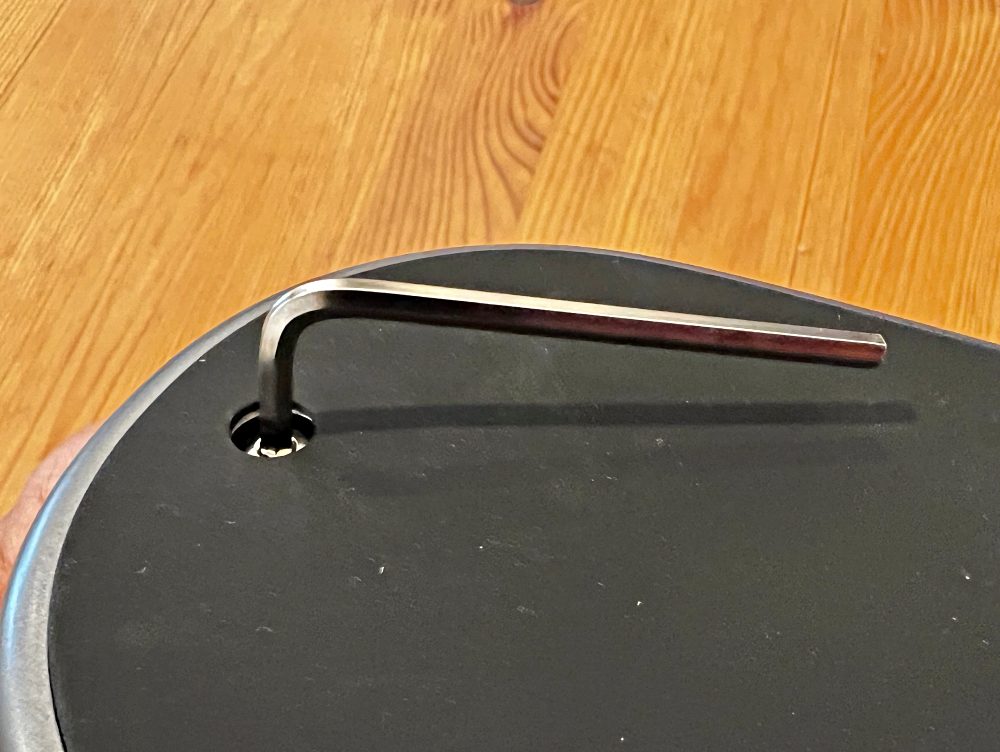 The last step is to connect the USB-C cable to the port on the back of the stand and to a nearby USB-C power source. (I'm using a different cable in this photo because I needed a longer length. The included one is only about 3ft). To charge a Qi compatible device, center it over the small crosshair graphic above the Benks logo on the base.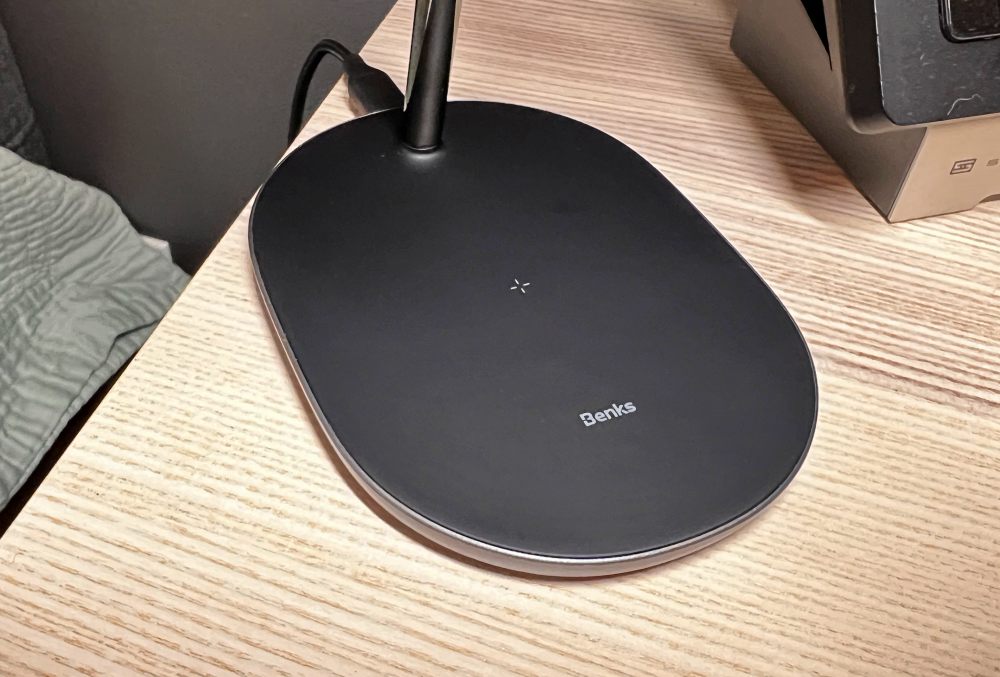 When placed correctly, a small white LED will appear just below the Benks logo. Note that the Qi coil in your device might not be centered so you may have to adjust placement for charging to begin.
Performance
As a headphone stand, the Benks Grand Pro Headphone Stand does its job well. I tried it out with a number of different headphones and it worked well with all of them. Headphones with very round profile headbands fit best.
If you have a pair of AirPods Max, you'll benefit from a headband rest that perfectly matches the headband without any sharp edges that could potentially damage the soft stretch mesh Apple uses on the headband.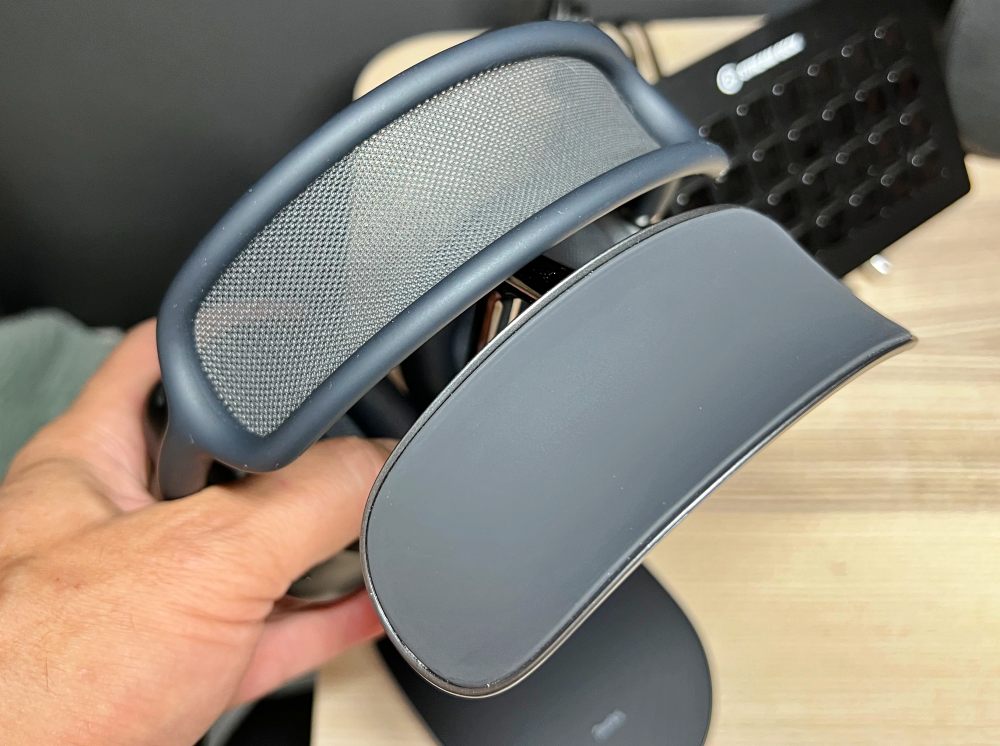 You can see just how well it mates in this photo.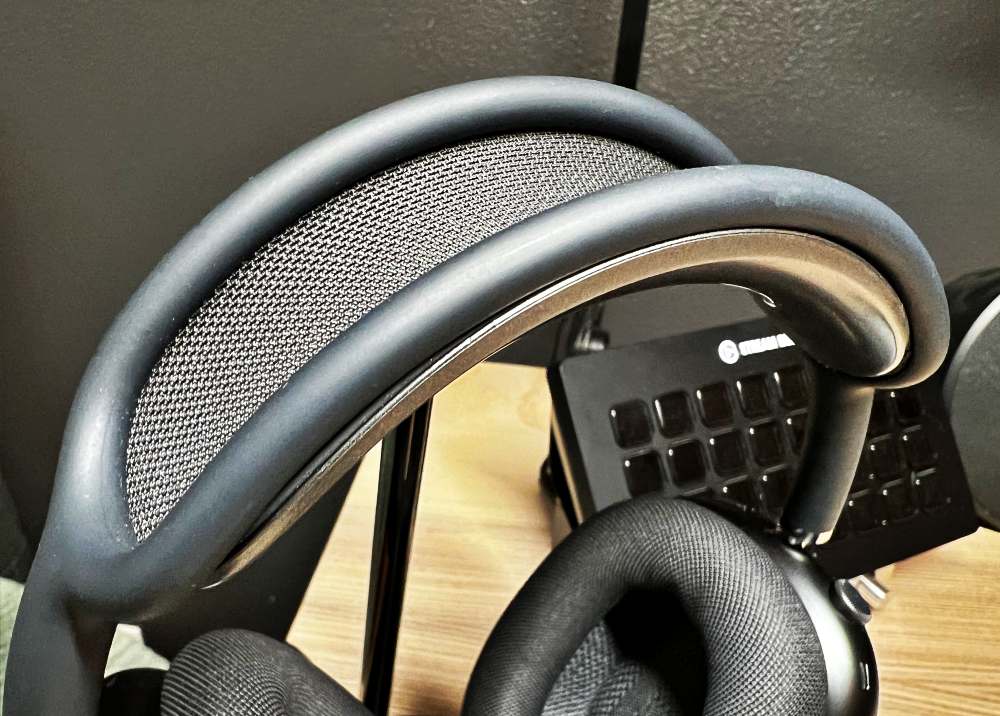 Note that the Benks Grand Pro Headphone Stand does not charge your AirPods Max headphones (and it does not claim to). You'll need to continue to charge them the same way you always have. The main thing to note is that the stand does not include any magnet or feature to put the headphones into low-power mode. Again, there's no claim that it does, but it sure would be nice to have a solution for that battery drain when out of the funky storage case. Your headphone will look good hanging there, but that's not worth a lot if they're dead when you go to use them, so be prepared to run another cable and keep your headphones plugged in when not in use.
The Benks Grand Pro Headphone Stand does have a Qi charger in the base however, so you can easily top-off your phone or any other device that is Qi compatible. Below you can see that the stand's white LED is showing charging status, while my hearing aids are showing that each ear piece and the case are receiving power. I had no issues using the wireless charging function with a number of different devices.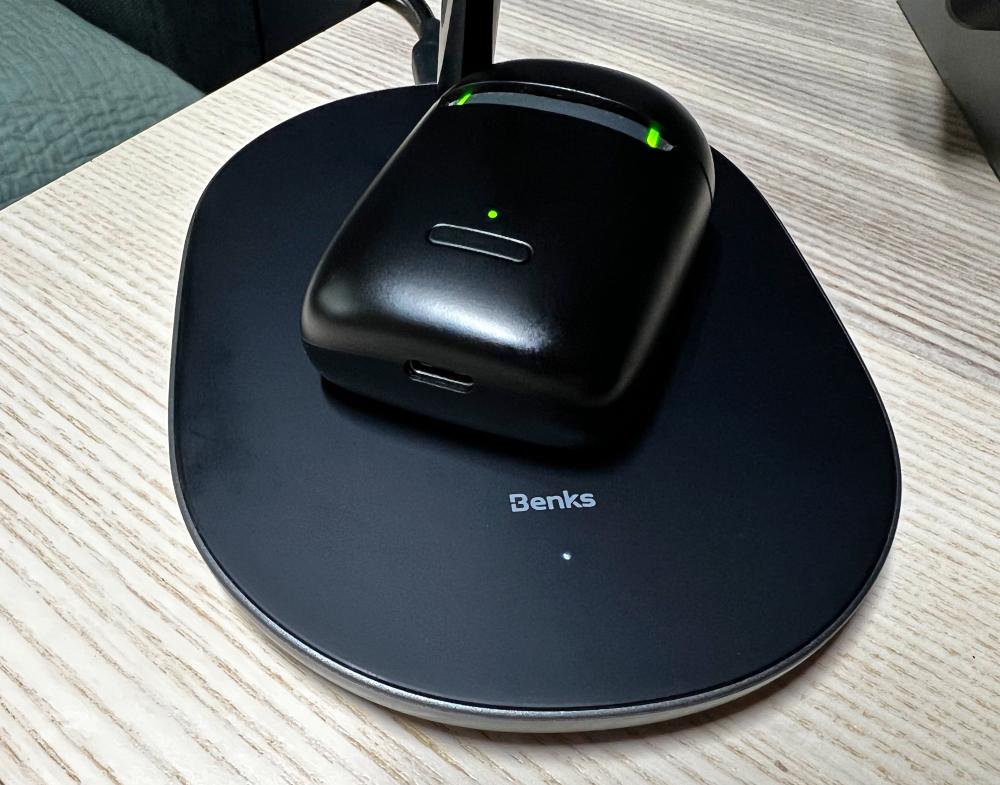 What I like
Minimal clean design
Headband support specifically designed for AirPods Max
Base has built-in Qi charger
What I'd change
Add a sleep magnet for AirPods Max
Include a power adapter so customers don't connect a low power one and miss out on high speed charging.
A longer charging cable would be nice
Final thoughts
There are lots of ways to store or display your headphones. The Benks Grand Pro Headphone Stand does a great job of that. It also will wirelessly charge your phone or other Qi devices. However, your AirPods Max headphones will not go into their deep sleep mode while hanging there so make sure you run a separate cable to keep them charged.
Price: $59.99
Where to buy: Amazon
Source: The sample of this product was provided by Benks