We use affiliate links. If you buy something through the links on this page, we may earn a commission at no cost to you. Learn more.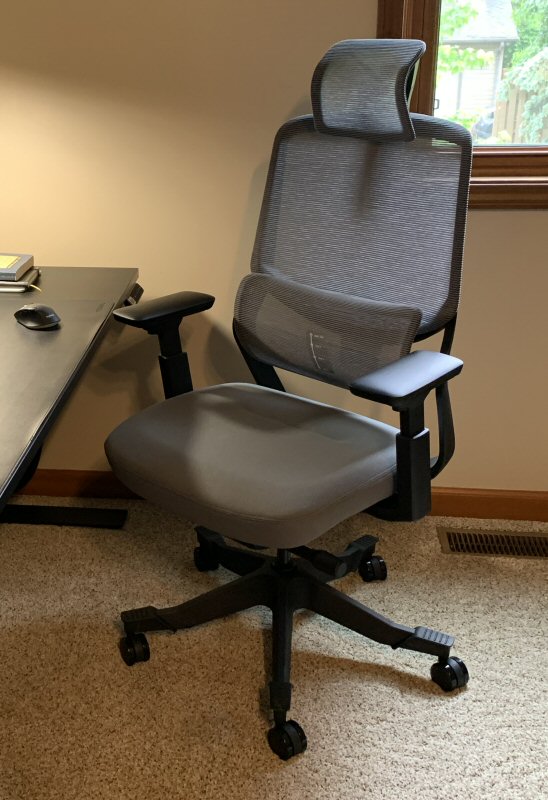 REVIEW – Due to the coronavirus pandemic in mid-March 2020, almost overnight millions of workers in the US went from cubicles and other office settings to working remotely from kitchen tables couches, and other non-ideal settings.  This unprecedented spike in working from home led to an explosion in home office equipment in the market.  I was, and as of this writing, still am one of those workers who was sent to work from home at that time, and I've spent more than a year building my home office, so I was eager to try the Flexispot Soutien Ergonomic Office Chair.
What's in the box?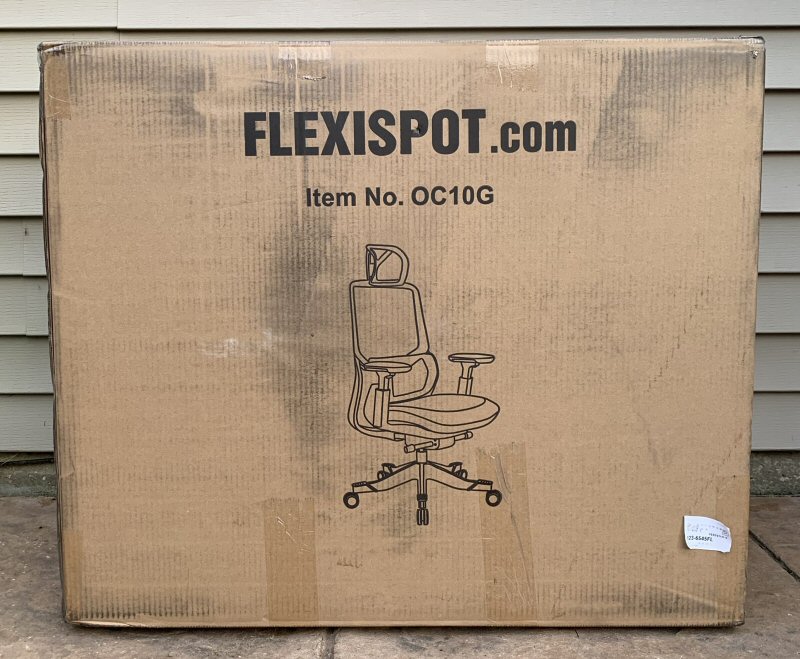 The Flexispot Soutien chair arrived in a very large cardboard box, which was actually not as heavy as it looked (though I'd recommend asking a friend to help you carry or move it).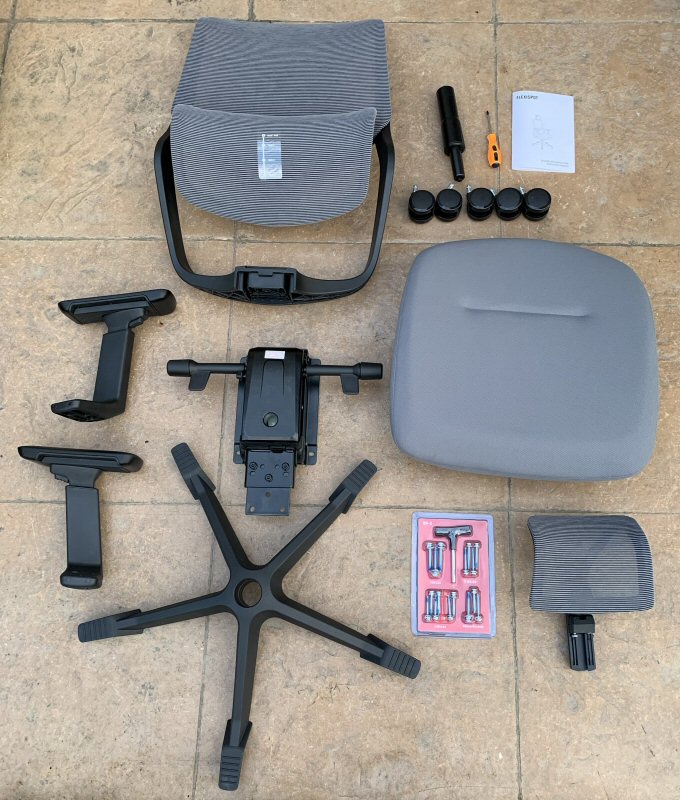 The Flexispot Soutien required assembly and the image above depicts the components that were included in the box.  The number of components in the photo may appear daunting, but the instructions were easy to follow and the parts assembled fairly intuitively, so it only took about 20 minutes to assemble.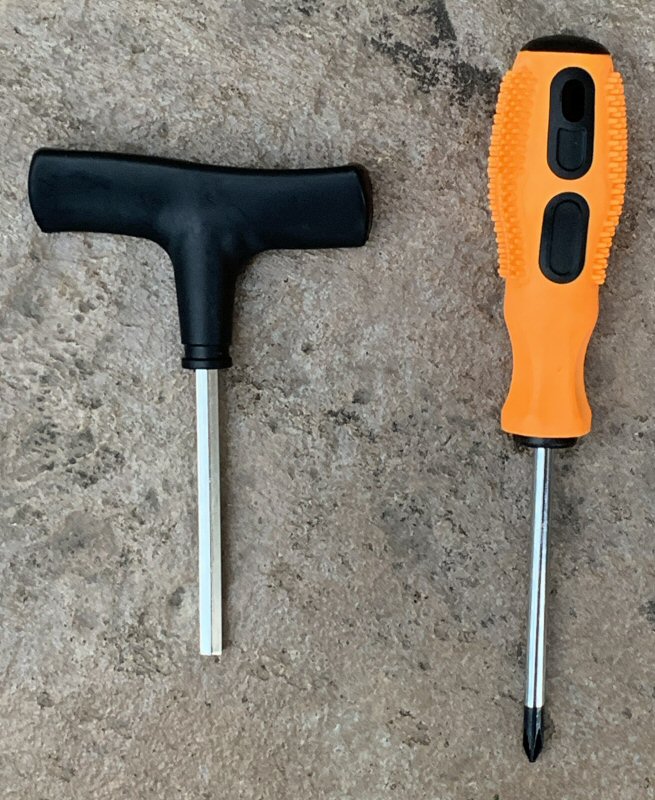 The Flexispot Soutien included two tools, a hex key (AKA "Allen wrench") and a small Phillips-head screwdriver.  I think I actually only needed the screwdriver to assembly the Soutien, so I'm not sure why the hex key was included.  It is possible that I did in fact need the hex key and my Soutien is about to fall apart beneath me, though I don't actually expect that to happen because it was so simple to assemble.  Although I could have assembled it myself, on a few steps, having my son help hold a part while I attached it with a screw made the process go a bit quicker.
Design and features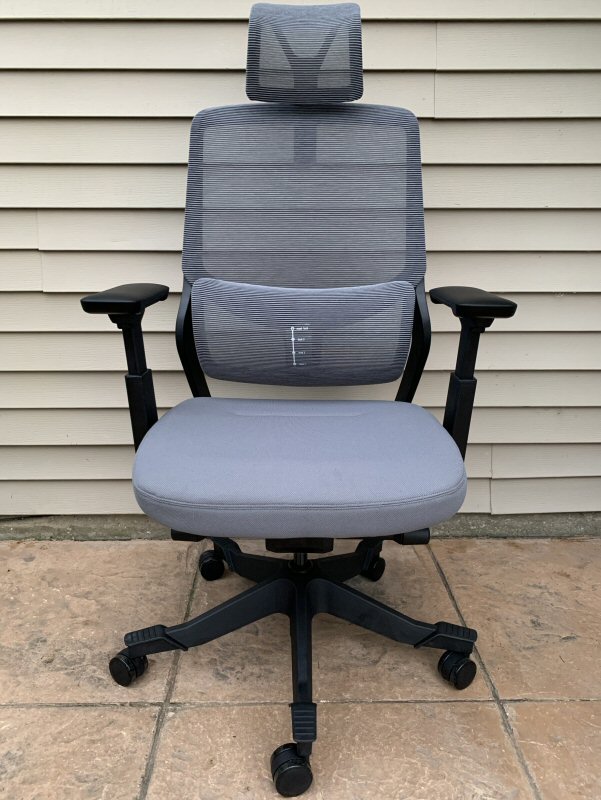 The Flexispot Soutien's seat cushion, backrest, lumbar support, and headrest are light gray, while the remaining components are black.  I like this gray and black color scheme not only because it happened to go well with the gray and black decor in my home office room, but also because this neutral color scheme could fit in with the decor in many actual office settings.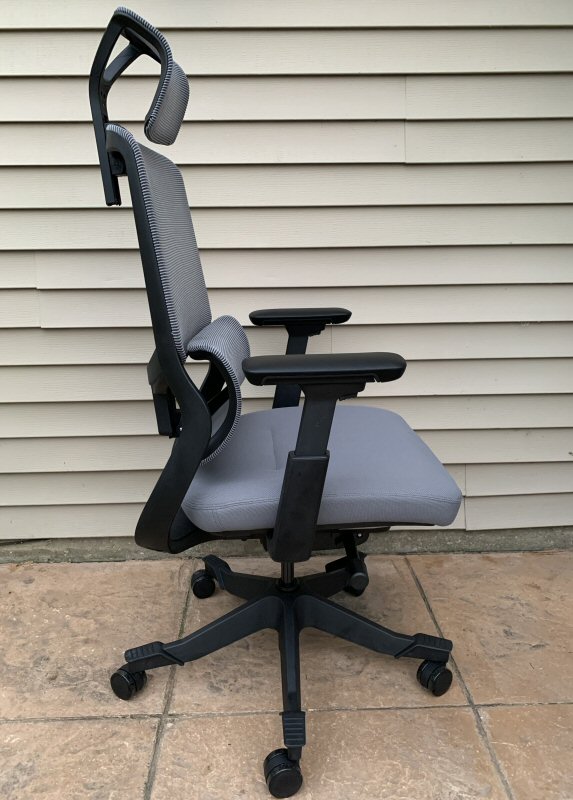 The Soutien's design does not have a lot of thick padding for the backrest or headrest, which gives it a slim profile that helps cut down on the amount of space it takes up, making it a good choice for offices with less space available.  Nonetheless, this slim profile does not detract from the Soutien's comfortability.  Although the seat cushion is relatively thin compared to many office chairs, it is actually surprisingly comfortable.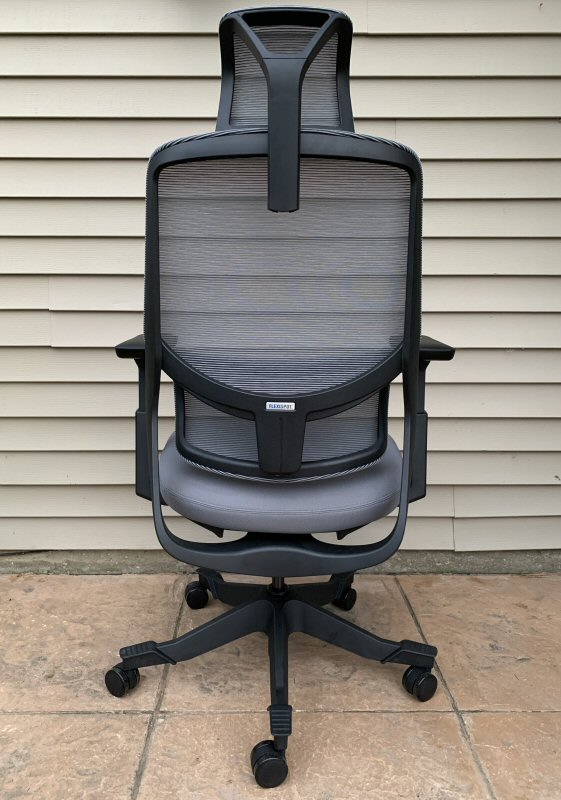 The Flexispot Soutien's headrest, backrest, and lumbar support are all made from "Italian-imported chenille and K+R temperature-sensitive fiber." This fabric allows a significant amount of ventilation yet provides firm support with just enough compliance for comfort.  During the period of time in which I reviewed the Soutien, there were a few days when our home AC couldn't keep up with the outdoor temps that rose rising into the low 90s F, resulting in my second-floor home office starting to resemble a sauna.  Unlike my previous leather office chair which always left my back and legs sweaty, the firm, comfortable mesh fabric of the Soutien helped keep me cool even while sitting in my office "sauna" for a full day of work.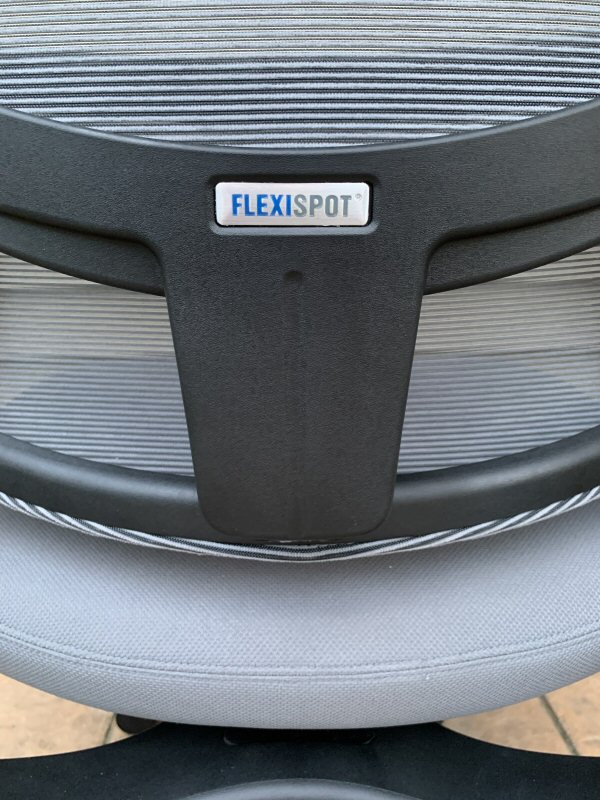 Flexispot included a small, unobtrusive logo placard on the back of the Soutien.  I appreciate this because I'm not a fan of large, gaudy logos on products.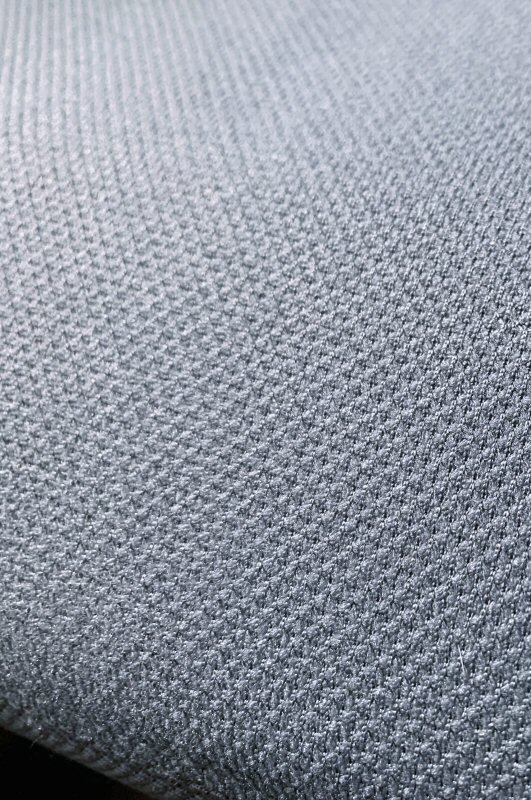 The fabric on the Soutien's seat is soft and has a bit of a grid texture to it.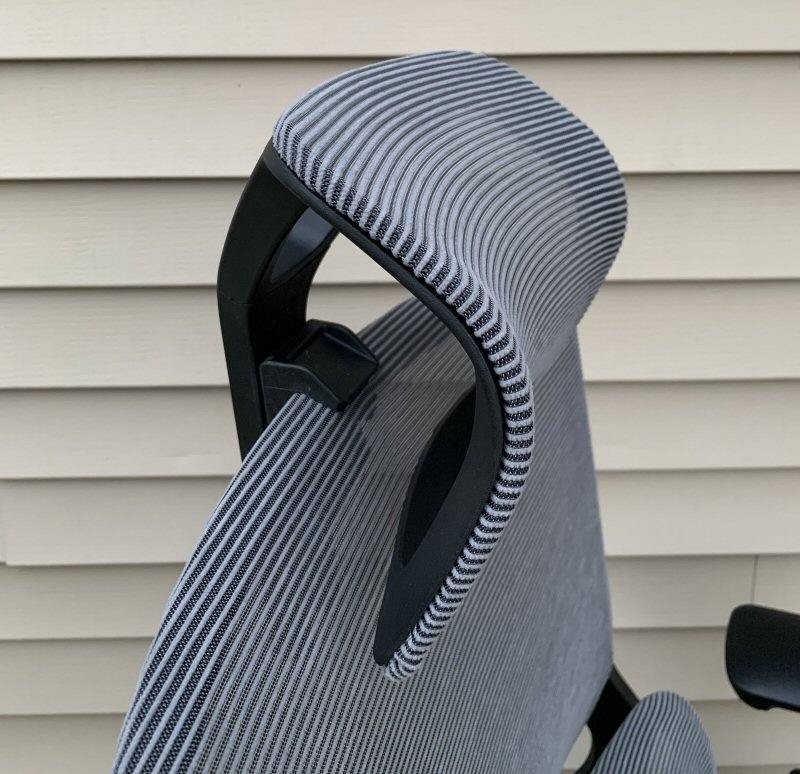 The Soutien's headrest is made from the same lightweight, comfortable, breathable mesh fabric as its backrest.   And also like the backrest, the headrest has a hollow shape, which cuts down on its thickness and weight.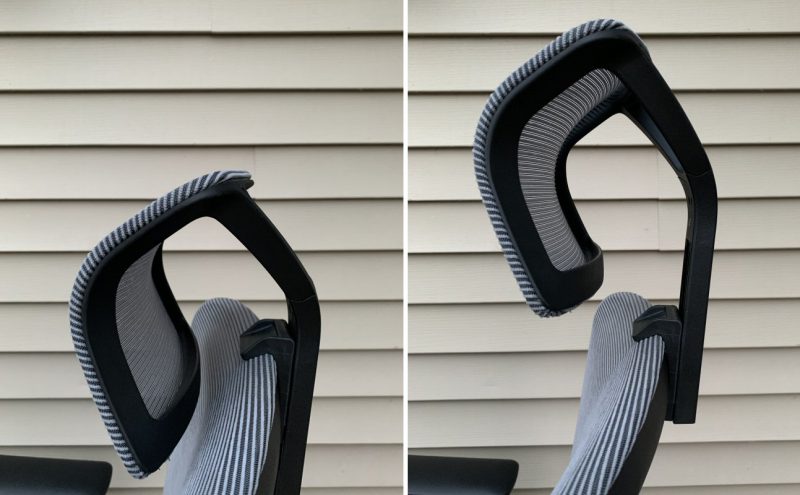 The Flexispot Soutien's has an ergonomically contoured shape and it can be adjusted up and down several inches to help you find a good spot to cradle your head and neck.  Once adjusted to my neck height, it was very comfortable.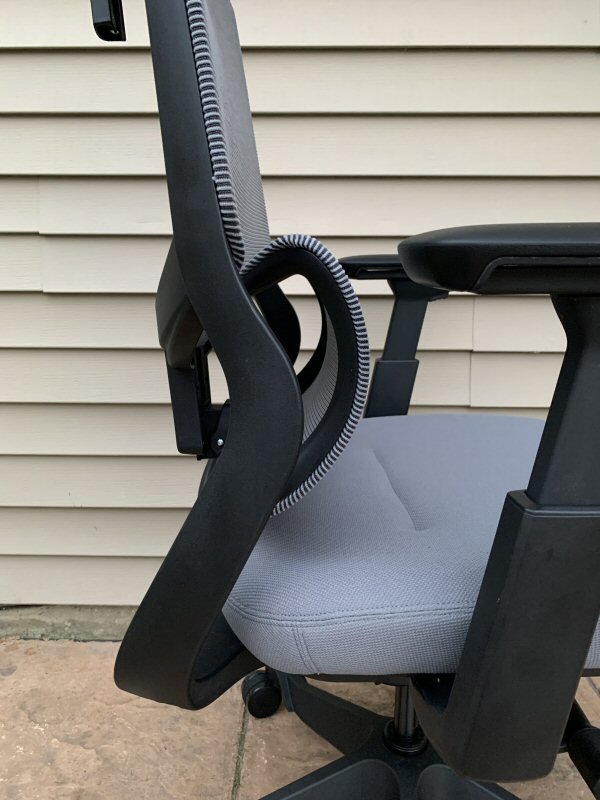 The Soutien's "3D lumbar support" has a hollow, contoured shape, similar in design style to its headrest and back support.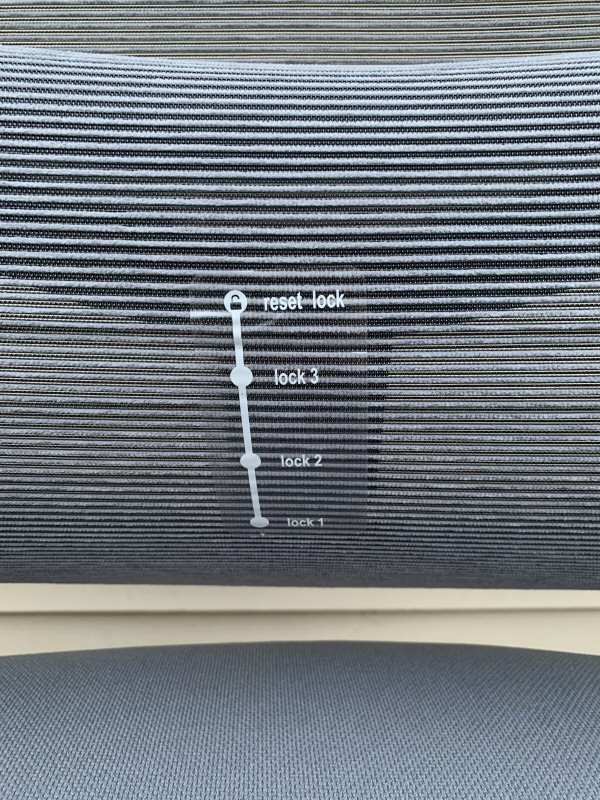 The lumbar support has three discreet height adjustment positions and I found the middle, or "lock 2" position worked best for me.   The Soutien'sadjustable lumber support is another feature that I've never used on an office chair before, and it made me wonder how I could have ever considered myself comfortable without it.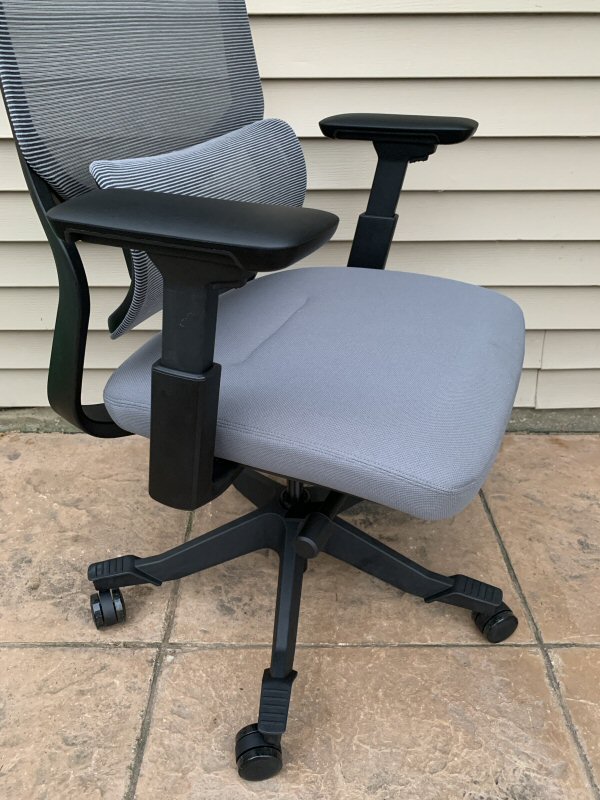 The Flexispot Soutien's armrests have a high degree of adjustability.  In fact, Flexispot refers to the Soutien's armrests as "4D" due to the number of dimensions in which the armrests can be adjusted.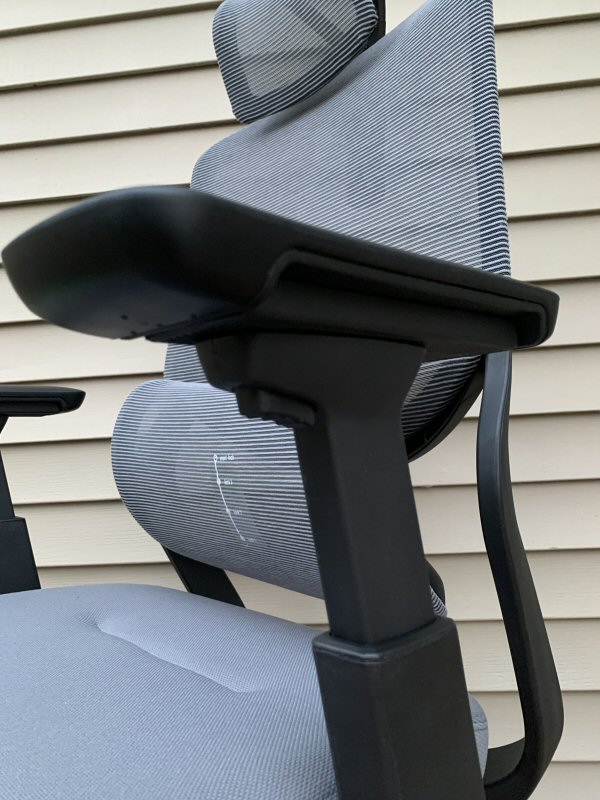 There is a push-button under each armrest that allows the armrest to move up and down.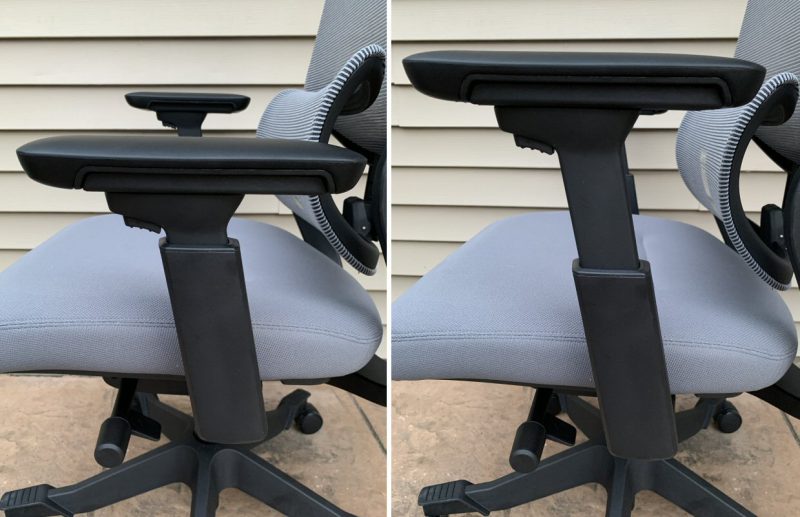 The photos above show the 2.75 inch (70mm) range of the armrests' height adjustment.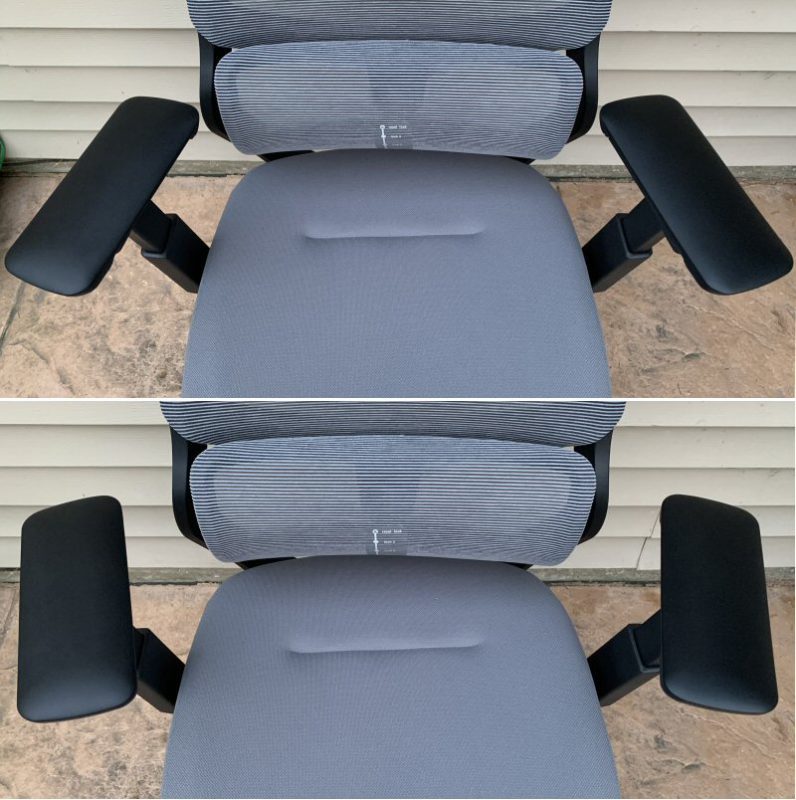 The armrests also rotate inward and outward a total of 30 degrees as seen in the two images above.  The armrests have three discreet positions and they snap into each position fairly securely, so once you have the armrest angle set to your preference, it doesn't rotate easily; it is semi-locked in place, which I like.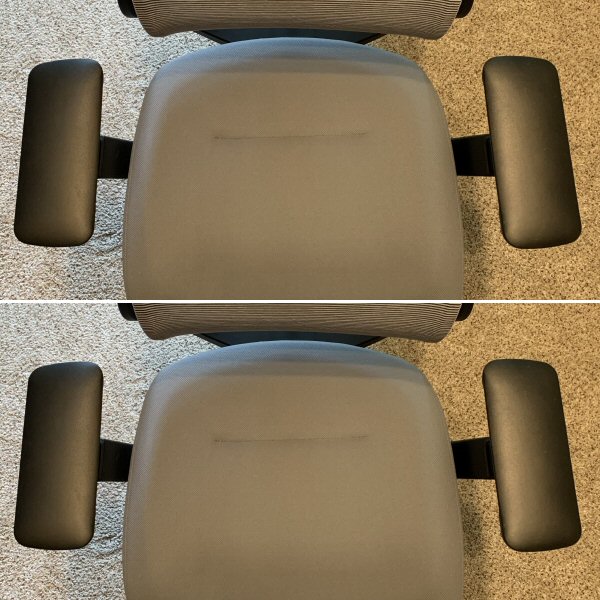 The armrests slide inward and outward 1.2 inches (30 mm) as seen in the images above.  The armrests slide inward and outward freely, without discreet locking positions to keep them in place.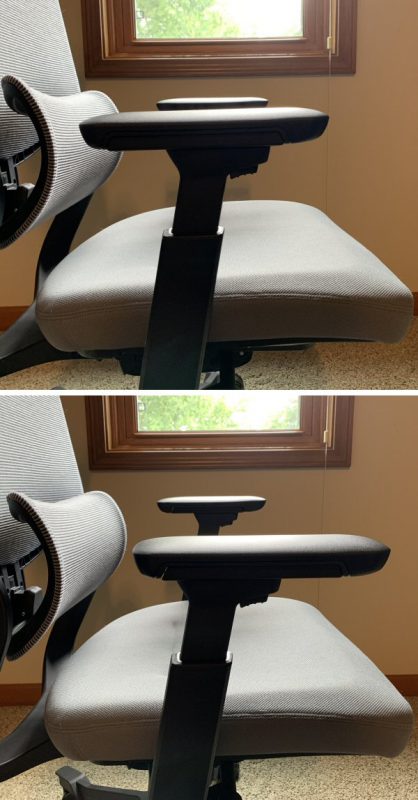 The armrests slide forward and backward 1.6 inches (40mm) as seen in the images above.  I think I counted 9 discreet locking positions for this motion.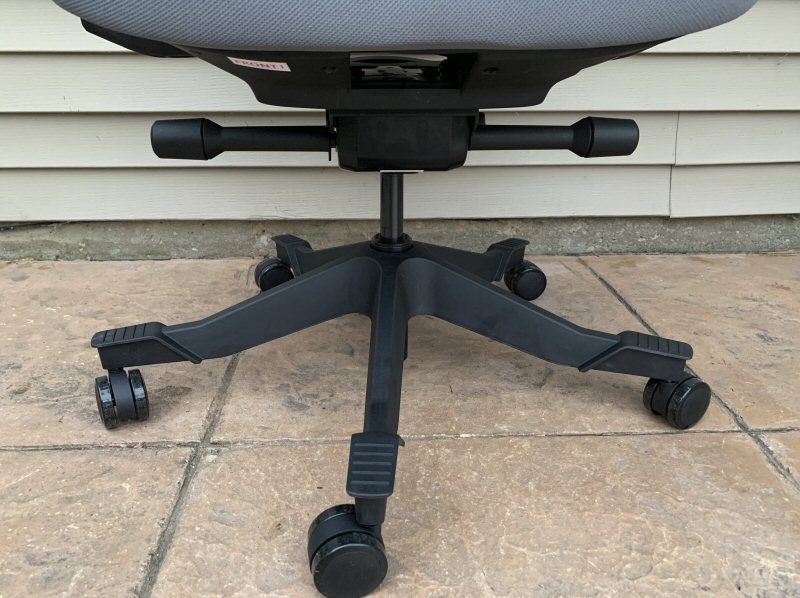 There are two handles just under the seat and are easy to access by simply reaching down under the left or right sides of the chair.  Lifting the right handle allows adjustment of the seat height.   The seat sits atop a Samhngsa Class 4 Gas Lift that is certified by TUV/BIFMA/SGS and tested to 10,000+ cycles.  The right handle also has a knob that is used to adjust the flexibility of the backrest.  Rotating the knob clockwise tightens the backrest, which makes it firmer when pushing back on it, and rotating the know counter-clockwise loosens the pressure to give the backrest more flexibility and makes it easier to push back on.  The seat's position can be adjusted forward and backward by lifting the left handle under the seat.  The left handle also has a knob that is used to adjust the angle of the backrest; loosen the knob, adjust the backrest to your preferred angle, then tighten the knob to lock it in place.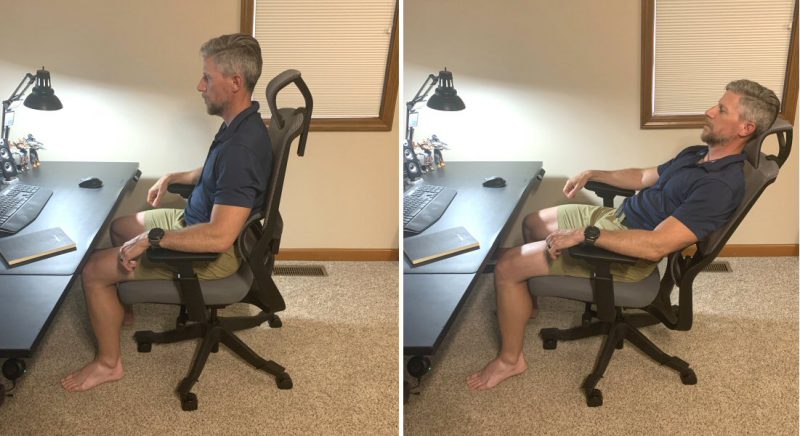 I really like the Flexispot Soutien's backrest/lumbar support combo.  The backrest is super adjustable, but also I can set it to be able to tilt it back 45 degrees to give myself a little stretch and recline a bit.  This combined with the 3D lumbar support, which I was easily able to adjust perfectly to fit my lower back, are features that I really appreciate;  in 25 years of working in office settings, I've never had a work-issue chair that had a backrest that was this adjustable, and I've never had much lumbar support, much less the Soutien lumbar support's contoured 3D shape.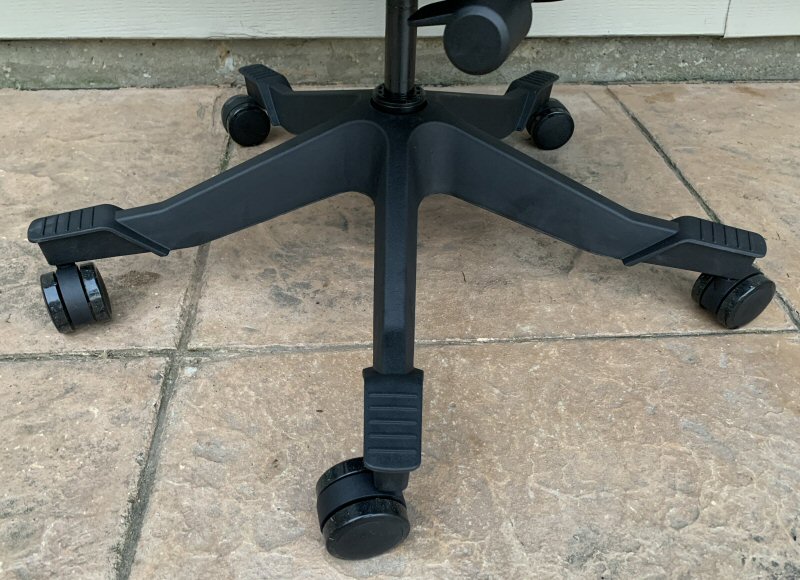 The chair sits atop five equidistant legs in a star shape beneath the chair.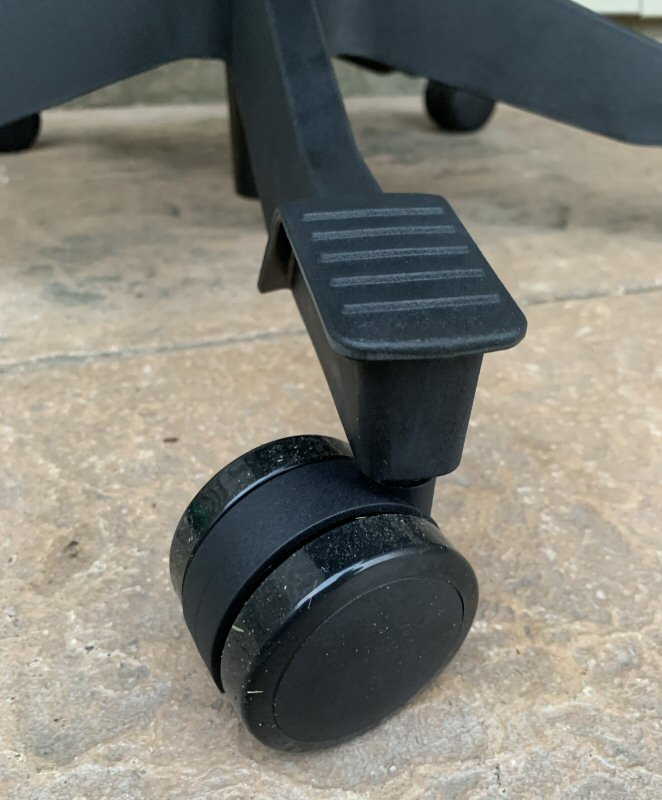 The wheels roll freely with little resistance.  They didn't roll well on the thick carpet in my home office, but on thinner carpet or a hard floor, they would be perfect.  Above each of the wheels is a small pad that both helps protect the wheel and can be used a bit like a footrest.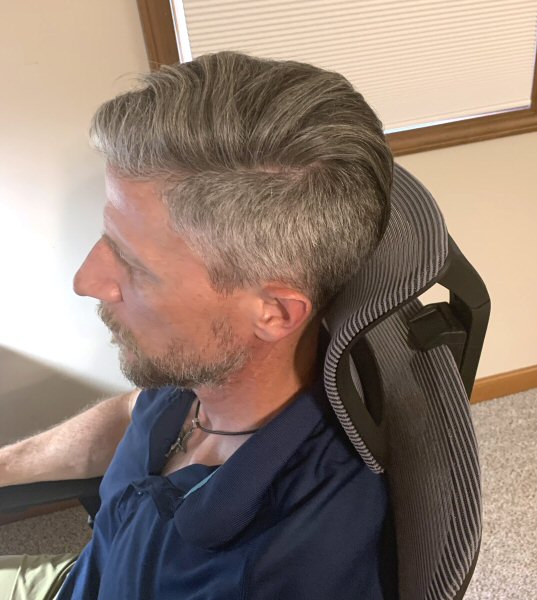 The Flexispot Soutien's headrest was as comfortable as the 3D lumbar support, and with its own 3D-type shape, somewhat like a saddle, that is contoured in two directions.  The headrest was easy to adust, and once I did, it cradled my head perfectly and was quite comfortable.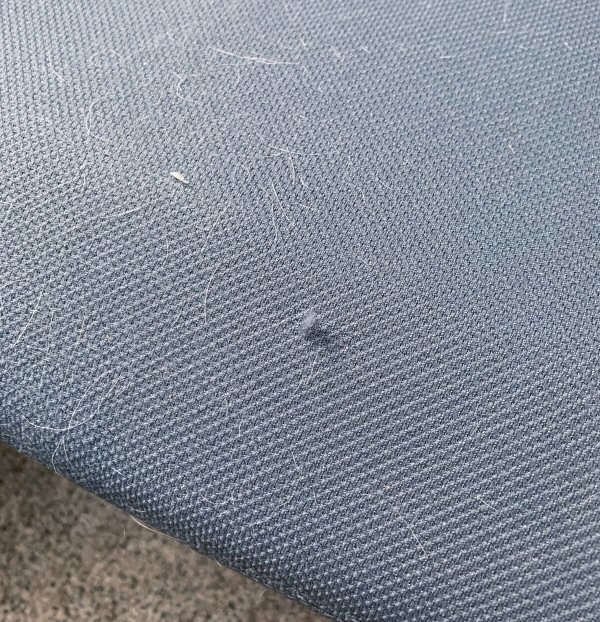 I discovered that the Soutien's seat fabric is a fairly severe dog hair magnet.  I have two pugs and one of them likes to snooze on my lap while I work.  The first time I placed her on the floor before I stood up to take a break, I looked down and saw that the seat had quite a bit of pug fur on it, as can be seen in the image above.  I had to use my vacuum cleaner with its brush attachment and some elbow grease to remove it.  Also, one of her claws must have put a small snag in the fabric, also seen in the photo above.  I was a bit surprised by this, expecting that the fabric would have help up to snags better.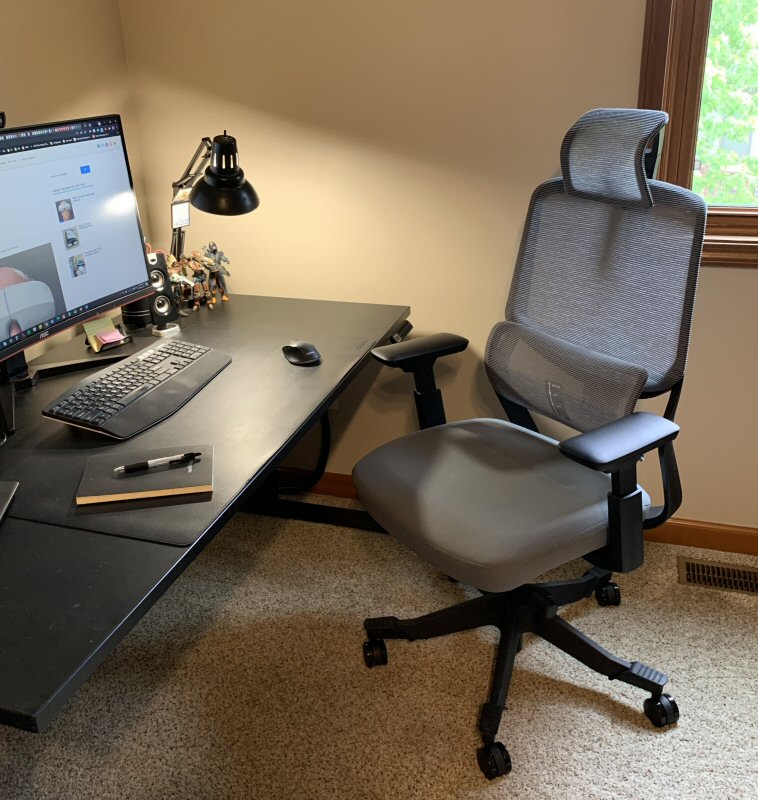 I mostly used the Soutien to sit at my desk while working, but I also used it a bit while gaming, since I have an Xbox attached to the same monitor I used for work. The Soutien performed well in both roles, and its comfortable yet breathable fabric was a boon when sitting for long durations of time.
What I like
Fabric is soft very ventilated
Multiple ergonomic adjustments for varying body sizes, shapes, and preferences
Its style would look good in an office building or home office
What I'd change
Need more color options
Add some discreet positions to the inward/outward armrest motion, so they don't slide inward and outward so easily
Make the fabric more snag-resistant
Final thoughts
The Flexispot Soutien Ergonomic Office Chair is a good chair for anyone sitting at a desk for any amount of time, whether working or gaming.  Despite its slim design, it is very comfortable in all the right places and has many ergonomic features and adjustments to help customize it for the user.  A few of the best features are its breathable mesh fabric, which helps keep the user cool, and its 3D lumbar support, which is adjustable to user preference.  If you are in the market for an office chair, the Flexispot Soutien Ergonomic Office Chair is worth a serious look.
Price: $299.99
Where to buy: Flexispot.com
Source: The sample of this product was provided by Flexispot.