We use affiliate links. If you buy something through the links on this page, we may earn a commission at no cost to you. Learn more.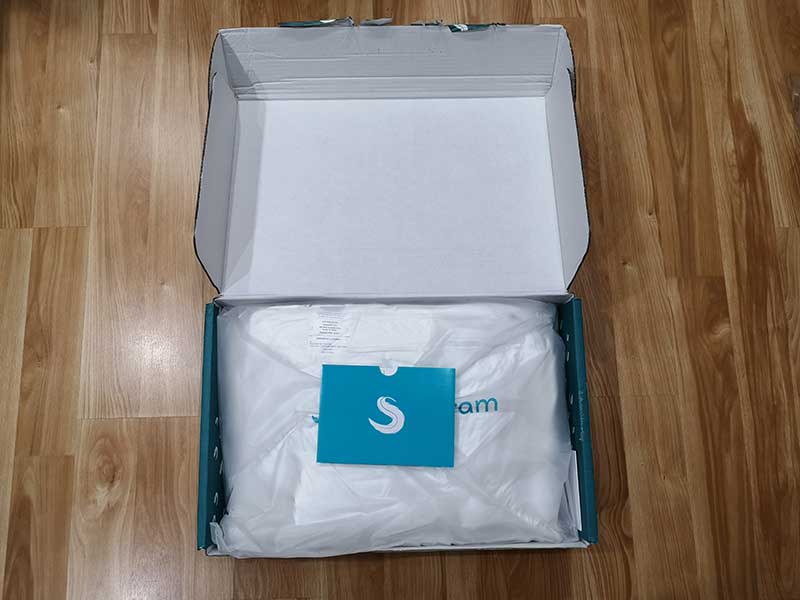 REVIEW – Lately, I've been obsessed with finding a replacement for my 10+ year old pillow (yeah, I've heard that's gross, but let's move on) and I have been reviewing various pillows as they are offered to me. The newest one to land on my bed is the Sleepgram pillow. Let's take it for a nap!
What is it?
The Sleepgram pillow is an adjustable polyester microfiber pillow that has three parts and is available in a queen or king size version.
Design and features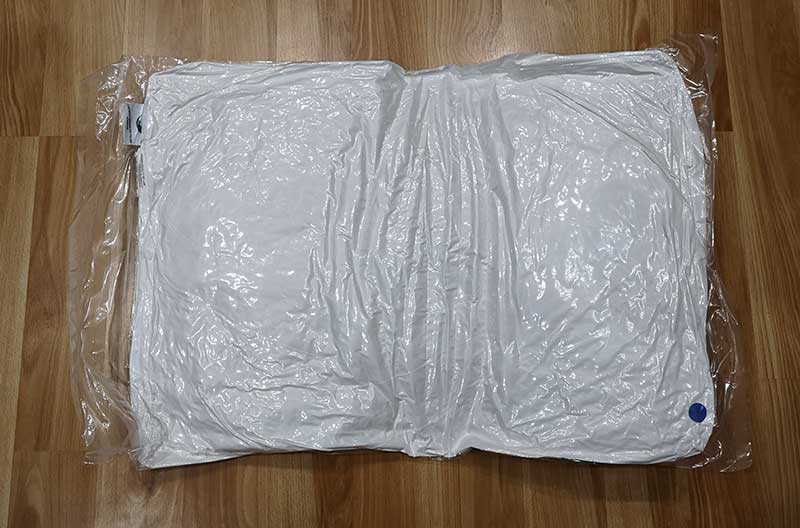 The Sleepgram pillow arrives in a vacuum sealed plastic bag which makes me feel like I'm about to take a mission to Mars or something.
Cutting the bag open and removing the smooshed pillow immediately causes it to inflate into a traditional pillow shaped lump.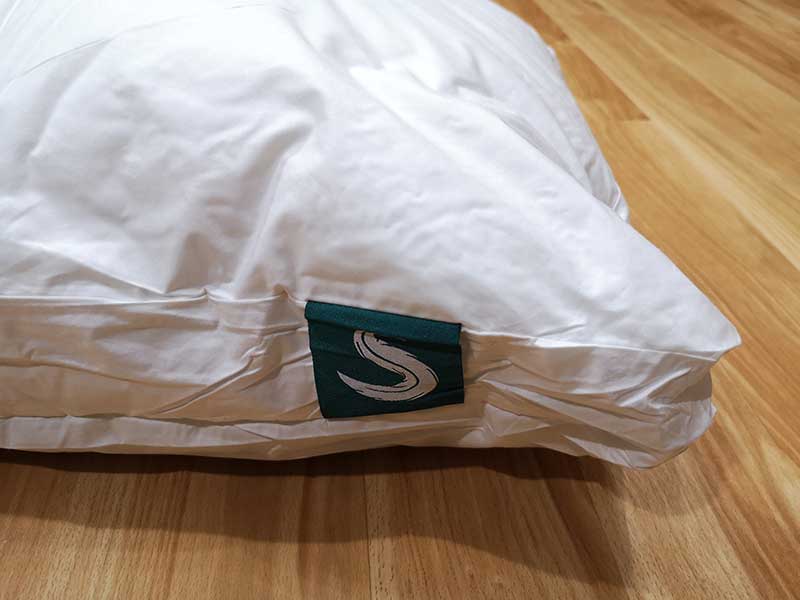 The outer cover is made of white cotton with a teal green label in one corner that has the Sleepgram logo sewn on it.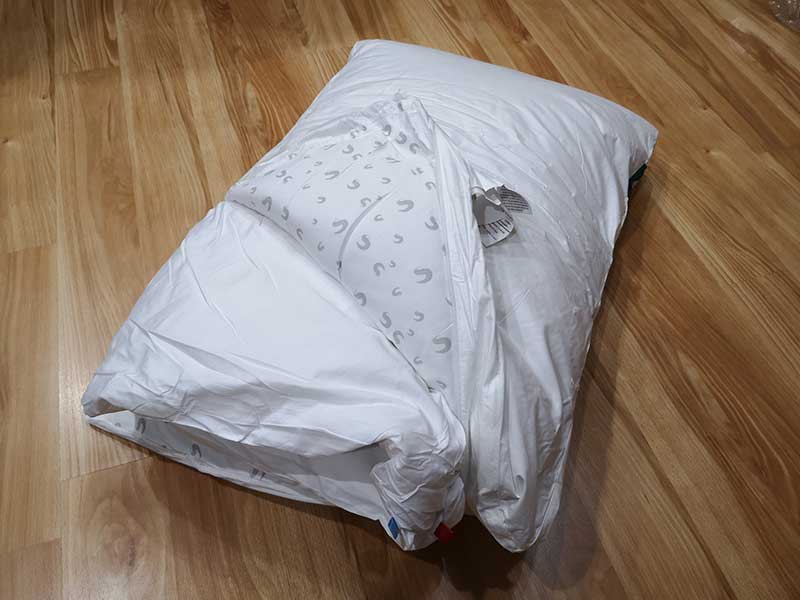 The white cotton cover is zippered on two sides which is something I've not seen before and now think it's a must-have feature for all pillows with removable inner cores because it makes it infinitely easier to insert the pillow into the cover after a wash.
Unzipping the Sleepgram pillow reveals that the cover itself is filled with microfiber and inside is not one, but two inner pillows. Yes, mind blown…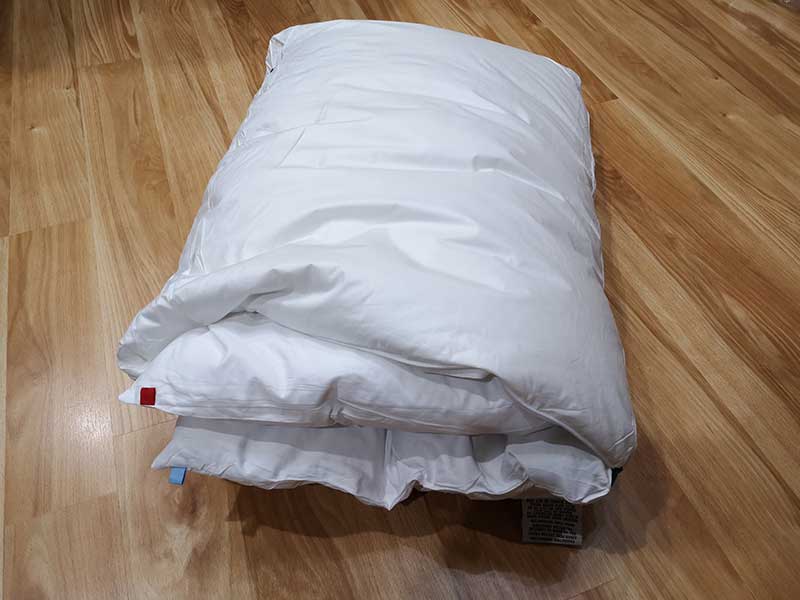 One inner pillow has a red tab and the other one has a blue tab. The instructions that come with the Sleepgram pillow tell you to put all three pieces in your dryer for about 10 minutes on low or no heat to fluff them up.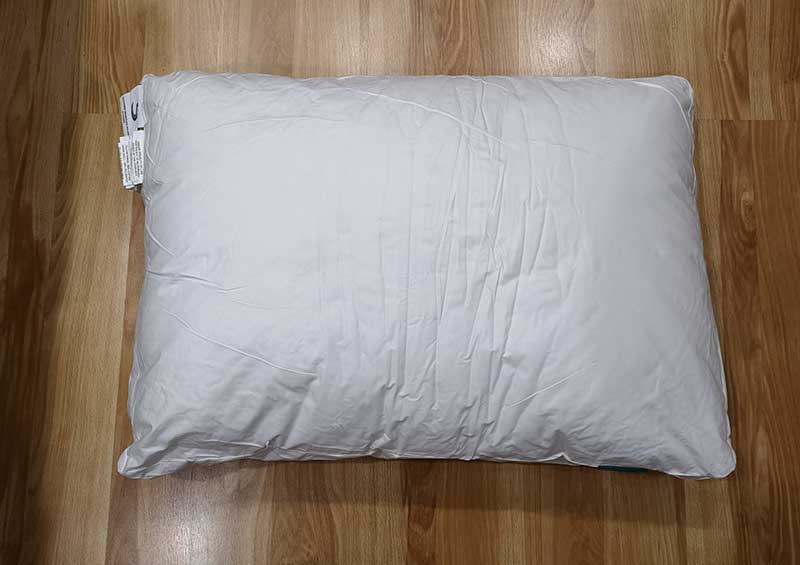 Ten minutes later, the pieces are fluffed and reassembled into a pillow.
Standard/Queen size is 18″ x 26″ + 2″ gusset
King size is 18″ x 33″ + 2″ gusset
I was sent the Queen size.
Time for a nap!
Remember that the two inner pillows have colored tabs? The blue tabbed pillow is the soft/thinner pillow and the red tabbed pillow is the medium/thicker pillow. The idea is that you are able to customize the thickness and firmness by using both the blue and red tabbed pillows or just one of them.
For my first nap, I just used the blue (soft) pillow and left the red (medium) pillow out.
I should preface this by saying that I am not a big fan of down/feather style pillows and that's actually what the Sleepgram is minus the feathers. It has a down-like feel, with a down alternative made of polyester microfiber. That means it's animal-friendly, allergen free, and dust mite resistant.
The pillow is soft and doesn't have any weird smells. But like down pillows, it doesn't provide any bounce back when you lift your head like a foam pillow will do. BTW, a foam pillow is the type that I've been sleeping on for eons and is what I like best.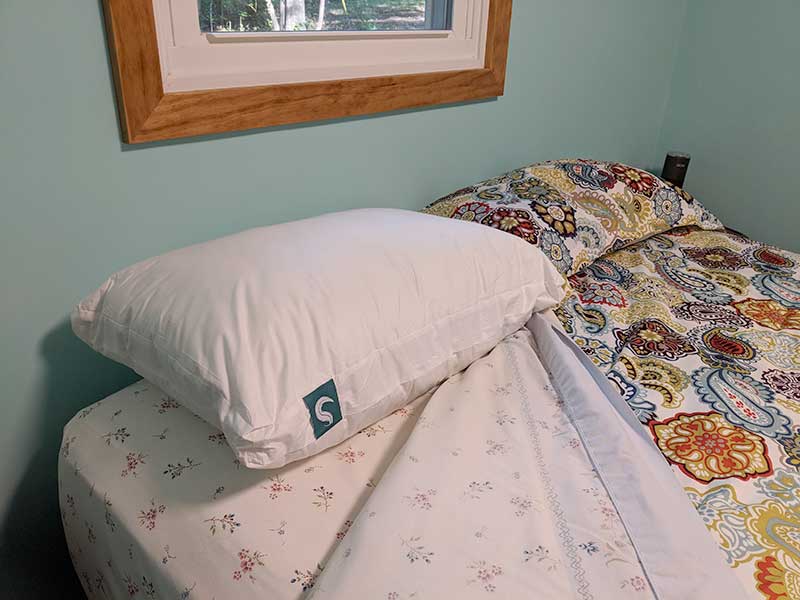 With all that being said, I took a 2hr nap on the Sleepgram and I didn't hate it which is a not typical for me when I try new pillows. I usually give them a good 5 minutes before switching back to my old favorite. I didn't do that with the Sleepgram pillow. I slept on it for the entire nap. Does that mean I've found my new favorite pillow that I'll use for the next decade? Hmmm, not quite. As I said, I like foam pillows. So my biggest issue with the Sleepgram is that it gets a bit flat and as a side sleeper, it made my ear hurt, so I found myself trying to fluff it up a couple of times.
For other sleep sessions, I tried other combinations of the two pillows and I didn't find one that was just right for me, but the blue pillow with the zippered was the most comfortable of all the combinations that I tried.
What I like
Machine washable
Customizable
100-night money back guarantee
100-year warranty
What needs to be improved
No bounce back
Sleepgram advertises that this pillow will keep you cooler than other pillows. I didn't notice a difference.
Final thoughts
I feel a little guilty reviewing the Sleepgram and not loving it because it is a nicely made pillow and I really wanted to love it. I liked everything about the pillow except for the most important thing which is how it felt for me to sleep on it. I'm pretty confident that if you love a feather pillow, you will love the Sleepgram. But if you prefer a pillow with some bounce back like a foam pillow, you might want to look elsewhere. However, you are free to try the Sleepgram pillow since they do offer a 100-night money back guarantee.
Price: $40.00 (2pk standard/queen size), $55.00 (2pk king)
Where to buy: buysleepgram.com
Source: The sample for this review was provided by Sleepgram.