The Gadgeteer is supported by readers like you! If you buy something through links on our site, we may earn an affiliate commission. Thank you! Learn more.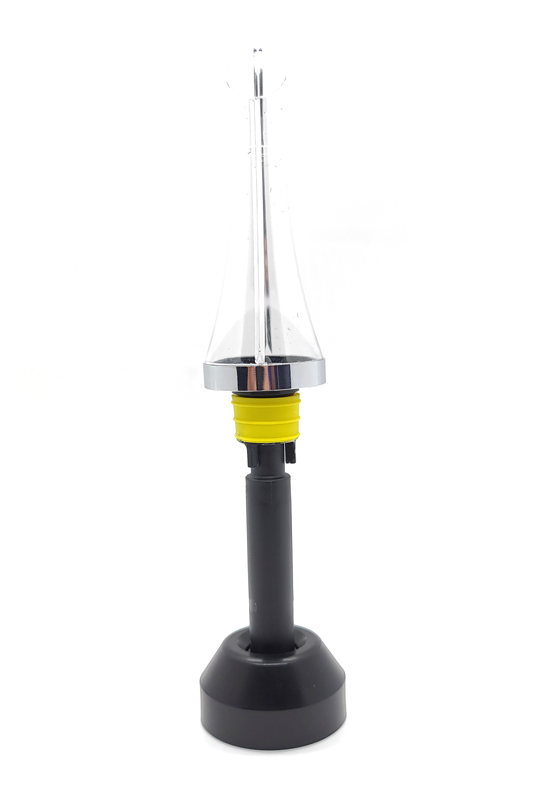 REVIEW – Wine is one of those things that people really get into.  Wine aficionados really appreciate their wines and go to great lengths to fully enjoy them.  One issue that haunts wine, especially red wine, is that they are not at their best immediately after opening.  They need to breathe, allowing air to infiltrate the wine, bringing it to full flavor, and smoothing out the bite that usually accompanies a freshly opened bottle. But what if you don't want to get an expensive decanter bottle and wait for 60 minutes or more to enjoy the nectar of the vine?  That's where wine aerators come in.
Bocavin offers an electric aerator that claims to improve the quality of your wine immediately.  So now, I have to drink wine to properly perform my duties as a Gadgeteer.  Lucky for you readers, I'm a team player, so let's dive in.
What is it?
First, let's talk about wine and air.  Decanters are bottles that have a very wide base.  The idea is that you pour your wine into the decanter.  The act of pouring the wine through a funnel into the decanter as well as the wide bottom spreads out your wine, creating more exposed surface area. This allows more air into the wine, allowing it to "open".  But, that process takes time as it can take hours to fully open.
Aerators speed this process by breaking up the wine as you pour it into a glass, providing the maximum surface area exposed to the air as you pour.  Bocavin has upped the ante by adding a small impeller that pulls the wine into the Bocavin, swirling it into a tornado-like vortex as it pours into the glass.  This process introduces lots of air into the wine, speeding the process of bringing the wine to full-flavor.
What's in the box?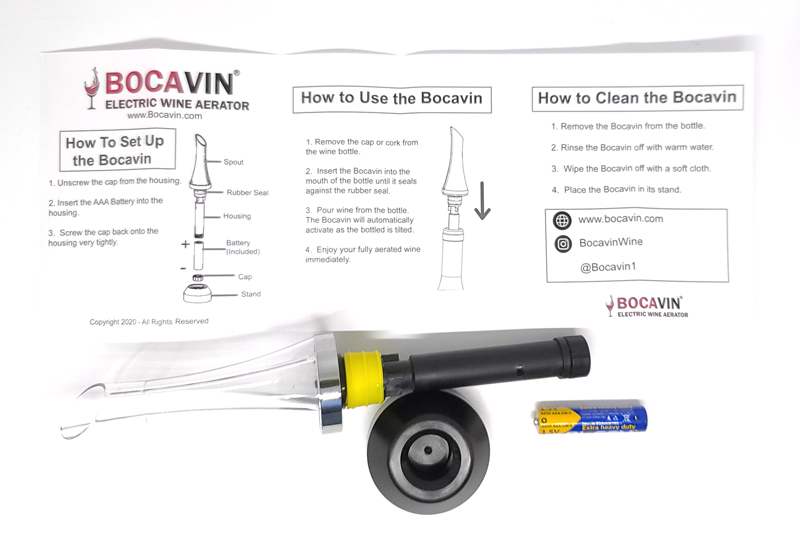 Bocavin aerator
Stand
AAA battery
Instruction sheet
Hardware specs
Dimensions: 7.5″ H x 1.5″ W
Weight: 1.1 oz
Switch: internal, automatic
Battery life: 20 or 30 bottles, depending on which claim on the website you believe – I wasn't able to get through that much wine for this review 🙂
Design and features
The Bocavin aerator is nicely designed with a clear funnel and chrome highlights.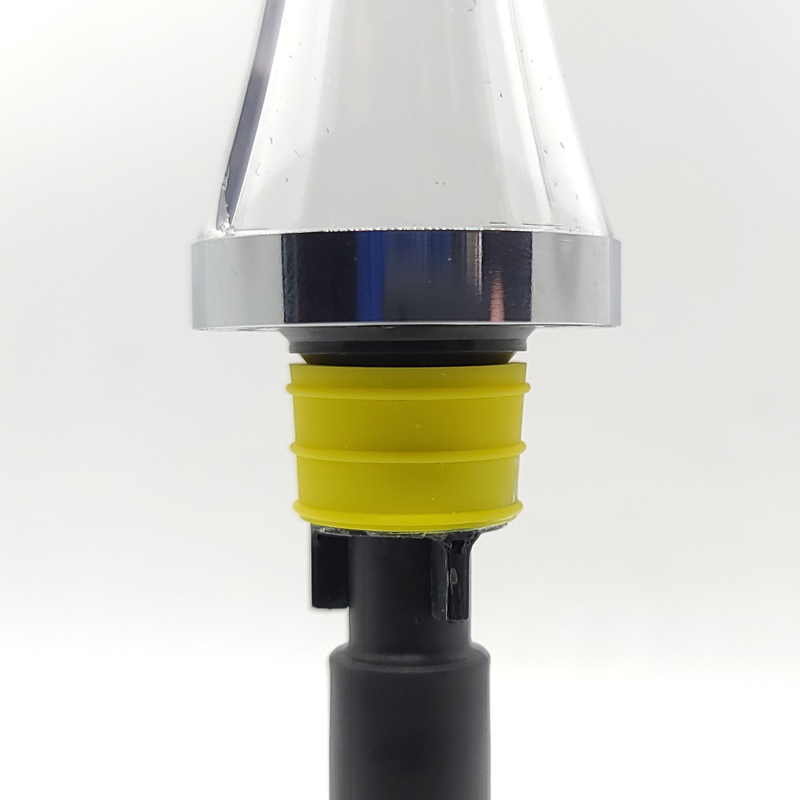 At the base of the funnel, we find a yellow rubber stopper that is designed to fit into, and seal, most wine bottles.
I should note that the seal on the bottom of the Bocavin was a little finicky.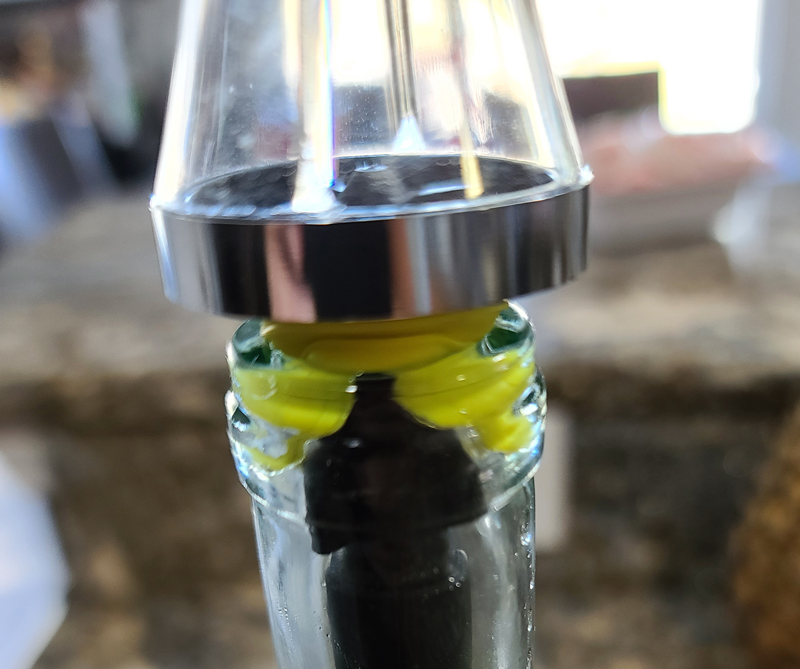 I had to wiggle and twist it to get a proper seal, but, I was always able to get it to seal and never experienced any leaks.
The AAA battery compartment is below the seal and closes with a watertight cap.
Looking down into the funnel, we see the slotted and perforated opening that the impeller pulls the wine through.  The four-blade impeller sits just above the screen. This design both split the wine flow and creates the vortex-like flow that maximizes the wine surface area exposed to the air.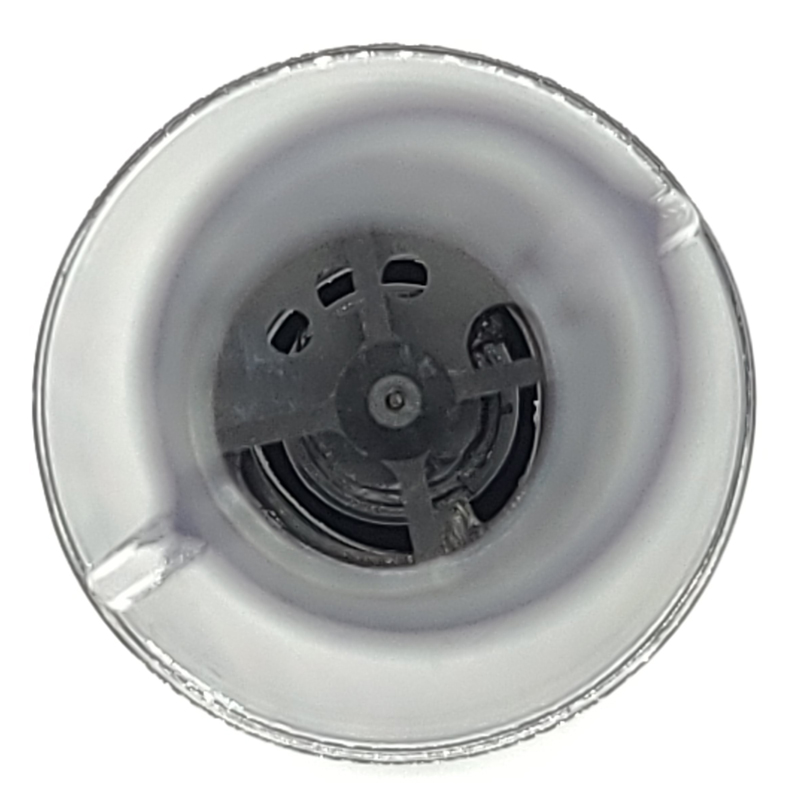 The included stand is made from molded plastic and is designed to hold the Bocavin upright.
To operate the Bocavin, just pour the wine.  An automatic switch turns the Bocavin on when it is tipped in the direction of the funnel outlet.
Setup
Setup is simple.  You unscrew the cap at the bottom of the base, insert the included AAA battery, and screw the cap back on.

Performance
My wife and I aren't really red wine drinkers.  We have yet to meet a red wine that we enjoy.  We also don't like dry wines.  We pretty much only like really sweet white wine, specifically Moscato.  Unfortunately, that type of wine benefits the least from aeration.  But, that didn't stop us from testing the Bocavin out on a bottle of really inexpensive Winking Owl Moscato from Aldi.
Sorry about the portrait orientation on the video.  I was pouring while recording and wasn't coordinated enough to flip the phone.
You can certainly see the Bocavin swirling the wine pretty intensely.  It also slows the flow of the wine, really spinning it to provide a lot of aeration in one pour.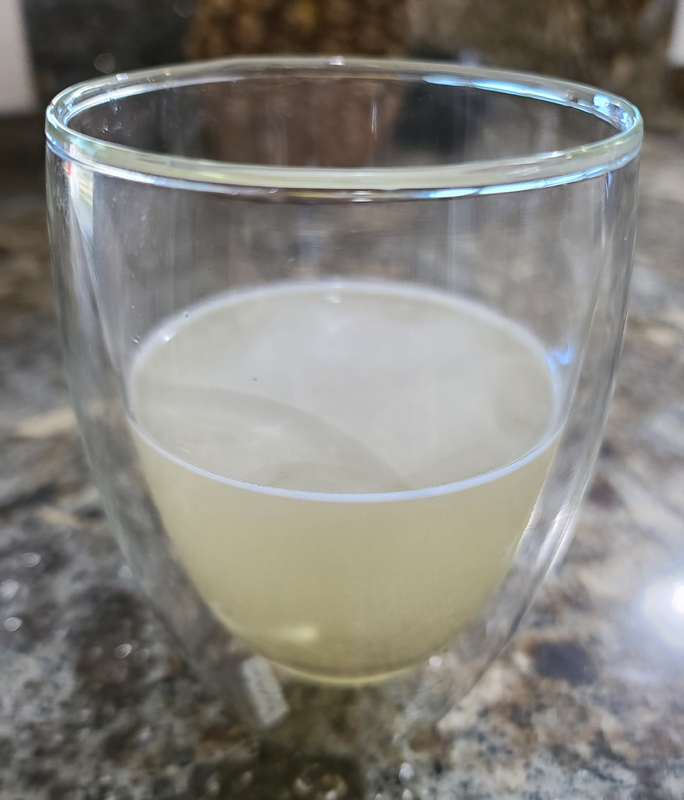 You can see how much air was introduced into the wine.  We took a sip and didn't think that it added much to the flavor.  But, after waiting a couple of minutes for the bubbles to work out of the wine, we could definitely detect a smoother flavor in the wine versus a non-aerated sip.  Still, this isn't the right wine to fully test it.
Lucky for us, we have friends that are red wine fans.  When asked if they were willing to drink wine to provide input into my review, they responded with, "Uh, yeah!"  So, we zipped over to their outdoor screen room, properly socially-distanced, Bocavin in-hand.
They opened a bottle of a favorite Cabernet Sauvignon (Cab for short) and we got to testing.  Since they are wine aficionados, they already had a wine aerator. I poured three glasses.  The first was straight from the bottle.  The second was through their aerator.  The third was through the Bocavin. The Bocavin claims to produce eight times the aeration when compared to traditional pour-style aerators.  It was time to put it to the test.
They both closed their eyes and I passed them each glass in random order, two times each.  Both of them were immediately able to identify the non-aerated glass as being harsher and having more bite to it. As for the other two aerated glasses, they were split.  She felt the other aerator produced a better more mellow and flavorful glass in both tests, even if only by a slim margin.  He was torn as he felt both aerators produced equally good results.  Interestingly, after we got back home, she texted and said they finished the Bocavin aerated wine several minutes after we left and were blown away.  She said that after sitting perhaps 20 minutes, the wine was absolutely fabulous.  Perhaps this was similar to our experience with the Moscato – the bubbles have to finish their work and dissipate. And, perhaps that eight times greater aeration really worked some magic on the wine.
So, the long and short of it is that the Bocavin made an immediate, positive impact on a Cab, but if you then let it sit for a few more minutes, the experience continues to improve.
If you're drinking an old wine with sediment, this isn't the right product as you really need to decant that wine and remove the sediment.  Also, this is not something you'd use on a bubbly wine.  Trying to add air bubbles to something that is already carbonated might just blow a hole in your dining room wall.  🙂
We tried a final test with a Malbec – a somewhat fruity red wine.  While I could identify an improvement after aeration, neither my wife nor I care for reds, and aeration didn't change that.
Cleaning is easy-peasy – just rinse under the faucet and let the impeller spin fresh water through the Bocavin.  Wipe it off and place it on the stand to finish drying.
What I like
Attractive design
Easy operation
Does improve the taste of even really inexpensive wine
What I'd change
Final thoughts
I'll admit that my wife and I are not the ideal candidates for this product. We generally don't like red wine and that's the kind of wine that really benefits from aeration.  But, even with our inexpensive white wine, the Bocavin did make a positive difference.  If you're a red wine lover with no patience for hours-long decanting and aeration, this can really make a difference in your wine experience.
Price: $39.99, but as of this writing, they're still running a Black Friday special for $29.99, plus a 10% discount if you subscribe to their email list
Where to buy: Bocavin
Source: The sample of this product was provided by Bocavin.
Support The Gadgeteer
:
The Gadgeteer is supported by readers like you! If you buy something through the links on our site, we may earn a small affiliate commission. Thank you! Learn more.