We use affiliate links. If you buy something through the links on this page, we may earn a commission at no cost to you. Learn more.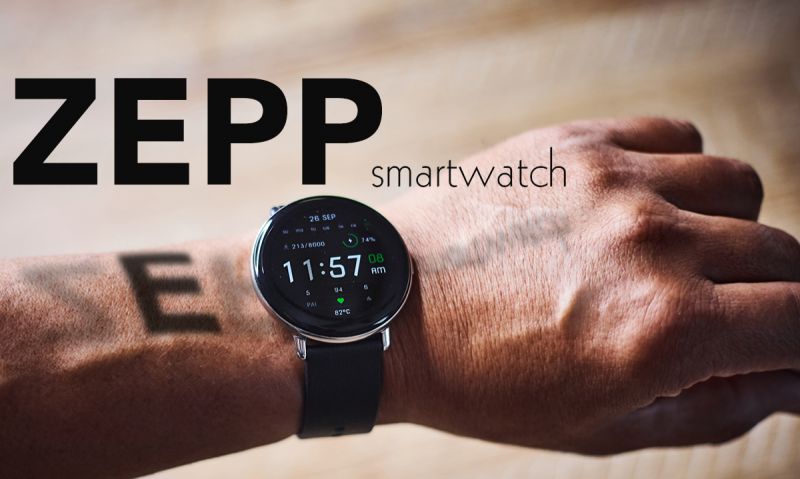 REVIEW – When you see a square watch on someone's wrist you automatically know it's a smartwatch just from the shape of it. The square face tends to be the go to shape for smartwatches these days. However, I prefer the traditional round circular shape for my smartwatches. And with the Zepp E smartwatch, not only can you get that traditional and stylish looking round face watch but you can also choose to get it in the square shape if you want.  Whichever one you choose its the polished bezel-less glass edges that will make this smartwatch stand out from many other smartwatches. Either way, you are going to get a sleek and sexy modern piece of technology for your wrist.
What is it?
The Zepp E is a smartwatch not unlike other smartwatches that allows you to read your vital functions, track and monitor your daily physical activity all while gathering body data for you to analyze and review. But what makes it different is that it is a modern smartwatch disguised as a stylish and eye-catching minimalist watch.
What's in the box?
Zepp E Smartwatch
Magnetic Charging cable
Extra Band Strap
Manual
Hardware specs
Body Material: Stainless Steel
Button: 1
Water Resistance: 5ATM
Display: AMOLED
Screen Size: 1.28 in.
Screen Resolution: 416 x 416
Pixels  Per Inch(PPI): 326
Weight(w/o band): appx. 32g
Band: 20mm, Leather
Design and features
The Zepp E smartwatch is a great looking digital timepiece. The combination of the glass watch face and stainless steel body truly complement each other with its classic look and styling. Plus, the rounded edges over the entire watch give it that super glossy look and feel. I found the size of the Zepp E smartwatch to be just the right size, not too big and definitely not too small. Unlike many smartwatches out there that tend to be bulky, this smartwatch has a nice thin profile with a thickness of 9mm. I really like the AMOLED screen resolution of the watch. It looks bright and crisp. The square version of this watch has a screen size of 1.65 inches and a 341 PPI screen resolution.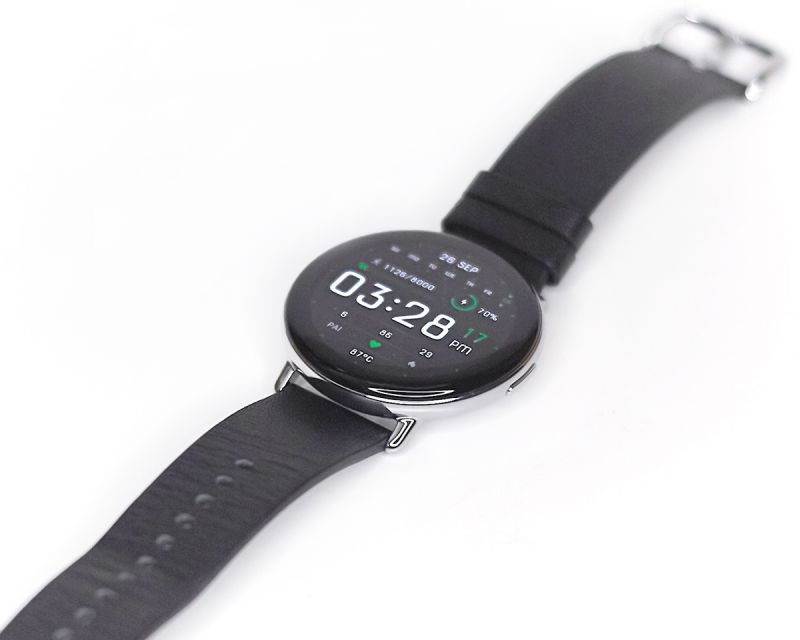 The Zepp E smartwatch uses Bluetooth 5.0 BLE (Bluetooth Low Energy) so it helps keep a longer battery life. The 188mAh battery is rated for seven days of typical use versus 15 days when the watch is put into Basic Watch Mode or Battery Saver Mode. I monitored the battery life after a full charge and found that when I fully charged it about 7pm on a Tuesday night, the battery was only down to 10% the following week on Wednesday night around 10pm. So, basically I got around eight days of battery before I needed to charge the watch. And the watch was not even in the Battery Saver Mode, so I have to give a big thumbs up for the battery life on this watch.
And since the Bluetooth pairs with your phone, you can receive notifications for your email and text messages on the smartwatch. You have the ability to control the music on your phone with a simple Play/Pause button, and a Next and Previous button as well. You are also able to control the music volume on your phone with the Zepp smartwatch.
For those of you wondering, there isn't a feature to make or take phone calls with the Zepp smartwatch.  When you get a phone call, all you can do is Reject the call with a button on the watch screen or hit another button on the screen which basically mutes the ringer. The smartwatch only notifies you that you are receiving a phone call.
It's kind of a bummer because it would have been nice to at least have the ability to use the Zepp as a Bluetooth hands-free device or speaker should you need it.
I do like that there are some other features that seem very useful such as the built-in flashlight and Phone Finder. The Flashlight Mode is basically the smartwatch turning the watch face into a bright white screen that gives off a decent amount of light which is handy in a pinch like if you need to read the menu in a dark restaurant or need a little bit of light in a movie theater or making your way to the bathroom at night. There's just the right amount of light without being overpowering and distracting.
The Phone Finder works flawlessly. As soon as you hit that button on the smartwatch screen, your phone starts chiming. And the chime has a loud enough volume which will help you find your phone if it's within earshot.
The watch uses a magnetic two pogo pin charger and takes about two hours for a full charge. The charging cable has a USB Type A plug so it can readily connect to your computer, portable charger, or USB outlet. Unfortunately, a charging block, or wall charger plug, is not included with the smartwatch.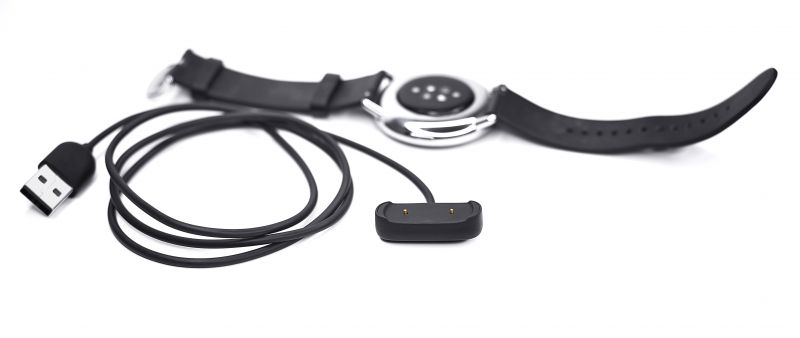 The Zepp E smartwatch has plenty of health management features built into it with the help of the bio-tracking optical sensor on the back of the watch. The watch has monitoring features such as Sp02 (Blood Oxygen Saturation), Sleep Monitoring, Stress Levels, Heart Rate, Calories, Steps, and plenty more. On the app, you can input your body stats for more customization of the watch to your particular body.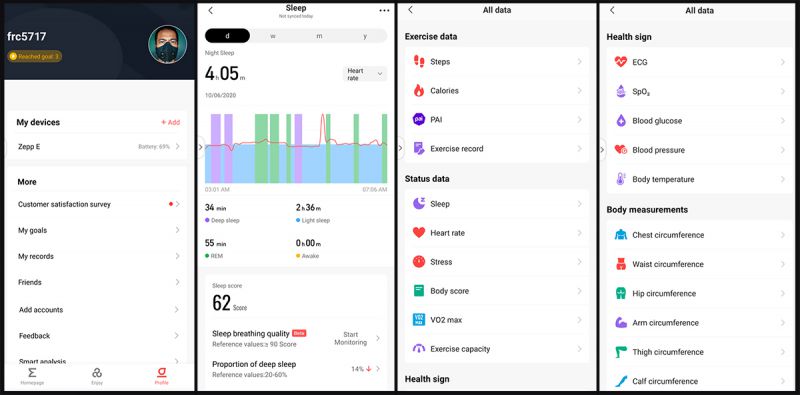 The Zepp E along with the app lets you create a personal profile that you can use along with a Personal Activity Intelligence (PAI). Basically, the app and smartwatch track your activity and data then provide you a score based upon the results.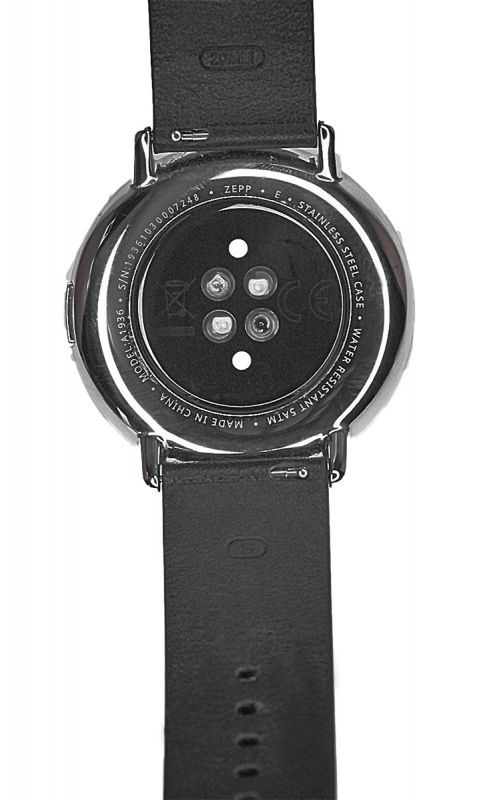 The Zepp E smartwatch has other nice features such as the Always On Display. So, if you prefer to have the smartwatch display the digital face continuously rather than having to lift or tilt the watch to turn on and view the time or notifications. Keep in mind that the Always On Display will cause the battery life to be shorter than if you enable the Auto Shut-off feature on the watch. You also have a setting for Auto or Manual Brightness which helps prolong the battery life.
And speaking of the digital face, one of the many features I really liked about this smartwatch is the numerous downloadable watch faces you can install through the app. I found that installing the new watch faces was effortless. You browse and find the watch face you want, select it, download it, and the app does the rest. It only takes a minute or two for the app to sync and install the new watch face.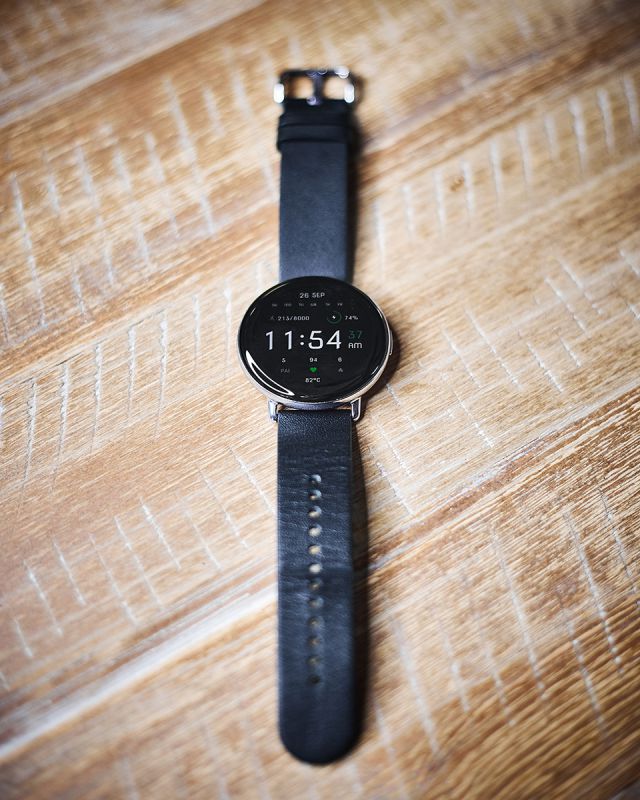 The  Zepp E smartwatch comes with a leather band so I try to avoid getting the leather band wet when I am washing my hands. In the past, I have had leather bands that got ruined from getting wet and from sweat.  Chances are that they may have been synthetic leathers but I want to keep this leather band in good condition for as long as I can.  I don't like to wear watches with leather bands when I workout or when I know I am going to get very sweaty as if I will be doing some yard work on a hot day.
However, since the Zepp E smartwatch has a 5 ATM water resistance, you could put on a more suitable band such as a silicone or fluoroelastomer band if you are going to use this watch while doing strenuous activities such as running, working out, biking, etc., and most definitely while swimming. But the great thing about these bands that come with this smartwatch is that they are super easy to remove and install thanks to the quick install pin. These are so much better than the typical watch band pins that are always a pain to install. It was always a struggle to get them on just right. With these quick install pins, it makes it so much easier to attach or remove the watch bands.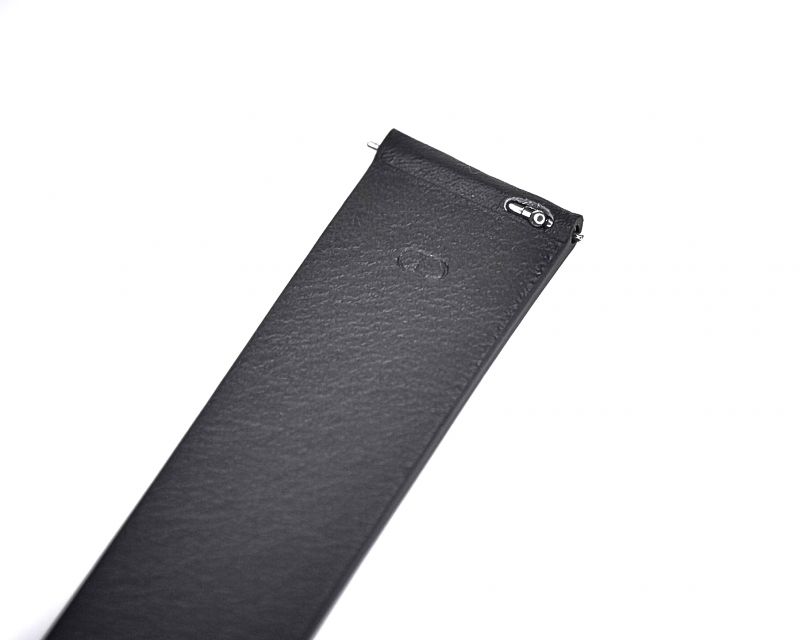 Although there is an extra band included, unfortunately, it is only one side of the band. It is not a full band set with the holes and buckle, just the band side with the holes. No extra band with the buckle. I would have preferred if Zepp included a metal watch band with the magnetic clasp. I have one of those metal bands on another smartwatch and I think it is one of the best watch bands I've used. Its light and comfortable and easy to put on and take off.
I guess when Zepp included just the one side of the watch band they are anticipating that the side with the holes will get worn out quicker and the most. However, I would have preferred having a full watch band set. Who knows, there could be a time where the buckle side needs replacing before the other side does. Only time will tell. See what I did there?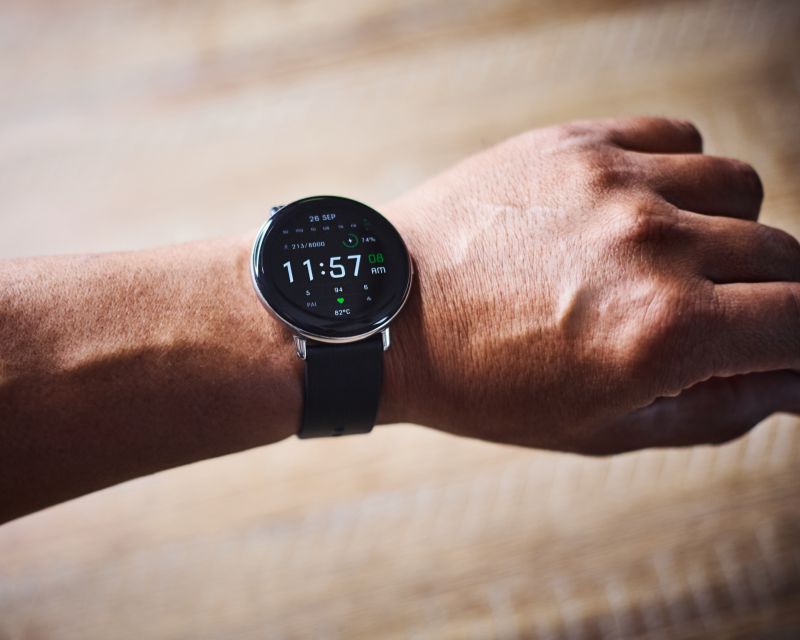 Performance
I found that the watch is very responsive when swiping or flicking across the watch face. The smartwatch was very snappy and much of the navigating is done on the watch face itself along with a single button on the side. And speaking of the watch face, the glass on it has been super durable. I can't tell you how many times I have knocked, bumped, and banged the watch on a door frame, a door knob, the corner of a table, or getting in and out of my car. And the one thing I can tell you is that each time I caught myself hitting the watch on something I immediately inspect the glass for any cracks and have not seen one yet. Not even a nick or scratch. Needless to say, I am very impressed with the durability of the glass on the Zepp E smartwatch.
What I like
Sleek and Stylish Looking
Average 7+ day battery
Plenty of downloadable customized watch faces
Durable glass watch face
Flashlight
Phone Finder
What I'd change
Include a full watch band set
Make hands-free or speaker available for phone calls

Final thoughts
The Zepp E smartwatch in combination with the app gives you plenty of activity feedback as you wear it. If you use a smartwatch to monitor your vital signs then you will definitely like using the ZeppE smartwatch. Although the Zepp E smartwatch is not a medical device nor does it claim to be, but it does a fantastic job of tracking your health stats with the help of the optical sensor on the back of the smartwatch. Plus, I really like using the built-in flashlight and getting notifications on the smartwatch which is so nice to have when I don't have my phone on me or near me to hear the notifications as I receive them. So, if you want to monitor your heart rate, count your steps, check your sleep quality, check your stress level, check your blood oxygen saturation, and more, then the Zepp E is the smartwatch to provide you with those stats and analysis to assist you in monitoring your every day well being. The Zepp E provides health information all the while looking stylish and fashionable.
Price: $249.99
Where to buy: Zepp E Circle and Amazon
Source: The sample of this product was provided by Zepp.