We use affiliate links. If you buy something through the links on this page, we may earn a commission at no cost to you. Learn more.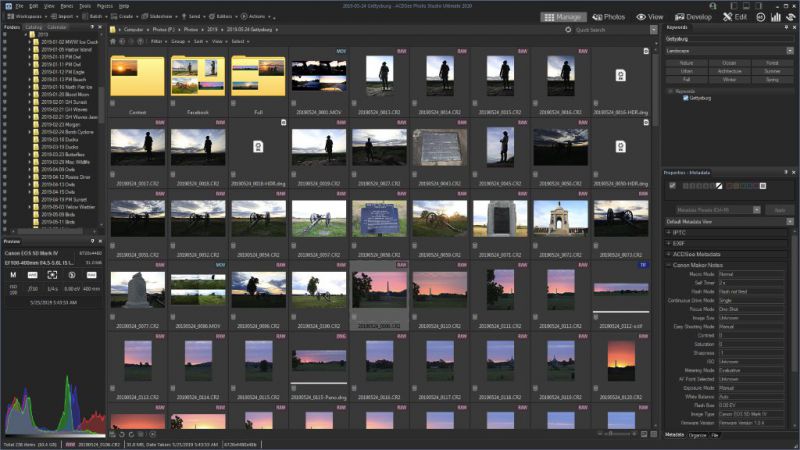 REVIEW – There are two things in the computing and gadget world that I really like – great software and photography. The chance to review ACDSee's Photo Studio Ultimate 2020 came along, and I jumped at the opportunity to check out something that combines both of these.
What is it?
ACDSee's Photo Studio Ultimate 2020 is a software package for Windows that combines a digital asset manager and RAW photo editor with layers.
Design and features
ACDSee's Photo Studio Ultimate 2020 is a complete software package that combines a Digital Asset Manager (DAM) and an image editing suite into an all-in-one program. Whether you use it as an alternative to other editing programs such as Lightroom, Photoshop, CaptureOne, Luminar, or simply as an alternative editing option, ACDSee's Photo Studio Ultimate 2020 is powerful and flexible.
ACDSee's Photo Studio Ultimate 2020 has four primary modes: Manage, Photos, View, and Develop. There are so many things it can do, so I'll be coving just some of the main features of each mode.
Manage Mode
Commonly referred to as a Digital Asset Manager, the Manage mode provides a means to access and organize your images and files. In addition to viewing your assets (files), it allows you to add ratings, keywords, color labels, and more. Sharing tools for Email, Flickr, SmugMug, Zenfolio, and FTP make it easy to share or upload images.
Photos can be viewed by navigating your folders in the folders pane. There is no import process like Adobe Lightroom, just point it at a folder and start viewing. The folders pane also provides access to ACDSee Mobile Sync. With the ACDSee Mobile Sync app, you can send images and videos directly from your phone to ACDSee.
There are batch options for processing multiple images at the same time by choosing one of the. With the Actions Browser to batch apply actions you've recorded in Edit mode to multiple photos at once, or any of the 125+ pre-loaded recordings. Create, categorize, import, export, and manage recordings with ease.
The interface is very configurable, allowing you to turn on and off many panes to view just the information you want. There's even a feature for saving your layouts so you can easily switch between them for various tasks.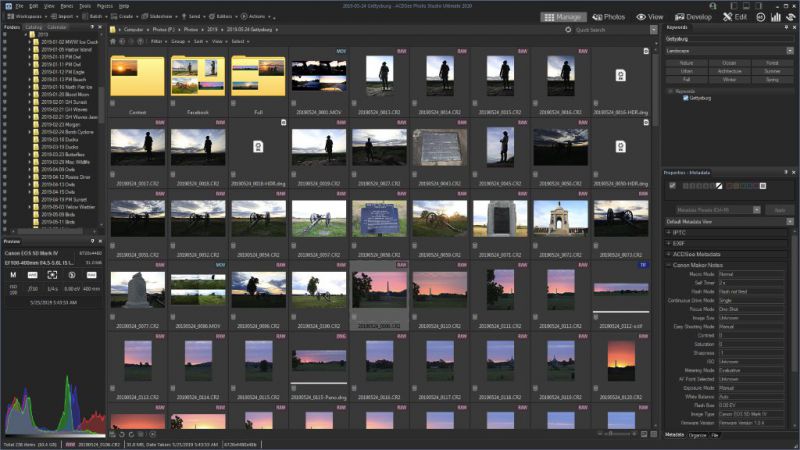 Photos Mode
The photos mode is for viewing your entire image collection by date. Photos mode displays images that have been cataloged. This mode makes it easy to filter photos by date, regardless of what folder they are in.
The display can be changed between week view, month view, and year view.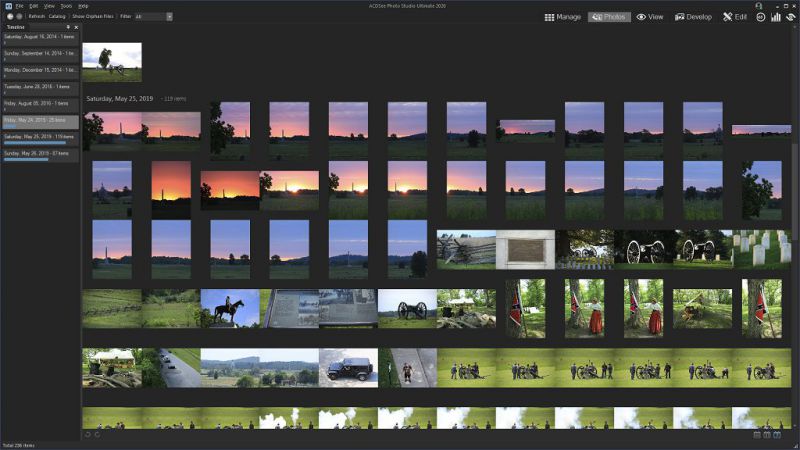 View Mode
For viewing images, office documents and PDF's, the photos mode provides a thumbnail strip to navigate to photos, an EXIF info panel, and many other panes such as navigator, magnifying glass, histogram, and properties pane. Face Detection also helps to identify faces.
The view mode also has a few controls for quick editing such as lens adjustments, rotate, AutoLight EQ, and more.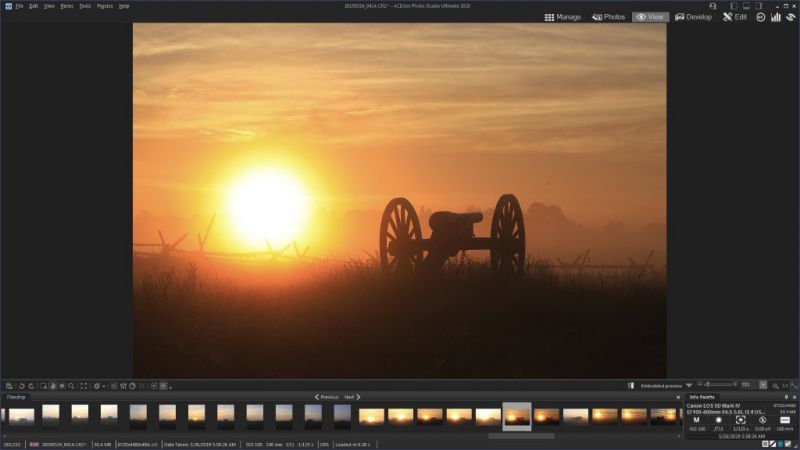 Develop Mode
There are two editing modes in ACDSee's Photo Studio Ultimate 2020. The develop mode has Lightroom like adjustments in a simple, yet powerful interface. The Edit mode is capable of the same image adjustments, and also has layers for more extensive editing.
The develop mode Tune tab includes non-destructive adjustments for exposure, white balance, lighting, color, tone curves, and much more.
The Detail tab has tools such as noise reduction, color fringing, skin tone, sharpening, and more. The Repair tab has tools for things like red-eye correction and flaw repair. The Geometry tab has tools for correcting lens distortion, perspective, unwanted vignettes, as well as cropping, rotating, and straightening.
A very nice feature is the Develop Snapshots that can be used to take snapshots of your work in stages, allowing you to easily jump back to a certain point in the editing, or to create alternate edits.
ACDSee has implemented a great feature to save all settings as a preset, or save just settings to a specific tab or tool group.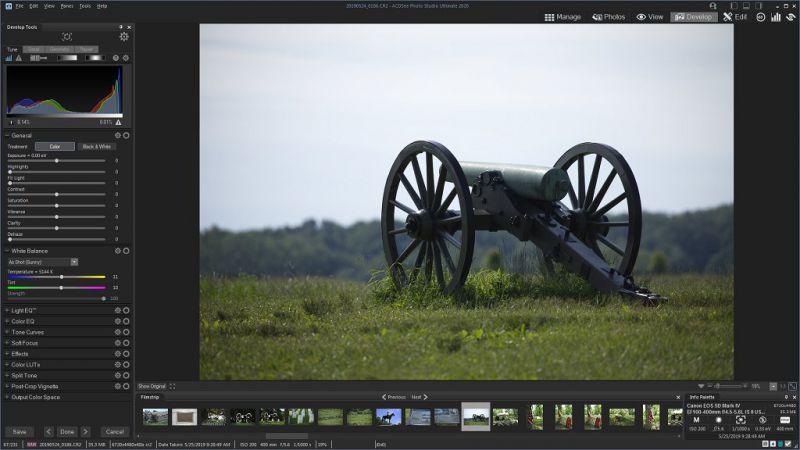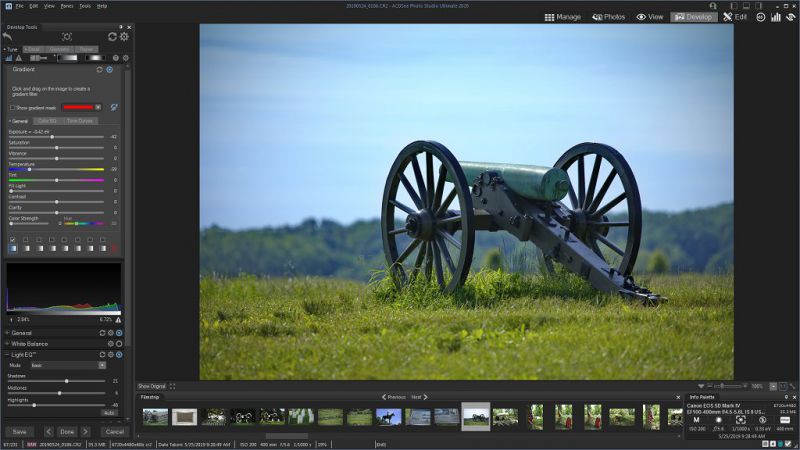 Edit Mode
Edit mode can be used in conjunction with the Develop mode, or simply on its own. It is a layered-based, non-destructive, photo manipulation mode with GPU acceleration to provide for quick edits. Think of this as a Photoshop-like editing environment.
The Edit mode is filled with 200+ pixel-based adjustment tools designed to be used in combination with selections, brushes, and gradients.
The layers include many different types of layers, as well as layer masks.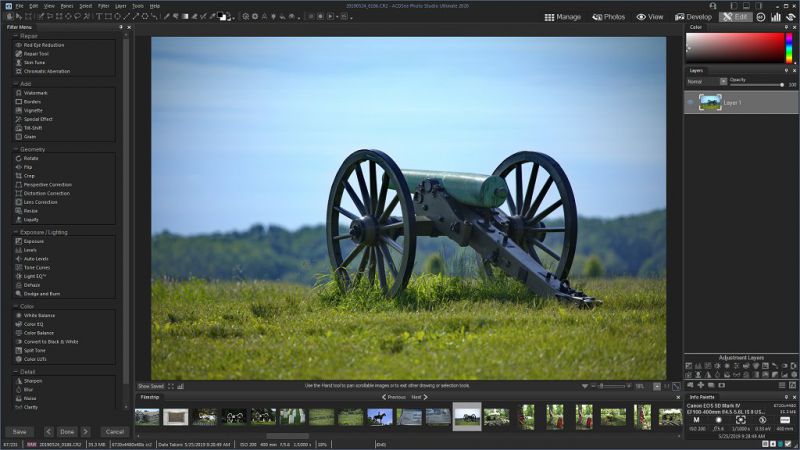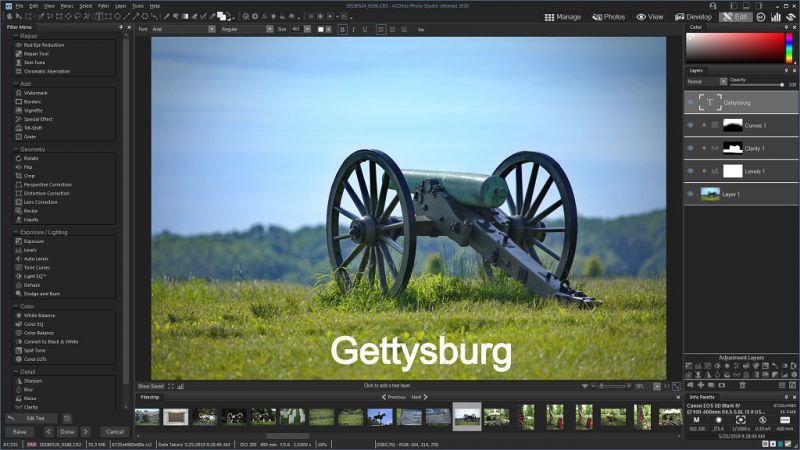 Setup
Setup was typical of most Windows installers and completed relatively quickly. I do appreciate that there is a custom mode to customize which items get installed. Something that I was concerned about when starting the install was addressed rapidly as well as a prompt for associating file extensions was presented before the installation begins. I'm picky on file extensions on my main machine, so this was very welcome.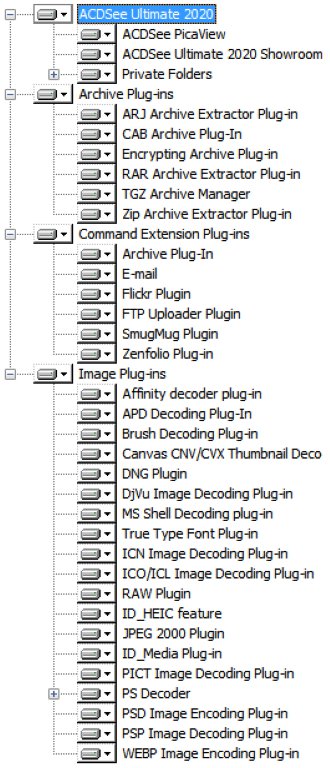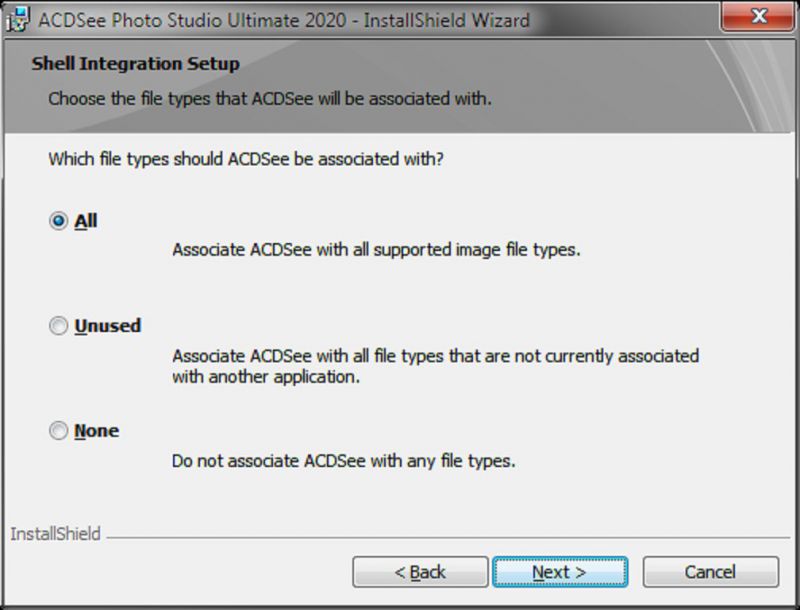 At the end of the installation, a web page launches that includes seven short tutorial videos by Professional Photographer Alec Watson on the key aspects of the software. I highly recommend taking a few minutes to watch the tutorial videos as it will save you some time when it comes to learning the software.
What I like
Extensive editing options
No need to import images
Digital asset manager and layered editor in one application
What I'd change
Final thoughts
Overall I believe that ACDSees Photo Studio Ultimate 2020 is a well rounded, feature-rich product. It should fill the editing needs of most casual users as well as professionals. The extensive organizational features make it an excellent choice for cataloging and organizing your photos.
Price: $89.95 Lifetime License, subscription plans are also available
Where to buy: ACDSee
Source: The sample of this product was provided by ACDSee.