We use affiliate links. If you buy something through the links on this page, we may earn a commission at no cost to you. Learn more.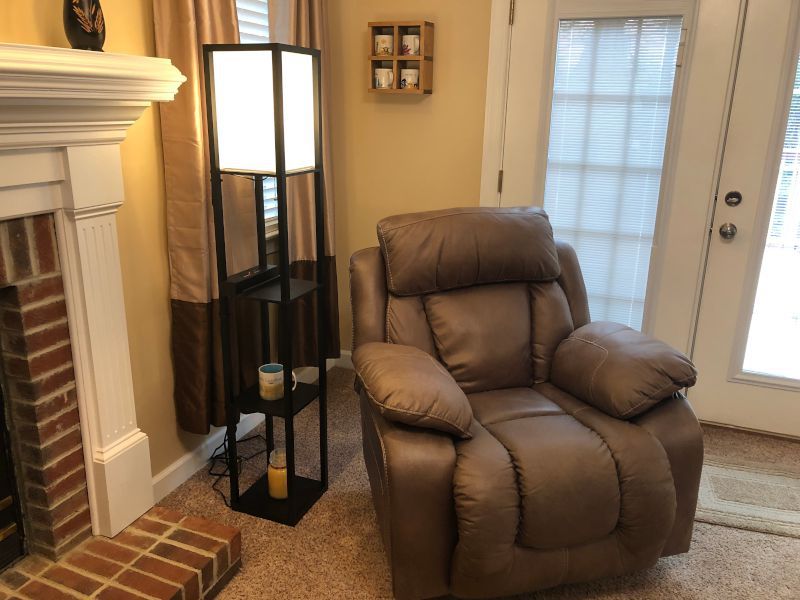 REVIEW – When our family first started buying mobile devices several years ago, I purchased an Anker USB charging hub and put it on our pie safe.  This created one central location in the house where everyone could put their gadgets for high-speed charging.  These days, however, it seems that we always want to keep our devices handy. We have this compulsion to respond quickly to text messages, check the weather, or play music via a Bluetooth speaker. Whether or not such dependency upon our gadgets is a good thing I'll leave for you to decide, but it certainly leaves us wanting to have more than one charger in the house and even to have more than one type of charger, as our tablets still require a USB cable but our phones support the Qi wireless charging standard.  I could purchase a handful of charging stations and scatter them around the house, but it would be nice to have a solution that fits more naturally into our living spaces.  This is where Brightech comes in.  As the name of this company suggests, many of their products integrate charging technologies into light fixtures.  This is an elegant way to solve my problem, so I'm hoping that the Brightech Maxwell floor lamp will fit nicely into our living room.
What is it?
The Brightech Maxwell (Wireless Charging Edition) is a floor lamp that has three shelves, one of which has a power outlet, a USB port, and a Qi wireless charger.  It's designed for the living room, and I think it would probably work best next to a couch or a chair, thus providing easy access to devices being charged.
What's in the box?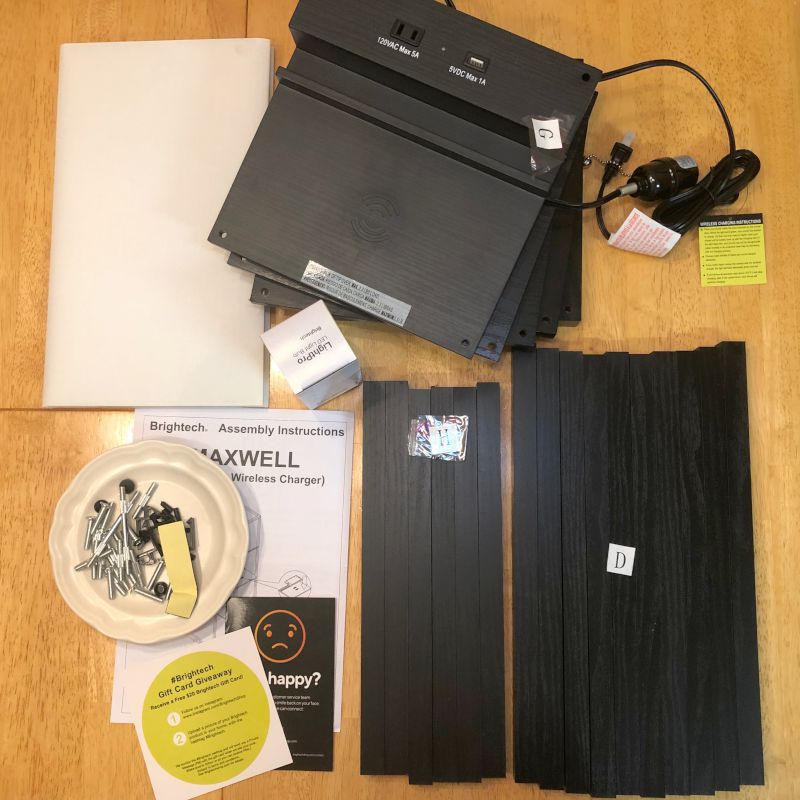 The Maxwell comes with:
All the parts necessary to assemble the floor lamp (shelves, poles, sundry hardware, and a light socket with cord)
A light bulb
A rectangular, off-white lamp shade
A manual with 3 pages of assembly instructions, a customer care card, and a giveaway card
You'll need to have a large Phillips screwdriver and a rubber mallet to assemble the lamp, as these tools are not included.  (A regular hammer will work in a pinch, though it might crack the plastic pieces, if you're not careful.)
Hardware specs
1 LED lightbulb, 9.5 watts at 800 lumens
1 Qi wireless charger
1 USB port (the website says there are 2 ports, but there's only 1)
1 US electrical outlet
Weight:  13 pounds
Height:  63 inches
Shelves:  10.25 x 10.25 inches
Design and features
Brightech describes the Maxwell lamp as both Asian and modern.  When we lived in Thailand, we saw a lot of rectangular lamp shades, though often with images.  When a shade like this is combined with the austere style and black color of our lamp then a fusion of Asian and modern is a pretty good summary of its style.
Installation and setup
I hope you're comfortable with the phrase "some assembly required," because that's a requirement for this gadget.  One evening after dinner, my wife and I set out to assemble the floor lamp.  The manual walked us through the process using a combination of pictures and textual instructions.  For the most part, it was well-written.  There were a couple places that were slightly confusing, but as this lamp is reasonably straightforward to assemble, we were able to figure it out without any snafus.
We started with the base and connected the poles with screws.  It uses a set of interesting two-sided screws that connect the poles under each shelf with the corresponding poles over it.  This is a nice solution for keeping everything together nice and tight.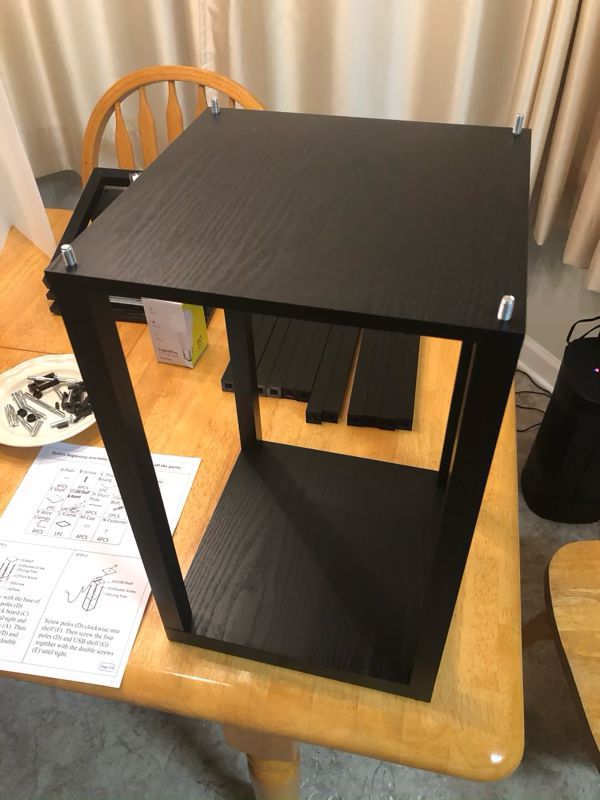 The lamp quickly grew until it was too large to assemble on the table, so we moved it down to the floor. There are three shelves:  the base shelf, the middle shelf, and the charging shelf.  Two power cords are built into the back of the charging shelf; one goes down and plugs into the wall, and the other goes up and connects to the lamp.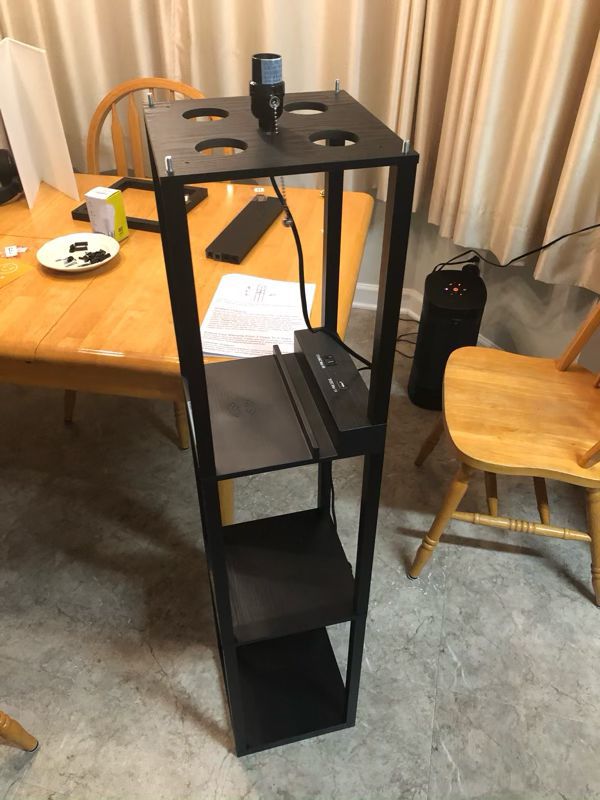 The socket is held firmly in place with a wingnut, and a small chain hangs down under it and turns the light on and off.  There also four holes in the board that holds the socket, allowing some light to shine done onto the charging shelf below, a nice touch.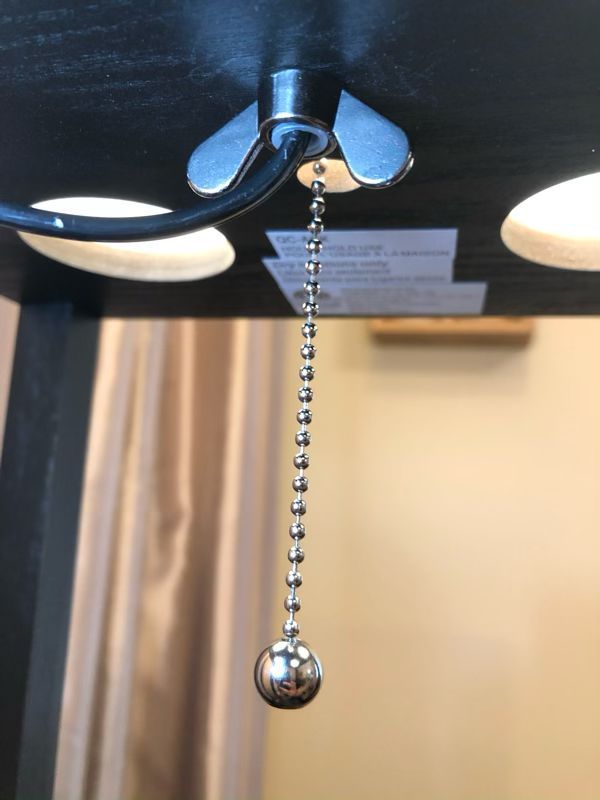 Once we added the final piece to the top, we opened up the lamp shade and slid it down into its spot. The somewhat rigid material feels very similar to a standard lampshade.  Four plastic fasteners keep it from moving around.   The final step was to attach the four plastic clips used to hold the cord against the poles, thus keeping it out of sight.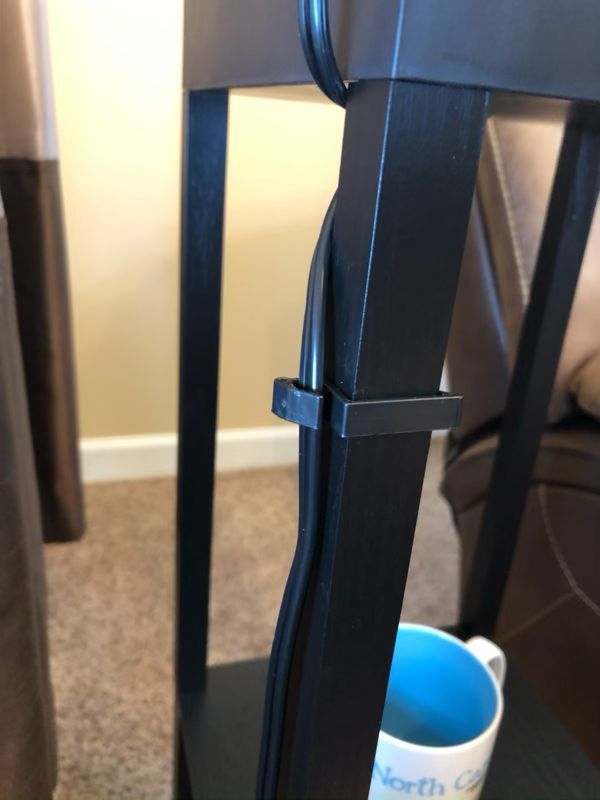 It took us about 30 minutes to assemble the Maxwell.
Performance
The charging shelf has a Qi wireless charger built into it.  When an Qi-enabled phone is set on the shelf, it begins charging, and it works just as expected.  There's a small LED between the plug and the USB port that is normally red but turns green when a phone is charging.  I'm not a big fan of the LED; it doesn't really fit into the soft ambiance of our living room, but it is handy to know at a glance when my phone is being charged.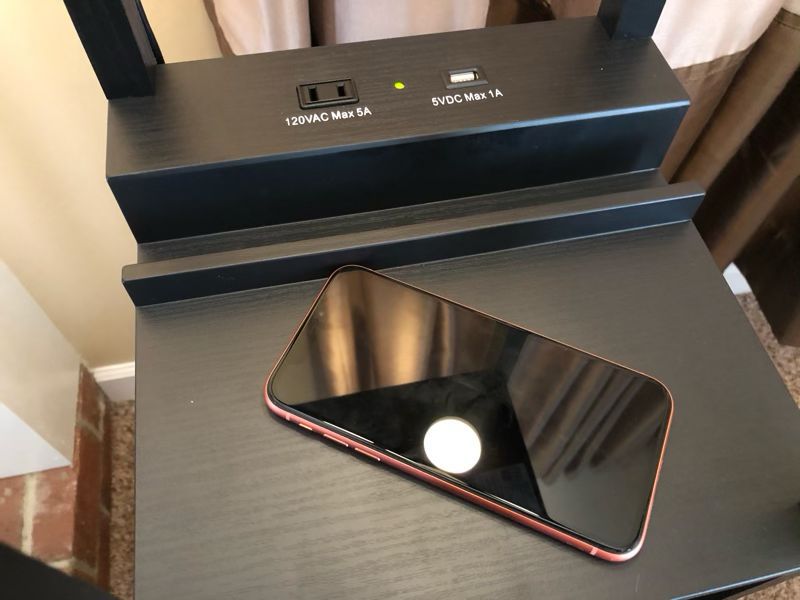 There is also a USB port for charging other gadgets, and you'll need to supply your own cable for this. When charging my tablet, I can prop it up using the built-in stand, thus keeping the shelf free for charging a phone. This is a nice little addition to keep things neat.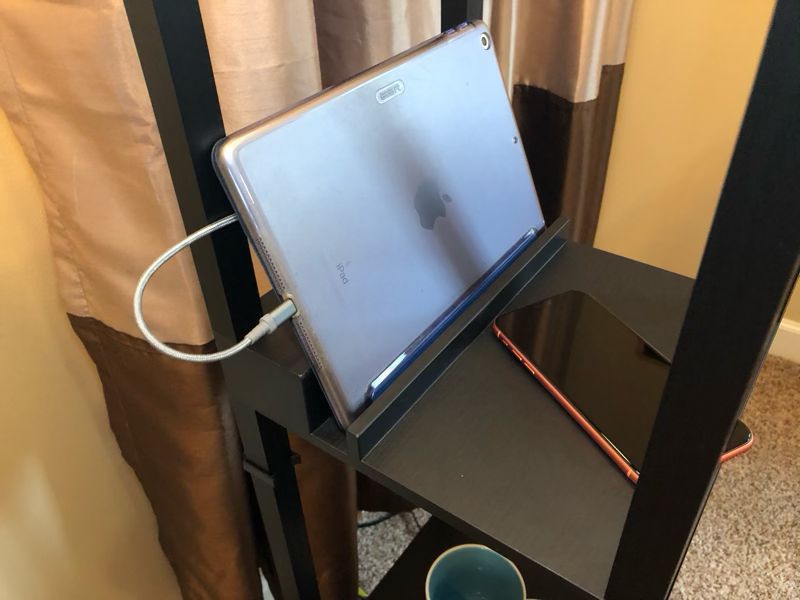 The included lightbulb is a warm white LED that uses only 9.5w.  It's bright enough to read by, though not so bright as to blind everyone in the room.  The top of the lamp shade is open, making it easy to change bulbs.
Location
Once the lamp was assembled, we needed to find a home for it.  For our family, we decided that the best location would probably be in our living room, so we removed the end table and lamp beside our sofa and put the Maxwell in its place.  The first thing that we noticed was that it was a bit wobbly on the carpet due to the small base.  Most new homes these days in our part of the country are built with hardwood floors in the living room, so this won't be an issue for everyone.  Although the lamp looks great here, it didn't really function too well for us.  Unlike the end table, the charging shelf is too high above the couch arm and felt awkward, plus it was not quite steady enough to safely hold a glass of ice tea while watching TV.  (As an alternative, it's worth noting that Brightech makes the Madison, which is an end table with a built-in wireless charger; that probably would have worked better here.)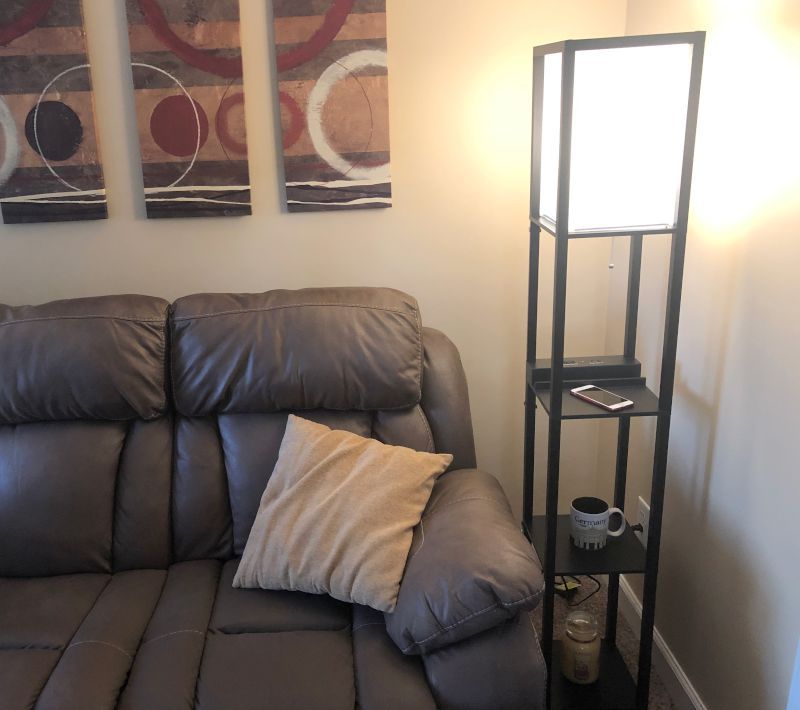 We decided to try the spot beside our recliner, and we're much happier with it here. It fits nicely into the niche between the recliner and the fireplace, provides light for reading, and it's perfect for charging a phone.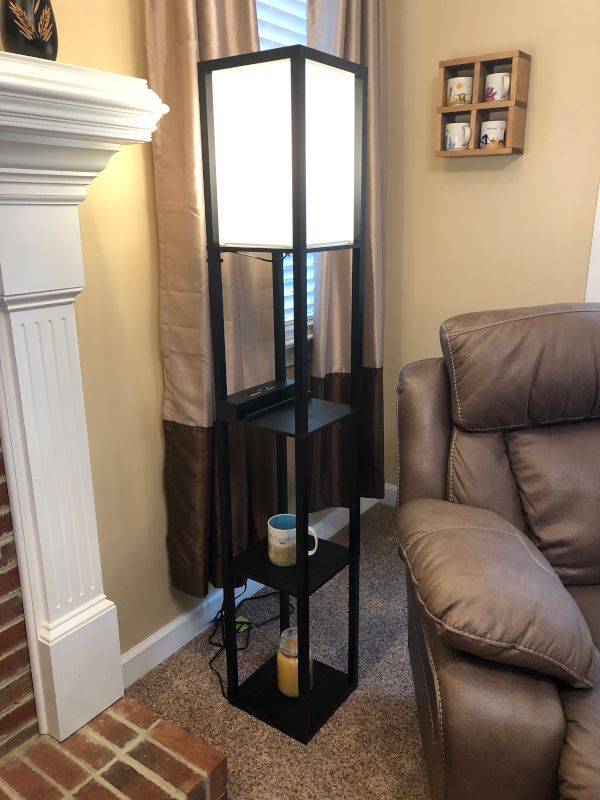 I think the lamp could also work well in a study or den and maybe even in a master bedroom if there's a chair to put it by.
Materials
Brightech's website says that the Maxwell is a "floor lamp in an all-wood frame."  I was immensely disappointed when I opened the box and found that this lamp is not made of solid wood but of MDF.  If you're not familiar with MDF, it's basically sawdust mixed with resin and wax and compressed with heat and high pressure.  It's a manufactured product, and while it's made from wood byproducts, it's not wood.  It's neither as durable nor as strong as real wood, and it completely lacks its warmth and beauty.  To hide the MDF, Brightech covers the poles and shelves of the Maxwell with a plastic veneer that has a wood-like pattern.  The only advantage of MDF is that it's less expensive than real wood.  I hope that Brightech chooses to be completely transparent and change it website to say "MDF" or "engineered wood product" instead of "all-wood."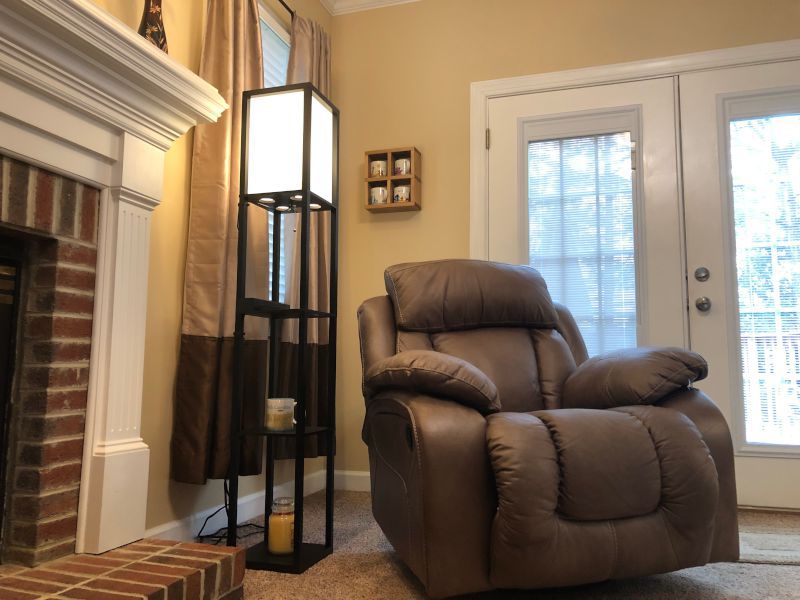 What I like
Asian, modern design
Wired and wireless capabilities
Chargers built into the lamp
What I'd change
Be transparent about using MDF (or use real wood)
Final thoughts
The Maxwell has found a nice home in our living room, and I'm super happy with the functionality that it provides.  I really like the way that Brightech has integrated charging capabilities into a floor lamp, and I'm hoping that this concept finds its way into other furniture in our house.  Whether or not you should consider buying the Maxwell largely depends on upon your views of wood.  If you don't really care about wood, or if you're looking to save some money, then you should definitely take a look at the Maxwell.  If, however, you prefer real wood furniture, then you should probably pass.
EDIT (7/25/2020):  Last fall my son moved into a house with several other guys from his university, and since he needed a lamp in his room I gave the Maxwell to him.  He's been using on a daily basis for about 9 months.  While the lamp continues to work great, both the USB-A port and the 120 V power plug have failed.  The port has fallen down into the plastic brick, so that it cannot be accessed, and the power has stopped working and no longer powers anything that is plugged in.  To fail after less than a year seems to be a rather disappointing statement about the quality of Brightech lamps.
Price:  $59.99
Where to buy:  Amazon
Source: The sample for this review was provided by Brightech.