We use affiliate links. If you buy something through the links on this page, we may earn a commission at no cost to you. Learn more.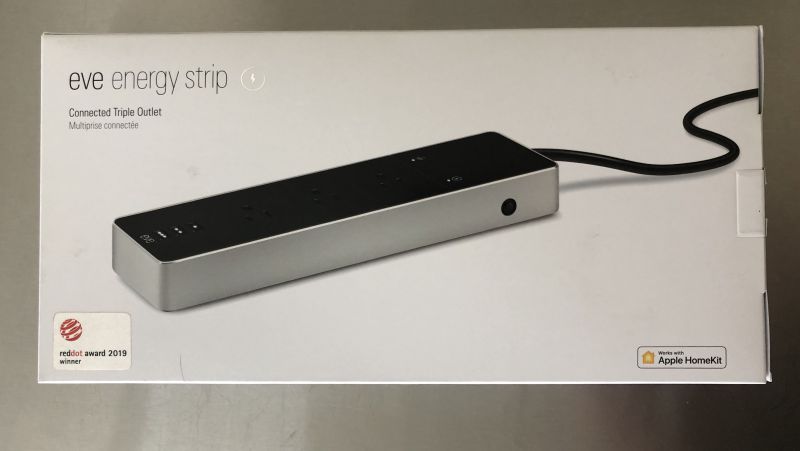 REVIEW – We are moving closer and closer to having our entire house controlled by our voices between Amazon's Alexa and Apple HomeKit. Having previously review the Eve Flare portable light, I was excited to also get a chance to review the Eve Energy Strip, another Apple HomeKit compatible device.
What is it?
The Eve Energy Strip is a 3 port power strip with surge protection, overcurrent protection and overvoltage protection, that is also compatible with Apple HomeKit – which means it can be controlled via Siri voice commands.
What's in the box?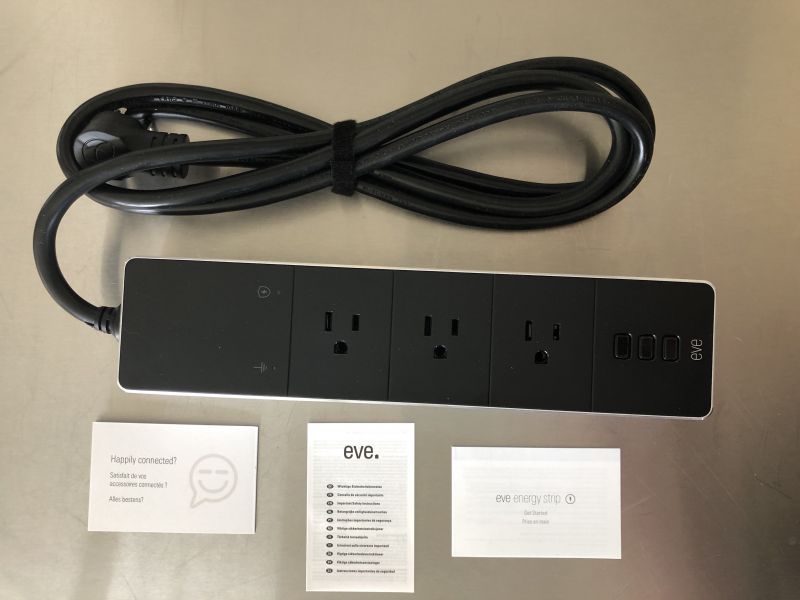 Eve Energy Strip
Instruction Manual
Warranty Info
Quick Connect Guide
Design and features
The power strip has a 6.3 ft cord, so plugging it in and then tucking it in behind or under furniture along a wall is pretty easy. It has an aluminum frame and black matte finish on the face of the device. Three buttons with LED indicators allow for manual control of the three outlets, and give a clear indication of whether the plug is currently active or off. There are also separate LED indicators to show proper grounding and surge protection. There is a surge indicator on the side of the unit if a surge protection occurs it will pop out and to reset the unit you just push it back in.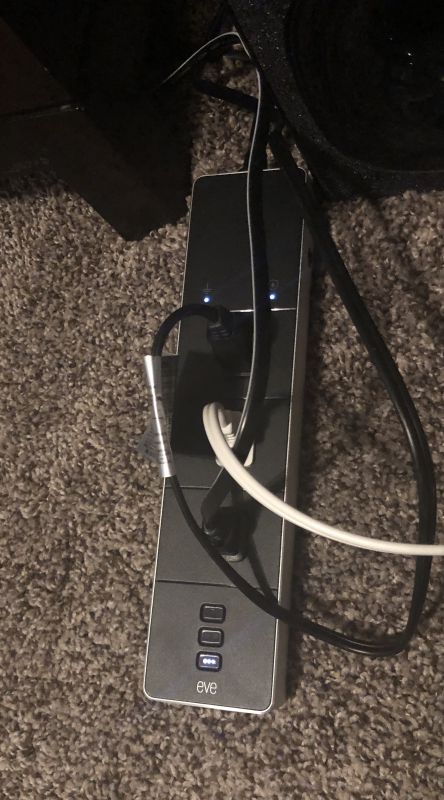 Setup
The first step is to download the Eve app onto your phone. Then it's a pretty painless app guided set-up that involves plugging in the unit, getting it connected to your wifi and then assigning the individual plugs to the type of device that will be utilized. For us, we put it in the bedroom to control our fan, air humidifier, and sub-woofer for our sound system. Set-up couldn't have been easier and the app does a great job of guiding you through each step.
Performance
After set-up, it's simply a matter of telling Siri to "Turn on Fan" or "Turn off Air Humidifier" – whatever item you've assigned to the outlets. If you have an iPad that stays at home on the same wifi as the power strip, you can then set it up to turn items on and off while you're away. This would be highly beneficial if you use this for lighting in an entry or if you leave in daylight & come home after dark. Additionally, you can use Apple HomeKit automation tools to have, for instance, outlets controlling lights to activate when you come home – triggering off your phone connecting to your wifi when you arrive home. Here are some screenshots of our set up: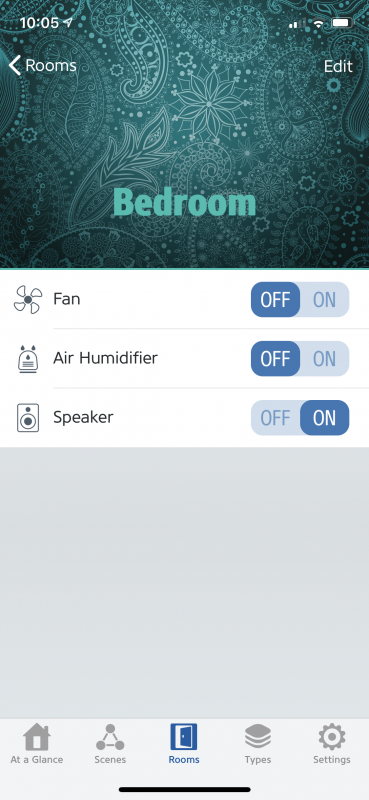 So from the main "room" menu, you can see each item and its current status. Here you can manually control the On/Off function as well. By clicking on one of the items, you can go into the detail of the overall unit.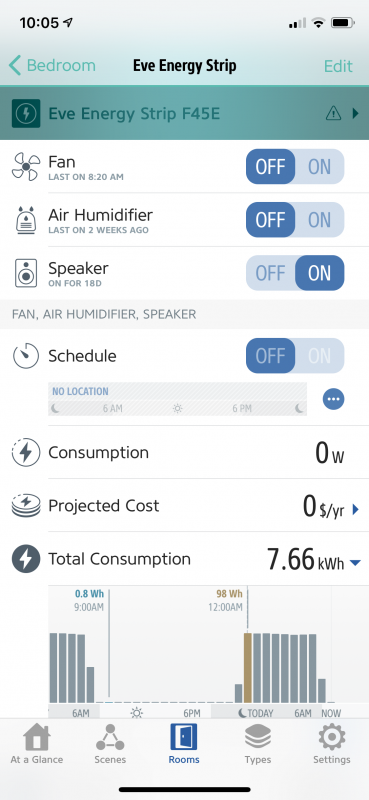 Here we get into the meat of the app utility, where you can schedule on/off times, look at consumption & projected cost per day as well as total consumption. Then there is the bar chart showing the usage by hour. There is quite a bit of information pulled into the app for a simple power strip, in my opinion.
Initially, the plug and Siri seemed to have a bit of an issue communicating. Several times as I got ready for bed and told Siri to turn on the fan and air humidifier, it had problems communicating – but this may be an issue with our wifi, so I'm not going to hold this against the product. Over time though, it has become very consistent and reliable with either my wife or me using our phones to activate Siri's commands.
What I like
Easy command use with Siri to activate or deactivate plugs
Surge Protection for our devices and surge protection indicator
Sleek Design
Long cord
Manual buttons to turn on/off in case wifi isn't working or you're just nearby
What needs to be improved
More plugs, having only 3 plugs is a bit limiting
Possibly add USB ports as many items are now powered directly via USB
Final thoughts
We love the Eve Energy Strip, it provides us an easy way to control the devices we use every night and provides the surge protection that gives a bit of peace of mind against some of the major storms here in Colorado. Incorporating it into our HomeKit devices and automations was easy as well. The only thing I could find for improvement, I kind of felt I was knit-picking in wanting more outlets and possibly some USB ports. For those looking for more automation and voice control capabilities for home electronics, this is an ideal unit to add to your connected home. Eve seems to be rapidly expanding its product line, and I'm pretty impressed with their products thus far.
Price: $99.92 on Amazon or $99.95 on Tink.us
Where to buy: Amazon and Tink.us
Source: The sample of this product was provided by Eve.