We use affiliate links. If you buy something through the links on this page, we may earn a commission at no cost to you. Learn more.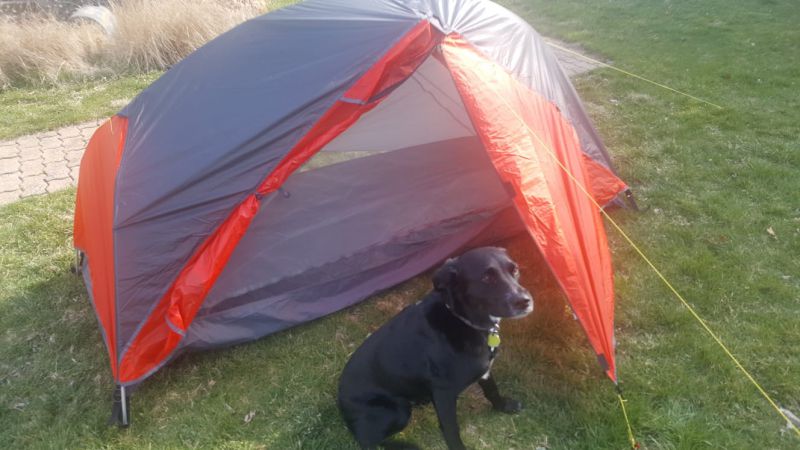 REVIEW – The Outdoor Vitals Dominion 1-person tent is light, compact and easy to set up, but beware if you're not a smaller person, have a sizeable canine companion or you want your gear inside the tent with you.
What is it?
In a hair under 3 pounds, this tent package includes everything you need for a solo overnight in the elements, including your footprint and rainfly. It packs and unpacks easily, with adjustable ties.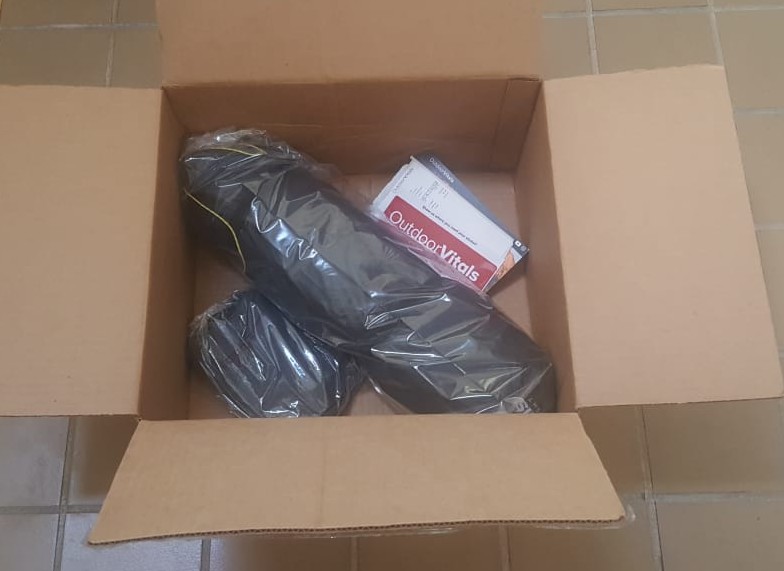 What's in the box?
Tent bag packed with tent body, rainfly, pole and stakes

Small sack with footprint

Packing slip and marketing materials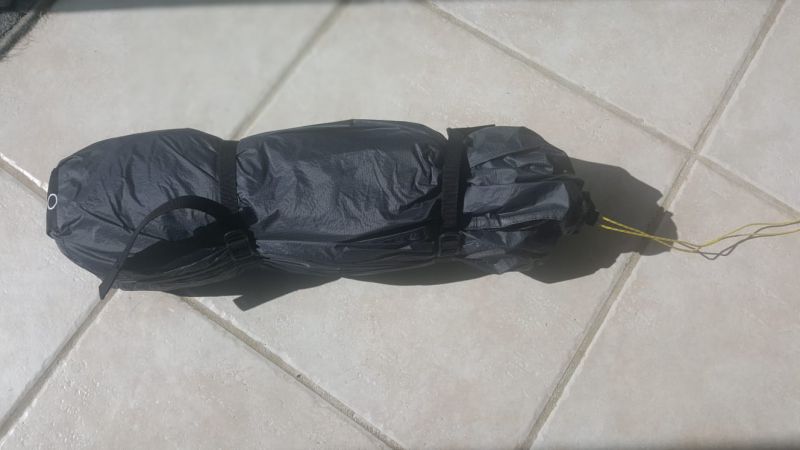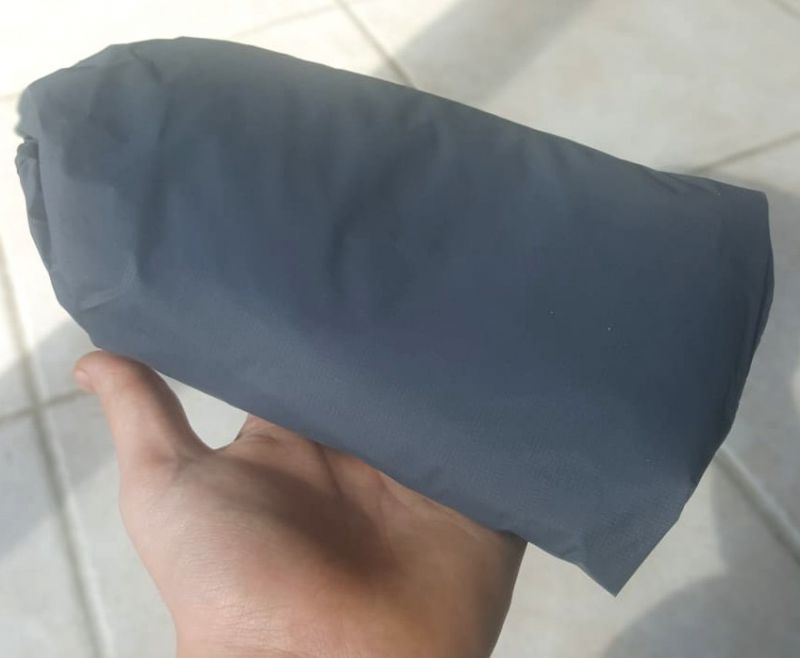 Hardware specs
Packed Weight: 2 lb 14 oz
Fly: 15.8 oz

Tent Body: 13.4 oz

Foot Print:  4.3 oz

Poles: 12.2 oz

Stakes:  2.1
Ultralight Mode:  2 lbs (rainfly, poles, footprint)
Poles: 9mm aluminum
Peak Height: 35″
Floor Dimensions: 85″ x 32″ x 28″
Pack Size: 5″ x 5″ x 20″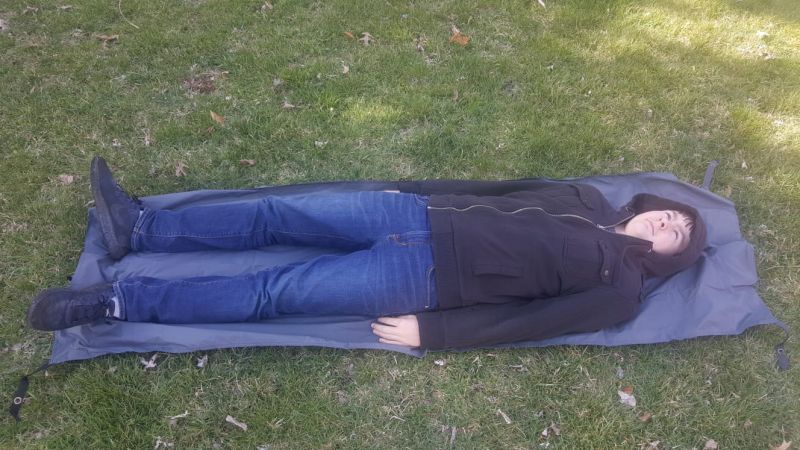 Design and features
My son, Mason, is gearing up for his two weeks at camp this June. He's more of a hammock-under-the-stars kind of guy (or bunk-under-a-roof if it's raining) but his camp also does spontaneous overnights to go rock climbing, caving and other adventures. Last year, he did a two-day, 20-mile canoe trip and camped on a sandbar midway through. For excursions like that, he's been in the market for a 1-person tent.
It was immediately clear that this tent is super lightweight. If you're backpacking or need to haul your gear for any length of time, this is certainly a tent to consider. We also found it convenient that everything you needed was right there: the tent, rainfly, pole and stakes in one bag, plus a smaller bag with the footprint that could easily fit inside the larger bag.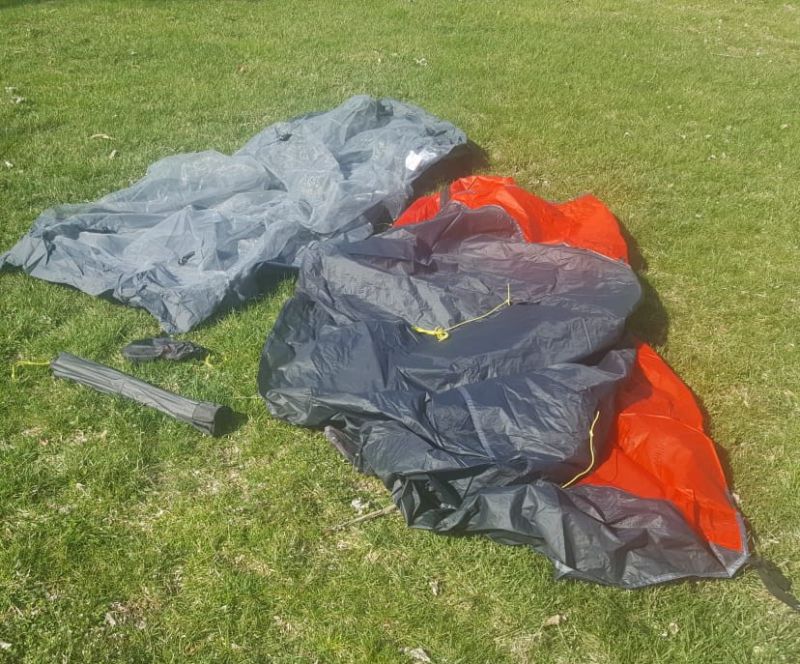 Setup
Admittedly, I'm not a big camper but I've had some outdoor experience. When we emptied the contents of this tent, we thought we could just wing it … but when we realized there was only ONE pole, we retreated back to the house to look up instructions on YouTube. (Our tent didn't include instructions.)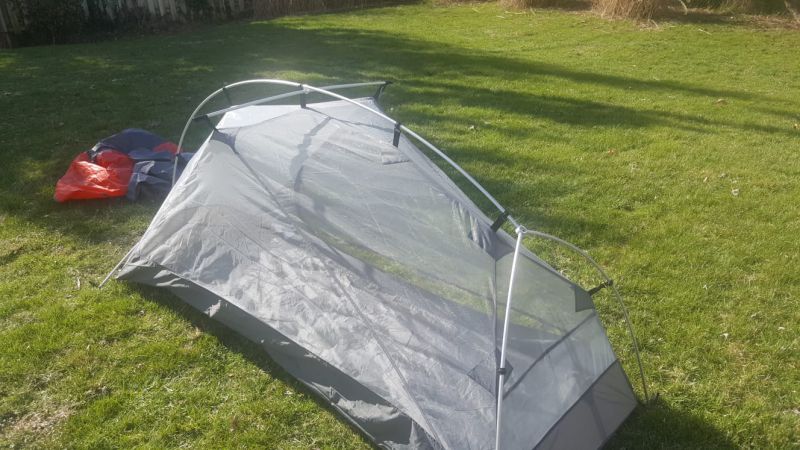 After watching a video of the 2-person Outdoor Vitals Dominion tent, we learned that you just lie out the footprint with the mesh body of the tent on top, and set the pole up over it, then clip the pole into place. That might seem obvious to more experienced campers or anyone who's used a single-pole system before! Of course, once we did it, it did seem pretty simple.
The rain-fly fit right over, just make sure to line up the doors. Then you just stake it up. Unzip the doors and toggle them up if you like. And voila! Shelter for the night.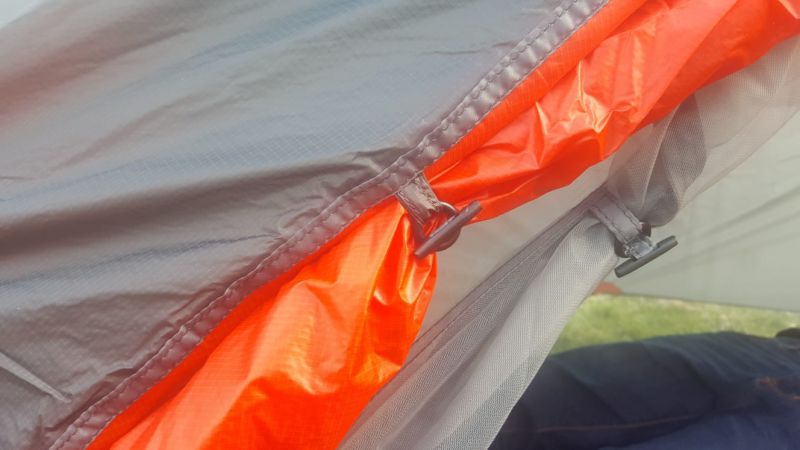 The whole setup took less than 10 minutes. Granted we had three people working on it. But it was also our very first time, and we'd never used a tent like this. Same for taking it down, 10 minutes flat.
I suspect an expert outdoors person could crush our time with very little practice.
Performance
The tent was comfortable height-wise for sitting up and having some breathing room. And the airflow was very good.
But lengthwise, it would be extremely tight for a taller, larger (or maybe even average) size person. Mason is 5'9" and our dog, Maya, is 40 pounds. Together they fit snugly. At only 13-years-old, I question if he will be able to use it for camp in 2020. In fact, at the rate he's growing, even using it in June is questionable.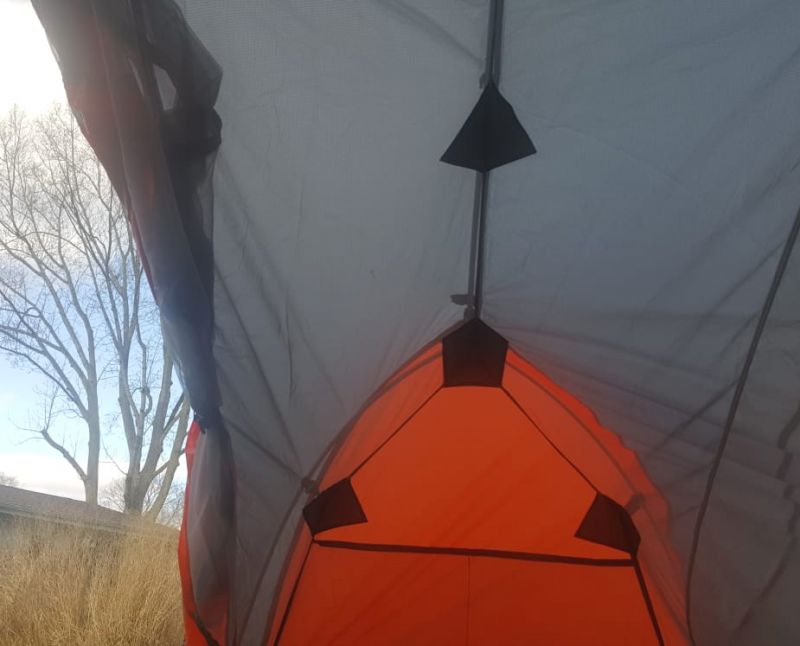 Due to the space constraints, Mason might have to put his gear outside the mesh. It could probably still fit under the rainfly, but that's only because he packs very light. For those who want their gear inside the proper tent with them, I'm not sure it would work.
Then again, Mason doesn't mind the small space and said he could use his gear for a pillow. For me, it's claustrophobic. So your tolerance for tight quarters is a major factor here. My younger son also tested it. At 5-feet tall and 100 pounds, he was quite comfortable, and with his pillow, blanket and backpack at his feet, he even had a couple of inches to spare.
We didn't soak it with water, but the ground was wet from a rainstorm the previous day, and you couldn't feel any dampness inside.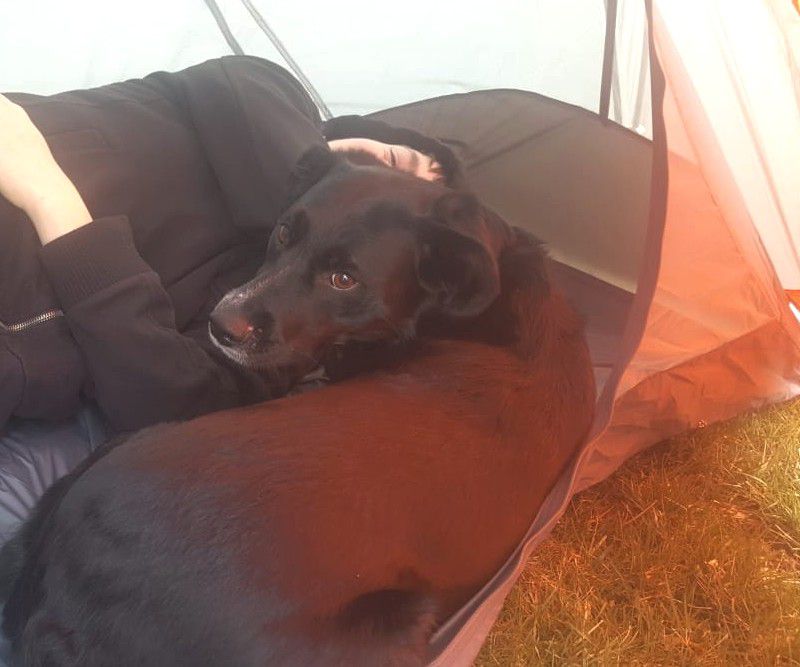 As a side note, I had planned to complain about a lack of pockets or any type of storage spot for your keys, phone and bear spray. Our prior tents had little pockets that zipped into the inside of the door or hung down near the upper seams. However, when I went back and read the specs online, it said there were two pockets in this tent?! I had to set it up a second time before I discovered two sizeable pockets on the inside just about your head, only they're mesh-on-mesh, therefore see-thru. Once I finally found them, I could fit two books and a water bottle inside, so plenty of room, just keep on searching until you discover them!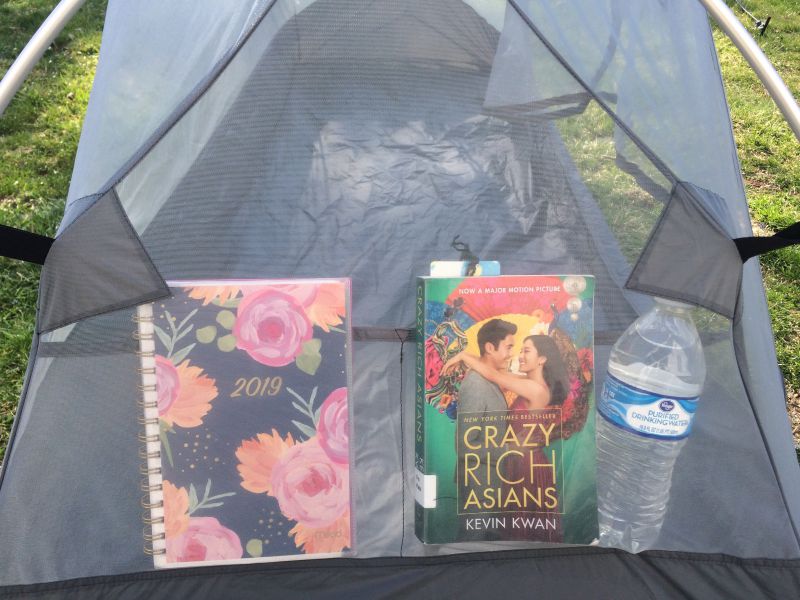 What I like
Very lightweight

Includes everything you need
What needs to be improved
A bit more space

Another pocket on the door would be handy
Final thoughts
A light, cleverly designed little tent for those who don't mind smaller spaces.
Price: $199.97
Where to buy: Outdoor Vitals
Source: The sample of this product was provided by Outdoor Vitals.