We use affiliate links. If you buy something through the links on this page, we may earn a commission at no cost to you. Learn more.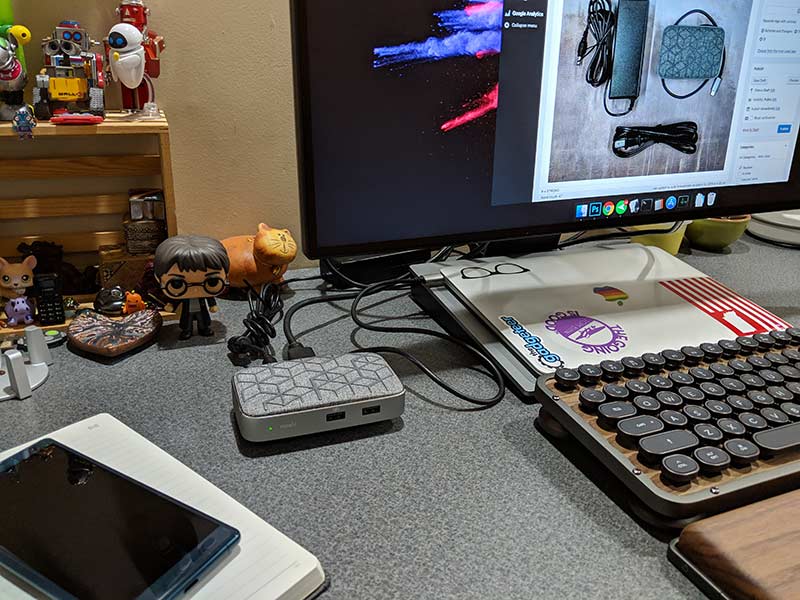 REVIEW – Laptop + large monitor = a boost in productivity. But how do you connect your laptop to your monitor? When you have a 12inch MacBook like I do, you have to have a USB-C dock like the moshi Symbus Q USB-C docking station with wireless charger. Let's check it out.
What is it?
The moshi Symbus Q USB-C docking station with wireless charger is a USB-C dock that has an HDMI port that supports 4K, 2 USB ports, an Ethernet port, and fast wireless charging.
Hardware specs
Qi-certified wireless charging – supports Apple 7.5 W and Samsung 9 W wireless fast charging
Charges through cases up to 5 mm thick
HDMI port for adding an external display (4K@30Hz, 1080p@60Hz)
Gigabit Ethernet port for wired data transfer up to 1000 Mbps
2 USB-A ports for connecting a keyboard, mouse, or hard drive with data transfer at rates up to 5 Gbps (USB 3.1 Gen 1)
High-speed USB port for charging your smartphone or tablet (2.1A)
Full USB PD function for fast-charging USB-C laptops (up to 60 W)
What's in the box?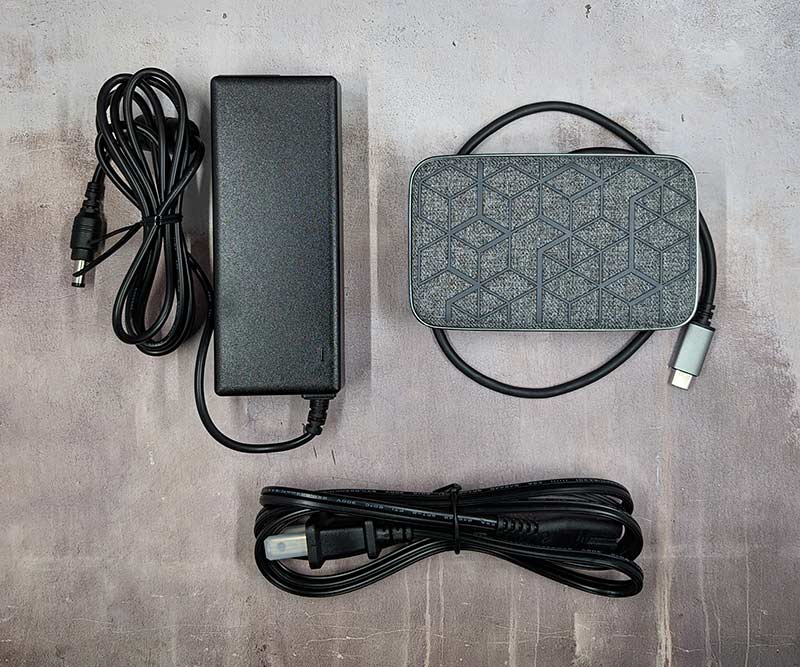 Symbus Q docking station
Power cord
AC adapter
Design and features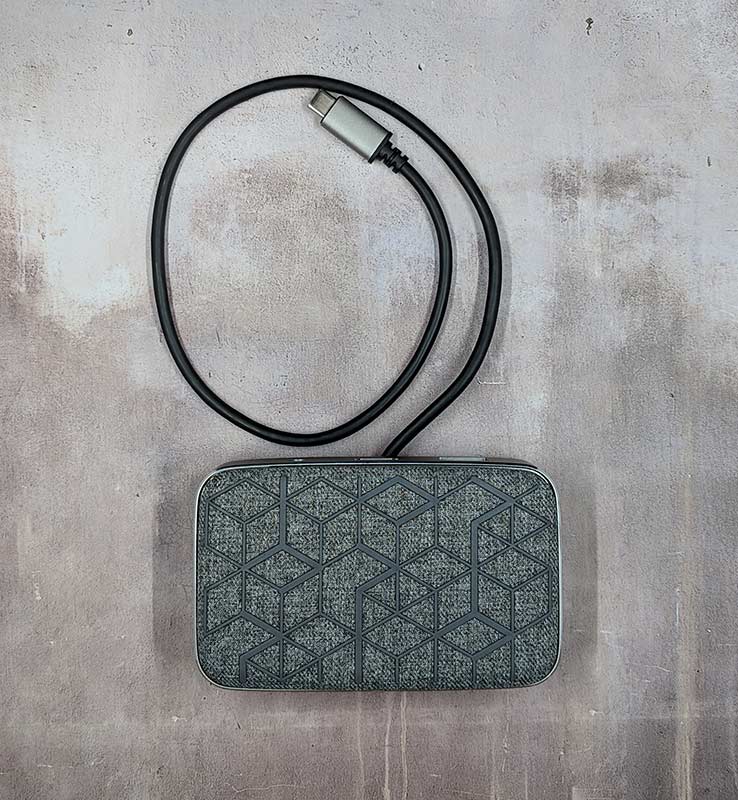 In the most basic sense, the moshi Symbus Q is a rectangular device with a 19.5 inch USB-C cable that comes out the back side.
The top of the dock has a woven cover with a geometric design that is made of raised rubber ridges that help to keep a device from sliding around when using the wireless charging feature.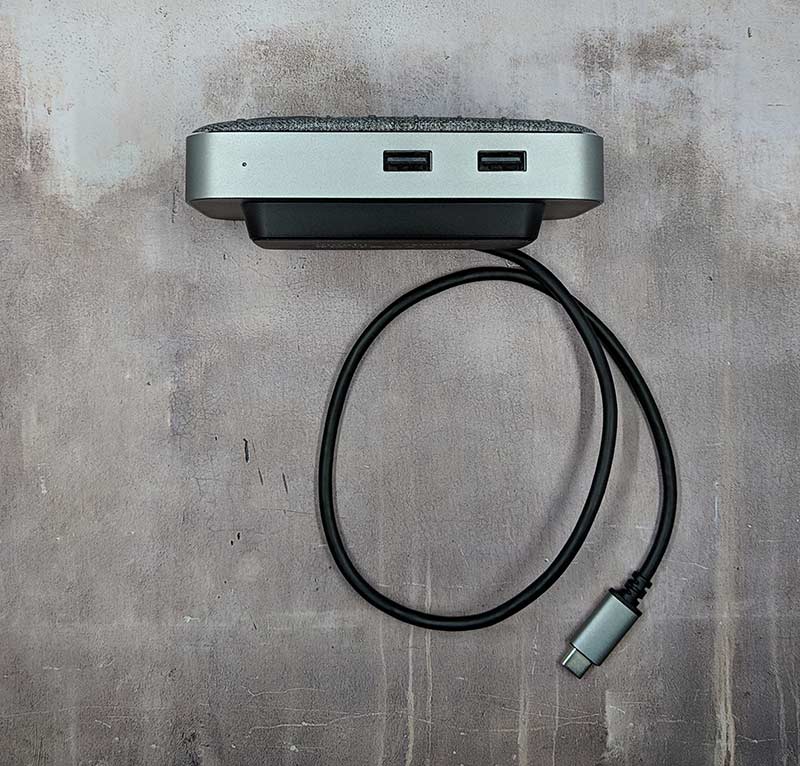 The sides of the dock are made of what I think is brushed aluminum and the base is black plastic.
The front of the dock has a status LED on the left side that glows green while the dock is being used as an HDMI adapter between your laptop and a display. The status LED glows in red while throbs in green while the Qi wireless charging feature is being used and will blink red if you place a non-Qi compatible device on top.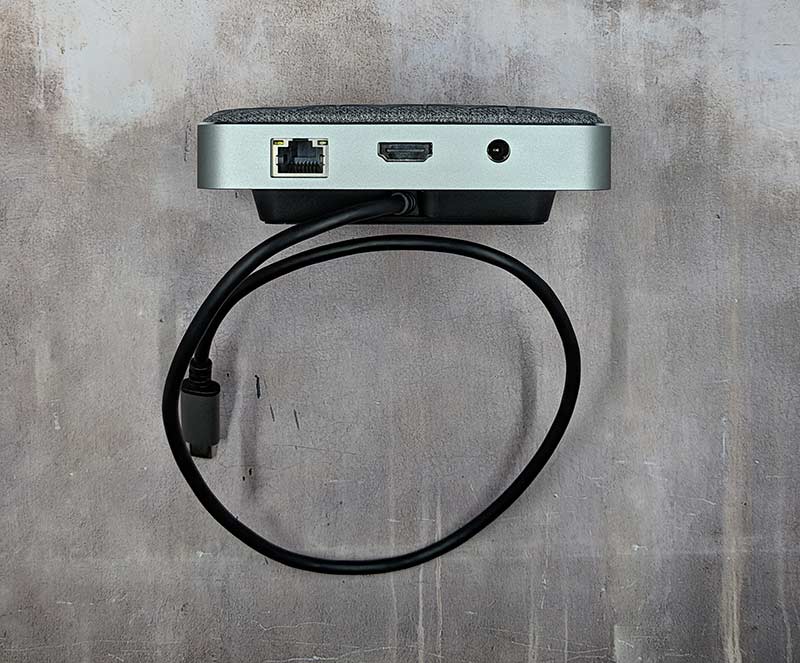 The back of the moshi Symbus Q has an Ethernet port, a 4K HDMI port, and the power port.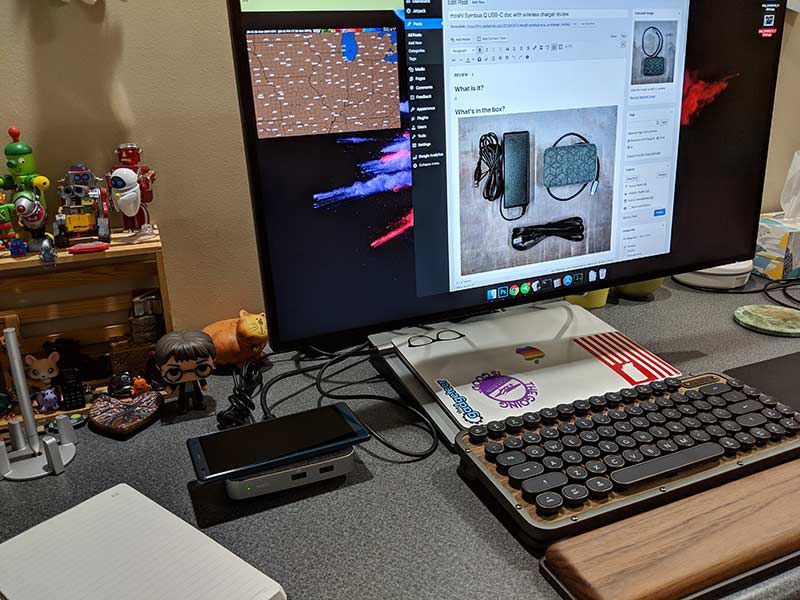 To test the functionality of this docking station, I tested it with my 12-inch MacBook and BenQ monitor. If you are familiar with the 12 inch MacBook, you'll know that it has only 1 port, a USB-C port. That's it. So the Symbus Q offers a lot of functionality by plugging directly into the MacBook's USB-C port. Then I connect an HDMI cable (not included) from the dock to the monitor.
I had no issues using HDMI connectivity with this dock and my MB. It worked great. The dock supports 4K so I also tested with a 4K monitor and had no issues there either.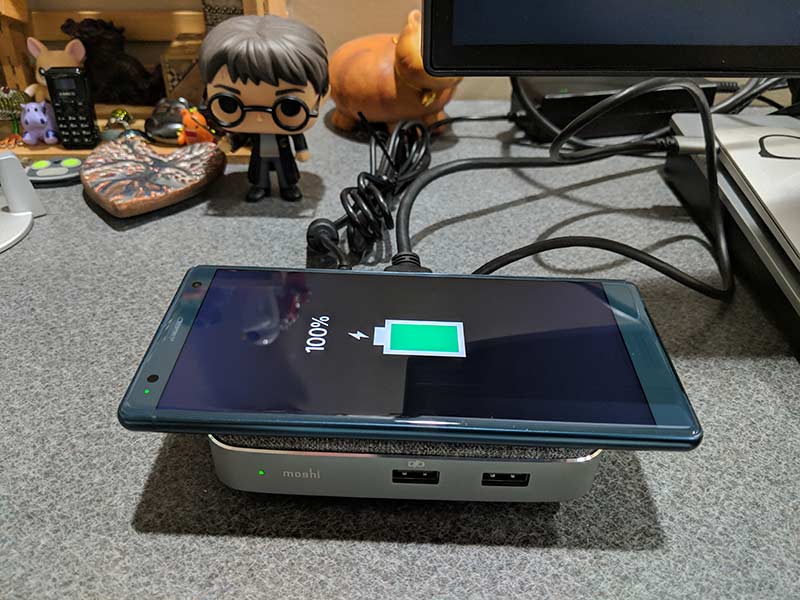 The wireless charging feature worked fine as well. I currently only have one device that I could test this feature though… a Sony Xperia XZ2.
I also tested the USB ports on the front of the dock and they both worked as expected.
One thing that I didn't test was the Ethernet port. I don't use a wired network in my office, so I had no good way to test the functionality of that feature.
The features that I was able to test all performed flawlessly. However, I did discover one bummer…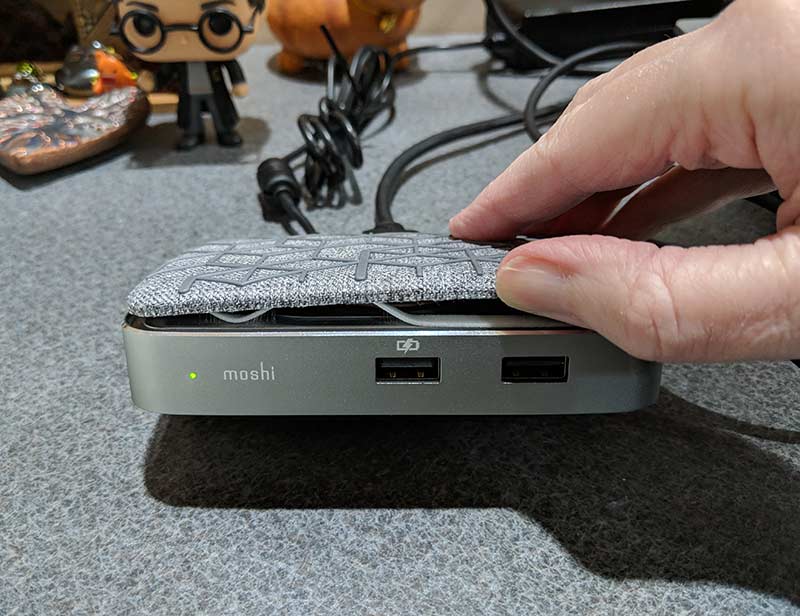 The snazzy padded cover over the wireless charging surface is just stuck on the top with a ring of adhesive that isn't sticking all that well as you can see from the image above.
What I like
4K docking station with a built-in Qi charger
Attractive design
What needs to be improved
Padded top is attached with adhesive
Final thoughts
I like the features and the look of the moshi Symbus Q USB-C docking station but the problem with the padded cover not sticking securely in place is a little worrisome especially when you factor in the $164.95 price tag. I'd rather just buy their $59 USB-C hub and their $40 Otto wireless charging pad and save $65.
Updates 04/25/19
moshi sent me another docking station and it has not exhibited the same issue with the fabric pad lifting from the base of the charger like the first one I reviewed. I'm not sure if there was a one-off defect with the one I had or what, but the second one seems fine. I'll report back if that changes in the long term.
Price: $164.95
Where to buy: Amazon
Source: The sample for this review was provided by moshi.