We use affiliate links. If you buy something through the links on this page, we may earn a commission at no cost to you. Learn more.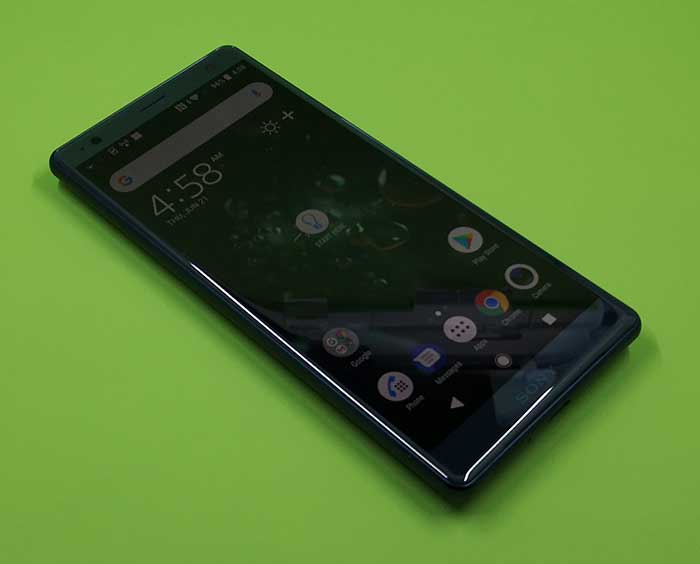 REVIEW – It's been almost 4 years since I reviewed a Sony smartphone. The last one was the Sony Xperia Z3v. How has the Xperia evolved since then? I've been testing the Sony Xperia XZ2 for the last few weeks so let's find out.
What is it?
The Sony Xperia XZ2 is Sony's latest smartphone which is powered by Android and features a 19MP camera capable of 4K HDR video recording, high-resolution audio, and more.
Hardware specs
Processor: Qualcomm® Snapdragon™ 845 Mobile Platform
Operating System: Android 8.1
Memory: 4GB RAM, 64GB UFS internal memory5, microSDXC support (up to 400GB)
Display: 5.7″, 18:9 Full HD+ (1080 x 2160) HDR display
Network: GSM GPRS/EDGE (2G), UMTS HSPA+ (3G), LTE (4G) Cat18 with up to 1,2Gbps
Camera (rear): 19MP, f/2.0 aperture
Camera (front): 5 MP, f/2.0 aperture
Connectivity: Bluetooth: 5.0, WiFi, Miracast, NFC
Positioning: A-GPS, A-Glonass, Beidou, Galileo, QZSS
Battery: 3180 mAh
Qi wireless charging
Dimensions: 153 x 72 x 11.1 mm
Weight: 198 g
What's in the box?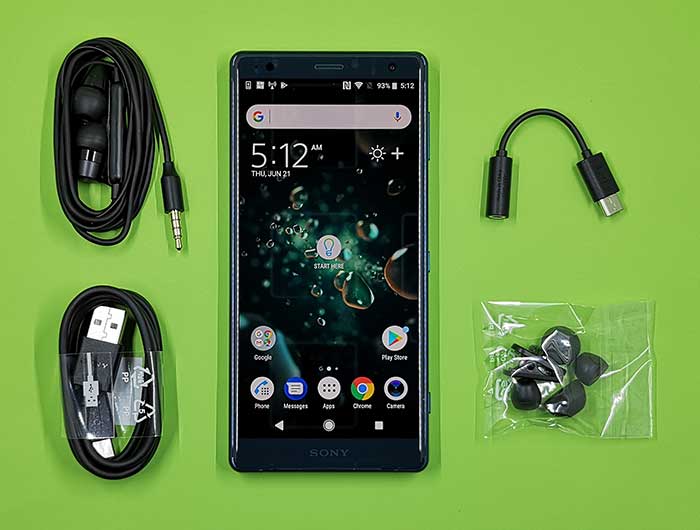 Sony Xperia XZ2
USB-C Cable
USB-C to 3.5 mm Headphone Jack Adapter
Earbuds with several earbud sizes (3.5mm wired)
Design and features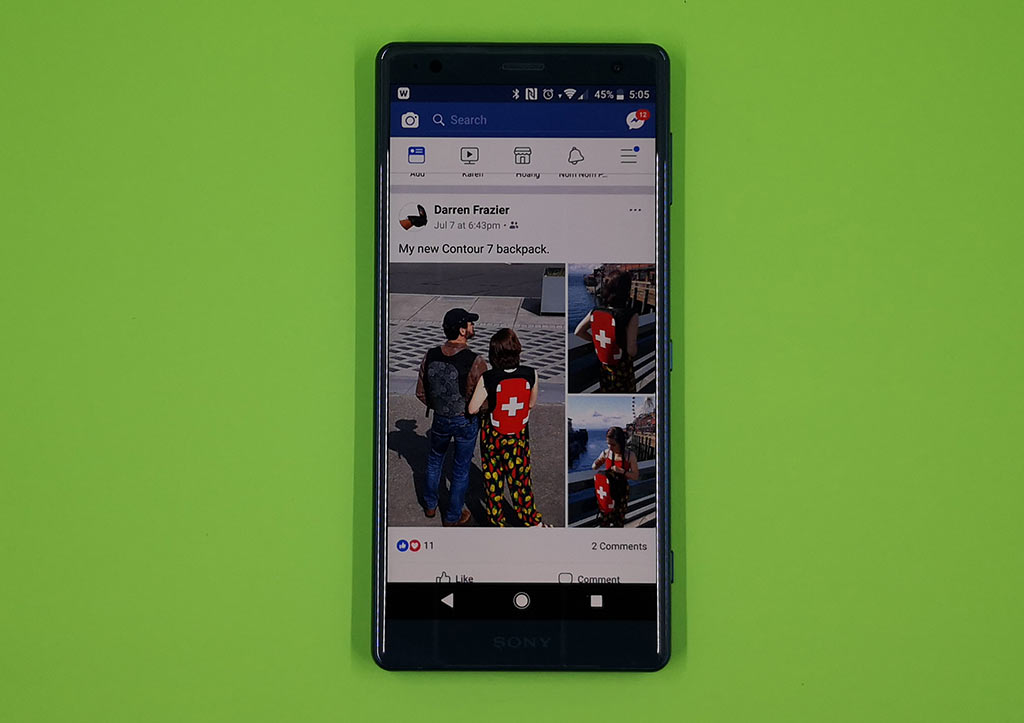 The XZ2 is available in two sizes. The larger one that you see here and a compact version that has a 5.0-inch display. The XZ2 comes in four colors including the dark green (I think it looks blue) one that was sent to me. It has a 5.7-inch display that has slightly curved edges. The XZ2 doesn't have the newest fad in smartphones. There isn't a notch at the top, but there is both a "forehead" and a "chin" at the top and bottom, but very minimal size bezels.
At the top is the front-facing camera, ambient light sensor and a tiny status LED that is used for notifications and battery charging status.
At the bottom is a front firing speaker that is almost hidden in the area where the display meets the metal rail along the bottom edge.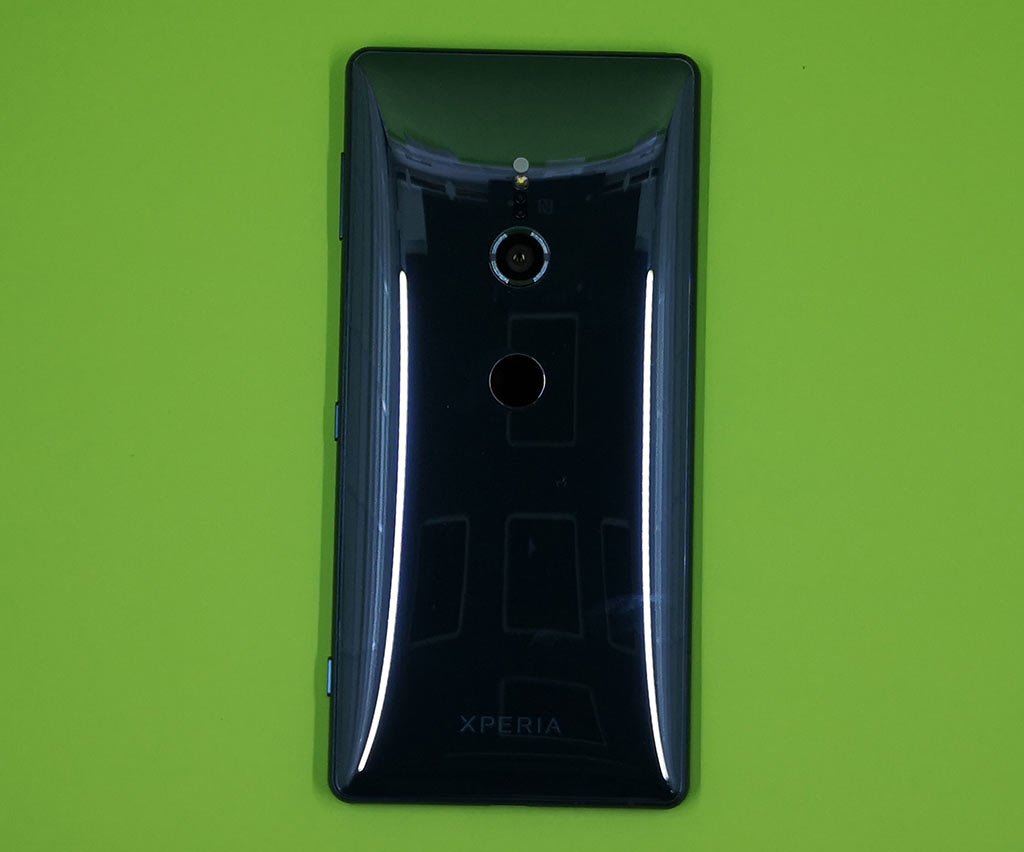 The back of the phone is made of glass that is polished to a high sheen with a bulging pillow look and curved edges. Let me just say right now, that the XZ2 is slippery. I'm talking crazy slippery. I will say that it's easily the most slippery phone I've ever hand my hand before. Unless you have the hands of a tree frog, you will want a case for this phone because otherwise, it's going to end up shattered on the floor.
Now that I've given you that public service announcement, back to describing the back of the phone. It's very pretty and feels nice in hand and it has a fingerprint scanner on the back of the phone, which is my favorite location for fingerprint scanners. However, the location of the fingerprint sensor is lower than on other phones I've reviewed, so it can sometimes take more than one try to locate it with the tip of my index finger because it's almost completely flush with the case.
Above the fingerprint scanner is the camera and above the camera is the LED flash.

The right side of the phone has three buttons. The top button is a one-piece volume button, the center button is the power button, and the lower button is a dedicated camera launch/shutter button.

On the bottom edge is a microphone and a USB-C port.

Flip the Xperia around to the top edge and you find another microphone and the SIM card/MicroSD card slot. Unlike 99% of the phones on the market, you don't need a SIM tool to open the tray. It pulls out easily with your fingernail.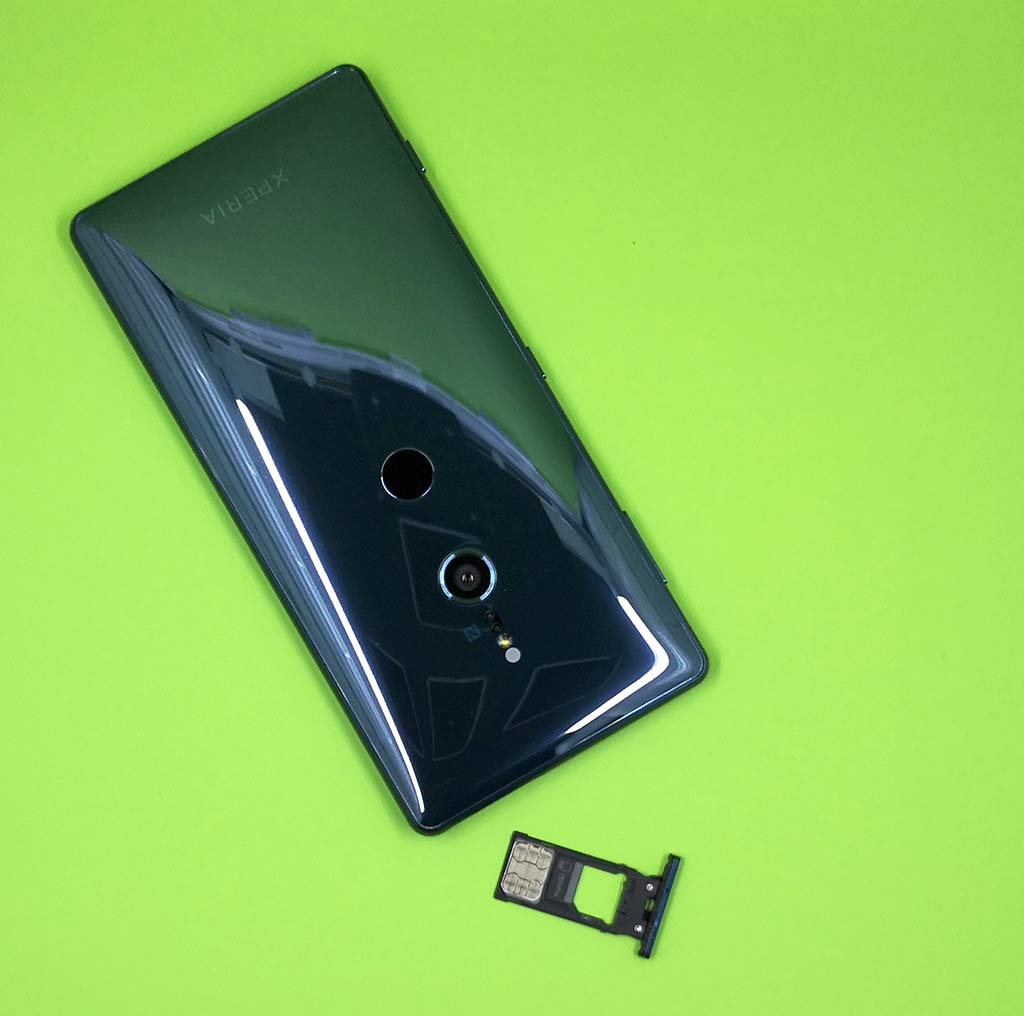 There are two SIM slots or you can put a microSD card in the extra slot.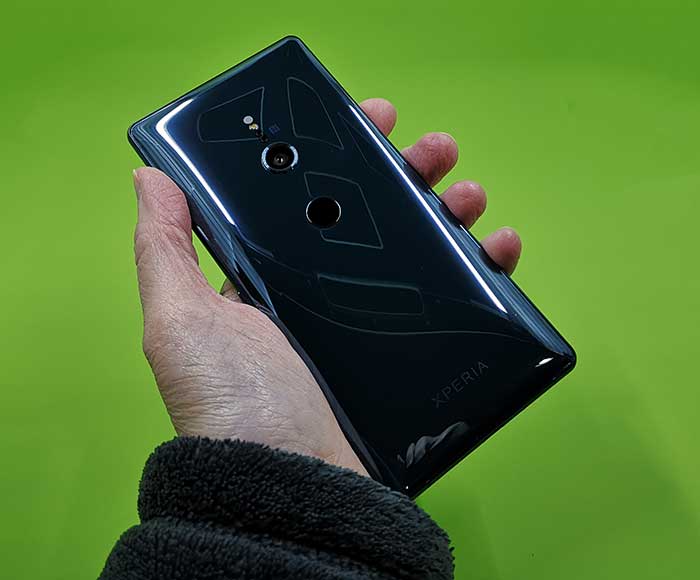 The Sony Xperia XZ2 looks nice and passes my Gadgeteer squeeze test, but it's hard to get past how insanely slippery it is. I don't have a case for it, so I have to constantly pay attention to where I place it. If the surface is even slightly uneven or unlevel, it will slide off in a second, like a drop of mercury. It's so slippery that I had trouble getting photos of it in my Shotbox lightbox because it would start spinning all by itself like it was alive. And speaking of spinning, it doubles as a fidget spinner when you're bored!
Jokes aside, the phone does feel solid in hand. Solid and heavy. The curved back is there to disguise how thick this phone really is, but its weight can't be hidden. It weighs 198 grams compared to my Pixel 2 XL which has a larger display and weighs in at 175 grams.
Display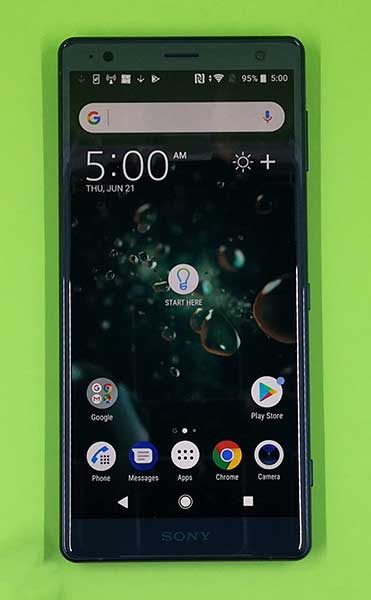 The XZ2's display bright, crisp, vivid, and clear. I have no complaints as far as what it looks like, viewing angles or touch sensitivity. The only feature it lacks is an always on clock like my Pixel 2 XL and Samsung phones. I rely on that feature since I don't wear a watch and really missed while reviewing this phone.
Fingerprint reader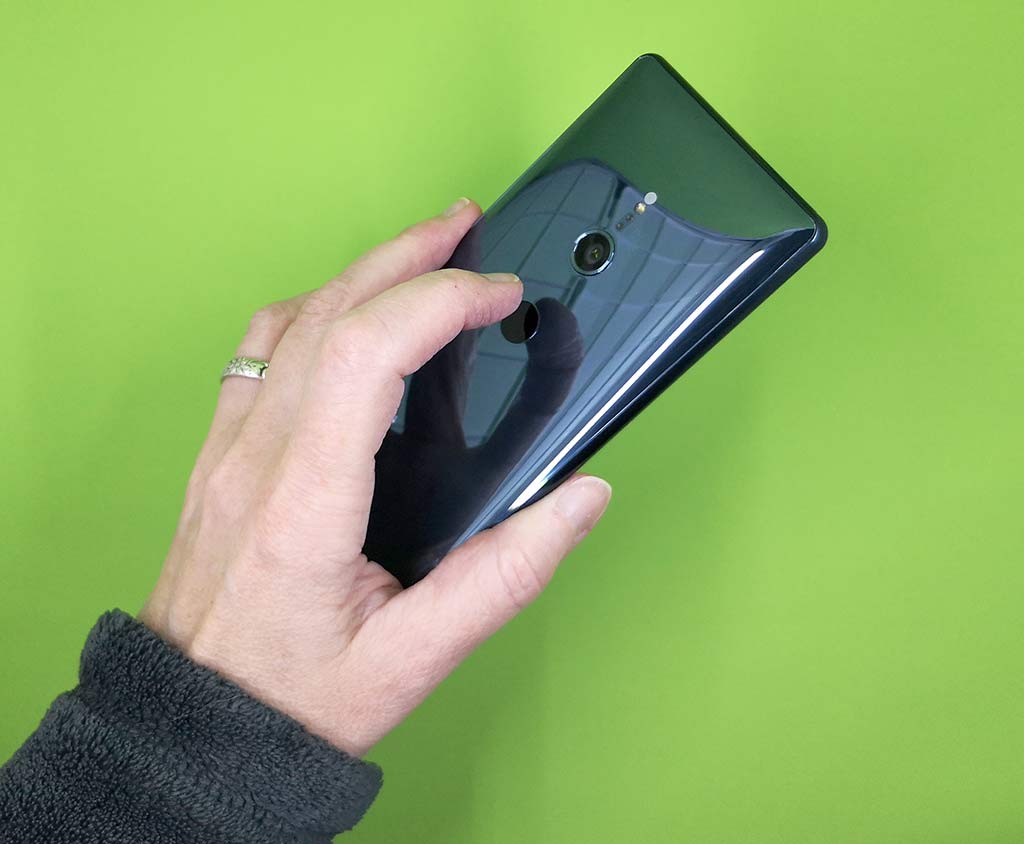 Except for the fact that the fingerprint sensor located to low on the back of the phone, it works great for me. I tend to have issues with scanners not registering my touch, but this one works 9 times out of 10 as long as I actually touch it the first time instead of the camera lens!
Camera
The Xperia XZ2 has a nice camera. It's a little disappointing that it doesn't have a dual camera the iPhone X, Huawei P20, and others, but for what it is, I was happy with the shots I tool. Check out some samples below that are straight out of the camera.
I was pretty happy with the pictures that I took while using this phone. But, I did run into a strange issue which you can see in the examples below.
Notice the strange color bands/glare on the first two images above? I only noticed this with a handful of pictures that I took and there were only two things that were similar between the images: it was a sunny day and I shot the images with the phone in portrait orientation. If you check the two images on the right, they were taken within seconds of each other and the one with the glare was taken in portrait orientation and the other one in landscape orientation. I'm not sure what caused the glare/bands.
Audio quality
The Sony's front firing speakers sound good when listening to music or watching videos without using headphones. Even at full volume, audio sounds clear and crisp.
The phone has an interesting Dynamic Vibration feature that vibrates the phone depending on the type of audio that's playing so it's kind of cool for games and watching video.
Using the Sony Xperia XZ2 for phone calls
For the most part, I've had no issues making and receiving calls on the T-mobile network with this phone except when I'm in the basement of my house. For some reason, this phone seems to have issues holding on to the cell signal down there and on several occasions, people have tried to call me and gotten voice mail.
As far as call audio quality, the volume level and clarity on both sides of conversations have been just fine.
Software and user interface
The XZ2 comes with a collection of Sony-made camera tools for video editing, 3D creator, Bokeh, AR Effects, and others. They are all standalone apps which is odd. I think they should have been features added to the camera app. Besides those apps, there are a few others that come pre-installed like Facebook, AVG Protection, Playstation app, News, Xperia lounge, and a few others. Unfortunately, you can't uninstall these apps to free space.
Overall performance and battery life using the Sony Xperia XZ2 for day to day tasks
This phone has a 3180mAh battery that kept it running for a full work day of normal use and with wireless charging, it is convenient to keep it topped off. With my typical usage level, I had no problems with battery life.
As far as performance, I think the Sony XZ2 does very well and felt comparable to other phones I've recently reviewed.
What I like
Wireless charging
microSD card slot
Dedicated camera shutter button
What needs to be improved
No 3.5mm headphone jack
Weird location for the fingerprint scanner
Slippery
Final thoughts
The Sony Xperia XZ2 makes a nice smartphone with almost every feature on my smartphone wishlist including wireless charging and a microSD card slot. That said, I couldn't quite love this phone because it lacks the always-on clock display that has become a must-have feature for me and it's just so darned heavy and slippery. Yes, I can put a case on it to help with grip, but that would add more weight to an already heavy phone.
I'm rooting Sony on, but I think they have an uphill battle ahead of them if they want to compete with the likes of Huawei, Samsung, and Google when they are pricing their Xperia phones at the same price level.
Price: $799.99
Where to buy: Amazon
Source: The sample of this product was provided by Sony.