We use affiliate links. If you buy something through the links on this page, we may earn a commission at no cost to you. Learn more.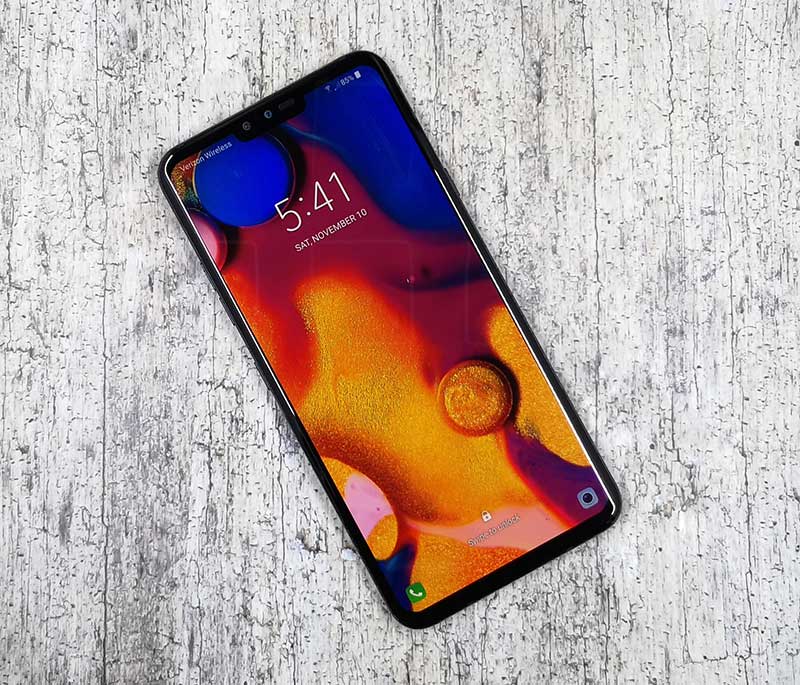 REVIEW – It's been a while since I reviewed an LG smartphone and the new LG V40 ThinQ is a good one to break that dry streak. This phone features 5 built-in cameras if you can believe that! If you're asking yourself why anyone needs a phone with 5 cameras, you would be asking yourself the same question I did when this phone was first announced. Are 5 cameras better than 2 or 3 cameras which seems to be the norm these days? Let's find out.
What is it?
The V40 ThinQ is a smartphone from LG that runs on Android v8.1 Oreo.
What's in the box?
LG V40 ThinQ
Travel Adapter & USB Cable
Quick Reference Guide
Hardware specs
Processor: 2.8 GHz Octa-Core (Qualcomm®Snapdragon™SDM845)
Operating System: Android 8.1
Memory: Internal: 64 GB RAM: 6 GB, microSDXC support (up to 2 TB2)
Display: 6.4" QHD+ OLED FullVision™ Display 3120 x 1440, including notch
Network: CDMA, GSM, UMTS, LTE Frequencies: 1.9 GHz CDMA PCS, 800 MHz CDMA; GSM 850/900/1800/1900 MHz; UMTS850/900/1900/2100 MHz; LTE Bands 2/3/4/5/7/13/20/28/46/66 Data Transmission: LTE, EVDO Rev
Camera (rear): 12MP Telephoto Zoom, 16MP Super Wide-Angle, 12MP Standard
Camera (front): 5MP Wide, 8MP Standard
Connectivity: Bluetooth: 5.0, 802.11 b/g/n/ac
Battery: 3,300 mAh Lithium Ion, quick charging and wireless charging compatible
Dimensions: 6.25H x 2.98W inches
Weight: 5.96 oz
Design and features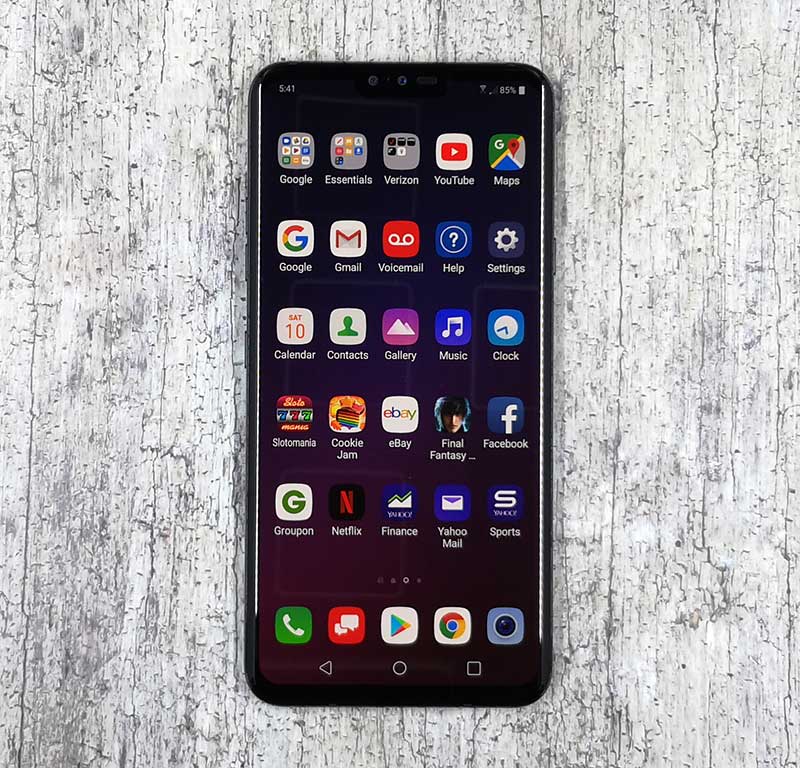 At first glance, the LG V40 ThinQ looks like all the other smartphones that are currently on the market. It has a display with a notch (love it or hate it) at the top and virtual buttons at the bottom of the display. There are no physical buttons on the front of the phone.
At the top of the phone are two front-facing cameras. One is the standard lens and another one is a wide angle lens so you can show more in your selfies.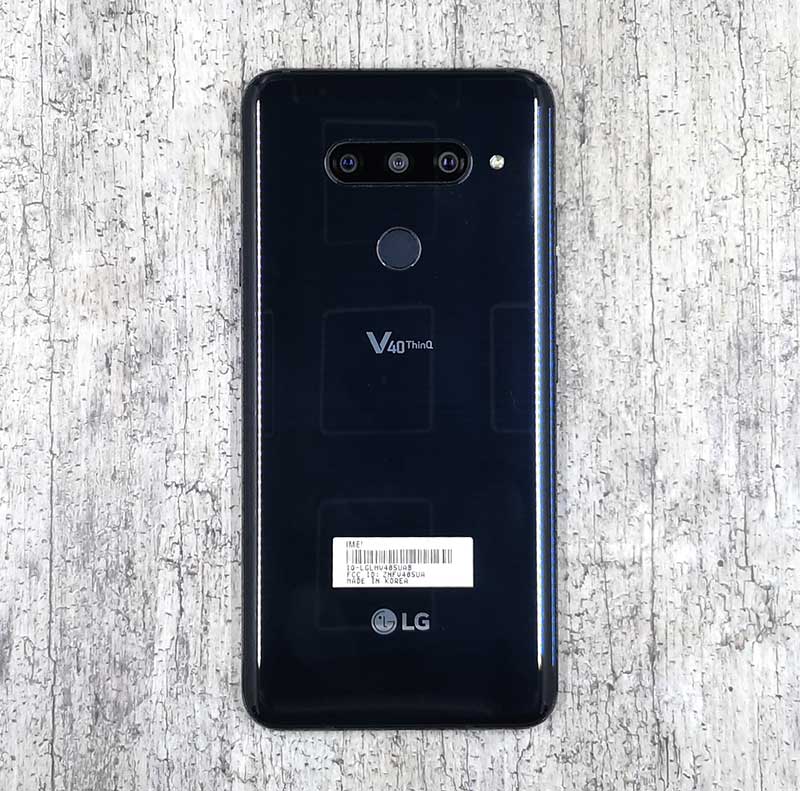 Flip the phone over and you'll be greeted with 3 camera lenses, an LED flash, and a fingerprint sensor.

The left side of the phone has individual volume buttons and a Bixby… I mean Google assistant button below it. And just like Samsung's Bixby button, this button is kind of annoying. I always seem to press it by mistake when I've meant to press the volume buttons while in a call.

On the opposite side of the LG V40 ThinQ, you'll find the power button and the SIM card tray.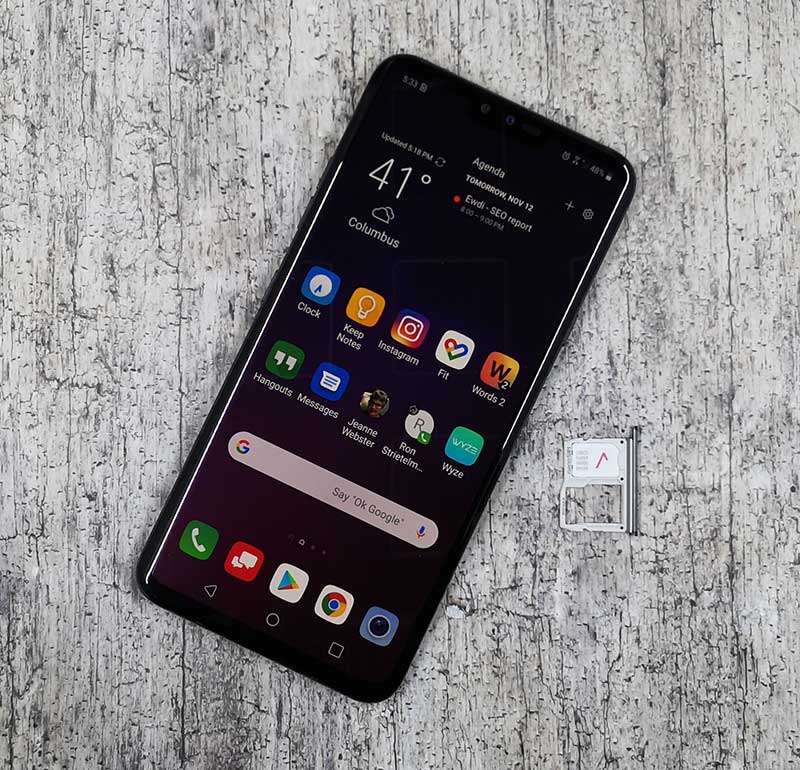 The SIM card tray holds the SIM and a microSD card for expanding the phone's file storage.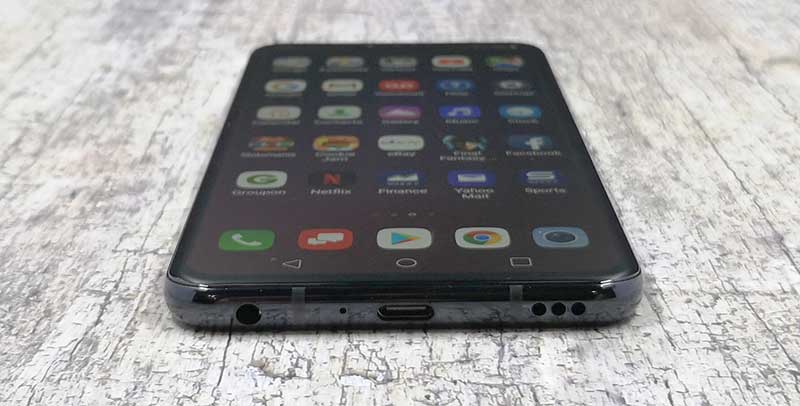 Along the bottom edge of the phone, you'll find a 3.5mm headphone jack, a microphone, a USB-C connector, and a speaker.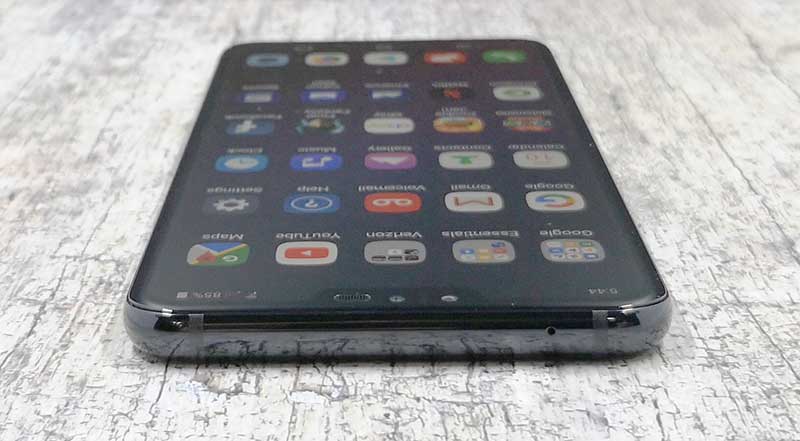 On the top edge, you will find another microphone.
The LG V40 ThinQ is a solid phone and didn't cave in to my Gadgeteer squeeze test. Nope, no flexing, creaking, or cracking was observed.
Display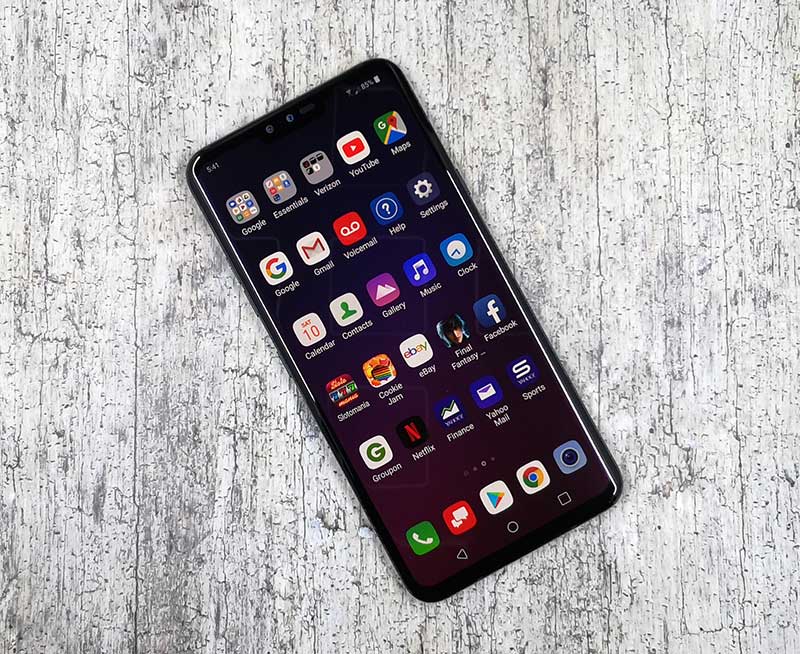 The V40 ThinQ has a bright, crisp display with vibrant colors. I have no complaints at all about the quality of the display and as far as the notch goes…
I think it's time for people to get over the "stigma" of the notch. It's here to stay folks, get used to it. I never really could understand why some people hate it in the first place. It doesn't bother me in the least.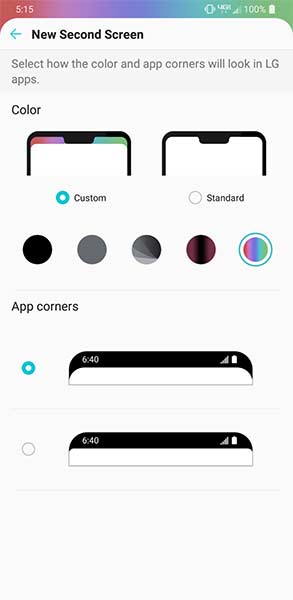 But if you're someone who just can't accept the notch, you can hide it by changing the color scheme of what LG is calling the "second screen" in the settings.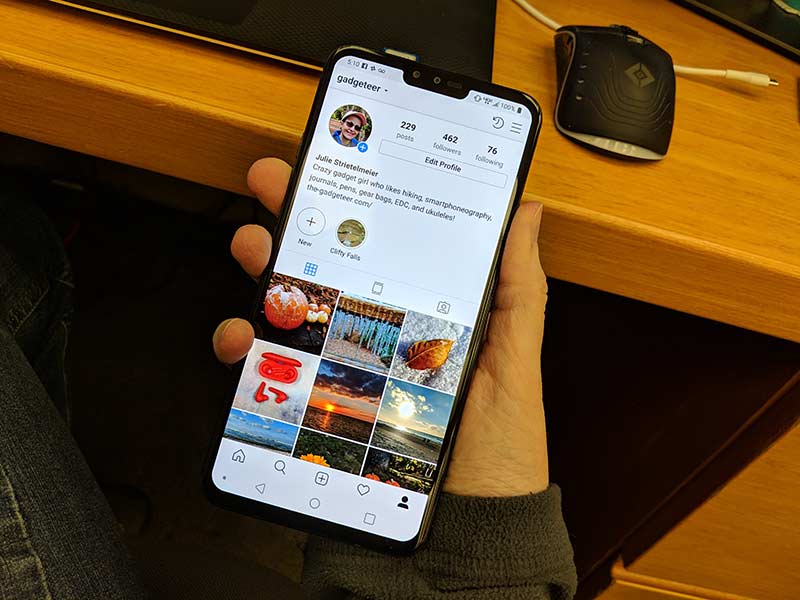 LG lets you squeeze as much info as possible on the display by allowing you to hide the virtual nav buttons at the bottom of the display. See that little dot on the left side of the nav bar? If you tap it twice…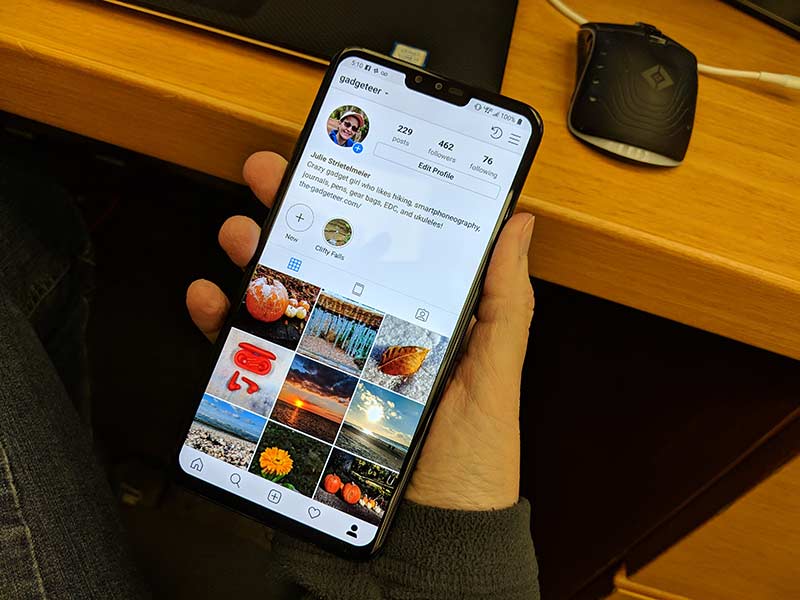 You can see that the buttons are gone. Need to get them back? Just swipe up from the bottom of the display and tap the dot again.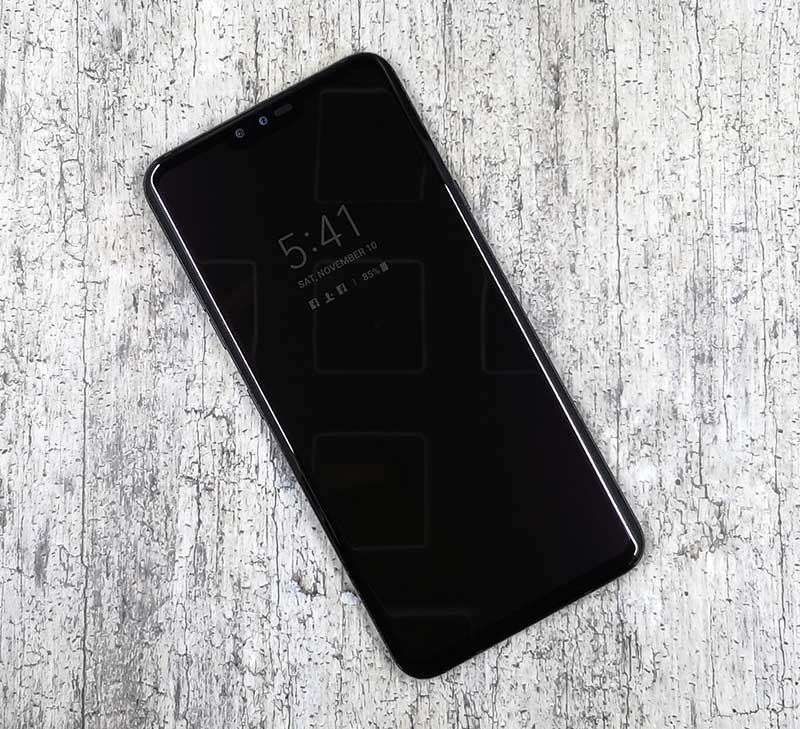 The LG V40 ThinQ has of my "must have" features in a phone which is an always on display. What does that mean? It means that you can use your phone as your clock/watch because it displays the time of day and some notification icons on the screen when the phone is idle.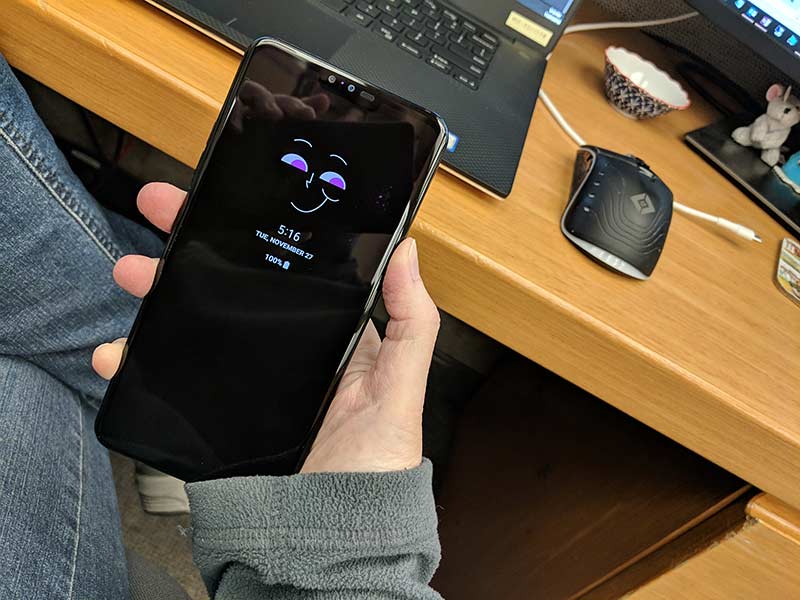 You can even customize the clock face style, add 2 clocks if you like to keep track of 2 time zones, or even add a picture. Turning on the always-on display feature will use more battery life, but I think it's worth it.
Fingerprint scanner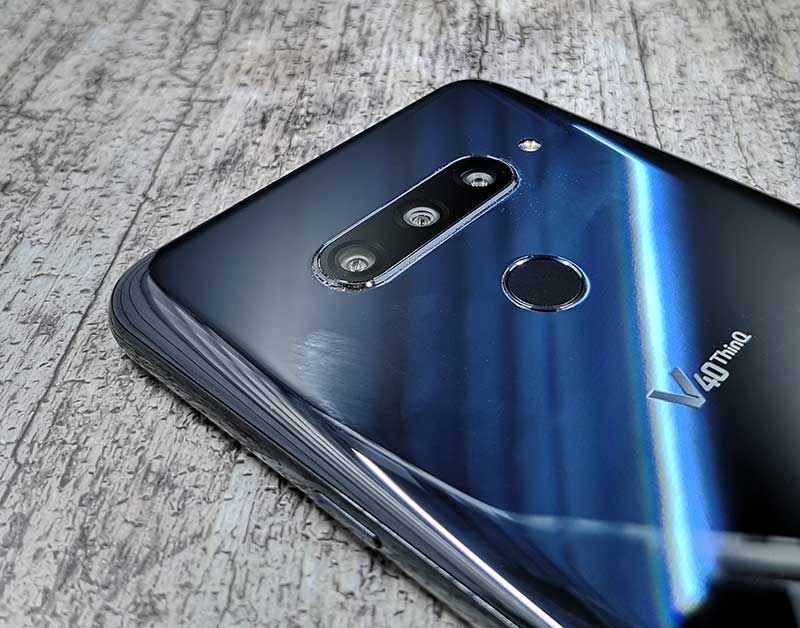 My alien DNA must be getting weaker because the last few phones that I've tested with fingerprint scanners have all worked great for me. If you've been following my smartphone reviews over the years, you'll remember that I had trouble using them until I bought the Pixel 2 XL. That seemed to be the turning point. Since then I've had really good luck with scanners. The one of the V40 ThinQ is placed in the perfect location – on the back of the phone, and it works consistently for me.
If you have probs with fingerprint scanners like I used to, you can always switch to typing a passcode, pattern, or even using face recognition which works without even pressing a button, just pick up the phone, look at it, and it will unlock. It's a bit slower than the iPhone XS Max though.
Camera
More is always better right? That must be what LG was thinking when they decided to put 5 separate camera lenses in the V40 ThinQ. There are 3 camera lenses on the back and 2 on the front. Check out these sample pics using the standard lens on the back. Click to see the full-sized image.
I think the colors are true to life and the macro capability and sharpness really excite me.
I also love the wide angle and telephoto lenses. Here are some more samples.
I'm standing in the same location to take all 3 pics.
Same with the images above.
Then there are the front lenses.
By default, the built-in software softens your features because my skin isn't that flawless in real life. You can also change settings to make your face look thinner. The software does do a decent job blurring the background for selfies.
You can also choose to change the style and color of the portrait background. The software does have a little trouble making a perfect cutout of your head sometimes. Check out the right side of my cheek in the first pic to see what I mean.
Software and user interface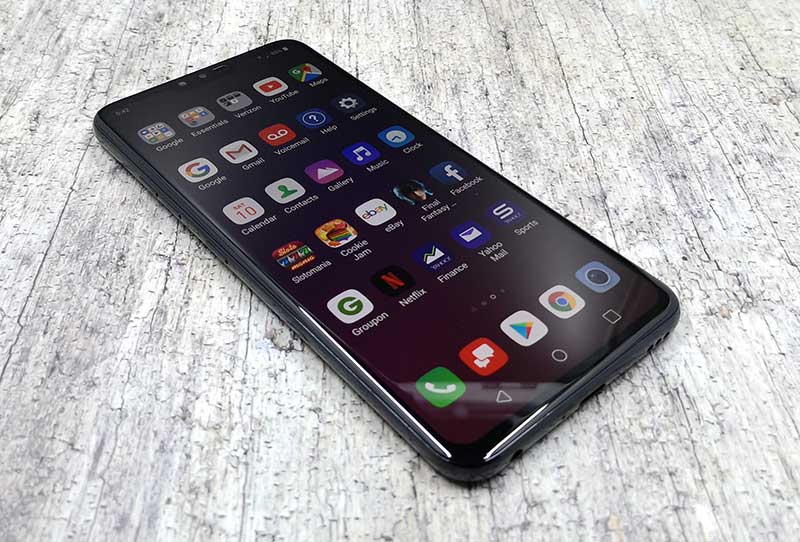 LG has their own "skin" called UX 7.1 on top of Google's stock Android user interface. The differences over stock Android Oreo interface aren't too different though. There's the virtual button hide feature we already talked about above, the ability to have scrolling home screens that list your apps instead of an app drawer.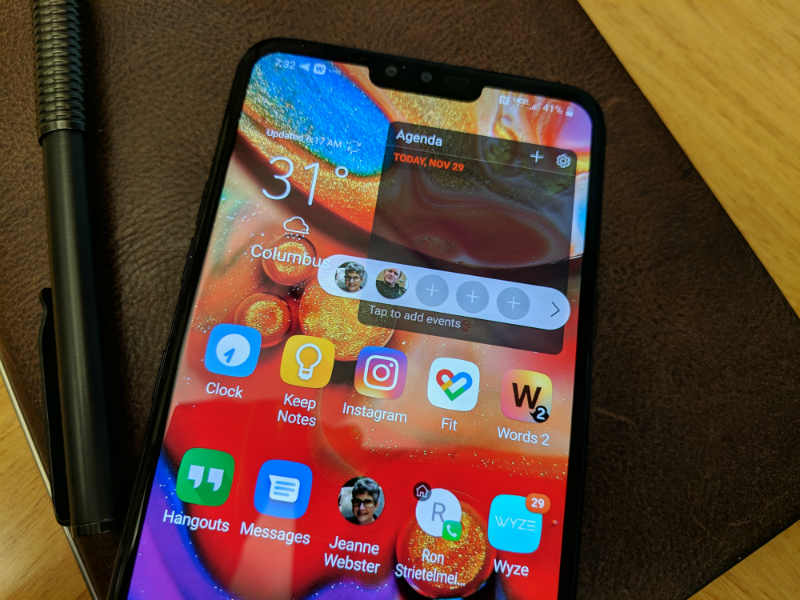 You can also add a pop-out sidebar that can have a quick access panel of your favorite contacts, screen capture tools, media controller, and app shortcuts.
Audio quality
The LG's down firing speaker sounds good when listening to music or watching videos without using headphones. Even at full volume, audio sounds clear and crisp.
Using the LG V40 ThinQ for phone calls
For the most part, I've had no issues making and receiving calls on the Verizon network with this phone except when I'm in the basement of my house. For some reason, this phone seems to have issues holding on to the cell signal down there and on several occasions, people have tried to call me and have gotten my voice mail.
As far as call audio quality, the volume level and clarity on both sides of conversations have been just fine.
Overall performance and battery life using the LG V40 ThinQ for day to day tasks
When it comes to performance, I think the LG V40 ThinQ does very well and felt comparable to other phones I've reviewed recently. That's not a huge surprise since most phones are all running with the same Qualcomm® Snapdragon™ 845 processor.
This phone has a 3300mAh battery that easily kept it running for a full work day of normal use and with wireless charging, it is convenient to keep it topped off. With my typical usage level, I had no problems with battery life.
What I like
Multiple camera lenses for wide angle, telephoto, etc.
Always on display
Headphone jack
Free 2nd year warranty
What needs to be improved
Runs on an older version of Android instead of the latest version
Final thoughts
I wasn't sure what to expect with the LG V40 ThinQ, but I have to say that I've been impressed with this phone. It has every feature I want and need in my daily smartphone. It has snappy performance, good battery life, nice display, and an excellent camera(s) for the types of images I take. My only knock on this phone is that it didn't come with Android v9 (Pie). But without the latest and greatest version of Android, I still think the LG V40 ThinQ is a great phone and one I would seriously consider if I were in the market to replace my current Android smartphone.
Price: $979.99
Where to buy: Verizon Wireless
Source: The loaner sample for this review was provided by Verizon Wireless.