We use affiliate links. If you buy something through the links on this page, we may earn a commission at no cost to you. Learn more.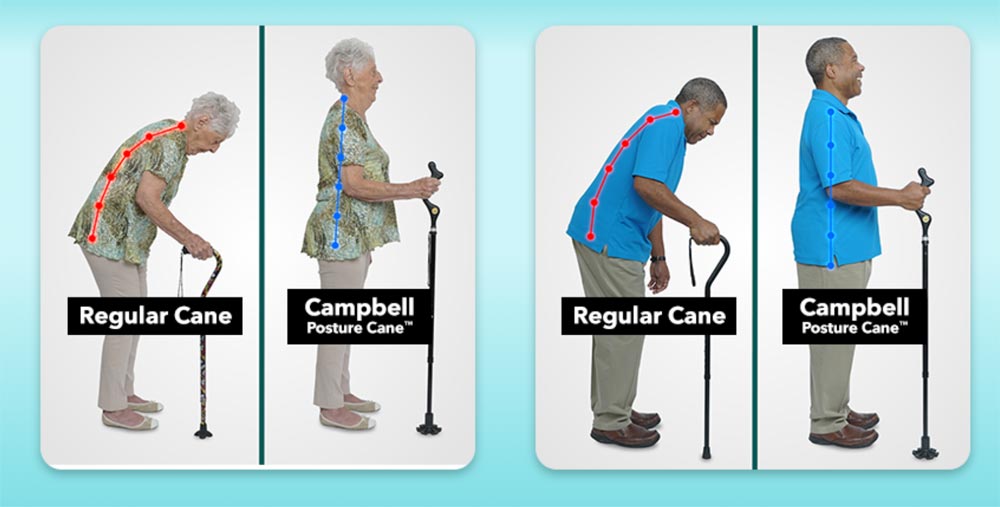 NEWS – A couple of years ago, I underwent two total knee replacements in a four month period.  During each recovery, I first used a walker for a couple of weeks, then I switched to a cane for longer-term use.  The cane provided me with some extra stability as I walked, especially when going up stairs or stepping on/off curbs, but  it was uncomfortable to use.  Although my cane was adjustable for my height, it never seemed to be the right length for me.  When the physical therapist adjusted it for me, it seemed too short, and I felt like I was bending too far over while using it.  Walking for a while meant my neck was tired because I had to hold my head at a funny angle to see where I was going.  And I felt like my center of gravity was somewhere out in front of me because of the way I was hunched over.
If I had a Campbell Posture Cane back then, I think I would have felt more comfortable and confident using a cane.  The Campbell cane allows you to stand more upright, so you can see where you're going.  My arm and shoulder wouldn't have gotten so tired because I wouldn't have been hunched over and leaning too much weight on wrist and shoulder joints that were never meant to be used that way.  You use the Campbell cane while standing upright in a more natural position, and you support your weight more naturally, too.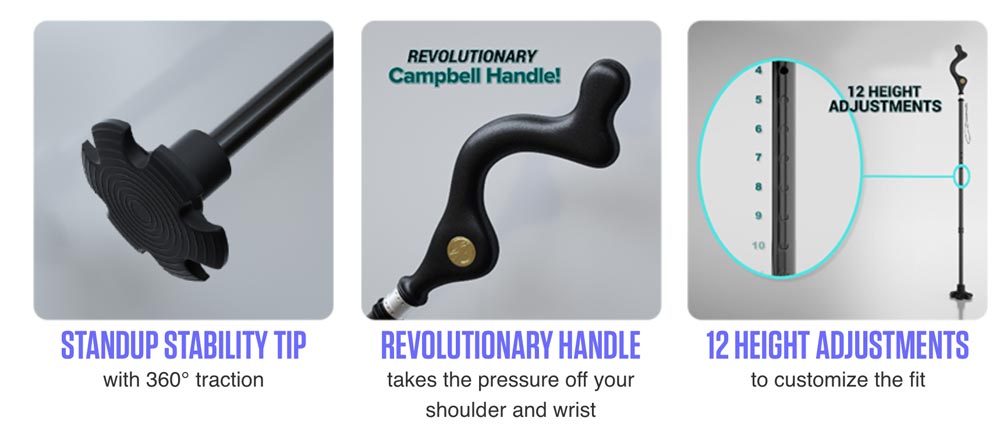 The Campbell Posture Cane is height adjustable to customize the fit for you.  The handle means you hold the cane more like a ski pole, which provides support and stability without putting pressure on your wrist and shoulder.  And the stability tip has texture for slip-resistant traction, and it's big enough to improve your stability and even stand on its own so you don't have to find a place to lay the cane when you sit down.  The cane helps you navigate sidewalks, stairs, and uneven terrain as easily as you can navigate your home's floors.
The Campbell Posture Cane is $39.99 at their website.