We use affiliate links. If you buy something through the links on this page, we may earn a commission at no cost to you. Learn more.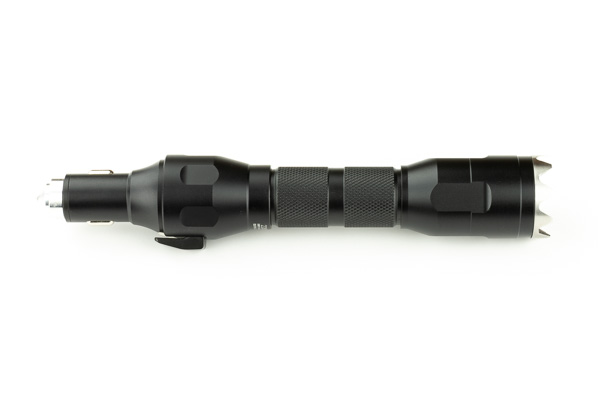 REVIEW – In my world, the answer to the question "Do I need another flashlight?" is always the same: YES! The MeetIdea Tactical Emergency Flashlight Kit Escape Tool is definitely a welcome addition to my collection. I have flashlights everywhere – in the Jeep, in the truck, in my photography bag, and all over the house.
What is it?
The MeetIdea Tactical Emergency Flashlight Kit Escape Tool is a multi-function 5-in-1 car escape tool includes a car charger, power bank, seatbelt cutter, window breaker, and emergency light.
What's in the box?
Tactical Emergency Flashlight Kit Escape Tool
Light Cones
USB Cable
Design and features
The Tactical Emergency Flashlight Kit Escape Tool came to me with a bit of reservation on my part. I've seen many aluminum flashlights that look great, but once you get them in your hand you realize that they're just cheap junk. This flashlight was an exception to that.
The box looked really nice and as often is the case, indicated that there was some pride in its packaging as well as its construction. Normally I don't open a product box until I'm ready to photograph it, to keep fingerprints and dust to a minimum, but this one looked so nice I just had to handle it.
From the moment I picked it up, I was not disappointed.
Being attracted to shiny objects, the first thing I noticed about this item was the serrated attack head. It's milled from stainless steel, and has well-defined edges, but not too sharp as to damage your pocket while you're carrying it. The first thing I thought was "I would NOT want to take a hit to the face with this thing!" The attack head also unscrews, making it easy to remove and clean the front lens of the light.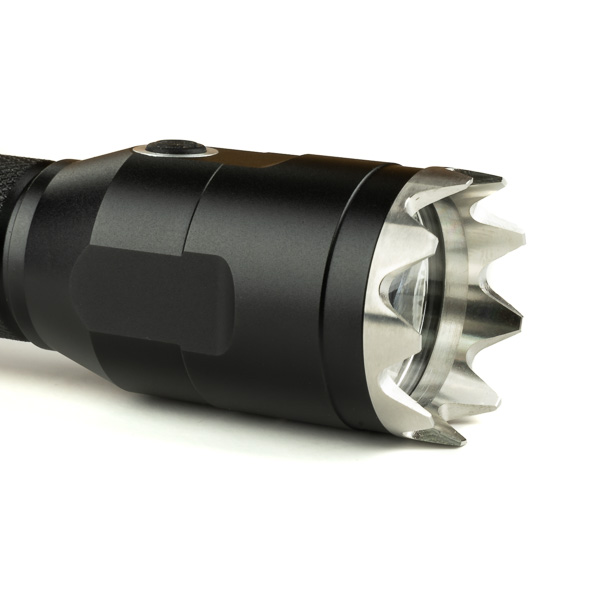 The power switch is accented with a complementary metal ring, making it easier to visually locate, and is positioned in exactly the right spot and has a very nice feel to the click when changing modes. The 300 lumen LED light has four modes: High, Low, Blink, and SOS. To start the SOS mode, simply hold the power button for 3 seconds.
I found the light to be plenty bright enough, in fact for anything close to you the low power mode is plenty. The photos below were shot at the same exposure, with the swingset being about 50 feet from me.
Advertised as "At least 2 hours battery life under bright mode, 200 mins for strobe mode.", I ran it for over 2.5 hours on bright mode.
The knurled hand grip provides a skidproof gripping surface without being overly aggressive. The narrower hand grip area fits nicely in the hand for use in either direction. The body portion has o-rings to seal it, but I'm not sure just how waterproof the entire light would be considering the USB ports at the back.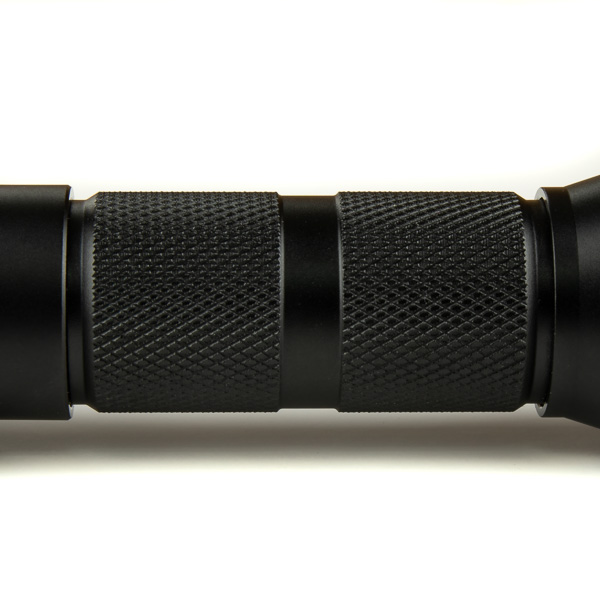 At the base of the light is the multi-function portion featuring a 12-volt car charger with 2.4a and 1.0 amp USB charging ports, a seat belt cutter, and a tungsten steel window breaking tip. The charger features a blue ring LED light that helps with locating the ports in the dark, and it's not overly bright like some chargers. The light can be charged with this portion or via the included USB cord.
Perhaps one of my favorite features is the ability to use the flashlight as a battery bank to charge USB devices, such as a phone. The 2200mAh Li battery will provide a full charge for most phones.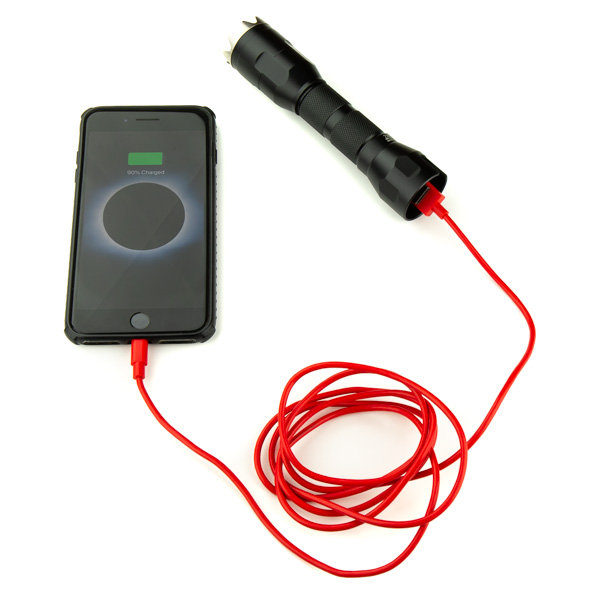 I do wish there was a cap to cover the end of the light when the car charger isn't installed, but I'm sure I can find a rubber cap at the local hardware store.
What I like
Defensive end
Multiple charging options
Rechargeable Battery
2200 mAh Battery pack capability
Overall build quality
What needs to be improved
No charging indicator light
No battery level indicator lights
Cutter end has no positive connection to keep from falling off
Final thoughts
Currently priced at $29.99 makes this tool a great bargain. I'm going to be buying several of them to give as gifts and for my other vehicle.
Price: $29.99
Where to buy: MeetIDEA and Amazon
Source: The sample of this product was provided by MeetIDEA.