We use affiliate links. If you buy something through the links on this page, we may earn a commission at no cost to you. Learn more.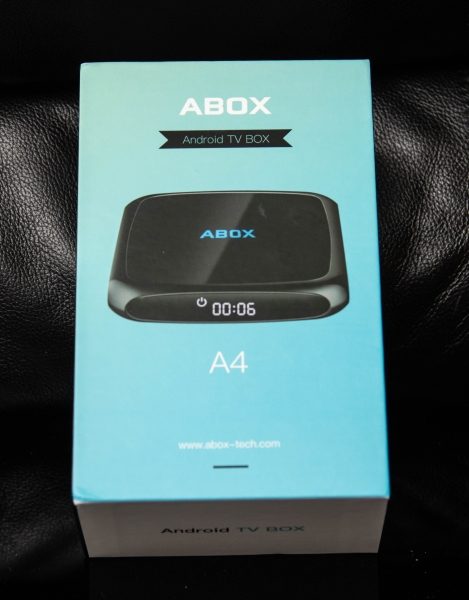 These days, many people are looking to find alternatives to cable services and cable boxes. This is primarily so because of the continuously rising costs of cable TV and the way their "packages" provide less versatility. In response to the cable companies, numerous devices have "popped up" on the market and they claim to provide alternative options at a lower cost. Let's take a look at one:
What is it?
The Abox 4 Android TV box is an Android OS based streaming device that provides a way to stream TV programming via various services, as well as the ability to stream from other sources on the same network.
What's in the box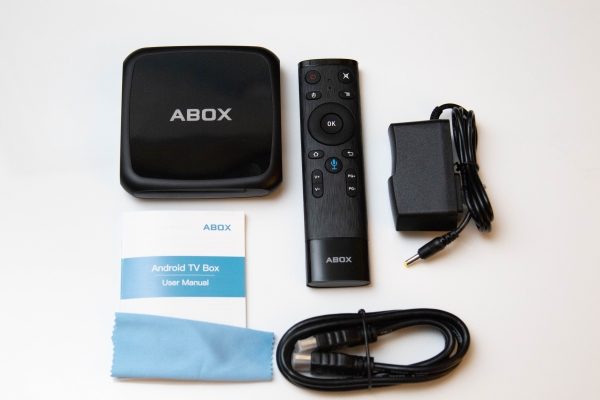 1 x Abox 4 Android TV Box
1 x AC Adapter
1 x HDMI Cable
1 x Remote Control
1 x Instruction Booklet
1 x Micro Fiber Cleaning Cloth
Design and features
Specifications
Operating system: Android 7.1.2
CPU: Quad Core Cortex A53 2.0GHz 64bit
GPU: Penta-Core Mali-450MP GPU at 750 MHz
ROM: 2 GB DDR3
RAM: 16GB EMMC FLASH
Bluetooth: V4.0
3D: Hardware 3D graphics acceleration
HDD file system FAT16 / FAT32 / NTFS
Supported subtitles: SRT / SMI / SUB / SSA / IDX + USB
High-definition video output: 4k * 2k
LAN: Ethernet: 10 / 100M, standard RJ-45
Wireless: Supports 802.11 a / b / g / n at 2.4 GHz
Supported Airplay / DLNA / Miracast & H.265
Supported decoder format: HDMPEG1 / 2/4, H.265,4K-HD, HD AVC / VC-1, RM / RMVB, XVID / DIVX3 / 4/5/6, REALVIDEO8 / 9/10
Supported media format: AVI / RM / RMVB / TS / VOB / MKV / MOV / ISO / WMV / ASF / FLV / DAT / MPG / MPEG
Supported music format: MP3 / WMA / AAC / WAV / OGG / AC3 / DDP / TrueHD / HD / FLAC / APE
Supported Photo Format: HD JPEG / BMP / GIF / PNG / TIFF
Supported subtitles: SRT / SMI / SUB / SSA / IDX + USB
Supported language: English / French / German / Spanish / Italian and more
Power supply: DC 5V 2A
The Abox 4 Android TV 4K Streaming Box is a streaming box that provides access to numerous streaming app including, Netflix, Hulu, Crackle, Amazon, and all apps in the Google Play Store. It also allows you to add almost any Android app via the standard .apk file. (Some Android apps added via their .apk files may not provide 100% compatibility). Once connected to your network, this device also acts as a single point of streaming for all of your shared media on your network including, pictures, movies, music, etc. The Abox is small and compact and has ports on 2 sides, a display on a 3rd side, and the brand name on top. On one side there are the following ports from left to right:
Audio out
Ethernet
AV port
HDMI
Audio out



On the 2nd side, there are 2 USB ports and one micro SD card port to add external storage devices



The remote control provides the standard functions of a media remote control, along with a microphone button that allows you speak commands, like "find the latest action movies" or just action movies", or something more specific. There is also a button that toggles a "mouse" option on and off. With the mouse "on", you can use the circular control to move the mouse. Other functions include volume, page up/down, power on/off, home, mute, return, etc.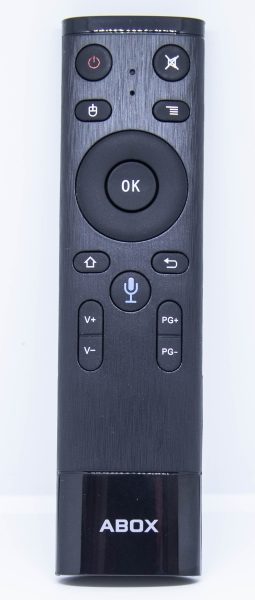 On the front of the Abox, there is an LCD with a time display and the power on indicator along with the WiFi status symbol. On the top of the Abox is the brand name that lights up blue. The picture on the bottom right below shows the HDMI and power cables connected.
Operation
Once the Abox is plugged in, and the basic initial setup of language, time and network access are completed, the main screen is launched. On the main screen there is a preview of Google Play movies selection, a couple of rows showing some of the most/recently used apps, and the icons for the "settings" screen, the "Network setup" screen and the "app drawer". The "settings" screen provides access to all settings as seen below. The "network" screen provides access to all of the network access related settings, and the "app drawer" screen shows all of the apps that you have downloaded and installed.
I have also included the screens that show the "on Demand" movie/series option, the File Explorer screen that allows you to access all of your shared network drives, and a screen that shows the tv guide from my cable TV app. Unfortunately, I could not get the remote to properly navigate the tv guide to make that app usable. While I think that I was doing everything correctly, I am not ruling out "lack of knowledge by user" 🙂
There is also a screen showing access to Spotify to listen to online streaming music.
Performance
I was able to watch movies from my USB drives and across my network via WiFi and wired ethernet with no issues, and they played flawlessly and in full HD. Installing apps from the Google Play store is very easy, and all of the apps that I tested worked well. The cable TV app that I referred to was one that I installed via an external website, and not from the Google Play Store apps offered from within the box. Once the Abox is on your network, you have the option of adding Android apps using a computer on the same network. It is important to note that I installed the cable tv app via a networked computer since it was not showing as an available app when I searched the Play Store from the Abox. This is likely why it is not fully compatible and functional.
I am not a gamer, so I cannot provide too much information on those types of apps. However, based on the overall performance of the Abox, I would suspect that they will work flawlessly as well. The Abox also offers the ability to connect a keyboard and mouse via Bluetooth, and they sell a combination keyboard via the Abox-tech website for $34.88.
What I like
I really like that the Abox provides access to all of my shared media on my home network and that even via WiFi it maintains a strong connection. I also like that I can add drives directly to it vis the built-i USB ports and that is with the apps from the Google Play Store, I can play all of my various types of files with ease.
What can be improved
My biggest issue with the Abox is the inability to navigate certain apps properly when using the remote. For example, I am used to watching my Cable TV programming using my Roku Streaming Box and the cable TV app. With the Roku remote, I can use the up/down functions of the remote to scroll through the TV guide. This function does not work with the Abox remote, and for me, that is a big deal.
Final thoughts
The Abox 4 Android TV 4K Streaming Box offers a lot of options and convenience for the price. The 2 USB jacks along with the card slot and network capabilities make it easy to integrate it into your network of devices. While I do find the Android OS and the remote response somewhat sluggish when compared to my IOS devices, I do enjoy using the Abox and for now, it has a permanent place among my media equipment.
Price: $79.99
Where to buy: Abox-tech website and Amazon.
Source: The sample for this review was provided by Abox.