We use affiliate links. If you buy something through the links on this page, we may earn a commission at no cost to you. Learn more.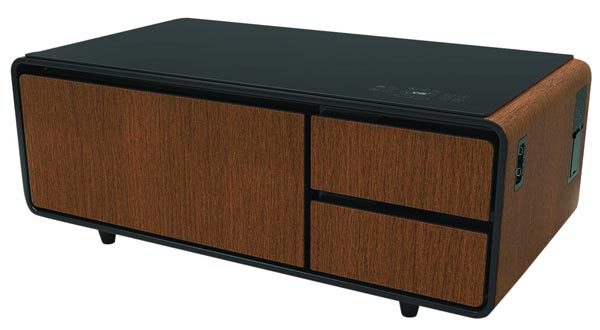 We recently told you about the Sobro smart nightstands Indiegogo project.  (My geek side won out over my design plan, and I'm waiting for my pledge for two of the nightstands to be fulfilled in October of this year.)  As it turns out, Sobro already has some experience with smart furniture, because they also used crowd-funding to launch their Sobro Coffee Table last year.  This smart coffee table is the ideal piece for your TV or game room.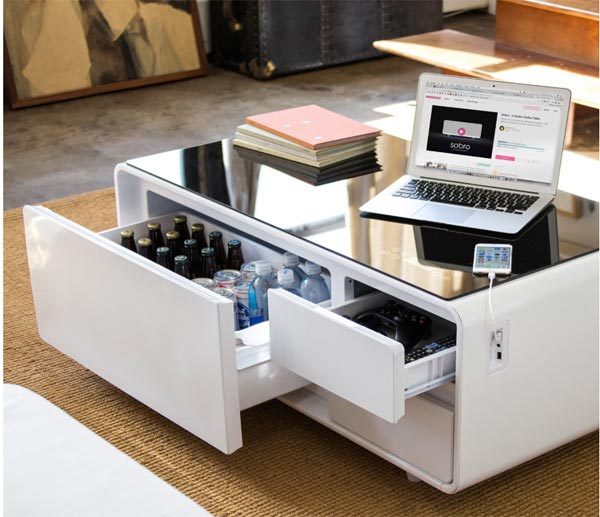 The Coffee Table has a 22″ x 11″ x 7″ refrigerator drawer that can keep up to 32 drinks cold.  It also has two built-in Bluetooth speakers with enhanced sound and bass, and it has 2 USB charging ports and four 120V power outlets to keep your phones, remotes, and other devices charged.  Underneath is an LED fixture for mood lighting or for a nightlight.   A tempered glass top has built-in touch screen controls to control all the functions of the table without having to download an app to your phone or tablet.
And the table even has two storage drawers to hold your remotes, coasters, game controllers, cables – even your old-school TV Guide, if those things still exist in a paper format.
The Sobro Coffee Table measures 43.1″ x 22.8″ x 22.8″ and weighs 100 pounds.  It is available in all white (second photo), all black, or black with woodgrain (top photo).  You can purchase directly from Sobro for $1499.00 for any color or at Amazon for $1299.00 for the white and woodgrain or $1499.00 for the all black model.