We use affiliate links. If you buy something through the links on this page, we may earn a commission at no cost to you. Learn more.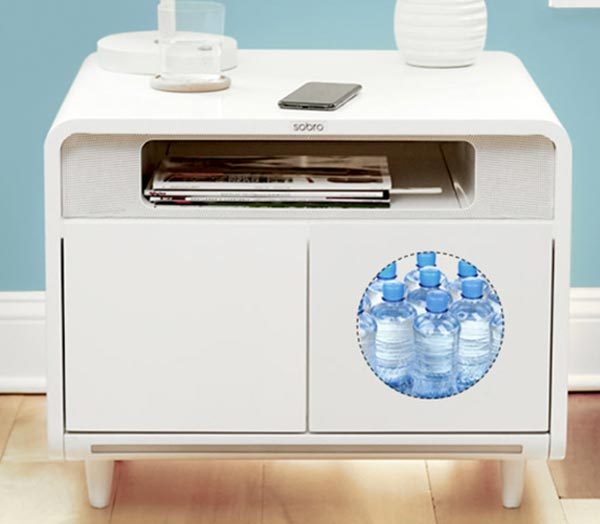 I literally searched for years for a pair of vintage, mid-century nightstands that I liked and could afford.  I finally found a perfect pair just last summer, and now I'm ready to throw them out for a couple of these Sobro Smart Side Tables.  These smart tables have every feature I never knew I needed!  And the table is controlled by an app, so it's the ultimate piece for a high-tech bedroom.
Sobro side tables have a whisper-quiet thermoelectric cooling drawer, so you'll never have to get up in the middle of the night for a glass of water.  The other drawer locks for secure storage – and of course the lock is app-controlled.  The Sobro table has built-in Bluetooth stereo speakers for cranking your tunes before bedtime.  You'll be able to charge any device, because the top has a built-in wireless charging pad that can charge two devices simultaneously and the base has USB, USB-C, and 120V power outlets with cable control to keep things neat.  Oh, and the legs are adjustable so you can get the perfect height for your bed.
The back of the nightstand has RGB LED accent lighting (app-controlled), and these lights can also be used to help you wake naturally by simulating sunrise.  And of course, there's a built-in sound generator that will help you fall asleep, too.  The front bottom of the Sobro smart table has an LED light bar that's a motion-triggered nightlight to help you find your way safely to the bathroom.  The app lets you select warm or bright-white color for the nightlight and lets you set the brightness and the duration the nightlight stays on.
And of course, this beauty is WiFi-enabled for firmware updates and to allow you to control the Sobro remotely.
Right now, Sobro is on Indiegogo with about a month left in their campaign.  They met their funding goal in less than an hour of going live, and right now they are sitting at about 1736% funding.  The Sobro Smart Side Table is available for a pledge of $379 (plus shipping) for one or $699 for a pair.  These prices reflect a savings of more than 50% off the retail price.  Shipping is expected in October 2018.  Pledge for your own Sobro Smart Side Table at Indiegogo.
If you can't wait until Fall for a smart table, go to the Sobro website and check out their Smart Coffee Table.  It was a successfully-funded Indiegogo project last year.