We use affiliate links. If you buy something through the links on this page, we may earn a commission at no cost to you. Learn more.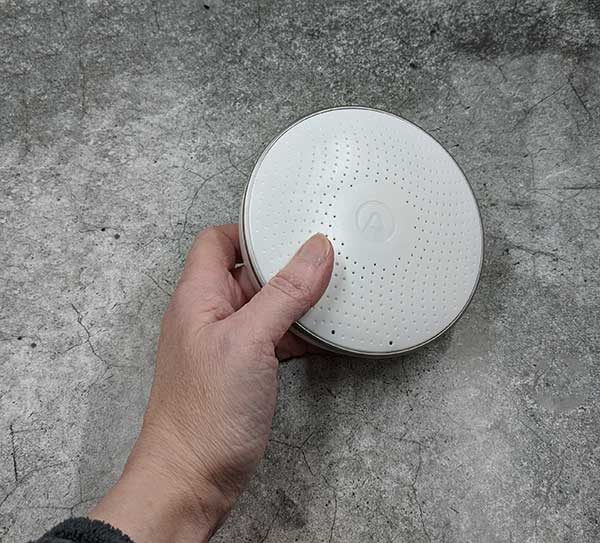 You've heard of smoke detectors and carbon monoxide detectors, but have you heard about an electronic radon detector? Me neither. So I was surprised and interested when the folks at Airthings offered to send me their Wave smart radon detector for a review. Let's take a look.
What is it?
The Airthings Wave smart radon detector looks like a smoke detector, but it will let you know what level of the deadly radon gas is in your home or building. Radon is the leading cause of lung cancer among nonsmokers. What exactly is radon gas? According to the EPA:
Radon is a radioactive gas that has been found in homes all over the United States. It comes from the natural breakdown of uranium in soil, rock, and water and gets into the air you breathe. Radon typically moves up through the ground to the air above and into your home through cracks and other holes in the foundation.
Why is radon gas deadly? According to the National Radon Defense site:
Signs and symptoms of lung cancer from radon exposure can include:

Persistent cough.
Hoarseness.
Wheezing.
Shortness of breath.
Coughing up blood.
Chest pain.
Frequent infections like bronchitis and pneumonia.
Loss of appetite.
Scary right? You may have used a charcoal radon detector kit before. It comes in a small box that you leave in your house for several days before mailing it to a lab for the results. Unlike the charcoal tests, the Airthings Wave smart radon detector will let you see the level immediately anytime you want to check it and it will also tell you the humidity, and temperature level. It even supports hand gestures.
Hardware specs
Power supply: 2x AA alkaline (LR6) or Energizer L91 batteries
Dimensions: Radius: 120 mm (4.72 in)
Height: 36 mm (1.42 in)
Weight: 219 g (incl. 2x E91 batteries)
Radon sampling: Passive diffusion chamber
Detection method: Alpha spectrometry
Operational and storage environment:
Temperature: +4 °C (39 °F) to +40 °C (104 °F)
Relative humidity: < 85 %
Initial Accuracy/Precision at 100 Bq/m3 (2.7 pCi/L):
7 days < 20 %
1 month < 10 %
Measurement range: 0 Bq/m3 to 50000 Bq/m3 (0 pCi/L to 1350 pCi/L)
What's in the box?
Airthings Wave smart radon detector
2 AA batteries
Design and features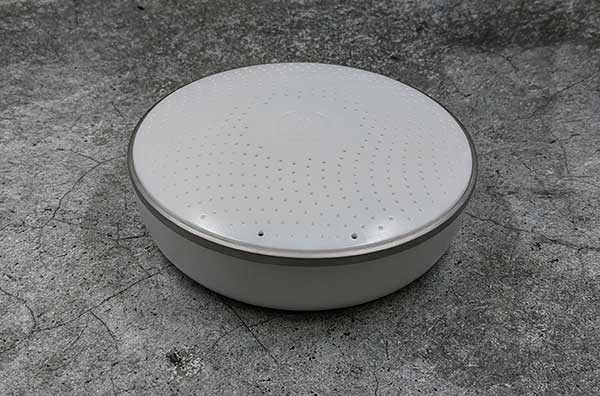 At first glance, the Wave smart radon detector looks like a traditional smoke detector. It's made of white plastic with a sensor and a built-in color LED indicator on top.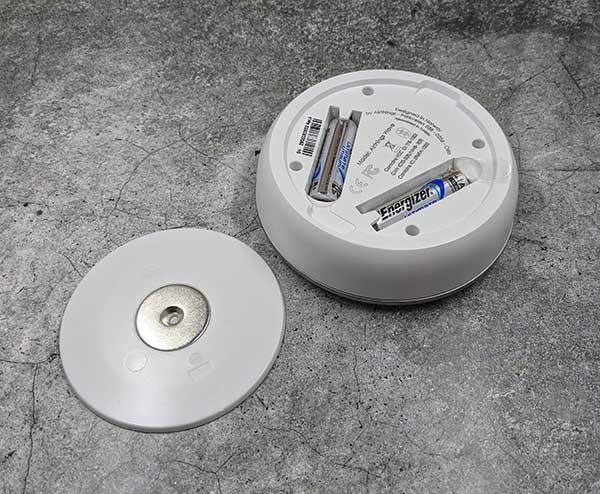 It has a magnetic cover on the base that covers 2 AA batteries which are included with the unit and which should last up to 1.5 yrs before they need to be replaced. The base plate can be attached to the wall or ceiling with a single screw.
How do you use it?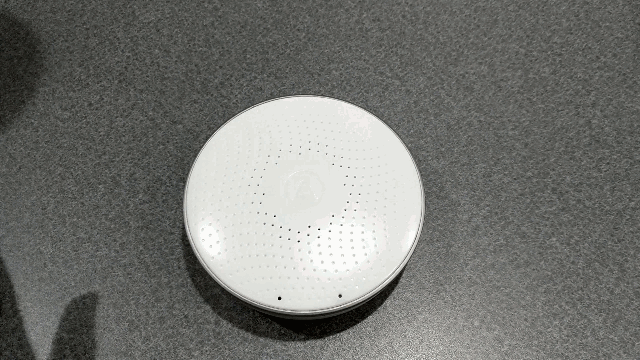 All you have to do is install the batteries, mount it on a wall or ceiling and wait an hour for it to do its initial reading. Then all you have to do is wave your hand over the unit to see if the reading is green which means good air quality (low radon levels), yellow which means the level of radon gas is above the recommended levels and red which means the levels are high and action should be taken which is usually the installation of  a Radon Mitigation fan.
You can use the Airthings Wave smart radon detector by itself, but you can pair the detector with your Android or iOS device and use it with the free Airthings app to automatically record radon, humidity, and temperature level readings so you can see trends over time. This important because just one good reading doesn't mean you're home free. Radon readings fluctuate with the seasons and the location of your home.
The app has an easy to understand interface that will immediately show you if there is an issue with radon gas in the area where the detector has been placed.
You can drill down into the data to see averages and trends for radon, temperature, and humidity levels. The Airthings website mentions an audible alarm that will sound if the radon gas levels are unsafe, but I couldn't find any details about this feature in the app.
If you'd like to read more about the accuracy of the Airthings detector, check out the article below.
I don't recall having a radon test for my home when I bought it, but that's been almost 20 years ago. So, I was a little nervous about trying the Wave detector because I didn't want to see a bad reading and then worry that we've been living with high levels of radon gas for almost 20 years. Luckily that wasn't the case. I tested the levels in my basement (levels tend to be the highest on the lowest level of your home) and was greeted with very low levels for a couple of weeks.
What I like
Really easy to setup
Runs on batteries that are included and will last up to 1.5 years
Portable, so you can move it from room to room to check levels
Can be used alone or with an app to keep a history of the levels
What needs to be improved
Expensive
Wish it also included a smoke detector, carbon monoxide detector and radon detector in one device for the same price
Final thoughts
I really like the idea of having an easy to use radon detector that can give me a reading immediately instead of having to wait weeks and send a kit in the mail for the results. I also like that the Airthings app will show trends and averages over time so you can see how the radon levels fluctuate during the spring, summer, or winter months.
I gave the detector to a friend of mine who used a radon test kit and found that his house had high levels. He had to have a special remediation fan installed in his house to bring the levels down. The Airthings Wave smart radon detector will see if the fan actually works. Too bad he didn't have the Wave BEFORE he had the fan installed… Anyway, I will update this review in a few weeks after the detector has collected some data on his house. So stay tuned.
Updates 06/01/18
The remediation fan that was installed in my friend's home did indeed fix lower his radon levels considerably. He also decided to purchase his own Airthings Wave after testing mine for a couple of weeks. Now he's able to verify that his fan is working and keeping the levels at a safe level.
Updates 09/11/18
I've been using the Airthings device for months now and really like being able to check radon levels either through the app or by waving my hand over the detector to see the status. However, I am really unhappy as of yesterday when I checked the app for the first time in a week only to find that the app would not connect to the device. I tried turning Bluetooth off and back on, restarting my phone, and restarting the app. I finally decided to use the unpair command in the Airthings app and found that doing so causes the app to delete ALL of the past data. None of it is stored in the cloud or in the app. It's not like I deleted and reinstalled the app. I just unpaired and re-paired the device. 🙁
Updates 01/27/19
Last fall I started noticing that my radon levels were creeping up into yellow levels on a regular basis. I thought my Airthings unit might be malfunctioning since I'd had the issue with it losing all of my data. So I didn't get very concerned about it until the levels were in the red for a couple of weeks. At that point, I gave my unit to my friend Bill who also has the same unit in his house. I asked him to put both units side by side to see if they would show the same readings. And unfortunately for me, the readings on my unit closely matched the readings on his Airthings Wave unit which meant that I had a problem with the radon levels in my house.
A couple weeks ago I had someone come out and install a remediation fan system in my home and within 24hrs the levels were down to a safe level. You can see how high the levels were in the first image and then how they were lowered within one day. Thanks to Airthings for alerting me to the problem which may have prevented me and Jeanne from getting lung cancer at some point.
Price: $199
Where to buy: Amazon
Source: The sample for this review was provided by Airthings.