We use affiliate links. If you buy something through the links on this page, we may earn a commission at no cost to you. Learn more.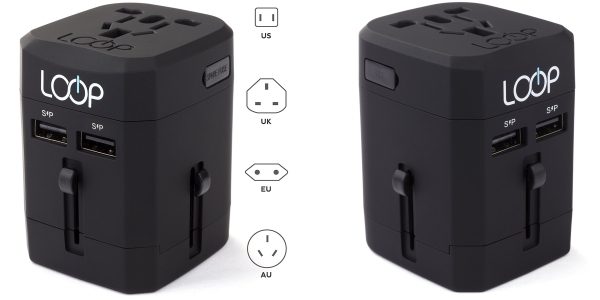 I love traveling to the Caribbean and especially South America, where I can get close to the Amazon and be surrounded by great photography opportunities. While I look forward to those trips, packing all of my gadgets and gear becomes a real chore. Since I simply must have every convenient gadget go along with me for the ride, I also have the tedious task of making sure that all of the relevant and appropriate AC chargers make the trip as well. And then it gets really complicated when I have to figure out if I have the right plugs for the countries I will be visiting.
If some of you are like me and deal with this challenge on your trips, then you will love the LOOP World Adapter Plug. This worldwide travel adapter charger is compatible in over 150 countries. It has built-in plugs for US, UK, EU, AU and CN, along with dual USB ports, and a universal AC socket with a built-in spare fuse. It also boasts intelligent charging that allows it to detect the device being charged, and adjust the power it provides to be efficient and fast charging. While the LOOP is a great solution, it is not a solution for all electronics, so it is not a good match for those power hungry devices such as hairdryers, or curling irons, or heat guns.
If the LOOP Worldwide Adapter Plug is a great fit for you as well, then head over to Amazon and pick one up for just $15.95.