We use affiliate links. If you buy something through the links on this page, we may earn a commission at no cost to you. Learn more.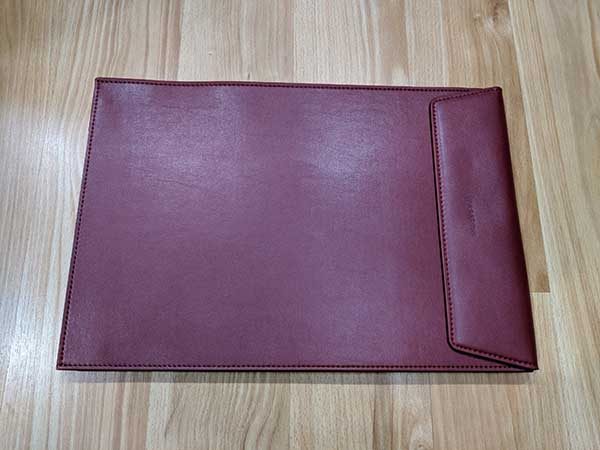 I love my 12″ MacBook that I bought as a refurb from Amazon a couple years ago. It's the perfect size and the perfect weight for everyday use and especially for travel. I actually downsized from a 13″ MacBook Pro just to get a smaller and lighter machine. But downsizing also meant that I would have to sacrifice performance and expansion capabilities.
I honestly haven't had any issues with the smaller MacBook's performance, but expansion, on the other hand, has been a challenge at times due to the machine only having one port which is used for both charging AND peripherals.  A USB hub is pretty much a necessity with this computer if you ever want to connect something to it like an external monitor, wired keyboard, wired mouse, flash card reader, etc. USB Type-C expansion hubs are a dime a dozen, but have you ever seen a sleeve style case with a built-in hub? You will now because this is a review of the DockCase for the 12″ MacBook.
What is it?
The DockCase is a slim microfiber leather and aluminum sleeve style case for 12, 13, and 15 inch Apple MacBooks that has built-in USB, USB Type-C, Ethernet, HDMI, microSD and SD card readers.
What's in the box?
DockCase
USB Type-C to Type-C cable
Quick start guide
Design and features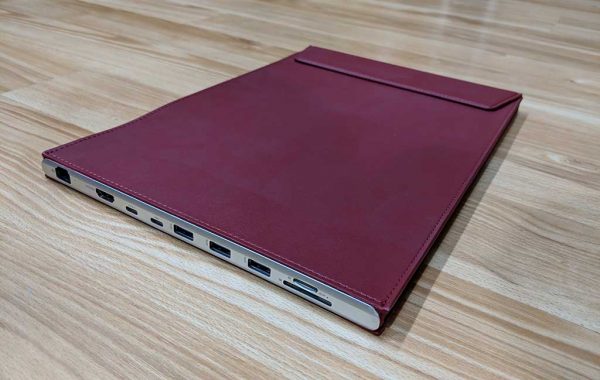 If you didn't look at the end of the case, you might not even realize that it's more than a slipcover for your MacBook. Depending on the size of your MacBook, the DockCase comes in several colors like the red version that was sent to me.
On the end of the case, you'll find the following ports:
1 LAN Ethernet(1000M Gigabit)
1 HDMI Video Output ([email protected],[email protected])
1 USB C Power Delivery Charging (Up to 100W)
1 USB C 3.1 Data (Up to 5 Gbps)
3 USB 3.0 Data (Up to 5 Gbps)
Multi-in-1 Card Reader (SD-XC, SD, MMC, RS-MMC, SD-HC, Micro-SD)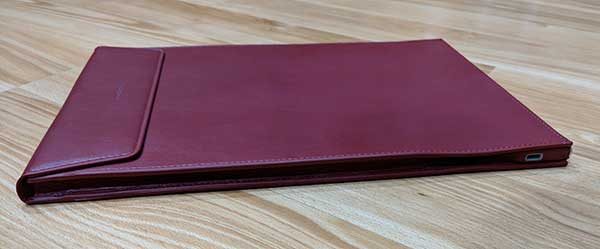 A third Type-C port is on the side of the DockCase. This port is used to connect the DockCase hub to your MacBook using the included Type-C to Type-C cable.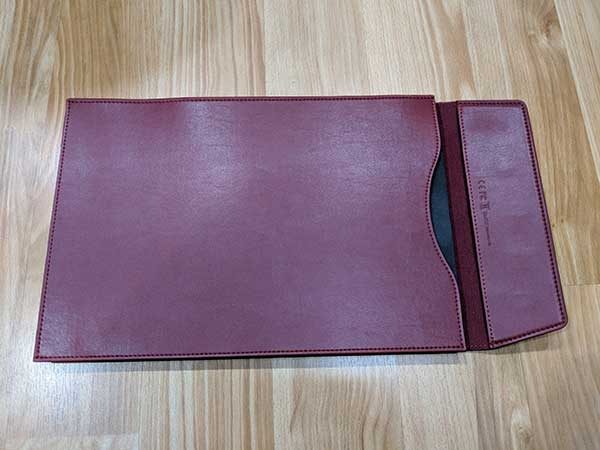 As a case, the DockCase is just a basic sleeve that's made of microfiber leather which is a synthetic (fake) leather with the look and feel (but not the smell) of real leather.

The interior of the DockCase has one main pocket to hold the MacBook, and a narrow pocket on the side that holds the included USB Type C to Type C cable.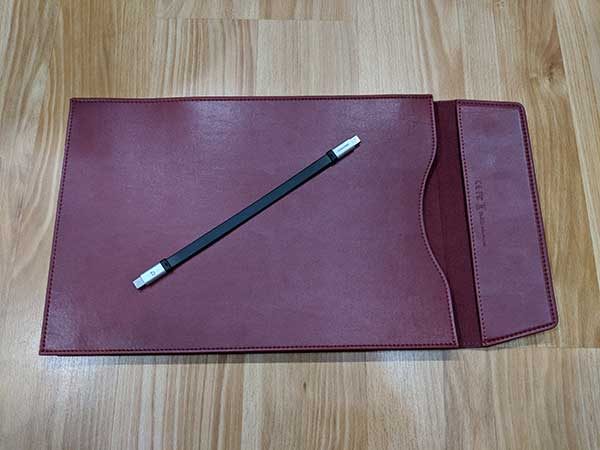 The short cable is easily removed and stowed in the DockCase when it's not being used.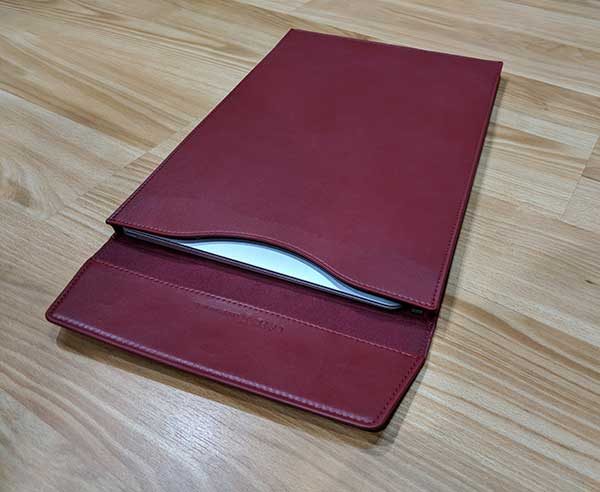 My 12-inch MacBook it nicely in the 12-inch DockCase along with the cable.
Using the DockCase with my 12-inch MacBook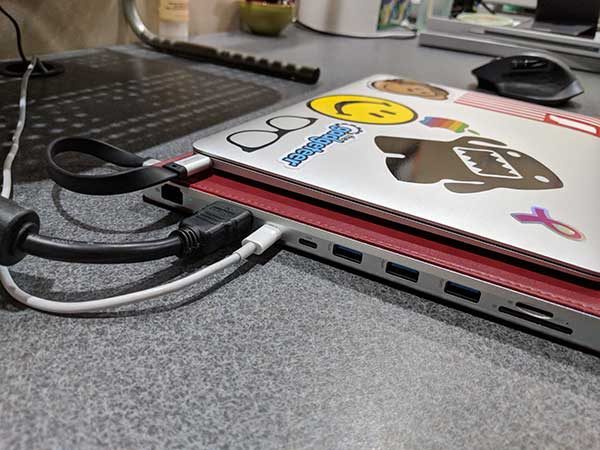 To use the DockCase, you connect one end of the included USB C cable into the USB C port on the MacBook and the other end of the cable goes in the USB C port on the side of the DockCase. To keep your MacBook charged you will need to connect your existing charger cable into the USB PD port on the DockCase which is located next to the HDMI port. You can see how the cables are connected by checking the image above.
I do wish that the included Type C cable was a round cable instead of a flat cable, which looks awkward routed from the MacBook to the back of the DockCase.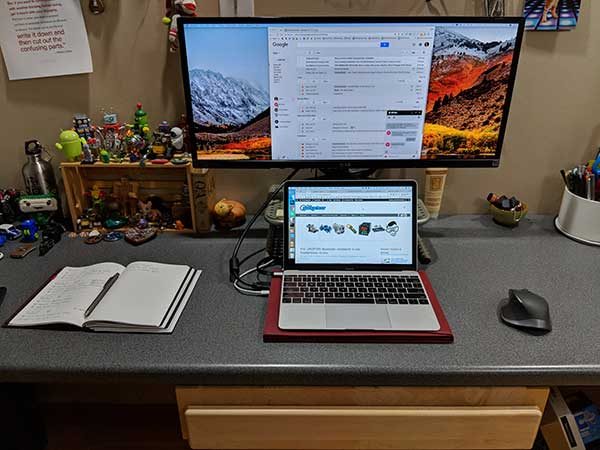 I tested the DockCase with my 12-inch MacBook connected to 4-year-old 29-inch ultra wide LG LED monitor. The LG monitor is not 4K, but the DockCase is able to handle [email protected] or in my case, [email protected] I couldn't tell any difference using the DockCase's HDMI vs. using the LandingZone docking station's HDMI, which is what I've been using for the last several months.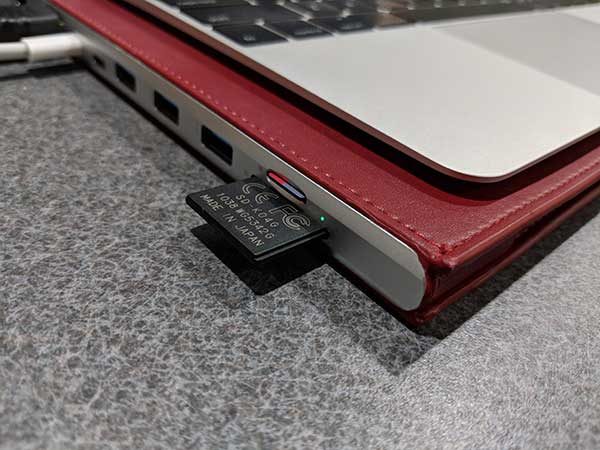 The documentation that comes with the DockCase advises that you NOT use the USB ports to charge your phone or other devices. They are supposed to be used for data transfers only. Even so, I had to test them to see if they would actually charge my phone, a Pixel 2 XL. The 2nd Type C port next to the Type C PD port would not charge my phone at all, but the other three USB ports did seem to be charging the phone.
I tested the DockCase's card slots which worked fine. I was able to read each one individually and transfer files between two cards. I was also able to copy files to and from USB flash drives. So, the hub does work as intended. But there is one problem and that's heat.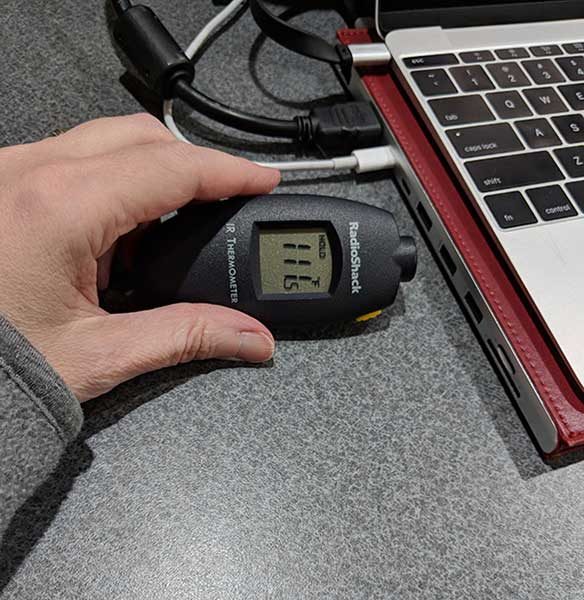 The DockCase hub gets noticeably hot after several minutes of use (especially when you're connected to an external monitor using the HDMI port). I used an IR thermometer and recorded readings of 100F to as hot as 120F. These temps weren't hot enough to burn my skin, but the heat did make me nervous that it could become a fire hazard at some point and made me leery of leaving my MacBook connected to it while unattended. That said, the heat dissipates when the MacBook is not being used.
What I like
It's a case with a built-in hub
Nice for the newest MacBooks that only have one USB Type-C port like my 12″ MacBook
What needs to be improved
The hub gets too hot
Not supposed to use it to charge phones or other devices
No room for other accessories like a charger
Final thoughts
Having a case for newer MacBooks that combines everyday protection with a USB hub is unique and useful while remaining relatively slim and sleek. If they can solve the heat issue, I think they have a winner on their hands, but as it is, I'm worried about recommending something that could be a fire hazard.
Update 03/07/18
The maker's of this product wanted me to add:
Yes, DockCase will get hot when connected, especially to HDMI port; and that's the point our team are hardly working on solving it.

While fire hazard you mentioned at the end of the review, I think, that is not that appropriate as we have done large sets of burn-in tests and over-load tests, which would prove there won't happen to a fire.

I hope you could deliver the readers a more appropriate review on that.
Price: $119.00 – $149.00 depending on size. $119 for the 12″ version reviewed here.
Where to buy: DockCase and Amazon
Source: The sample for this review was provided by DockCase.