We use affiliate links. If you buy something through the links on this page, we may earn a commission at no cost to you. Learn more.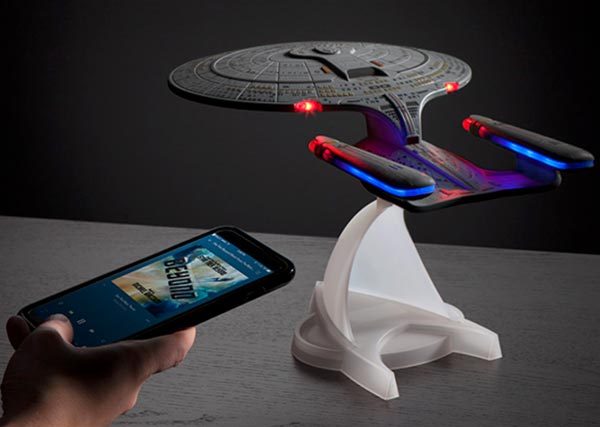 Over the decades, the Starship Enterprise has taken many forms, but this time she's taken the form of a Bluetooth speaker.  This speaker is designed after the Galaxy-class Enterprise NCC-1701-D from The Next Generation.  The ship is a 12″ long scaled replica; it stands 12.5″ x 7″ tall x 9″ wide when displayed on its 2-piece stand modeled after a combadge. It connects to your mobile device or computer via Bluetooth 4.1 and has a 33ft range.
Inside is a 45mm single, full-range speaker.  It's powered by an 800mAh lithium-ion battery, which charges with a DC 5V 1A source and included microUSB-to-USB charging cable.  You'll get 6-8 hours of playback time at average volume on a single charge.  The ship also has LEDs on the engines, deflector dish, and saucer section; these can be turned off, if desired.
When you aren't listening to music, the speaker can play various TNG sounds:  engine hum, torpedo blast, warp acceleration, and "incoming transmission" and"one minute to auto destruct" messages. You can use the engine hum sound as a white noise generator; it turns off automatically after one hour.
The Star Trek TNG U.S.S. Enterprise NCC-1701-D Bluetooth Speaker is officially licensed and available for $79.99 exclusively at ThinkGeek.