We use affiliate links. If you buy something through the links on this page, we may earn a commission at no cost to you. Learn more.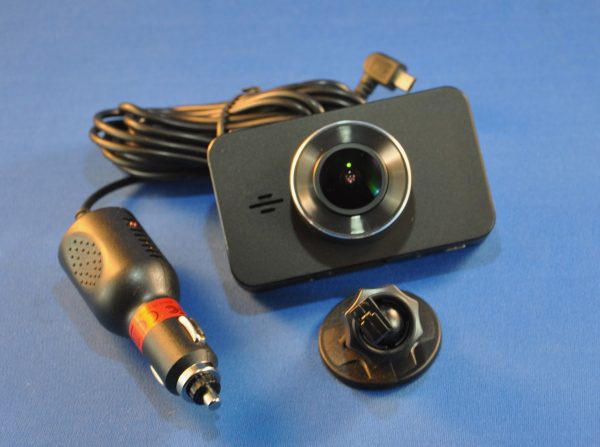 I've never thought I needed a dash camera. I have a 20-minute commute each way, which is mostly limited access or multi-lane highways, and folks generally drive OK. But the team at Uten needed a reviewer, so I volunteered to test their Model UCA001.
Note: Photos may be tapped or clicked for a larger image.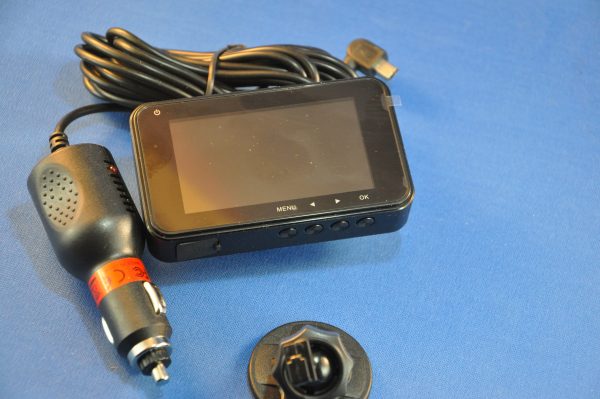 You can't have surfed the internet very long and not have come across one of those dash-cam videos from Eastern Europe. You know the ones: cars and trucks of mostly Soviet designs that fall apart, swerve in front, flip over and catch fire while the driver tries to dodge. They are the reason I never thought I needed a dash camera. My commute is somewhat staid by comparison. But then I started to notice folks weaving into lanes, pulling in and stopping, slamming on brakes in front of me, and generally not driving well. There are a lot of distracted drivers out there these days. If I were to hit one of these crazies, how could I prove their actions in court? Or how could I explain to unbelieving friends?
What is it?
The camera is a 3.75" x 2.25" x .75" smooth black box with a lens and small speaker on one face, and a full-face screen on the opposite side. Across the top is an on/off switch, AUX input, a mounting hole for the included holder, a GPS input, and a mini USB power input. Across the bottom is a TFT slot (covered by a rubber gasket) and four menu controls: menu, left, right, OK. There's nothing on the right side (with the lens facing you) and there are only a reset button and a mic hole on the left side.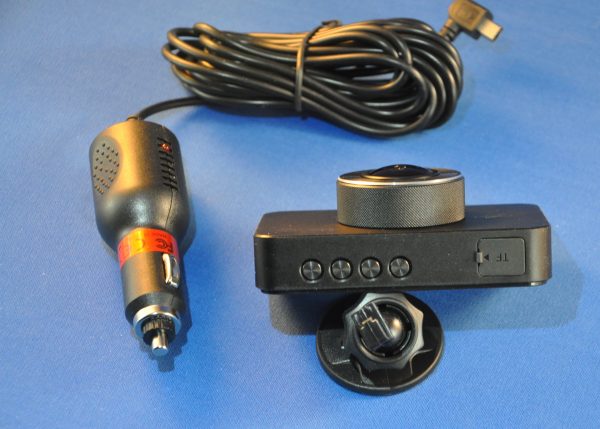 Hardware specs
 1296P+30FPS HD RESOLUTION: Providing great sharp video quality and super great vision.The camera can be mounted on your car's dashboard or windshield to record what happens in front of the vehicle. Whatever treasured memories you want to keep, our in-car camera will deliver a high-definition record of events that you can watch time and time again.
SUPPORT 128G LARGE SD CAPACITY: Super large capacity, storing all your videos and pics of your beautiful life right in this camera, enable you to capture videos of more enjoyable activities such as scenic road trip holidays and exciting track-day races!
MSTAR TECH SOLUTION: Great clear night vision, clearly captures the license plates cars as well as road signs during the day and night, making our roads a safer and better place for everybody.
170°WIDE ANGLE+ F1.8 APERTURE LENS: Though most are F2.0 aperture in the market, our F1.8 is better than F2.0. The actual aperture much less, the vision is much brighter with better effect.
1-YEAR MONEY-BACK GUARANTEE: We commits ourselves to creating high quality and great design products. Also being confident in our premium upgrade dash cam and offering a full 1-year guarantee. We will do the best for you!

What's in the box?
The unit comes packaged in a well-designed black cardboard box with a black heavy paper sleeve. Inside, a lighter-weight black cardboard box contains the 12-volt plug with a 9+foot captured cable, which ends in a molded right-angle mini USB plug. The camera itself is wrapped in a Tyvek-type envelope, with clear stickers over the rear screen and front lens. It is held steady by a black foam insert, centered over a black cardboard riser, under which is the mounting stand. Top marks for recyclable packaging. I think the foam around the camera is the only not-clearly-recyclable piece. You get everything except a storage card. Camera, charger/cord, instruction sheet, and mounting stand: that's it.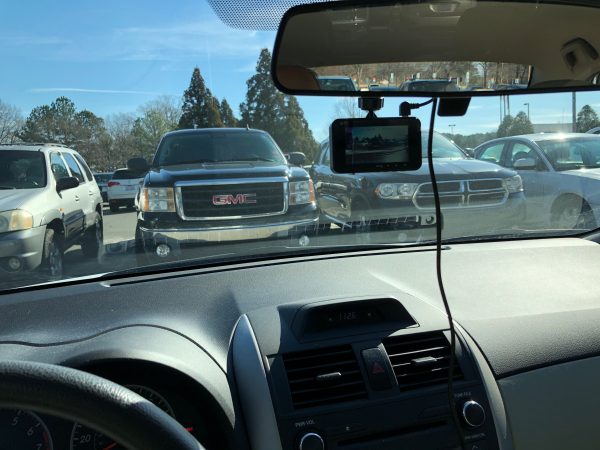 Design and features
The camera is dead simple. You don't even have to turn it on – just apply power and it is ready. By default, incoming video is cut into 3-minute segments and is set to fill the memory card, then the camera starts erasing the oldest unlocked clips. You literally just point it out the front window and you're done. I used it for a week or so lashed to the rearview mirror with extra charging cable. (9 feet gives you a good bit of play!)
Settings available are lane departure warning, GPS connectivity, and distance warning. You can also alter the length of video clips, aperture, and time/date setup. The menu screens are pretty bare-bones but offer the settings needed.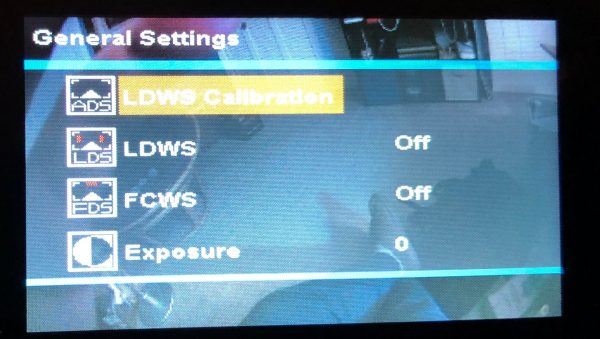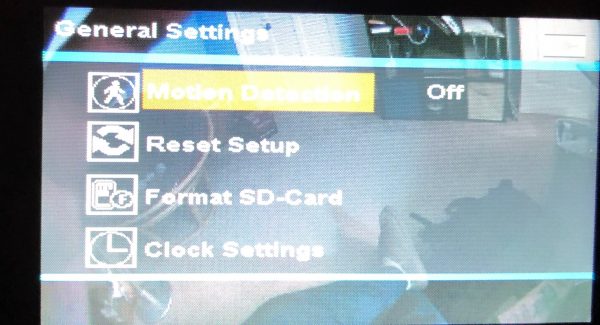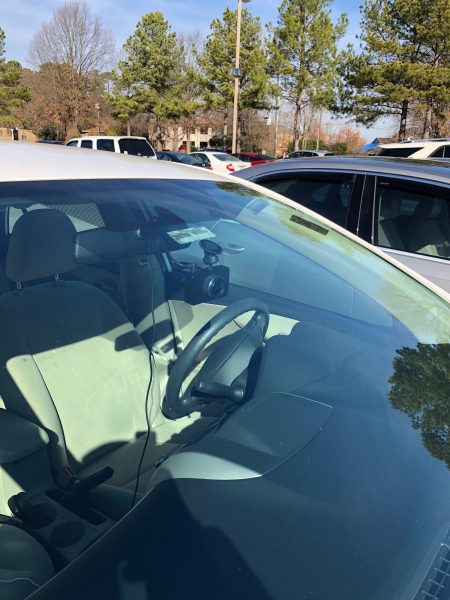 Performance
The camera is rock solid. It turns on with the power, records until the power is cut, and locks video clips where significant vibration occurred. (I have seen this several times driving a bit quickly through road construction sites.) There is a sensitivity setting for this.
Here's a sample video using the default settings during the day:
Here's a sample video using the default settings at night:
What I Like
Simple on/off activation.
Flexible – can be used as front or rear camera.
Automatically cuts video into segments.
Automatically locks segments around velocity events.
What needs to be improved
The Permanent mounting – This would be better as flexible so that you could mount in rentals while traveling, or reposition if you don't like where you first mount it.
No battery means routing power cord – never pretty.
The captive power cable is also irritating. I have at least one other item charging all the time and only one power outlet. 🙂
Final thoughts
Dash cameras are a natural outgrowth of two modern trends – highly litigious societies, and technical progress. Ten years ago, a similar system would have cost many hundreds of dollars, and a lot of custom programming and installation. However, ten years ago, the road-rage and "I'll sue you" factors were much lower. With the cheap ability to document things, you may forestall any legal action early on, enough to cover the investment in this little gem. For now, I'm keeping it installed and running, at least when I don't need to charge anything in the car. Were I to change to a more driving-oriented occupation, I might look into getting a multi-outlet adapter, or finding a camera that doesn't have a captive cable. Since it's a standard mini USB connector, however, that may be the route I take anyway.
If you have a larger car/van/SUV that may benefit should you be rear-ended, using this mounted and aimed out the rear glass may help you in the event of an accident. Seeing the driver checking their email just before they hit you and their airbag deploys may be great party footage as well, after your car gets out of the shop.
Price: $49.99
Where to buy: Amazon
Source: The sample of this product was provided by Uten.