We use affiliate links. If you buy something through the links on this page, we may earn a commission at no cost to you. Learn more.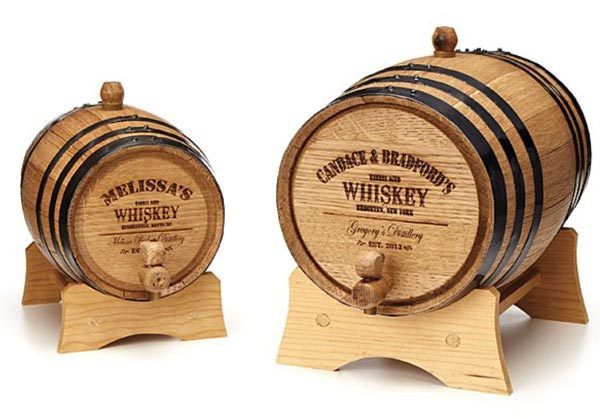 Crystal decanters are beautiful, but the lead can leech out into liquids stored in them, and so they are no longer recommended as safe for long-term storage.  Storing your whiskey in an oak barrel, just like the distillers do, won't do anything but add desirable flavors.  Whiskey barrels are usually far too big to add to your home bar, but these miniature Personalized Whiskey Barrels will fit just right.  They are available in 2- or 5-liter sizes, and they can be customized with your name, your "distillery" name, and other information.
Oak barrels are used for aging spirits because they "impart flavor to spirits through three main compounds: lignin, which adds vanillin for vanilla and marzipan-like flavors; lactones, which give rise to buttery, coconut notes; and tannins, which add astringent, spicy flavors."  I'm not sure how much actual aging you'll get from these little barrels before you decide to go ahead and drink your whiskey, but they'll certainly add a whimsical accent to your bar.
The 2-liter barrel is $85.00; the 5-liter barrel is $110.00.  You can even add a rum and whiskey-making kit to your order if you truly want to try creating and aging your own spirits.  The Personalized Whiskey Barrels are available at UncommonGoods.