We use affiliate links. If you buy something through the links on this page, we may earn a commission at no cost to you. Learn more.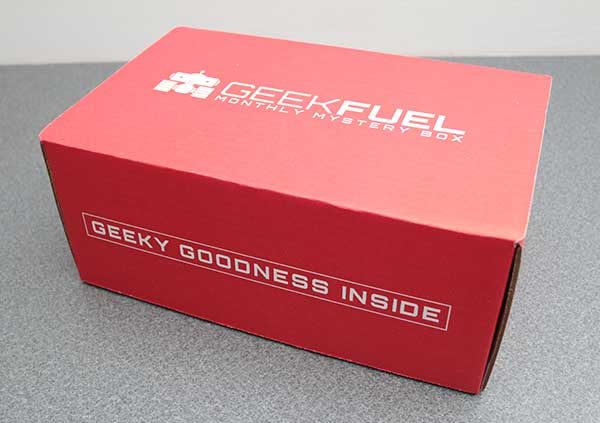 I know I've said this many times in my articles throughout the years, but I'll say it again… my favorite part of the day is opening the mailbox or seeing packages left on my front porch when I get home. If you don't get interesting mail that excites you, Geek Fuel monthly mystery boxes could be a solution to your mail woes. Let's check out this subscription service.
What is it?
A Geek Fuel mystery box is an 11.5 x 7.5 x 5 inch cardboard package filled with geeky goodness that is you mailed to your door once a month.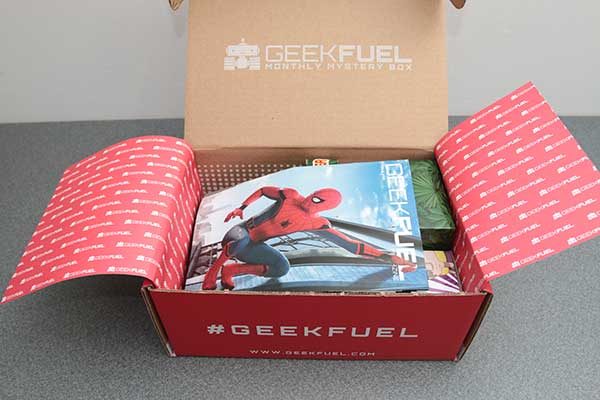 Each monthly box comes with a different collection of geeky toys, jewelry, T-shirts, books, games, and more.
Geek Fuel sent me a box a few weeks ago and this is what I saw upon opening it.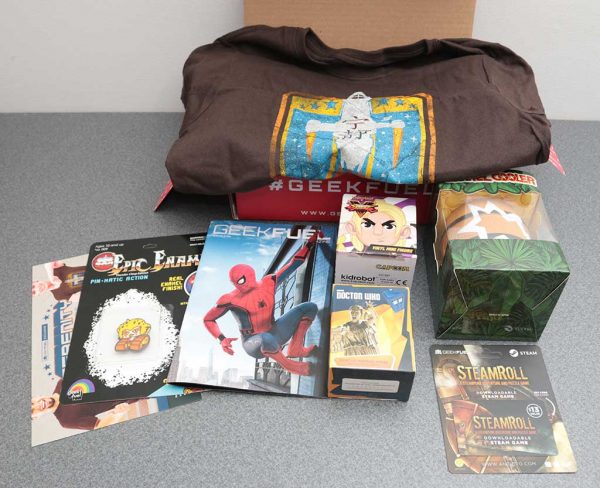 Geek Fuel Magazine
She-Tarra Epic Enamel pen from an 80's game or TV show called Thunder Clasp
Barrel Cooler soda can cozy
Kidrobot Street Fighter vinyl mini figure
Doctor Who Light-Up Weeping Angel figure with illustrated book
Steamroll downloadable Steam game for Windows, Mac, or Linux
Serenity T-shirt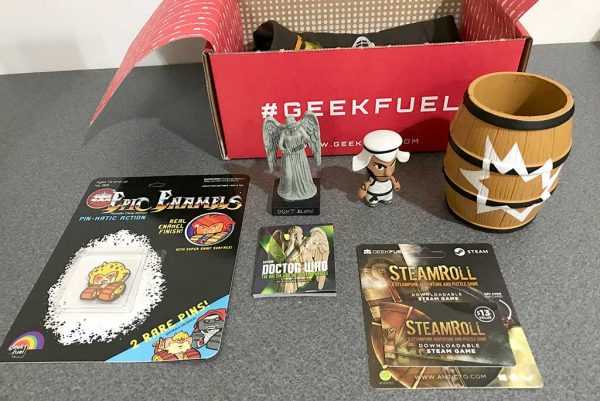 Never miss one of our posts again. Sent MON, WED, and FRI with the latest gadget reviews and news!
Right away I was a little disappointed because four of the items in the box didn't really appeal to me. I don't drink canned beverages, so the Barrel Cooler wasn't thrilling. I don't know who the characters are in the Street Fighter video game so that mini fig didn't excite me. Neither did the Epic Enamels Thunder Clasp pin. I have no idea who or what Thunder Clasp is. I'm also not a Doctor Who fan (don't judge me!).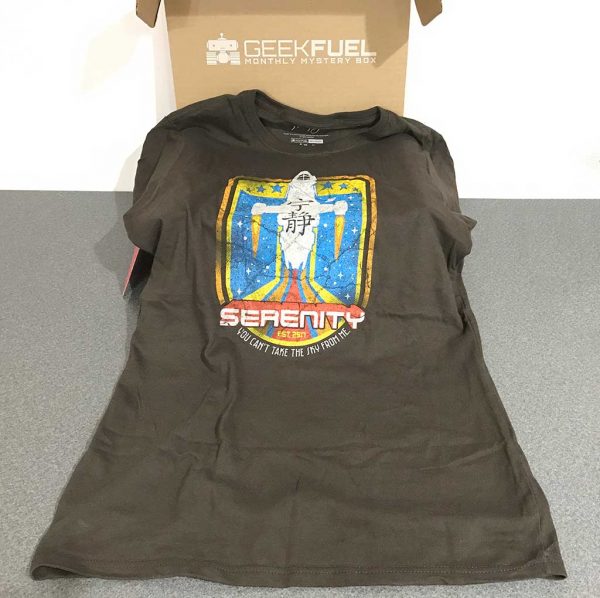 The only items from the Geek Fuel mystery box that I did like were the Serenity T-shirt, the Geek Fuel magazine, and the Steamroll Steam game. Because who isn't a fan of the Serenity sci-fi series? And a free video game is always cool except when it's a sub-par game. This one isn't bad.
The Geek Fuel magazine was ok too. It had an article about Spiderman and Adam West who played Batman. The rest of it was just ads to buy things.
Final thoughts
I think the price for the Geek Fuel mystery box is a bit high at $24.90 (that includes shipping) per box. You can save a little bit if you if you opt for a 3, 6, or 1yr subscription. But, the most you'll save over the $24.90 per box price is only a $4 savings per box or $48 total savings if you go for a full year subscription. You will, however, get some bonus goodies if you opt for a 6 or 1yr plan.
Would I buy the mystery box that was sent to me if I had known what was in it? No. The best item in the box was the Serenity T-shirt and I don't pay $25 for T-shirts. That said, maybe I'm not geeky enough because someone else might have loved these particular items. The fun is in the mystery of not knowing what you get until you receive the box.
Source: The sample for this review was provided by Geek Fuel. Please visit their site for more info.
Product Information
Price:
$24.90 (with shipping) for one box up to $250.80 for a 1 yr subscription
Manufacturer:
Geek Fuel
Pros:

Fun to receive mystery goodies
Each box comes with a game and a T-shirt

Cons:

Some items may not be interesting to everyone