We use affiliate links. If you buy something through the links on this page, we may earn a commission at no cost to you. Learn more.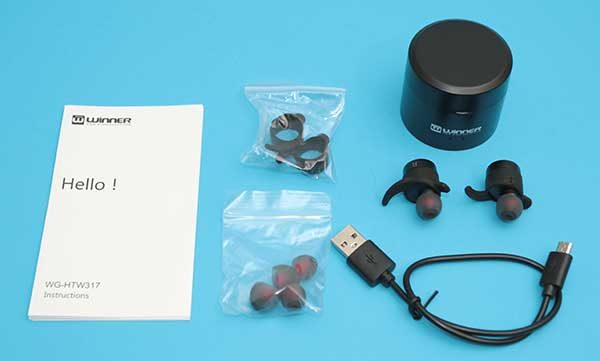 I recently joined a gym and have been on a quest to find a set of wireless earbuds that I can wear while working out that are both comfortable to wear and sound great. The latest earbuds to show up for testing are the HERO wireless earbuds from Winnergear. Let's check them out.

What is it?
Winnergear Hero earbuds are small Bluetooth sports earbuds that are completely wireless.
What's in the box?
Winnergear Hero wireless earbuds
Ear hooks (small and medium)
Eartips (small, medium, and large)
Portable charging case
Instructions
Hardware specs
Noise Cancellation CVC 6.0
Bluetooth 4.2
AptX
8mm speakers
Built-in microphone
Sweatproof Coating
3-hour playtime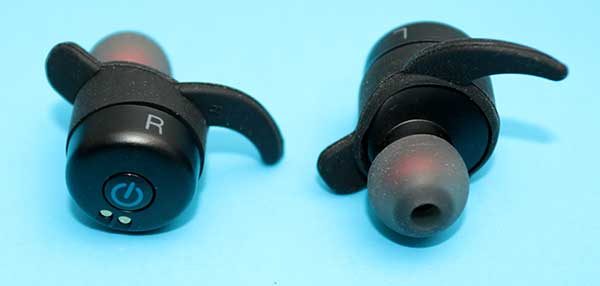 The HERO earbuds are wireless which means there isn't a cable between them that connects the two earbuds together.
They have a black metal (I think) outer shell with a power button which doubles as a status LED on the outside surface of each earbud and two electrical contacts below the power button.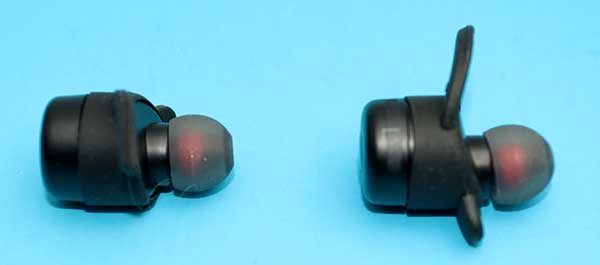 Never miss one of our posts again. Sent MON, WED, and FRI with the latest gadget reviews and news!
Each earbud is clearly labeled so you can easily figure which one goes in each ear.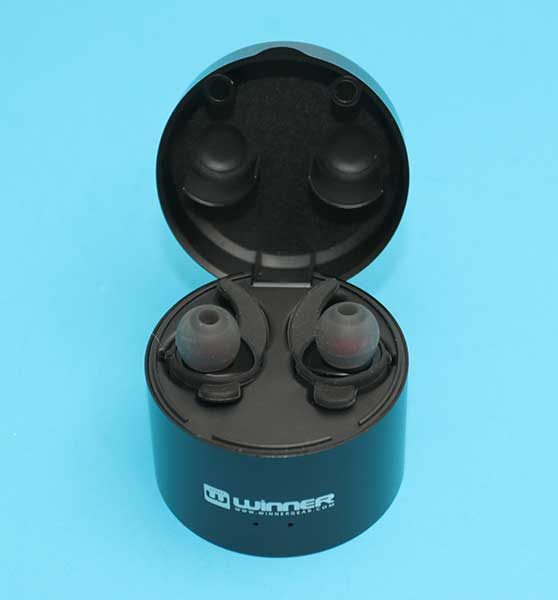 A handy case is included with the HERO earbuds that not only holds them while you're not using them, but it charges them as well.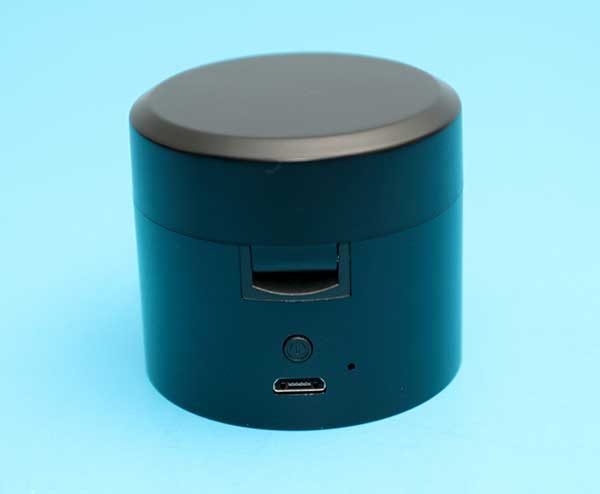 The case has its own built-in battery that is charged using a micro USB cable. In the image above, you'll also notice a small button above the USB port. This is the power button for the charging case. You'll need to remember to press this button if you want to turn on the charger for the earbuds.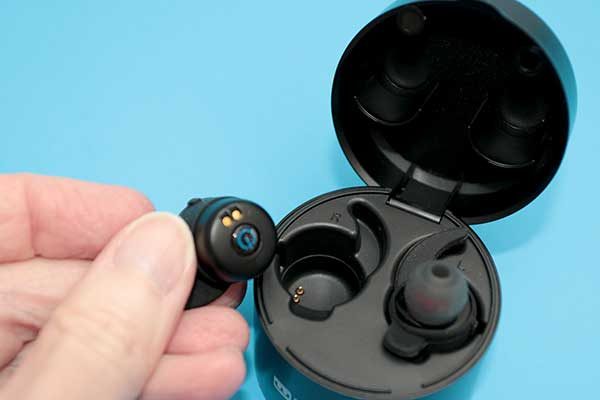 The HERO earbuds easily fit inside the case. Just make sure they are firmly seated before you close the cover and press the power button on the back of the case to start charging.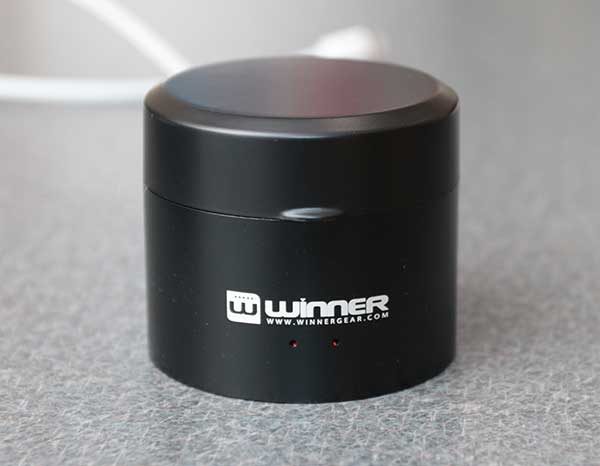 Two tiny LEDs on the front of the case glow red while the earbuds are charging. It's a good idea to check these LEDs to verify that both earbuds are firmly seated in the charger. It takes about 1.5hrs to fully recharge the earbuds.
The portable charging case can recharge the earbuds up to 4 times before the case itself will need a recharge. Pressing the power button on the back of the charging case will blink the LED on the back a number of times to indicate how much charge is left in the case.
Fit and comfort
Comfort and sound are at the top of my list when I'm searching for a new pair of earbuds. The Winnergear HERO wireless earbuds are lightweight and surprisingly comfortable. The ear hooks do a great job of keeping the buds in my ears even when I am walking, running, or jumping. The earbuds never fell out of my ears while I was testing them. I can't say the same about most earbuds that I test.
Button control
The HERO earbuds only have one button on each earbud. It is a multi-function button that toggles power, puts the buds in pairing mode, answers and ends calls, plays and pauses music, and can skip tracks in certain apps.
To use the earbuds, you press and hold both power buttons for a couple of seconds to turn them on. A female voice will say that the buds are powering on and then it will say that they are connected to your device. Other voice alerts include a power down message and low battery alerts.
The left button will answer/end calls and play/pause music. The instructions that come with the earbuds say that pressing the right button will skip to the next track but this isn't true. Pressing either the left or the right button while listening to music will pause the track and double click either the left or right button will skip to the next track.
Note that there's no way to adjust volume from the earbuds themselves. You have to do that through the paired phone, tablet, or computer.
Audio quality for music, movies, and calls
I performed all of my testing of the Winnergear HERO earbuds with an iPhone 7 Plus and apps like Spotify and Amazon prime music, and phone calls.
Listening to music is enjoyable with these earbuds. Voices are crisp and you can hear distinct highs, mids, and lows. However, true bass heads will not be impressed. It's not that there's no bass at all, but it could be a lot better. That said, if you listen to all types of music, you should still enjoy hearing your favorite tunes through these earbuds.
While testing the HERO earbuds, I didn't notice any reoccurring problems with audio cutting out between the two earbuds while listening to music while sitting at a desk, walking around in a large open gym, or walking outdoors with my phone in my pocket.
I tested the HERO earbuds with Youtube and Netflix apps on my iPhone and I did not notice any audio syncing between what I was seeing and hearing in the video. Dialog matched up perfectly with people speaking on screen.
I also tested call audio quality and like most Bluetooth headsets, I got regular comments that I sounded a little tinny. But on my side of calls, everything sounded really good which is really all that matters to me 😉 Ha!
Final thoughts
I have been using the Winnergear HERO wireless earbuds for several weeks and so far I don't have any complaints except for the 3-hour battery life. I understand that the earbuds are small, which means the battery in each bud is small, but 3 hours seems really short because one charge won't get you through a full work day. But other than that one complaint, I really like the HERO earbuds. They are my current favorites – at least until I find that something I like better.
Source: The sample for this review was provided by Winnergear. Please visit their site and use the coupon code 50gdgt to save $50 (includes free worldwide shipping).
Product Information
Price:
$99.99 when you use the $50 off coupon code 50gdgt
Manufacturer:
Winnergear
Pros:

Wireless
Good sound quality
Built-in microphone
WIreless charging through charging case

Cons:

Short 3-hour playback time per charge
you have to remember to turn the charging case ON to start charging
Can't adjust volume through earbuds