We use affiliate links. If you buy something through the links on this page, we may earn a commission at no cost to you. Learn more.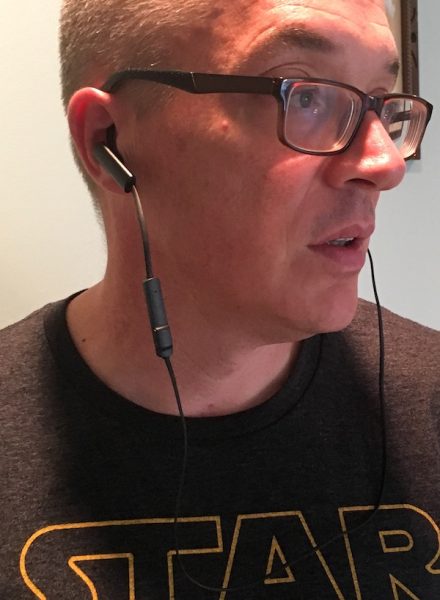 I am writing this review on a train while heading into the City of Philadelphia for a business meeting. I also happen to be listening to one of my favorite podcasts on my new favorite headphones: the Syllable D300L Wireless Bluetooth Earphones. I've been using these for a month, and I am a big fan of their sound quality and overall design. Are they the right headphones for you? Let's have a look at the details…
Design and Construction
The Syllable D300L Wireless Bluetooth Earphones are a one-piece, necklace-style design that consists of four parts: the ear pods, a control pod, and a cord that connects everything together. I'll walk you through the key components, then tie it all together.
The primary component of the design is the two post-style ear pods, which contain all the hardware bits for the headphones. Each pod is about 1-3/8″ by 3/8″ by 1/4″, with the earbuds positioned at a 120-degree angle so that the pods themselves don't rub against your ear when in position. There's also a crescent-shaped bit of rubber on each earbud that tucks in under the whorl of your ear when in a position that anchors the earbuds in place.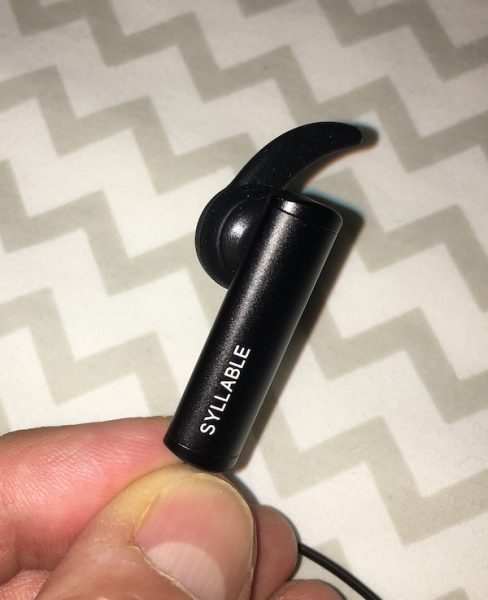 The control pod is set in the connecting cord and hangs a few inches below your right ear. You'll find three control buttons set into this pod, arranged in order from top (closest to your ear) to bottom: volume up, a multifunction button, and volume down. The buttons are raised and well-spaced with good tactile feedback, promoting intuitive operation when you're running about. You'll also find the charging port here, sealed behind a rubber tab when not in use. There's also a tiny LED status indicator light on the control pod (more on that below). The necklace-style chord itself is 23 inches long from earbud-to-earbud, including the control pod.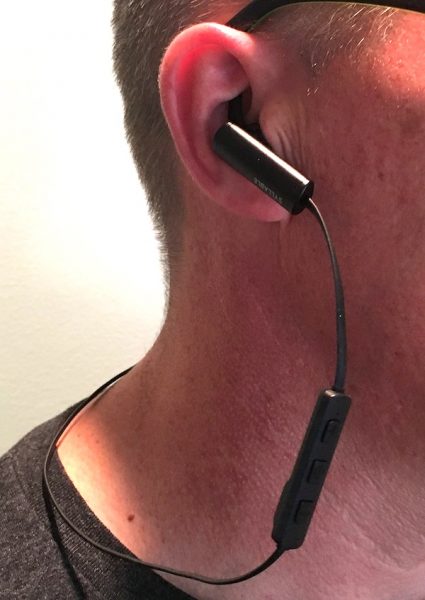 Construction of the Syllable D300L is very good. It's designed for use during exercise, so the whole setup is designed to be water resistant. The ear pods themselves are solidly assembled with no moving parts, and all seams are sealed and/or rubberized to promote water resistance. It's a solid build, so it will take some pulling, dropping, or being thrown in your gym bag without worrying about pieces breaking. I don't think I would test it by stomping on it, but I've used it for a month of abuse without any cracks or fails in the construction.
Never miss one of our posts again. Sent MON, WED, and FRI with the latest gadget reviews and news!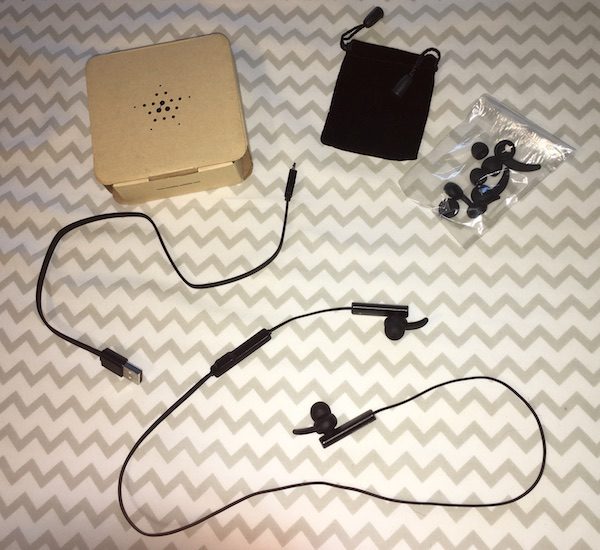 The complete package includes several different sized ear nodules and crescents so that you can find a fit that works based on the size/shape of your ear. You'll also find a USB charging chord, with a micro USB end that fits into the charging port on the control pod. I've been using my iPhone or iPod power pack as the charging base, and this works just fine… just don't lose that power chord unless you have another USB-to-micro USB cable. You also get a little felt drawstring bag to keep everything together.
In Use
The Syllable D300L Wireless Bluetooth Earphones use Bluetooth 4.2, which is great for use across a broad range of devices. Pairing is fast and easy. Turn on the device via the multifunction button, then push and hold the button for three seconds. The LED will blink red and blue to indicate discovery mode, at which time you can pair it with your device. Once paired the device retains a memory of previous pairings, so it automatically reconnects to the last used device if it's in range. There are also audio tones that indicate successful pairing so that you can just turn it on and listen for confirmation that you're connected while wearing the headphones. The earphones also have a range of up to 10 meters from the device, which is convenient if you're roaming about the office or your gym (provided that your device is safe!).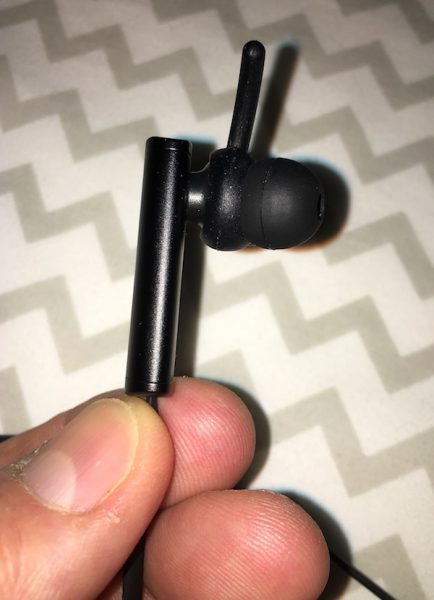 Sound quality is excellent. I don't claim to be an audiophile, but I have found that the earphones have a broad volume range, with great stereo sound and bass. Listening quality is excellent even at lower volumes in noisy places. I've been even more impressed with the quality of phone calls. People I have been on the phone with have commented on the clarity, even on a moving train and speaking in a low tone (so I don't offend my fellow travelers… I tend to have a booming voice). The microphone does a decent job of eliminating background noise as well. I've taken conference calls in busy places like airports, with no distracting background noise reported by my fellow meeting participants.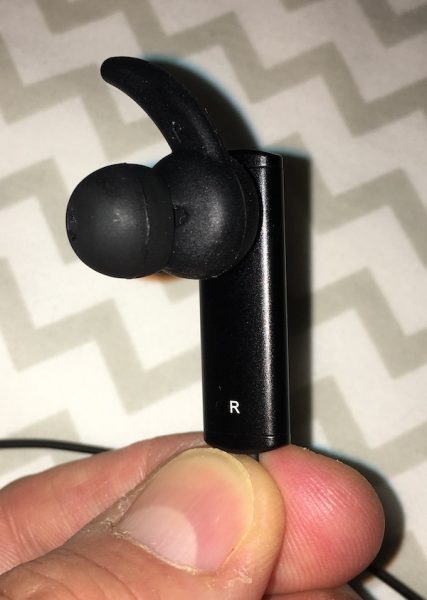 As far as comfort and functionality goes, I've been very happy with the design. The whole arrangement seems like it would be awkward at first with all that hardware hanging off of your ears, but I found them to be pretty unobtrusive in active use. With the rubber ear buds in place, I also found it to be surprisingly comfortable to wear for extended periods of time. The chord is long enough that you can wear it below your chin or flip it over to rest on the back of your neck, but it is not so long that it will get caught up in something if you're throwing your bag on your shoulder or in the middle of a workout. I've also found that those rubber crescent bits on the earbuds do a very good job of keeping the pods in position when worn, and are resistant to the occasional bump or pull.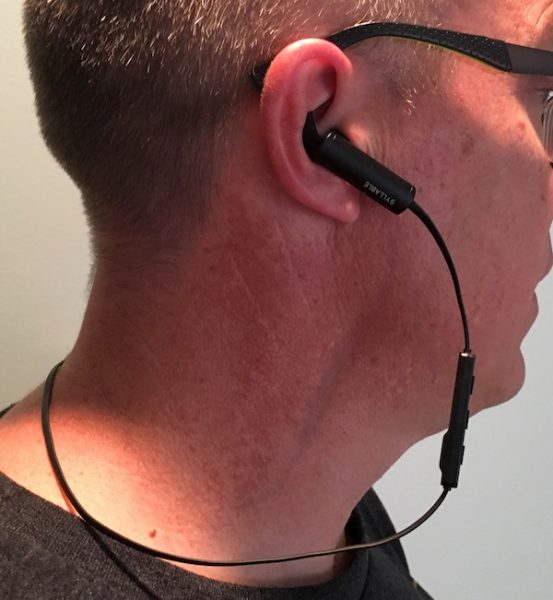 If there is one big drawback to this headset, I would say that it is the battery life. Syllable claims that the earphones have 4 hours of active use which seems accurate in my testing, but their claim of 10 hours of standby time doesn't match up to my experience. This basically means that if you forget to charge the earphones, you've got 4-6 hours from the last charge until they konk out. This may not seem too bad if you're just using them to go to the gym… unless you forgot to power down the earphones after your last visit. I found on more than one occasion I was facing a dead battery because I forgot to turn the earphones off after the last use. I have also found that I need to manage them closely during day trips, powering down periodically to conserve battery life.
Pricing and Conclusion
The Syllabus D300L Wireless Bluetooth Earphones really have some nice features going for them: comfortable, excellent sound quality, quality construction, and easy pairing are all highlights in the design. The relatively short battery life is a problem, however, that may not work for you depending on your desired use. If you want a good quality set of headphones for the gym or short periods of use, they are fantastic. If you need something with extended battery life, they probably won't work for you unless you bring your own portable charging device.
Here is the other factor to consider, however: the price. You can pick these earphones up on Amazon right now for under $30, which seems to me to be an excellent value given their quality and durability. Check them out on Amazon for more information.
Source: The sample for this review was provided by Syllable. Please visit the product page on Amazon for more information.
Product Information
Price:
$29.99
Manufacturer:
Syllable
Retailer:
Amazon
Pros:

Well built & durable
Great sound quality
Excellent for phone calls (microphone quality and background noice cancellation)

Cons:

Short battery life requires regular charging
Ear pod design may be uncomfortable for some