We use affiliate links. If you buy something through the links on this page, we may earn a commission at no cost to you. Learn more.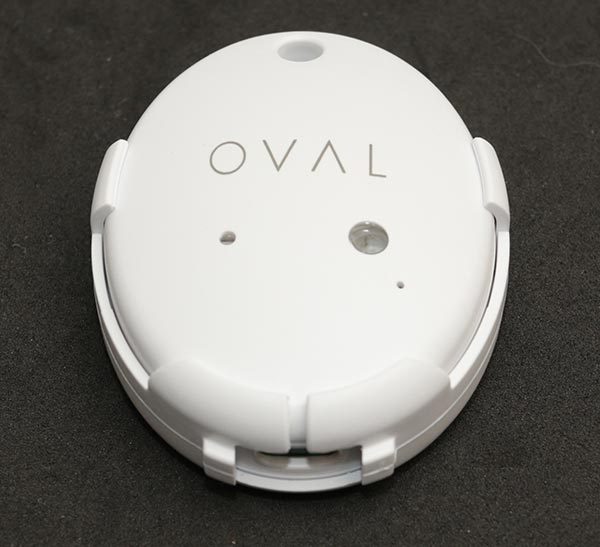 Many people (myself included) like to use security cameras like the Nest Cam to keep an eye on our home and property from anywhere in the world. Cameras are great at catching visual problems, but how can you be alerted if the temperature in some part of your house goes too high or too low, or if there's water on the floor in your basement? That's where you need a sensor system like OVAL. Let's take a look.
What is it?
OVAL is a system of sensors and a gateway that monitors temperature, motion, light, moisture, proximity, and flood conditions.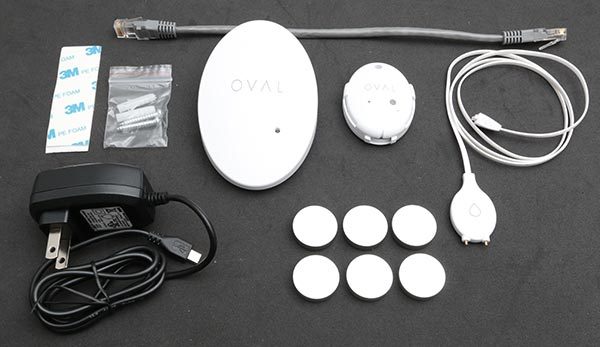 What's in the box?
OVAL gateway
OVAL sensor
Sensor adapter housing
AC adapter
Ethernet cable
6 CR2477 Lithium sensor batteries
Mounting hardware
* I was also sent a flood detector which is an optional purchase ($39) not included with the system kit
Hardware design and features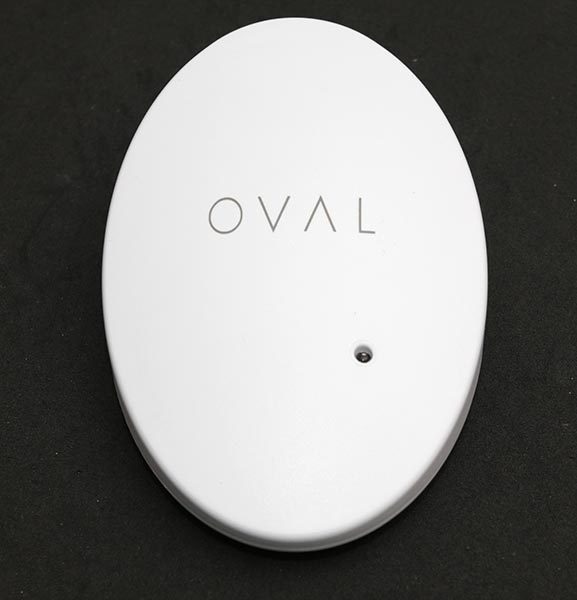 The OVAL gateway is the brains between the OVAL sensors and your network.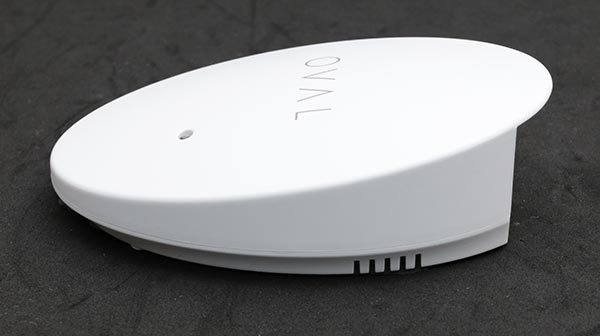 It won't come as a huge surprise that the gateway is an oval shaped plastic module. On top is the OVAL logo and a status LED that glows green when the gateway is powered on.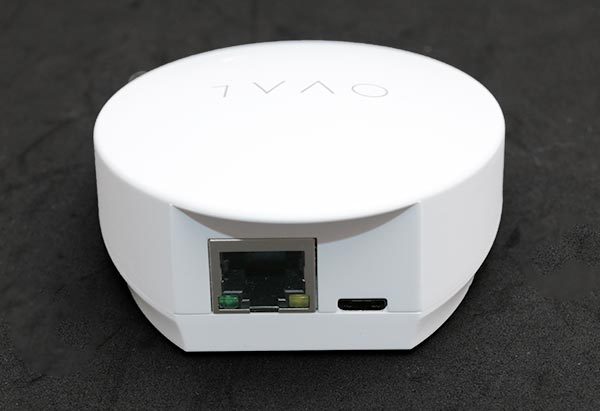 The gateway has an Ethernet jack on the back with a micro USB connection for power. The gateway has to be hardwired via the included Ethernet cable to your router, but it talks to the sensors wirelessly.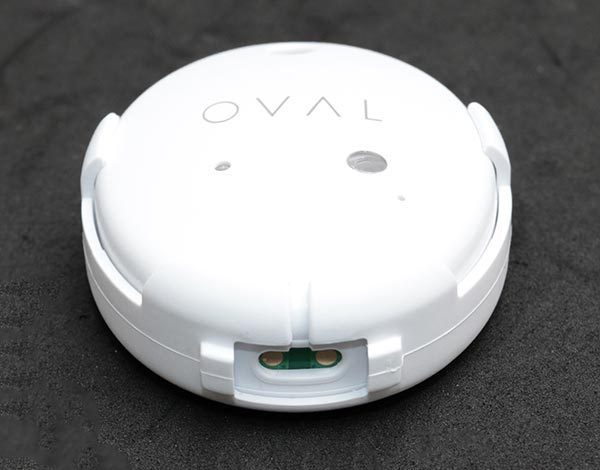 The OVAL system comes with one OVAL sensor (additional sensors are $79).  Like the gateway, the sensor is an oval shaped white plastic module.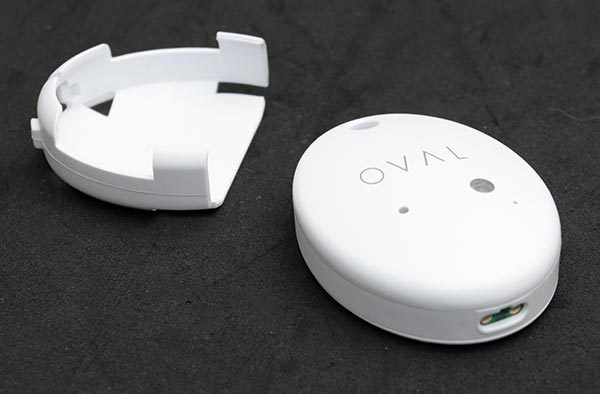 The sensor has a cover that can be removed. It's mainly needed if you use the optional flood sensor.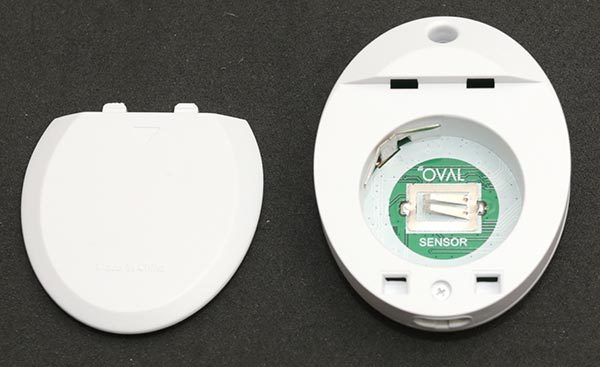 A cover on the back of the sensor protects the battery compartment.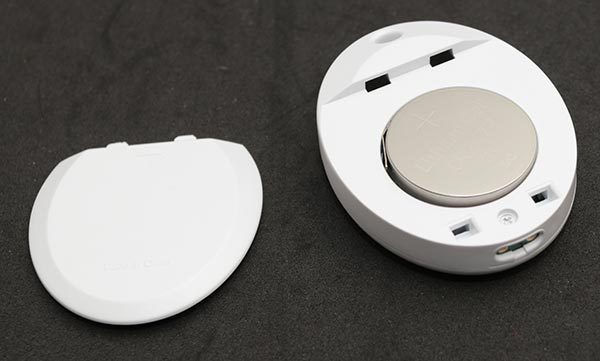 The OVAL sensor is powered by a CR2477 Lithium battery which should last for about 2 months with moderate usage and with battery savings mode turned off. That's not a long time, which explains why there are 6 batteries included in the package. That means you have enough batteries for a year. I did a quick search on Amazon for CR2477 batteries and found that they aren't too expensive. You can buy them in packs of 5 for less than $12 if you go with a no-name brand.
The battery can last up to twice as long if the battery savings mode is turned on. However, while in this mode, you can't monitor proximity or light and you can't use the visual or sound alerts. More about that later.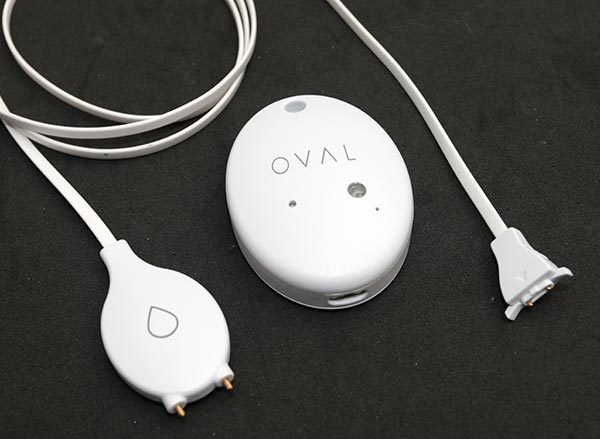 I mentioned the optional flood sensor earlier. The sensor has a long cable that connects to the OVAL sensor.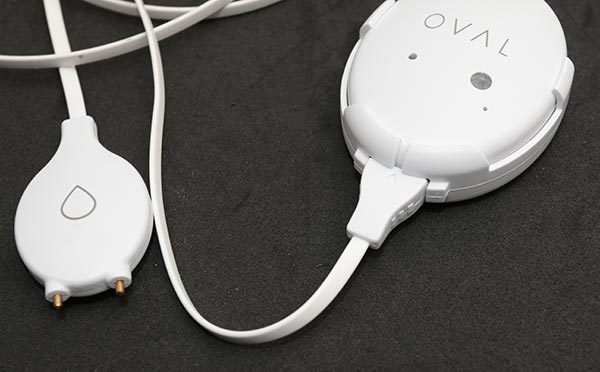 The flood sensor connection is held in place by the OVAL housing cover.
Setup, installation, and daily use
Setup is really easy. You just install the iOS or Android OVAL app on your mobile device and follow the prompts which will lead you through the steps to connect the gateway to your router and then connect the sensor to the gateway.
I connected the gateway to my Amplfi wireless router which is connected to a CISCO router for my AT&T managed T1 line. I had a little trouble getting the gateway to talk to the sensor but after a few hours, it started working on its own and has been fine ever since.
FYI: Although the OVAL system only comes with one sensor, you can purchase additional sensors and connect up to 15 of them to the gateway.
After the gateway is setup and connected to the sensor, you can program the sensor to alert you when there is a change in temperature, humidity, motion, proximity, moisture, light, and flood if you have the flood sensor connected to the sensor.
You can choose to be notified one way or multiple ways when the sensor sends an alert. Notification types include text messages, or push message on your mobile device, to email, phone calls and more. You can also enable visual alerts which blinks the LED on top of the sensor or audible alerts which is chirping sound that's not loud enough that you'll hear it from another room or even across a large room.
OVAL is an all-in-one sensor that can monitor six different types criteria. You can monitor all six or only enable exactly what you want to monitor.
The OVAL monitoring system is really powerful because you can customize the criteria for an alert. If you want to know when the temperature in a room gets to 80 degrees, it will let you know.
There are also presets that you can choose that make it easy to use the OVAL sensor to monitor different events.
The sensor is really sensitive and sends alerts in rapid succession with almost no lag.
Last week I had my roof replaced, and if you've ever had that done before, you'll remember how noisy it is when there are a bunch of people on your roof banging away with hammers or nail guns. I had the OVAL sensor sitting on a shelf on the first floor of my house in a room with a cathedral ceiling, and it sent a LOT of alerts because it detected the vibration / motion from all the activity on the roof.
I tested the light detection, flood detection, humidity and proximity detection. Everything worked as expected, with alerts sent very quickly.
Some examples of ways to use the OVAL system include:
Put a sensor in your mailbox and know when the mailman opens the lid
Put a sensor with the flood detector in your basement, near a hot water heater, or washer to check for leaks
Put a sensor on a door or window to know when it is opened
Put a sensor in the case of your expensive guitar to make sure the humidity level doesn't drop too low which can cause wood to crack
Final thoughts
I've been testing the OVAL system for several weeks. It's worked very well and has never given me a false alarm.
The only complaint that I have is the price. $199 is expensive considering that the system only includes one sensor and additional sensors are $79 each. I think the system should include at least three sensors for the same price.
If the OVAL system's price isn't a problem for you and security cameras don't offer enough peace of mind that your home or property is protected when you're not there, consider an all-in-one sensor system like OVAL. It's quick and easy to setup, but powerful enough to alert you to almost any situation that you can think of.
Source: The sample for this review was provided by OVAL. Please visit their site for more info and Amazon to order.
Product Information
Price:
$199.00
Manufacturer:
OVAL
Pros:

Easy to setup
Multiple monitor types
Multiple notification options
Comes with enough batteries to power the sensor for a year

Cons:

Only comes with one sensor
Additional sensors are expensive