We use affiliate links. If you buy something through the links on this page, we may earn a commission at no cost to you. Learn more.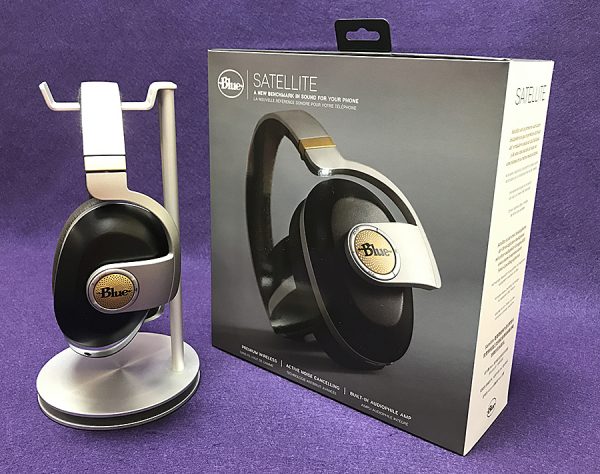 2017 is turning out to be a big year for headphones. And no one has had a bigger year than Blue with three new headphones introduced this year alone. The Blue Sadie is a more than a worthy successor to the original Mo-Fi and the hand-made Ella is Blue's first attempt at a planar magnetic speaker headphone. Now there's Satellite, Blue's first Bluetooth wireless headphone that—like Sadie and Ella—has a built-in audiophile amp and—unlike Sadie and Ella—active noise canceling (ANC). Can Blue score another hit with this third new headphone in a year?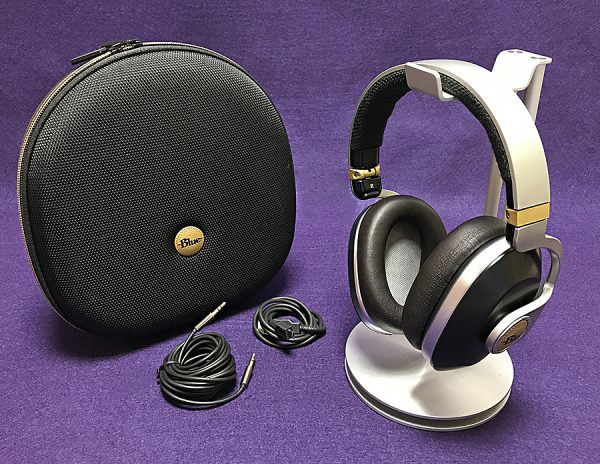 It's ironic that many people, including headphone enthusiasts, have never heard of Blue. They were—and still are—known for their microphones. Only recently, they decided to enter the already crowded headphone market, but have always refused to make a me-too product. Blue just had to be different—in a good way—when they created the Mo-Fi. There was nothing like it anywhere. Blue was one of the first to include a matched amp inside the ear cup so they would sound their best whether connected to a receiver, computer or even a power-starved smartphone. And they practically re-invented the headband with that over-designed hinge I've mentioned in previous reviews.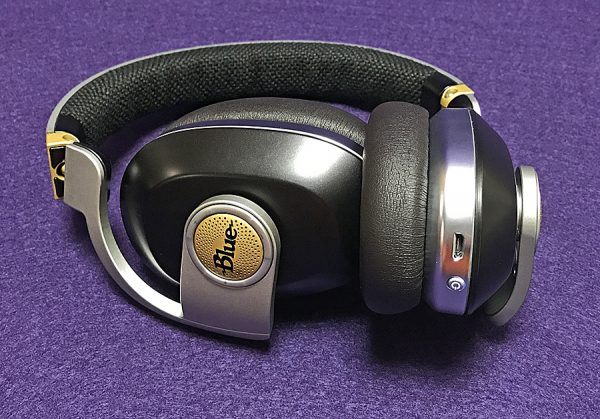 Now, Blue has continued to think different (sorry, Apple) and have also adopted a more traditional approach. The Blue Satellite headphone is wireless and while it seems that everyone is offering wireless options these days, Blue has managed to also keep that great inside-the-ear-cup amp while also adding active noise canceling (ANC). And not just any ANC, either! More on that later.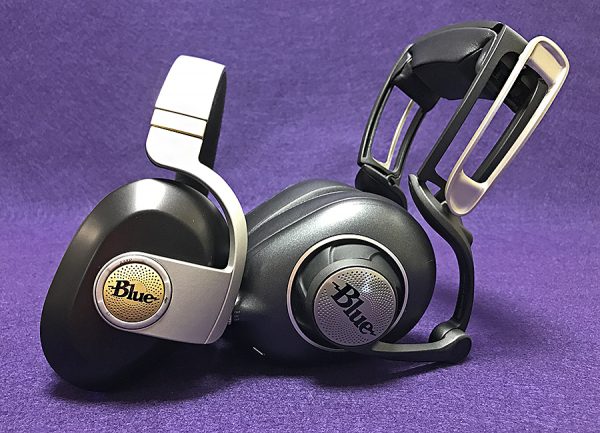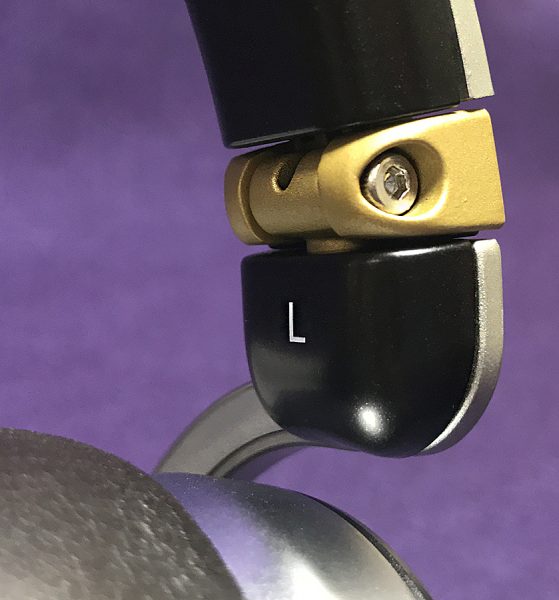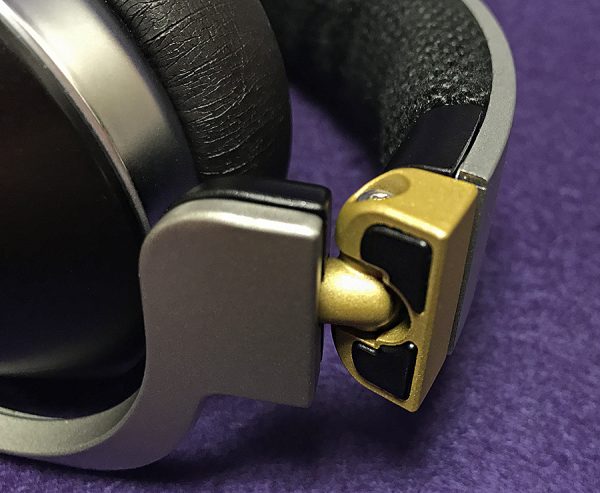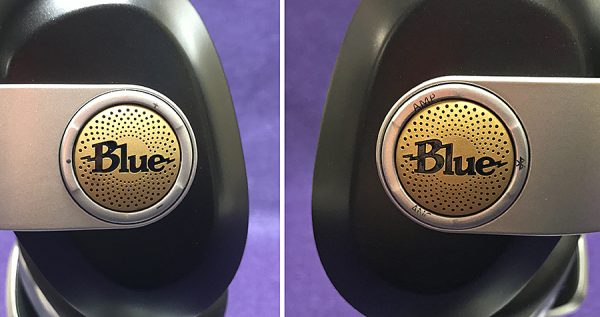 Let's look at the design. First off, the Satellite headphone is gorgeous. It has a subtle beauty and lacks that weirdness factor of the wired Blue headphones. It can be worn anywhere without getting any lingering stares. The black ear cups are nicely framed in brushed aluminum with matte gold accents. When charging, a small on/off button at the bottom of the left ear cup flashes until a full charge is reached. The center of each ear cup has a gold logo plate full of tiny holes with recessed lighting. The lights flash to indicate Bluetooth pairing, amp on/off and ANC switching. The lights aren't as gimmicky as they are on the Sadie or Ella. Buttons are arranged around these plates: Bluetooth, ANC, and amp on/off on the left ear cup. Volume, phone call, and pause/play buttons are on the right ear cup. It's hard to tell without taking off the headphone and looking whether the amp is on or off because the difference can be subtle. That is actually not a bad thing because it shows that the Satellite headphones still sound good sans amp. They just sound better with the amp on. ANC is easier to tell when on or off. A simple test is to turn down the volume completely and press the ANC button. If all background noise ceases, then ANC is now on. It's fun to press the ANC button on and off repeatedly because to me, ANC is almost magical. Note that every now and then, I had to press the ANC and amp buttons more than once to get them to work.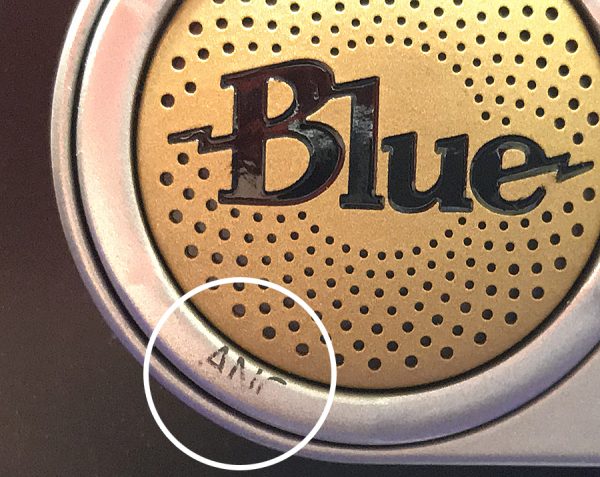 It can take some time to acclimate to where these buttons are located, but after a few uses, it becomes second nature. This is good because the silkscreened button markings are wearing off and I'm afraid they will soon be completely gone with repeated use. Blue needs to figure a way to make more permanent markings.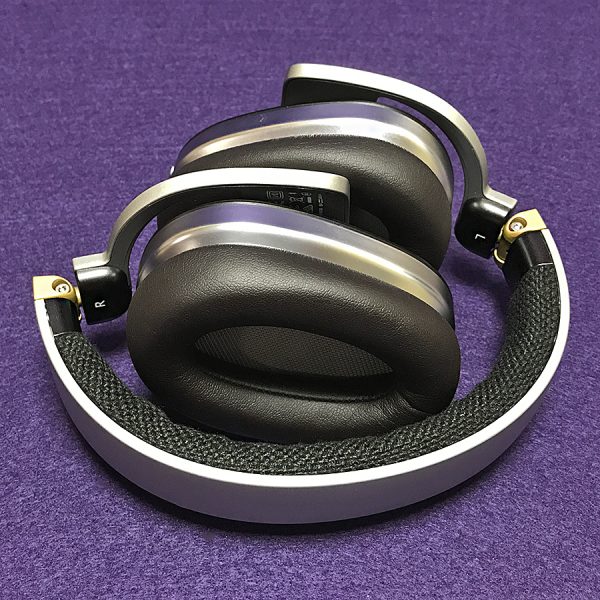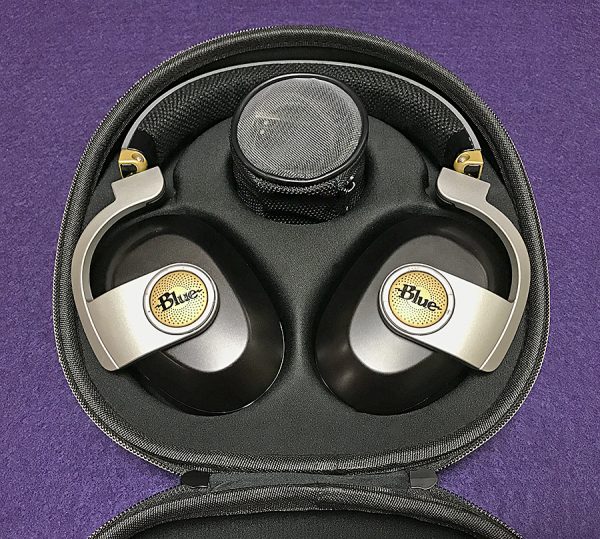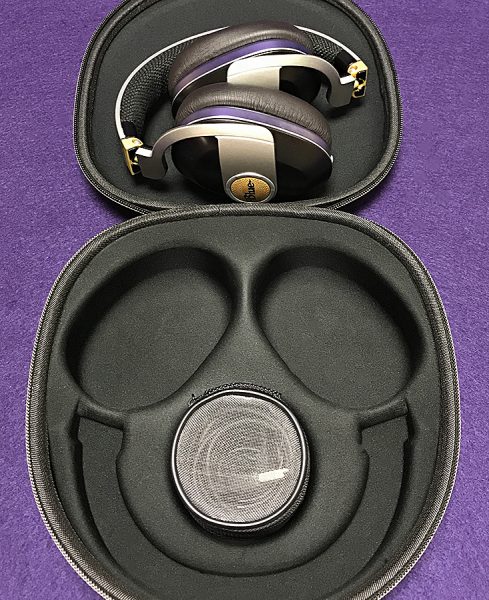 Since the wireless Satellite headphone is portable, Blue needed to ditch their unique headband and go with a more traditional design that would fold for easy carrying. But there's an irony here: Blue does not include a carrying bag or case for transporting the Satellite when folded. The headphone comes with a terrific protective carrying case, but the phones will only lay flat inside this case—not folded. Yet the unfolding, non-portable Sadie and Ella headphones come with a microfiber carrying bag.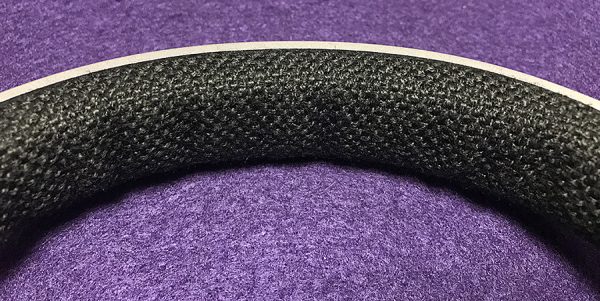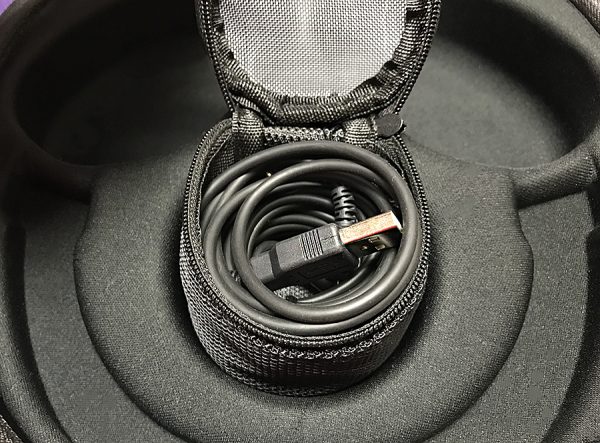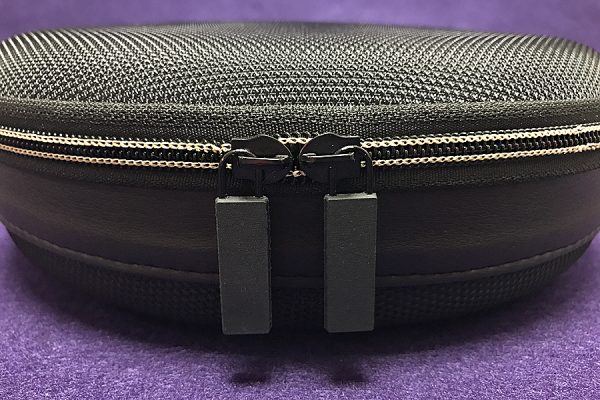 The headband along with the ear cups are nicely padded. They need to be because the Satellite's clamping is tight—to the point of being uncomfortable after a couple of hours. Note: Blue is aware of the clamping pressure issue with these early units (from which my review headphone came) and has said that "… the headband will loosen with time and use. We've already made a minor update to the initial tension to deliver a slightly more relaxed fit out of the box while retaining the seal." It's nice to see a company react quickly to initial concerns.
The ear cups feel solid in the hand and the rest of the headphone is free of any looseness or squeaking from daily use—as it should be in the Satellite's price range.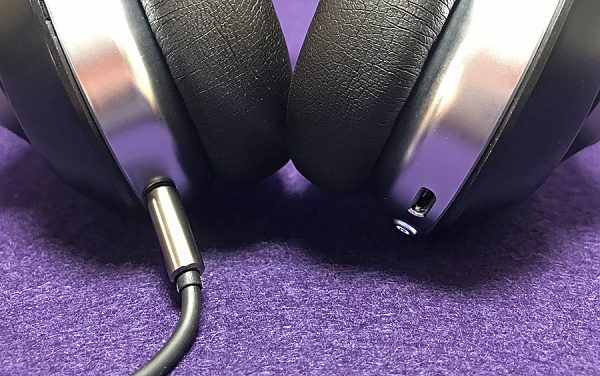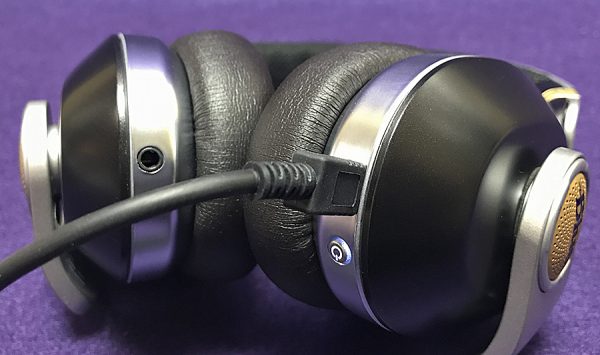 Satellite's Bluetooth works quite well. Pairing is seamless and the signal holds up to the standard 30 ft. Bluetooth lasts for 24 hours but shortens to 8 hours when also using the amp with ANC. The headphone will still work when the battery is drained while using the supplied mini plug cable.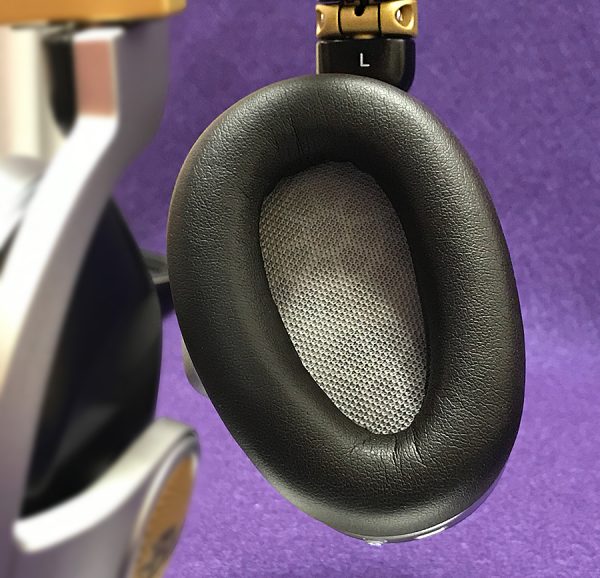 Let's talk active noise canceling (ANC). In other headphones, the speaker in each ear cup has to perform double-duty. What this means is that while that speaker is playing music, ANC must also cancel out external droning noises at the same time. This can alter the sound of music, making the audio a bit tinny or hollow. Note that some headphones handle this issue quite well making it almost impossible to tell the difference whether ANC is on or off. Notice I said "almost." Blue has developed a patented solution: place two speakers inside each ear cup—one for music and the other exclusively for noise canceling. Brilliant!
But does it work? Yes, it does. With ANC on, music sounds like it's in an acoustical chamber, totally devoid of distracting noise. While ANC will work anywhere, the effect is much more noticeable and useful when commuting or in an office environment with its background din. With ANC off, music sounds like it's in a room setting along with all of its audio reflections and other anomalies. In other words, music sounds like it's in a real room.
Now, this is kind of weird, because as good as Blue's ANC is, sometimes I preferred it off. But that depended on what I was listening to, such as Electric Light Orchestra or other music that had a "wall of sound" feel to it. More intimate music like acoustic folk or singer/songwriter rock almost demanded that ANC be turned on. Note that in these particular instances, background noise was already negligible. In a crowded environment, my advice is to have ANC always turned on.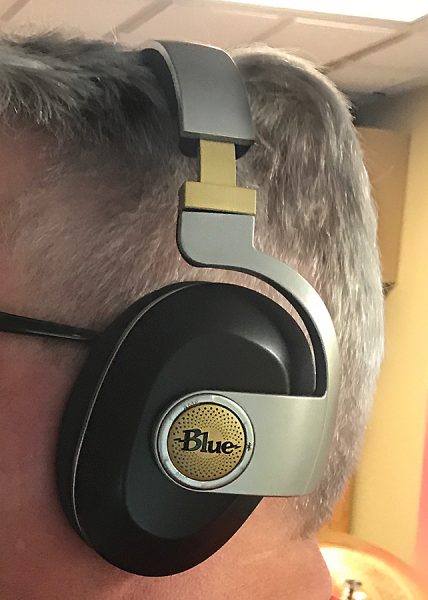 Speaking of music, the Satellite headphones are a joy to listen with. Despite the genre, the sound leans towards the warm side, meaning bass is just a bit elevated, never booming or false sounding. In fact, this is the kind of sound signature most people prefer. Listening to music with the Satellite is easy to enjoy for what it is, not for how meticulous it may have been recorded. The built-in amp is partially responsible for this. Simply put, the amp equalizes different music sources, whether it be a good receiver, dedicated digital audio player or a lowly smartphone with a weak amplifier. The Satellite's amp bypasses all those power sources completely helping to make music sound great, no matter the source. While I may want to occasionally turn off ANC, I never want to turn off the amp. The amp has become a necessity to full music enjoyment on the Satellite, despite the hit it takes on battery life.
For instance, the squeaking of guitar strings in Al Stewart's "Roads To Moscow" become more evident when heard through the Satellite headphone. That's a mark of audio clarity and it adds a sense of realism missing from many headphones.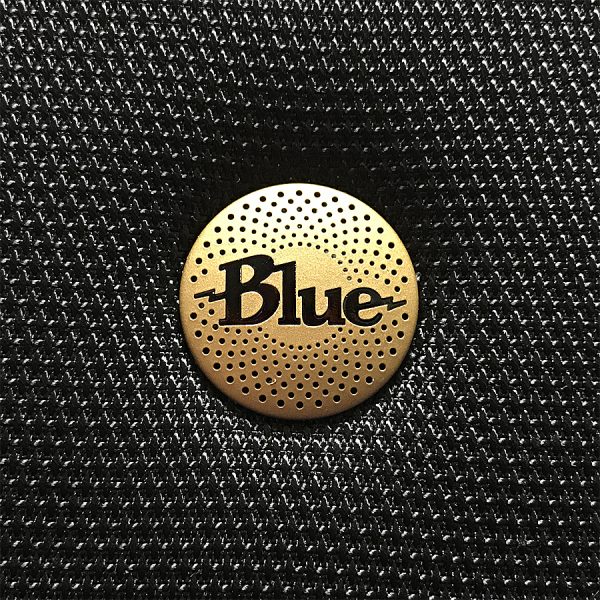 Has Blue succeeded for a third time in a row this year with the Satellite headphone? I think they have. This is a headphone that has it all: A built-in amp, dual speaker active noise canceling and wireless Bluetooth. They're not cheap, but for what they cost, Blue has provided quite a bit in one package.
Source: The sample for this review were provided by Blue. The Satellite sells for $399.99 US. Please visit their site for more info and Amazon to order.