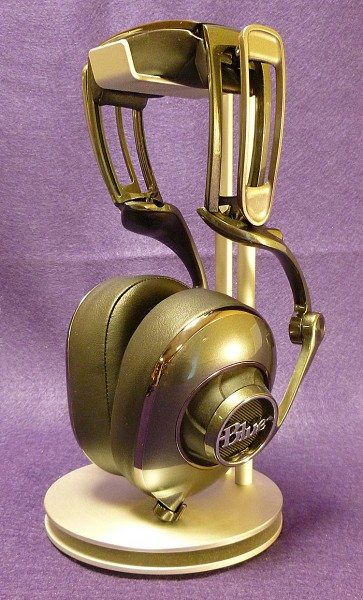 While unboxing the Blue Mo-Fi headphones, I was reminded of the door hinges on my wife's 1997 Lexus SC300 sports coupe. See, the Lexus hinges are not your everyday hinge—they're over-engineered so the large doors open and slide a bit forward which helps in tight parking spaces. Lexus reportedly spent over a million bucks developing this hinge. Okay, so what does this have to do with headphones? Stay with me, the comparison is not as strange as you might think. One look at the Mo-Fi headphones and the first thought that comes to mind is … over-engineered, but oh so cool.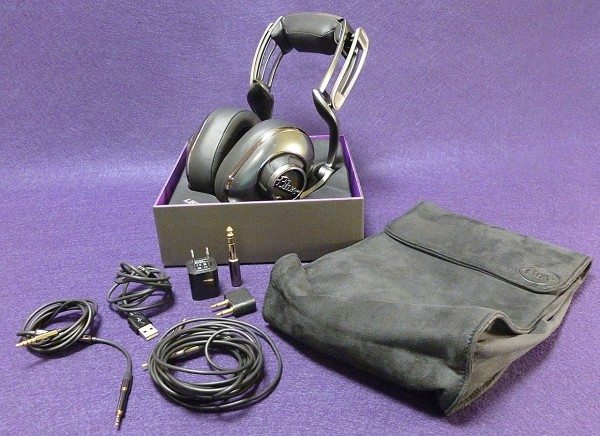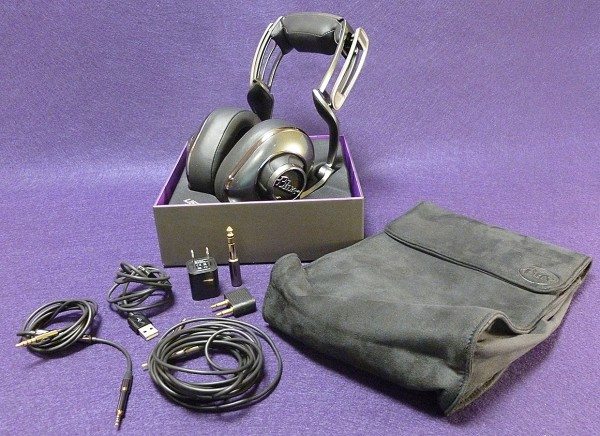 The Blue Mo-Fi headphones look or fit like nothing else. The way they fit one's head pays homage to that Lexus Door hinge, although I doubt the designers are even aware of it. You see, when headphones are pulled apart to place on one's head, the cups pivot out at an angle: The larger the head, the more angle degrees there are. The Mo-Fi headphones are designed so that the cups remain at a (mostly) 90º angle no matter how far apart they are. Does this matter? Well, yes … and no. Let me explain. The cups on the Mo-Fi headphones stay secure and seal admirably against outside noise. Let's rephrase that; they seal like nothing else. Whether they are any more comfortable as a result, is open to debate. The added comfort from the hinge design is somewhat offset by the weight, which is a hefty 16.44 oz—over a pound. That's heavy for headphones. If there was a way to lighten the load, so to speak, the Mo-Fi headphones could easily be the most comfortable headphones, period. As it stands, they are merely very comfortable—not a bad compromise, considering what the Mo-Fi headphones weigh.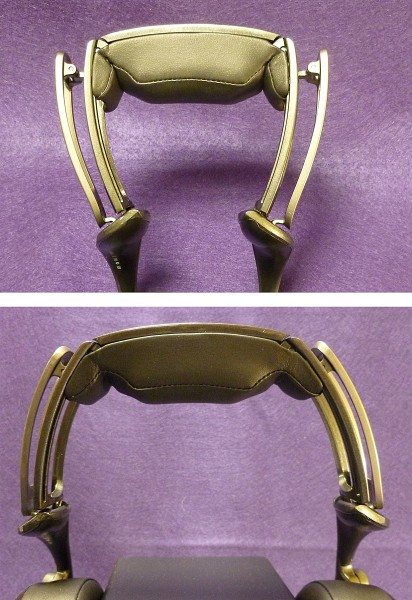 The Mo-Fi headphone's adjustments seem as strange as the design, but make perfect sense with use. Rather than pulling the headband away from the ear cups on a slider, height adjustment is made simply be moving the angle of the ear cups. It really works. This also comes in handy when removed and worn around the neck. There's also a tensioner knob built into the headband that determines how tightly the Mo-Fi will clamp onto a persons head. However, I tried turning this knob back and forth for 30 minutes and could not feel any difference at all. I wonder if mine's faulty. It's hard to tell without another Mo-Fi to compare. It ultimately didn't matter because I was okay with the default setting and never worried about it again.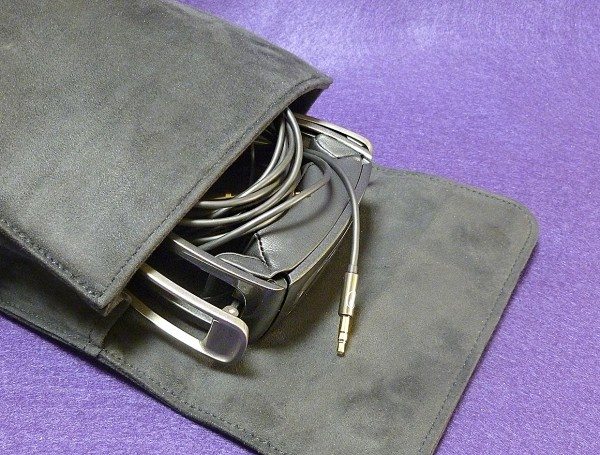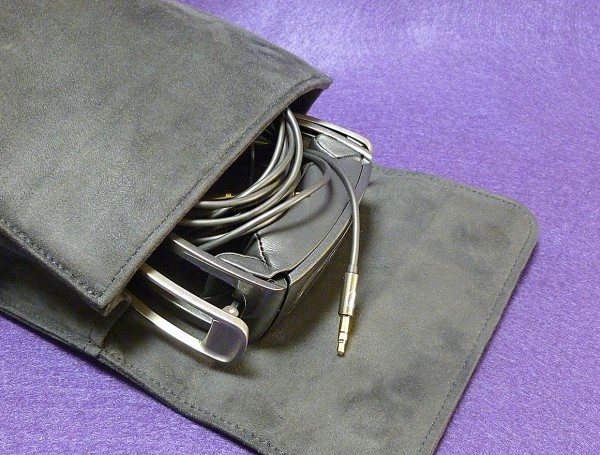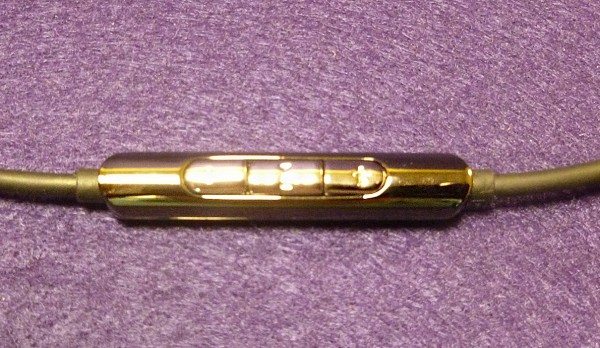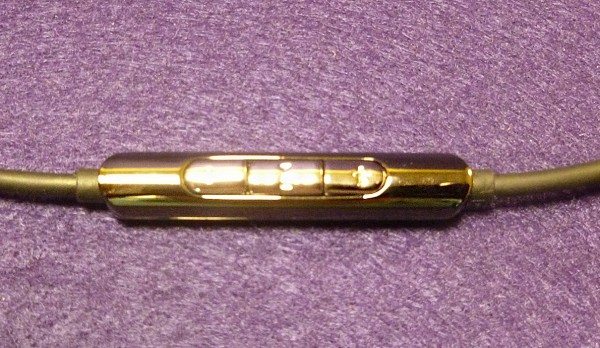 The Mo-Fi headphones come with a  pouch and two cords—one with a mic and one without. The pouch is large, but the unusual shape of the headphones make them difficult to insert. I kept wishing for a slightly larger size. There is a hidden interior pocket that holds the cords which helps with tangling. The cord with mic is a good length for going mobile while the cord without mic is much longer—perfect for sitting a distance from a home stereo or TV.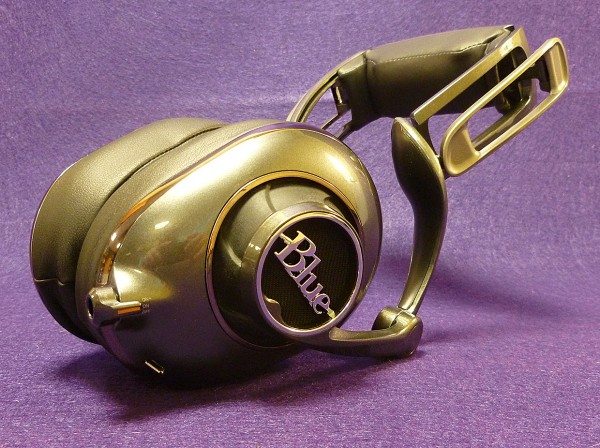 Aside from the design and mechanical function, what makes the Mo-Fi headphones unique?

For starters, there's a built-in amplifier. I know what you're thinking. Maybe they wouldn't weigh so much if they didn't stick an amp in them! It only adds a tiny addition to the weight and the amp is worth any extra ounces. It doesn't matter what drives the headphones—from low-powered smartphone to lousy sound card from almost any laptop—whatever. The Mo-Fi amp makes up for all of it with audiophile quality specs and volume. Blue states that the amp is tuned to match the Mo-Fi's oversized 50mm speaker drivers. I'll take their word for it. All I know is that where the music comes from becomes irrelevant. The audio quality is consistent and the headphone sounds the same no matter what the source. Audio from non-amped headphones is directly affected by the source amp and/or DAC.
If that wasn't enough, there's an added bonus of a bass sound switch for all those bass heads out there. I'm no bass head, so I usually leave that selection off unless the source material is bass shy—like most 60s and 70s rock. The bass is also analog, meaning there is no digital trickery to boost the lower frequencies, which can sound fake and overpowering. It's real bass.
The included amp was co-designed with Fiio, a company that makes excellent portable players known for their audio quality, such as the Fiio X3. All I know is that music sounds good, so the Fiio partnership was obviously a good decision.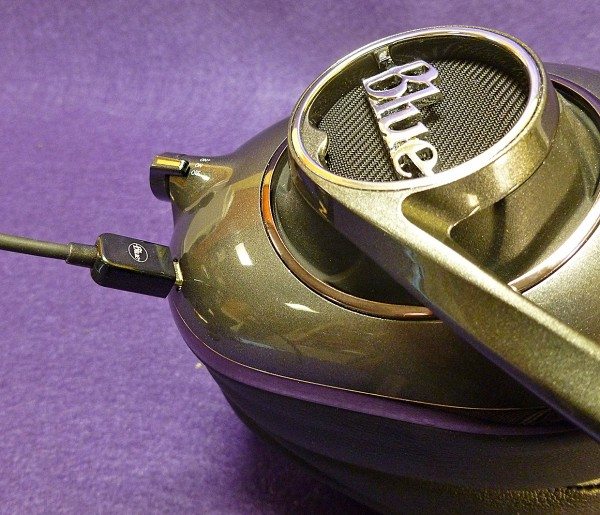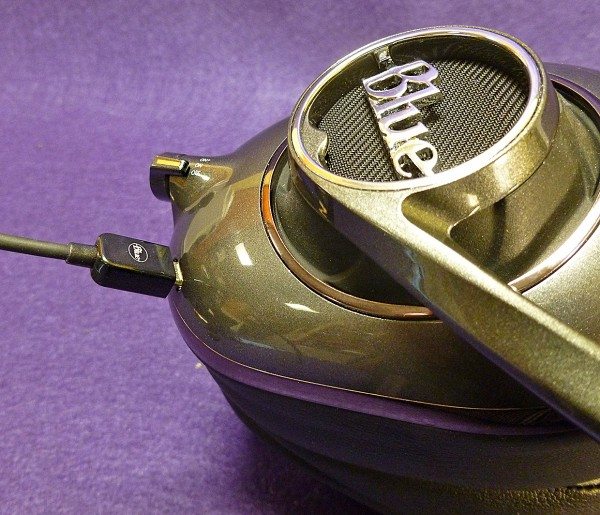 This amp works from a built-in rechargeable battery via a mini USB port in the left ear cup. The port isn't recessed, so while plugged in, it looks awkwardly exposed and vulnerable. The battery charges in 4 hours and lasts for 12. Somehow, the Mo-Fi headphones know when they've been removed and set down, because they'll power down which helps avoid unnecessary battery drain. Even more importantly, the headphones will continue to work—in passive mode—if the battery drains completely. Many headphones become useless without power. Not these. Note that in passive mode, volume is not nearly as strong as when amped.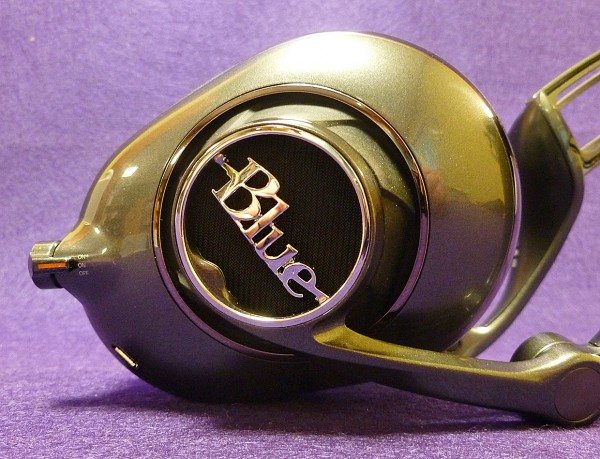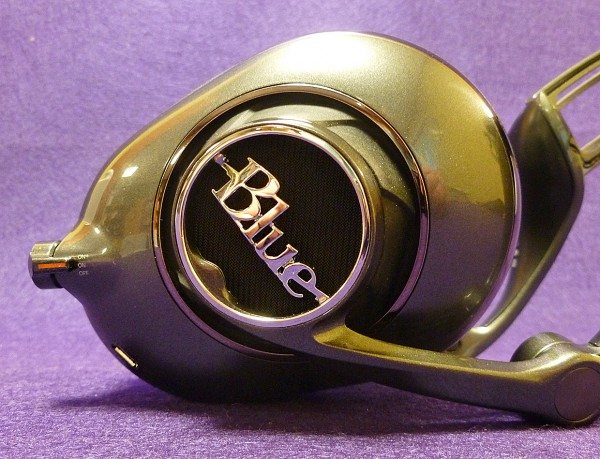 The Mo-Fi headphones are closed-back and seal almost completely. Closed-back simply means that no one around you can hear what you're listening to. This is good if you're commuting, but I can't imagine wearing these on a train or bus. The unusual design alone will garner plenty of stares. Then again, if you're after some attention…
I prefer to think of the Mo-Fi headphones perfect for sitting at home and concentrating on the music. These are serious headphones, not a frivolous fashion statement.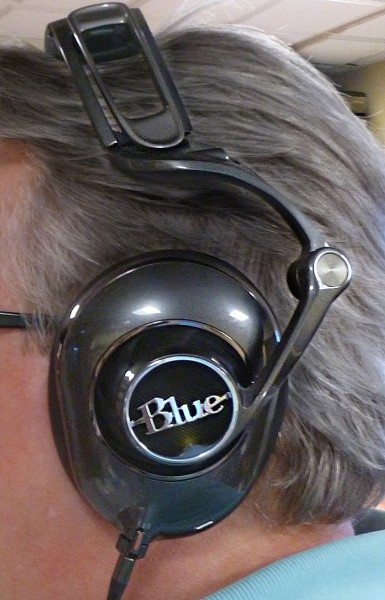 I've always been a semi-fan of Jean Michel Jarre—an electronic musician from way back. I stumbled on an orchestral version of his most famous piece—Oxygene 4. The City of Prague Philharmonic Orchestra adds a natural analog layer to the song simply by using classical instruments rather than synths. The piece is not long and the Mo-Fi headphones let the individual instruments come through clearly but not at the expense of cohesiveness. The amp's bass setting made the overall sound muddy in comparison to the amp alone. I much prefer leaving the bass turned off on this one.
Speaking of synths, "Dirty Laundry," from Don Henley (The Eagles) begins with an insistent drum and synth opening that sets the mood in this scathing indictment of TV news. The sound is oh-so-eighties, but you can just feel Henley's biting sarcasm in his artificially echoed vocals. The Mo-Fi headphones accentuate the punch of the drum hits in time with the synth organ. The amp's bass works well with this song, adding just the right amount of kick you can feel in your head. However, the volume needs to be set high for the full effect—otherwise, it's too subtle to be noticed.
Note: Be careful when switching the amp on and off while wearing the Mo-Fi headphones. The volume difference can vary quite a bit and if turned on while in passive mode, the sudden volume increase can be painful. I suggest turning the volume down before switching to powered amp mode.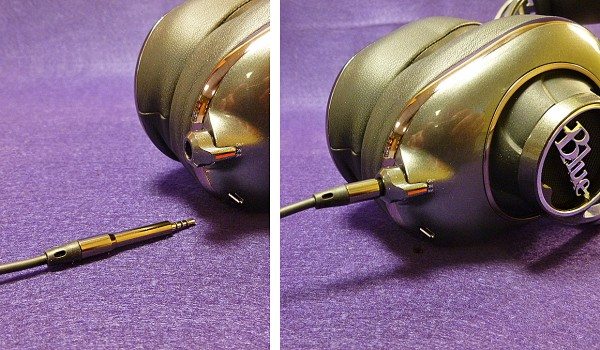 I mention the warning above because turning on the amp in the middle of Joan Jett's "Bad Reputation" hurt my ears. Not fun. However, Jett's music is fun in a rebellious teen way. I'm far, far  removed from those years, but the Mo-Fi headphones help bring back the attitude and sneer her songs invoke. She pushes the bass and drums right to the front for maximum effect which the Mo-Fi's brazenly exploit.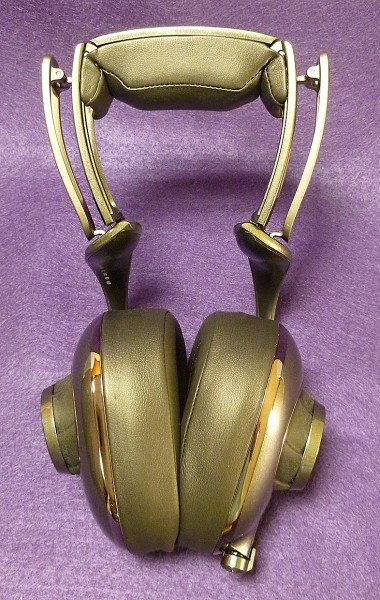 Blue's first attempt at headphones is a success. Their historical knowledge of microphones, sound and unique looks has given them an edge over other newcomers. Make no mistake, nothing looks like the Mo-Fi headphones, and with the help of a real amp and analog bass, nothing sounds quite like them either.
Source: The sample for this review was provided by Blue. Please visit mofiheadphones.com for more info.
Some of our links in posts like this one are affiliate links, which means that we may receive a small commission on purchases at no cost to you.
Product Information
Price:
$349.99 US
Manufacturer:
Blue
Pros:

Amazing look and fit
A hinge worth talking about
Great sound helped even more by a built-in amp
Analog bass
Great seal

Cons:

Inserting headphones into pouch not easy
USB charging plug feels too exposed when charging
Headband adjuster made no difference on my head
Expensive