We use affiliate links. If you buy something through the links on this page, we may earn a commission at no cost to you. Learn more.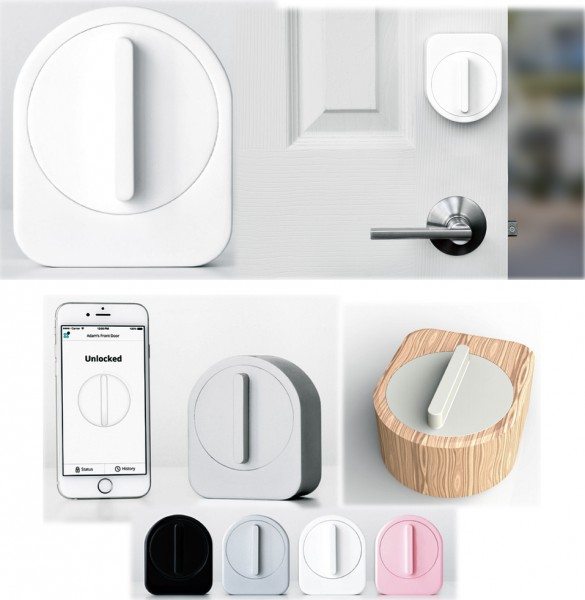 There are a variety of ways you can open and lock your home's door without using a key.  I tried a WiFi-connected deadbolt that didn't work, no matter what type of interpretive dance I used to approach it.  I've been intrigued by other Kickstarter products that still haven't made it to market long after the funding period ended.  I'm still looking for my keyless solution.  A company called Candy House has brought their version of the smart lock to Kickstarter.  They've already far exceeded their funding goal with more than a month left in the funding period.  The Sesame smart lock installs over your existing deadbolt in seconds, and it promises to replace your keys with your smartphone.
With Sesame, you can unlock your door with an app, or you can define a special knock that you use on your door or on your smartphone to unlock the deadbolt without even opening the app.  (Don't worry that bad guys will see you opening your door after knocking "Shave and a Haircut", because Sesame has to also sense your connected smartphone nearby when it hears the knock.)  You can control who has access to your home with Sesame, and the smartphone app will keep a log and notify you of who goes in or out (or tries to access) your home.  You can use Sesame with the Bluetooth on your phone (local access only), or you can add an optional WiFi access point that will allow you to control your Sesame lock from anywhere you are with your internet-connected phone.  The smart lock has military-grade encryption and is AES 256-bit and TLS 1.2 encrypted.
A pledge of $99 gets you a Bluetooth-only Sesame in white, silver, black, or pink; $149 gets you one Sesame plus a WiFi access point (or $249 for a wooden smart lock plus WiFi access point).  The funding period for the Sesame smart lock ends .