We use affiliate links. If you buy something through the links on this page, we may earn a commission at no cost to you. Learn more.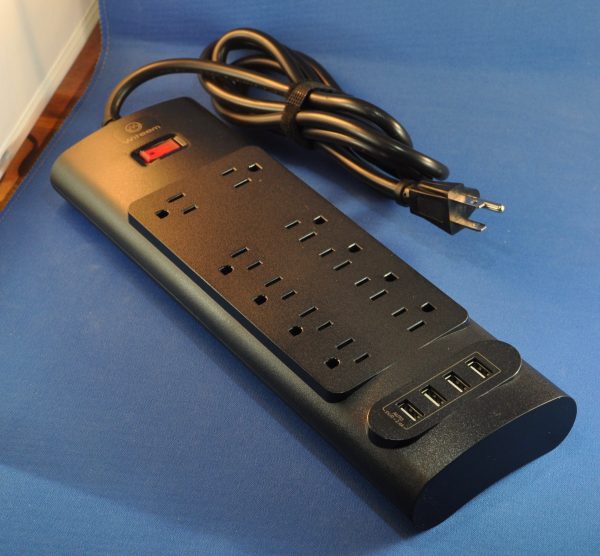 I doubt there's anyone reading this who doesn't have at least one multiport power cord in their work area. Between computers, monitors, task lights, phone chargers, headset chargers and the like, it's almost impossible to have enough outlets. Add to that the fact that most of those things are sensitive electronics that need to be protected from surges and spikes, and you see the inspiration for Witeem's latest product, a ten-outlet, four USB port surge suppressor.
Note: Photos may be tapped or clicked for a larger image.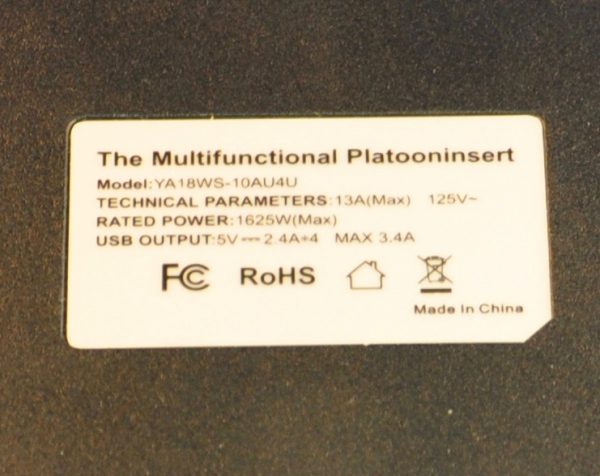 Specifications:
• USB Output: (Smart Port): 5V/ 2.4A*4 (Max 3.4A)
• USB Input: 125V AC, 50/60 Hz
• UL, FCC and ROHS Certified
• Item Dimensions: 12.20″ x 3.78″ x 1.42″
• Electrical Rating: 125V AC, 13A, 1625 Watts and 550 J Energy Rating
• Cord Length: 6ft (1.8M)
• Weight: 17.28 OZ
Any true Gadgeteer will know the value of a surge suppressor. This device swallows those spikes in power that come about on every grid, causing damage to devices that are not sipping smoothed-out electrons. It's not a UPS or a line conditioner or a lightning arrestor, so don't expect miracles in the middle of a lightning storm. But those are not usually the things that cause damage to your devices. It's the occasional surge that hits when an AC or microwave, refrigerator, or dishwasher pulls voltage into the local circuit. That sudden influx takes a few milliseconds to calm back down, but during that time, everything is just a little hotter. A surge suppressor is designed to regulate the incoming spike and put out just the required 110 volts. Inside the Witeem power strip, there is also a circuit breaker, which will flip off the power if the spike is too high. Resetting the device is as easy as flipping the switch back on.


The Witeem Surge Suppressor has ten outlets in five pairs down each side of the top side of the unit. There is one pair that has 2.25″ center-to-center of space, which means you can attach "wall warts" without covering other outlets. The other pairs are on 1.125″ centers, which is still roomy enough for most heavy-duty plugs. Across the very end of the top are 4 USB ports. They are "smart" ports that sense whether, say, you're charging an iPad Pro or an Apple Watch, and supply the needed voltage in the right amount as the device asks for it, 0V up to 2.4 V.
On the rear of the unit, there are two mounting slots, which allow you to mount this to a wall, desk, or even (as we do at work) under the desk, so it's out of the way. No screws are included in the package, but the opportunity is there. There is also an abundance of flat space on the back if you'd rather mount it with foam tape or Velcro tape.
I was not able to test the short-circuit or overload protection (I leave that to electroBOOM on YouTube), but I really appreciate that this unit doesn't have a bright LED or jumpy power light, so it can be used in a bedroom or entertainment center, without drawing attention to itself.
Source: The sample for this review was provided by Witeem. Please visit their listing on Amazon for more info.
Product Information
Price:
$45.99 - currently on sale for $23.99
Manufacturer:
Witeem
Retailer:
Amazon
Requirements:
Pros:

Two outlets sized for power convertors
Smart charging USB outlets
recessed switch doesn't get accidentally tripped

Cons: