The Gadgeteer is supported by readers like you! If you buy something through links on our site, we may earn an affiliate commission. Thank you! Learn more.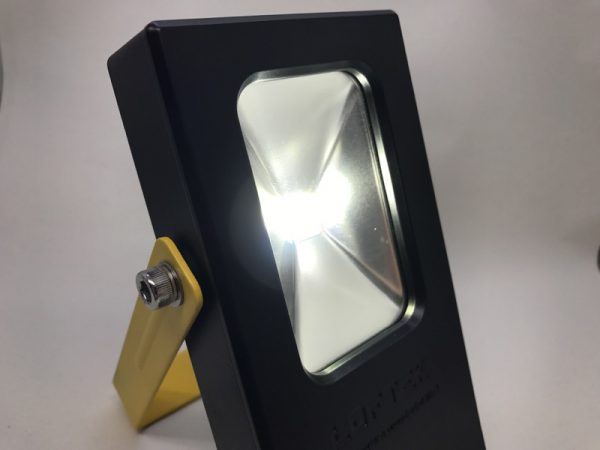 I've got quite a few flashlights, but I don't really have a portable "floodlight" when I need to light up a large area.  This time I got to try out something different. It's not quite a flashlight, and it's not really a camping lantern.  It's the Loftek 15W Portable Floodlight.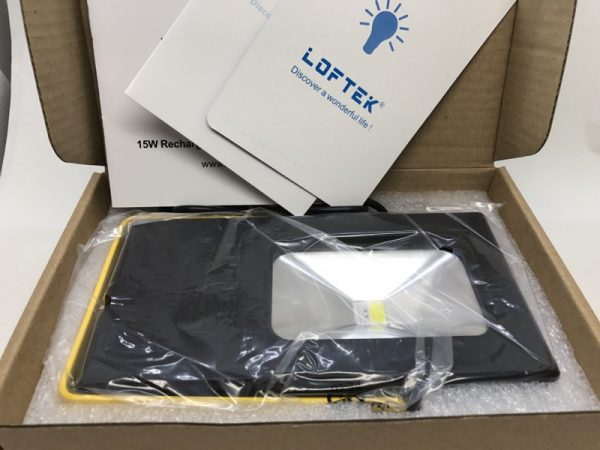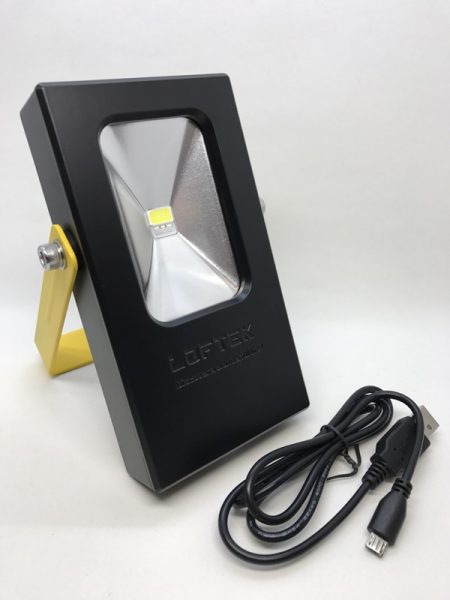 Specification
Includes: 1xUSB cable, 1x 15W floodlight, 1xuser guide
Power: 11 watts (white light); 2 watts (blue light); 2 watts (red light)
Input: 5V DC (0.5-2A)
Output: 5V DC (2.1A)
Lumen value: 650lm (maximum brightness mode); 380lm (power saving mode)
Shoot Distance: 20m
Beam Angle: >120 degree
CCT (Correlated Color Temperature): 5500K-6000K
CRI (Color Rendering Index): Ra>70
Battery capacity: 6600mAh
Working time: More than 4 hours; Charging time: 6 hours
IEC rating: IP65—Dust tight and Protected against low-pressure water jets (do not submerge in water)
Warranty: 12 months, unlimited when purchased from LOFTEK. Contact us for additional support if needed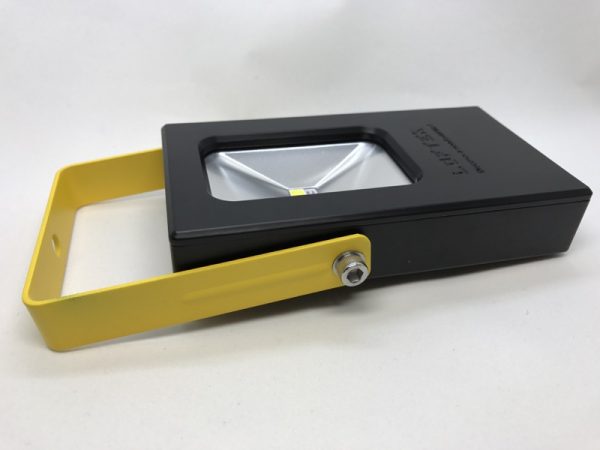 The very first thing I realized was that the handle is attached by two screws that would require a hex key to adjust.  I didn't see one in the package.  If you're not careful, the stand won't keep the light upright.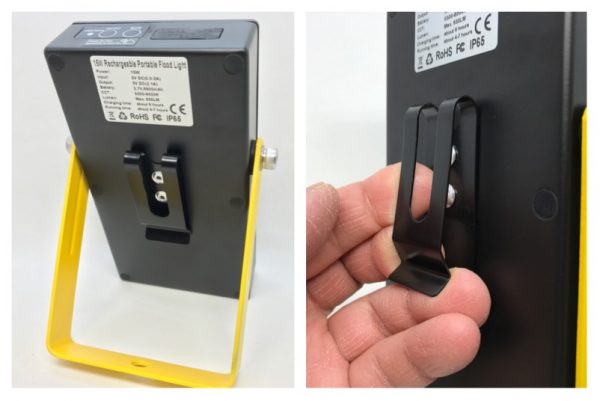 On the back is a fairly sturdy metal clip.  That could come in handy.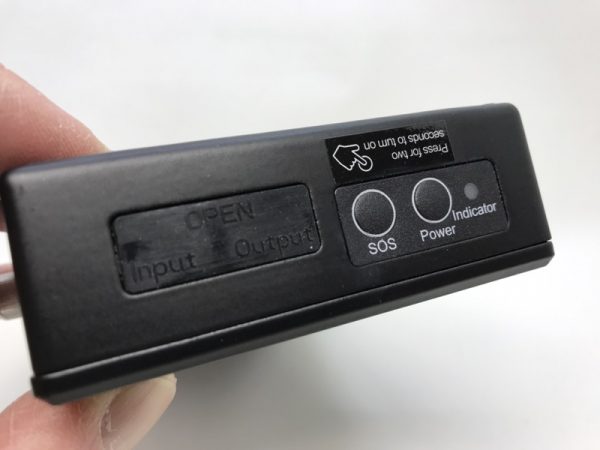 Here you can see the SOS and Power buttons.  The SOS button makes the light flash red and blue.  The power button select from a high and a low light setting.  In practice, I found these two buttons very difficult to tell apart in the dark.  That "indicator" is a LED that glows red when recharging, and green when fully charged.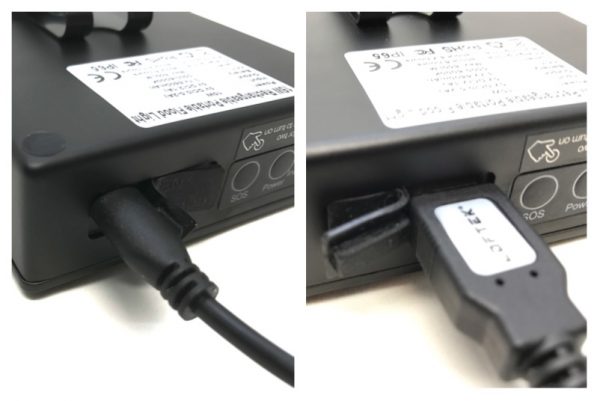 There's also a rubber flap covering the microUSB charging port, and a "normal" USB port to turn the lamp into a 6600mAh battery pack to charge your accessories (5V, 2A).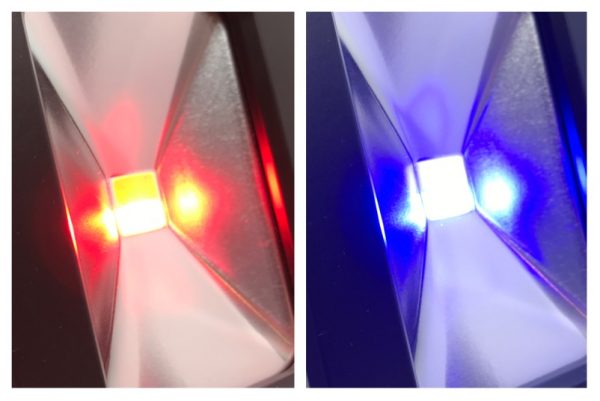 Speaking of SOS, the light alternates between red and blue.  While it would get your attention, the color pattern is somewhat similar to what emergency vehicles might use.  I also noticed in the specifications that the colored lights are rated at 2W each, and the white light at 11W, totaling 15W.  I was led to believe that the main white light was rated at 15W, but I'm not so sure.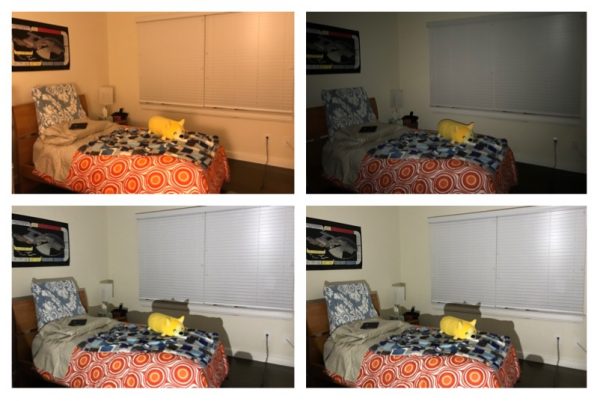 The light really produces a very wide flood beam.  In this example, the photo in the upper left is of my son's room with a regular table lamp.
The upper right was taken with just the iPhone LED.
The two bottom photos were taken with the flood lamp at the high and low settings (left, right).  The difference is a little hard to photograph.  Note the "whiteness" of the flood light is a much cooler white.  It's rated at 5500K-6000K.
How long does the battery last?  The listed working time is stated at "more than 4 hours.  Here's what I found:
High setting:  5.5 hours
Low setting:  9 hours
I noticed that after a while, the LED brightness does seem to taper down quite a bit, so it doesn't maintain even light output throughout the burn time.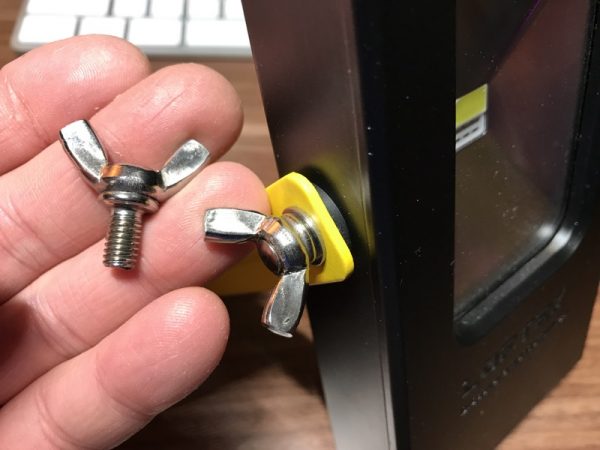 I do like the light, but it's missing a few things.  First of all, I replaced the screws with matching ones with wings to make it easier to adjust.  The difference is night and day.  In case you want to try this yourself (or if Loftek wants to start including these), I used an M6 x 10mm, 1mm pitch stainless steel wing bolt.
Next, I'm thinking about adding a hook or a magnet to the yellow handle to make the Loftek 15W portable floodlight even more useful.  Now if they could only make the buttons a little easier to use.
Source: The sample for this review was provided by Loftek. Please visit their site for more info and Amazon to order.
Support The Gadgeteer
:
The Gadgeteer is supported by readers like you! If you buy something through the links on our site, we may earn a small affiliate commission. Thank you! Learn more.
Product Information
Price:
$59.99 MSRP
Manufacturer:
Loftek
Retailer:
Amazon
Requirements:

MicroUSB to charge (cable included), charger not included

Pros:

Bright, wide flood light with even coverage.
Lasts up to 9 hours on the low setting.

Cons:

Stand adjustment needs work to be useful.
Controls can be tricky to use in the dark or by touch.