We use affiliate links. If you buy something through the links on this page, we may earn a commission at no cost to you. Learn more.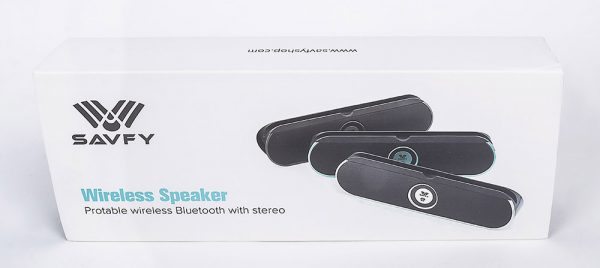 The Savfy Wireless Speaker is a Bluetooth 4.0 stereo speaker. It has a simple and clean design but packs a lot of punch from the sound it can put out making it the proverbial music to the ears.

The Savfy speaker's dimensions are 9.4″in. x 1.67″in. x 2.4″in. and the signal range is the typical 30 feet, or 10 meters, from speaker to device. It is lightweight and its form factor makes it compact to throw in your bag, backpack or even your purse. Its rounded edges give it a sleek look and allow it to fit inside most any bag even for the size and length that it is. And because of its organic shape and smooth curved lines, it can slip easily into any bag, backpack, luggage or purse.
The sound from this speaker was surprisingly impressive. 5 Watts from each speaker pumps out a hefty amount of clear quality sound. What really stood out for me was the sound from the mids and the bass. While listening to my music on my LG G4 smartphone, I noticed that the songs had a nice punchy low and mid tones without any distortion or ever sounding muffled. Plus, the highs were clear and crisp as well.
As I cranked the phone's volume to its maximum level, the Savfy speaker produced strong sounds that were still loud and clear. Keep in mind that the Savfy doesn't have any physical volume buttons so all the volume control will come from whatever device is connected to the Savfy speaker. I think having the volume buttons on the speaker would be handy because sometimes you won't always have your device near the speaker. So for those times when your device is out of reach and you need to turn up or down the music you could adjust the volume as needed.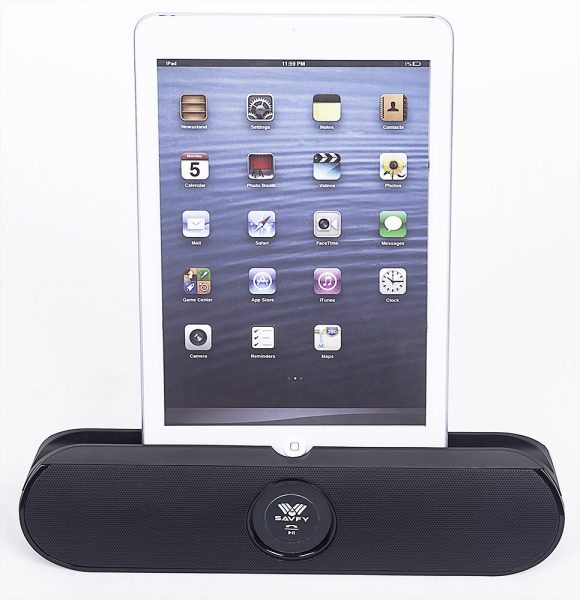 Directly on top of the speaker is a docking area for an iPad mini or tablet to sit in. And just because it runs the length of the speaker doesn't mean you can't place your smartphone or iPhone there either. It accommodates both smartphones and tablets very well. You can watch movies or videos on your devices and get a better viewing and listening experience.
Keep in mind, however, if you have a phone case on your phone then you may have to remove it since the groove in the docking area may not be wide enough to fit the phone then. If you're concerned about an iPad or tablet tipping the speaker over while it is docked, no need to worry. On the back of the speaker is a small arm, or kickstand, that swings out from the back giving extra support for devices with screen sizes between 7″ and 10″ inches.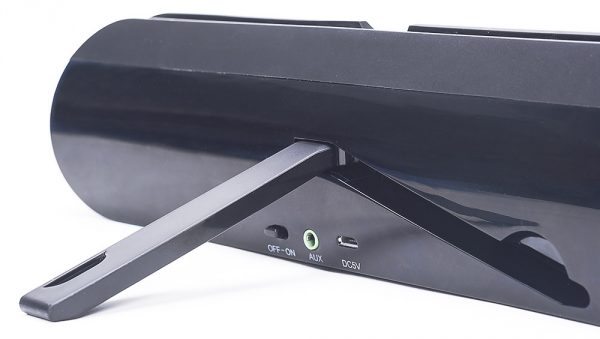 Continuing on the back of the speaker there is the Off-On switch. I like that the switch is an actual sliding button and not a button that you have to press and hold for a few seconds. That's just a personal preference for me, you may have a different opinion. I like knowing when I turn on a device then it is on. And when l turn it off, it's off. I've had plenty experiences of batteries draining on the devices because I thought I had powered them down correctly.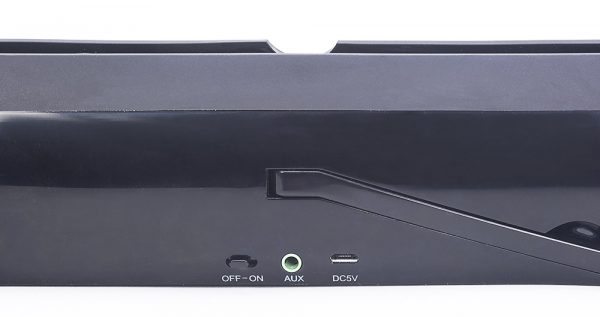 Next to the Off-On switch is an AUX (auxiliary) jack. This is useful for those non-Bluetooth devices like a CD player, radio or any other device that you can connect the included 3.5mm plug into. Right next to the AUX jack is the microUSB port to change the speaker's 1050mAh rechargeable battery with the included microUSB cable. The Savfy speaker has a battery life of up to 8 hours and it has a stand-by time of 300 hours.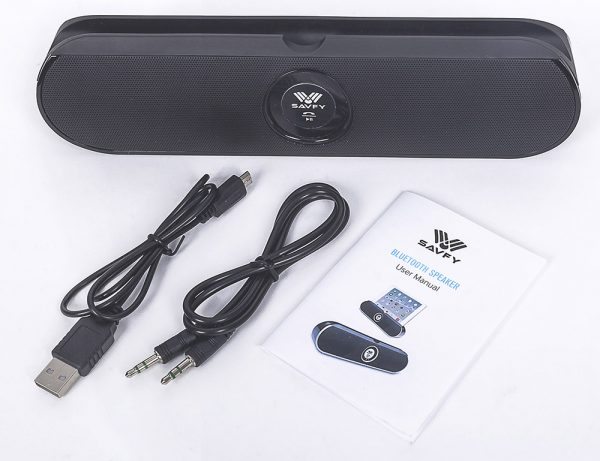 Included in the packaging is the manual, a USB charging cable and a 3.5 audio cable. And in addition to these, Savfy has included a Warranty Card, a Return Product Detail Card, and a Ratings Card. This may not seem like much but it is nice to know that there the company felt compelled enough to add these little touches to the product that you purchase. I can't ever recall a product I have bought from a major conglomerate company that had a personal touch like these simple cards. The only time I have ever seen that is in small independent businesses like the ones that make handmade items from their home in their kitchens and take the time to put in a personal Thanks for Purchasing card. Well, you get the idea.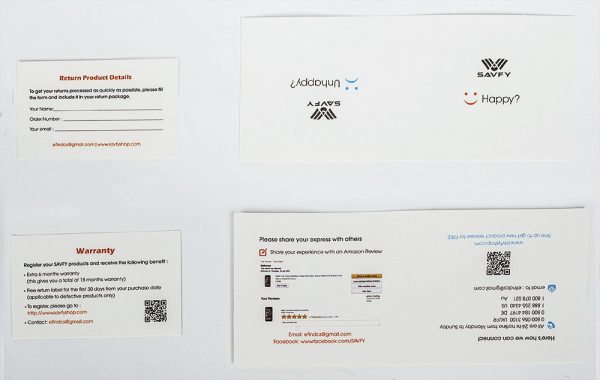 On the front of speaker is a round Function button to Play or Pause your music. This button is also the speaker's Answer/Call End button for your phone calls. The button is very responsive so when I pressed it whether to Pause or Play it worked. I never had to repeatedly press it to Pause or Play my music. One touch is all it took.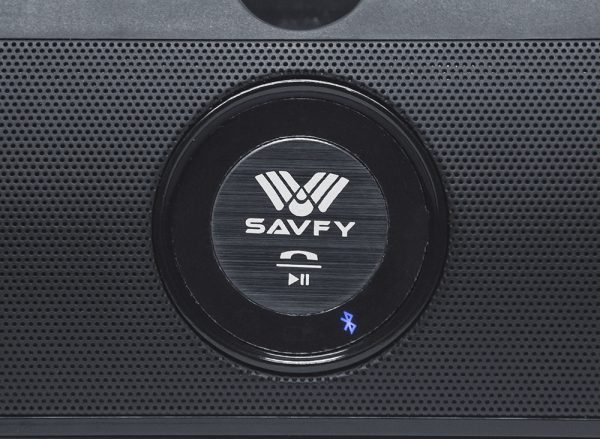 The sound quality as a handsfree speaker was what you'd expect from using a speaker like this. Call quality was nice and clear. I could hear the person on the other end clearly and they didn't sound tinny or muffled. And of course, this unit being a handsfree device, it has a built-in microphone. When I asked how I sounded talking through it I was told I sounded fine but the caller could tell I was on a handsfree or speaker.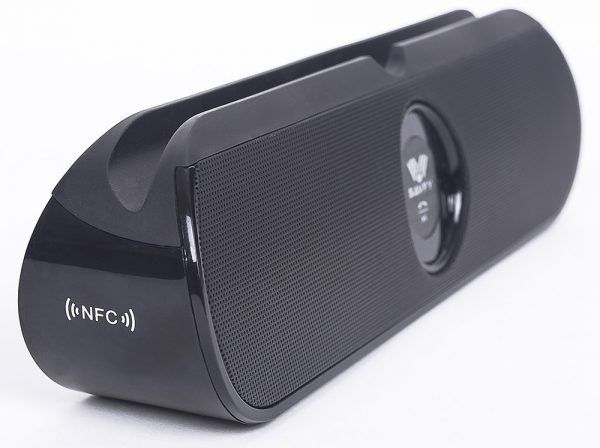 Along with the AUX cable or Bluetooth, the Savfy speaker can also be connected to your devices by NFC, or Near Field Communication. Just tap your device to the side of the Savfy speaker where the NFC graphic is located and get connected. Whatever your choice of connection is, it's nice to have those three options to choose from.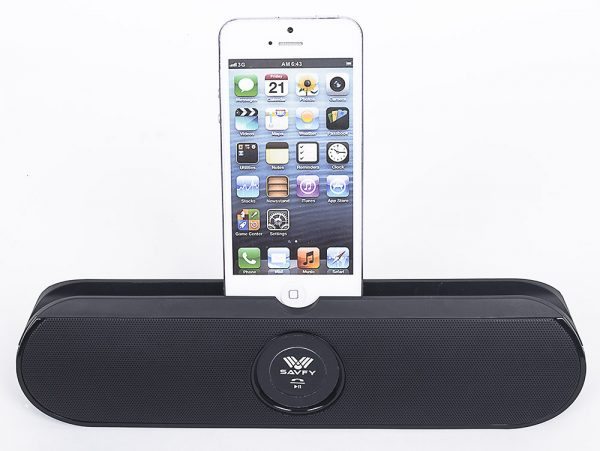 Since Bluetooth is my preferred method of connection, that is how I connected to the Savfy speaker. So, after turning on my phone's Bluetooth, and making my phone visible to other Bluetooth devices, I switched on the Savfy speaker and it appears to start in Pairing Mode. You can tell because the glowing Bluetooth icon on the round front button was blinking fast indicating it was in the Pairing Mode. My Samsung Note Edge found the speaker while scanning and all I had to do was select it. Pretty easy.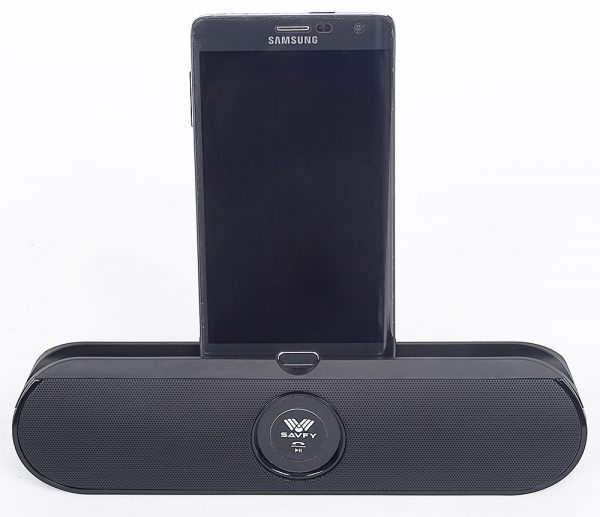 The Savfy Bluetooth speaker is a great compact speaker to bring with you to places where you can listen to your music such as a party, the park, the pool, camping, or the beach. Just keep in mind that this speaker is not waterproof so you'll need to be careful not to get the speaker wet. The speaker is also available in two other colors, Silver and Mint Blue.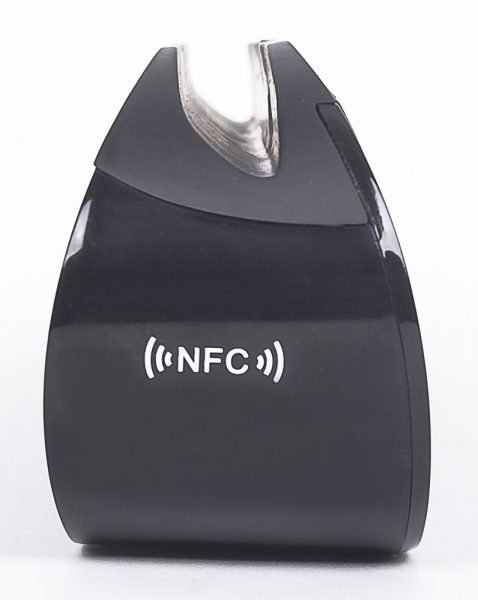 To sum things up, I found the Savfy Bluetooth Wireless Speaker is a great portable speaker that you can easily stow and carry with you to some of your favorite places and listen to music, podcasts, news, sporting events, or making a phone call. You can even throw on your iPad or tablet and turn it into your own media center so not only is listening to audio a treat with this speaker but having it as a sound bar when you watch movies and videos is an extra treat as well.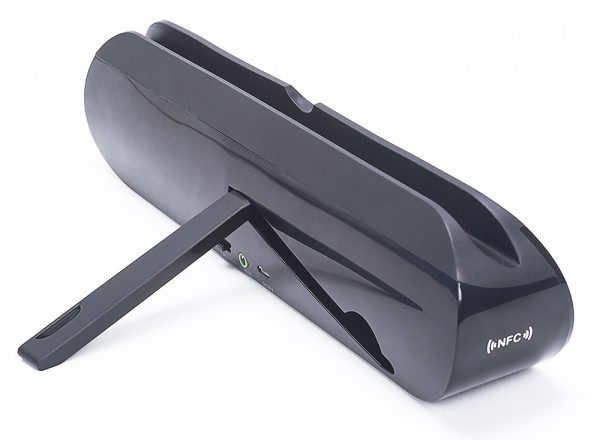 Source: The sample for this review was provided by Savfy. Please visit their site for more info and Amazon to order.