We use affiliate links. If you buy something through the links on this page, we may earn a commission at no cost to you. Learn more.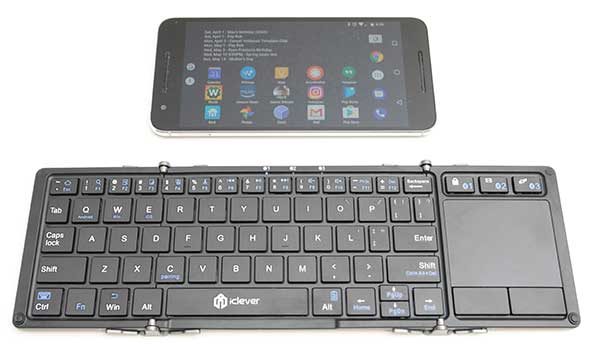 Pairing a Bluetooth keyboard with your phone or a tablet turns it into a pseudo laptop for those times when an on-screen touch keyboard just won't cut it. Add the ability to fold the keyboard into a smaller form factor and you have a perfect accessory to keep in your gear bag. What if I told you that there's a folding Bluetooth keyboard that also has a built-in touchpad? Sounds like a match made in heaven right? Let's see if the iClever Tri-Folding Wireless Keyboard earns a spot in my gear bag and my favorite gear page.
What is it?
The iClever Tri-Folding Wireless Keyboard is a portable Bluetooth keyboard with a built-in touchpad that folds for easy travel.
What's in the box?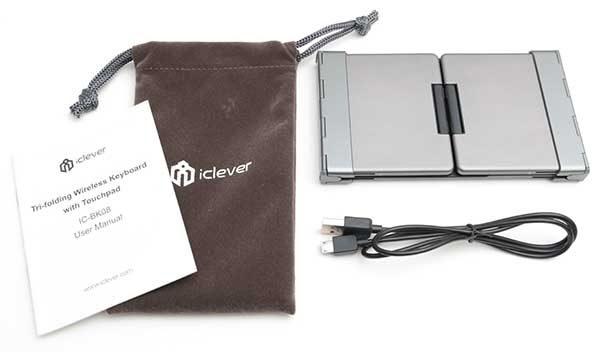 The iClever Tri-Folding Wireless Keyboard
Travel pouch
micro USB charging cable
User manual
Design and features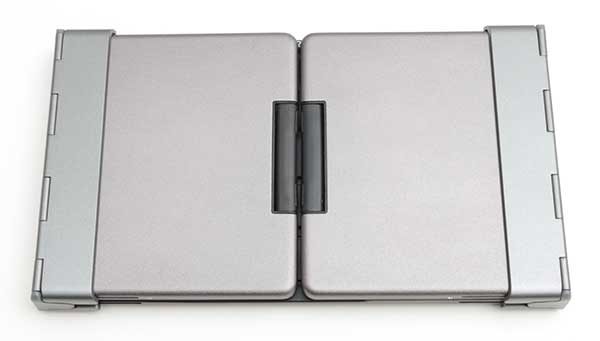 The iClever Tri-Folding Wireless Keyboard has a brushed gray aluminum alloy shell on the outside, and a black plastic keyboard on the inside.

The keyboard easily unfolds to reveal a full QWERTY-style key layout that includes a number row with function keys and media control keys along the top edge and the touchpad with left and right "mouse" buttons below it. You can click the image above to see a larger view of the keyboard layout.

Two small feet fold down on each end of the keyboard to allow it to remain flat and stable on a table when in use.

Unfolding the keyboard doubles as a power switch that turns it on and pairs with your device. Fold it back up, and it powers down.
Size compared to other small Bluetooth keyboards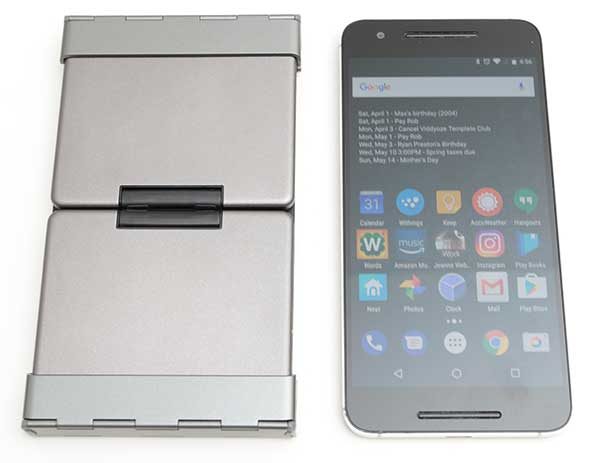 When folded, the iClever Tri-Folding keyboard is about the same size as a large smartphone like my Nexus 6P shown next to iClever Tri-Folding keyboard in the image above.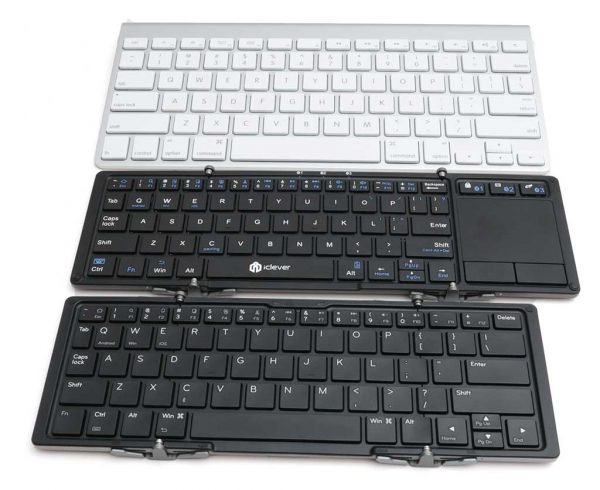 In the image above, there's an Apple wireless keyboard at the top, the iClever Tri-Folding Wireless Keyboard in the middle and the Jorno folding Bluetooth keyboard on the bottom which looks almost identical to the iClever minus the touchpad.
Using the iClever Tri-Folding keyboard
The iClever can pair with 3 devices simultaneously with easy switching between the devices by pressing the Fn key with the 1, 2, or 3 key above the touchpad.
I tested the iClever Tri-Folding keyboard with my 12 inch MacBook, an LG G6, and a Nexus 6P. Pairing and switching between these three devices was quick and easy.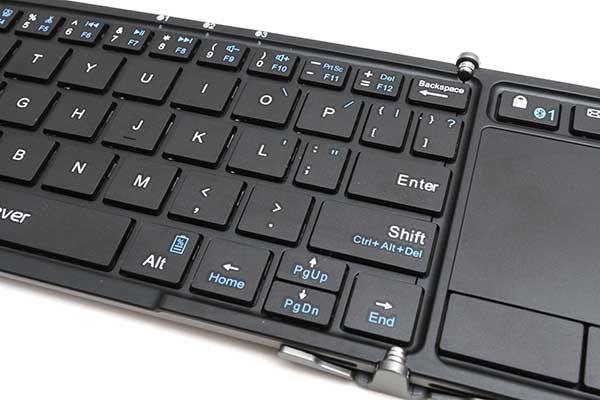 The keys on the iClever are small, but I was able to touch type without too much effort. That said, I did notice a few issues while using this keyboard to type this review. I had no problem typing letters A through Z, or numbers 1 through 9 without having to look down at the keys. Most punctuation symbols were not a problem either except for  ?, ', ", \, and /, which were located in non-standard locations and require a Fn key press to access them.
The single quote tripped me up the most because I have the muscle memory to press it with my pinky on my right hand. When I try that on the iClever, my pinky presses the enter key which means I'll start typing on the next line… which just happened while typing this sentence. Grrrrr. Having to stop mid-sentence to press a Fn key combo to get an often used character is really frustrating when you're a touch typist.
I also had a problem with the – character which I use a lot when typing the URL of The Gadgeteer. I would almost always press the = character instead.
Using the iClever Tri-Folding keyboard touchpad
Having a built-in touchpad means that there's no need to add a mouse to your gear bag. The iClever's touchpad works fine as long as you are using the keyboard with a Mac, Windows or Android. However, it will not work with iOS devices. Sorry about your luck iOS fans.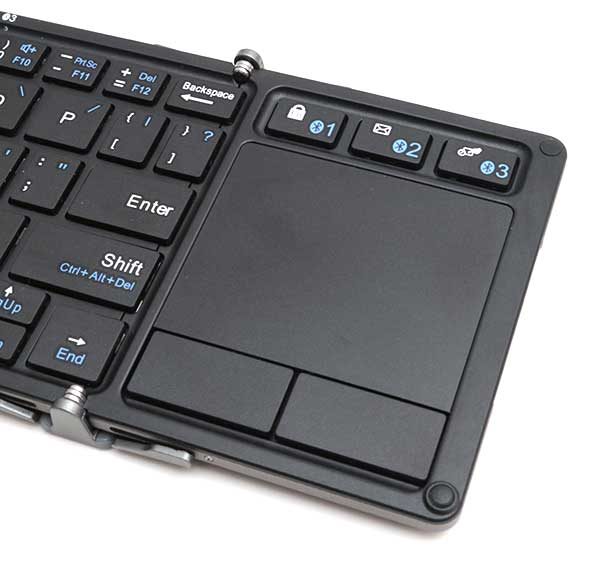 The touchpad not only moves the cursor around on the screen, but it is also capable of gestures like two finger scrolling up and down, pinch/zoom, two finger click for right mouse button and more.
The only problem I had with the touchpad was accidentally touching it when I didn't mean to. If you find that this happens too often for your liking, you can turn off the touchpad by holding the Fn key and 3 key above the touchpad.
Final thoughts
The iClever Tri-Folding Wireless Keyboard with Touchpad has a lot going for it. It's well made, pairs with 3 devices, and has a built-in touchpad.
I like the keyboard a lot except that it drives me nuts to use it due to the issues typing ?, ', ", -, /, and \ characters. I could deal with having to press a Fn key to access the -, /, and \ characters, but ?, ', and " characters are a deal breaker for me.
If you're not a touch-typist, this keyboard is great. But if you ARE a touch-typist, it will most likely frustrate you like it has for me.
Source: The sample for this review was provided by iClever. Please visit their site for more info and Amazon to order.