We use affiliate links. If you buy something through the links on this page, we may earn a commission at no cost to you. Learn more.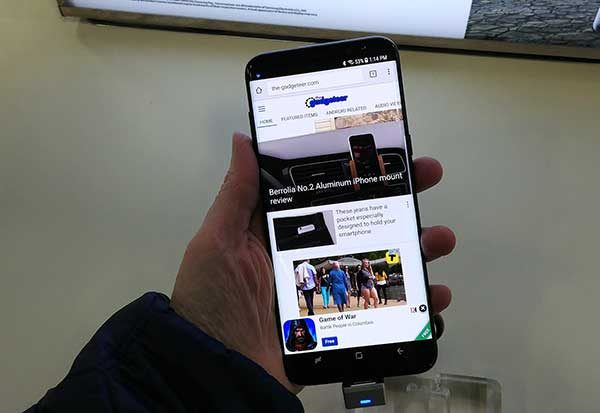 Two days ago after Samsung unveiled the new Galaxy S8 and S8+ phones, I wrote that I'd be staying up and pre-ordering one at the crack of dawn the next day. As it turned out, I didn't pre-order one because I found out that I would not be able to order an unlocked phone until May 9th.
I wasn't that tore up about not being able to pre-order because I knew I'd be able to test drive one from Verizon at the end of April when they start shipping on 4/21. I also knew that a shiny new LG G6 loaner unit would be waiting for me on Thursday. New toys make it easier waiting for future toys.
Today I decided to stop by my local Best Buy after work because it was on the way to my accountant where I had to pick up my taxes. The reason why I wanted to stop at Best Buy was so I could check out the Samsung Galaxy Tab S3 in person. But I got an even better surprise when I walked in and saw a big Galaxy S8 and S8+ display. It didn't really occur to me that they would already have them in the store.
I got to try both sizes and was really surprised how similar they look and feel. I kept having to check the sticker on the back of the phone to see which one I had in my hand.
I never liked the Samsung Galaxy S6 Edge and Galaxy S7 Edge devices because my palm would accidentally touch the curved edges of the display causing weird behavior. I didn't notice that issue with the S8+ (shown above) or the S8 (shown below). At least not during the few short minutes that I played with each phone.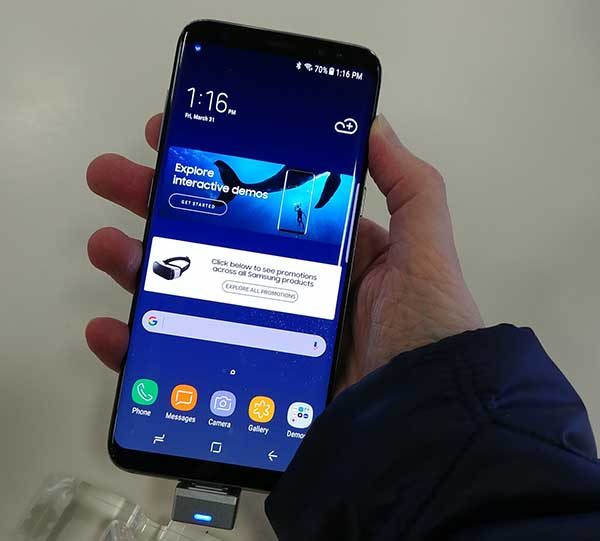 I will tell you that two things were immediately apparent to me upon holding the devices. One thing I love and one thing I hate.
I love Samsung's displays. They really do make every other smartphone's display look anemic in comparison. Some people might not fancy the vivid, almost over saturated displays, but I kinda love them.
I love the displays but I hate the slimy, smeary, fingerprinty feel of the back of the phone. Ick. That said, the LG G6 that I started testing has the same issue. If I do end up buying an S8+ (that's the one that I'm leaning towards now that I've actually held one), I'll have to put a skin on the back like the "leather" dbrand skin that I have on my Nexus 6P.
Other than not liking the back of the phone, I found the S8 and S8+ to be comfortable to hold and oh so pretty to look at. Where the S8 devices feel like slab of glass in my hand, the Nexus 6P feels more like a slab of steel. I prefer the feel of the 6P, but that won't keep me from probably buying an S8+.
I really am looking forward to using one for a few weeks when I get the chance to get one to review.
I was disappointed that Best Buy didn't have a DeX dock because I'm really interested in trying one.
Oh, I also checked out the Samsung Galaxy Tab S3 which was my main reason for stopping at the store. Really thin and light. I'm tempted… I wish my current S Tab 10.5 would just die already so I wouldn't feel guilty buying a new one!
Anyone else had a chance to see and touch one of the S8's in the wild yet? Thoughts?