We use affiliate links. If you buy something through the links on this page, we may earn a commission at no cost to you. Learn more.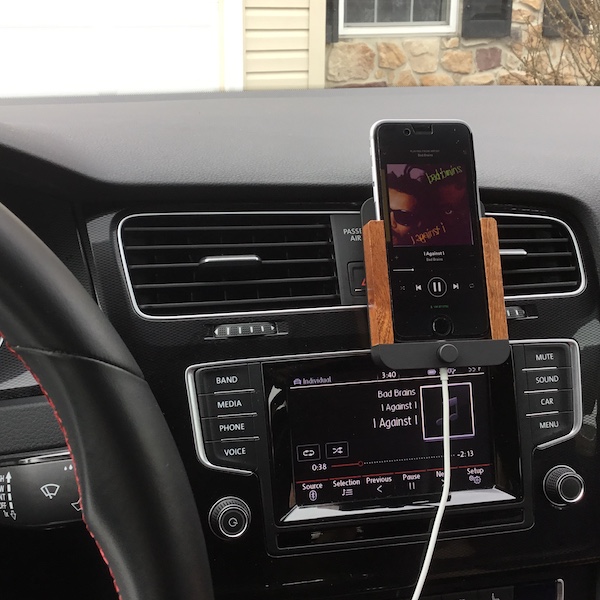 If James Bond was looking for an iPhone mount appropriate for his vintage Aston Martin, he'd probably pick the Berrolia No. 2 iPhone Mount. It's classy. It's beautifully constructed. Is it right for you? Let's grab a martini (preferably shaken, not stirred) and check it out!
First Impressions
When I received the Berrolia No. 2 iPhone Mount for this evaluation, my first impression was… luxurious. Just look at it. Not only does it look premium, but it feels weighty and substantial in your hand. It even comes packed in a cool aluminum cylinder, with molded foam inserts for protection.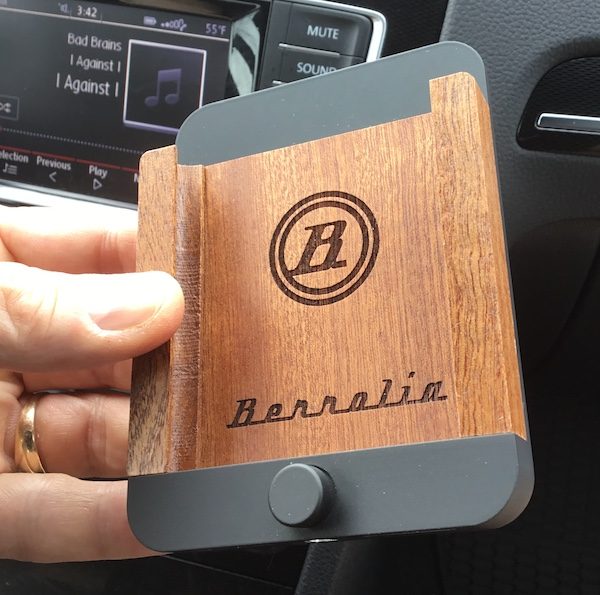 Looks aside, construction and materials are top-notch. The frame is made from premium-grade aluminum, which looks to be powder coated with a slightly rubberized surface. The wood is mahogany, with the Berrolia logo laser etched into the back piece. Everything is precision cut and the assembly is rock solid, with no noticeable gaps or cheap bits to be found. Even the clips are heavy & solid, and look like they won't bend or snap after repeated use. All the finishes are smooth and pleasant to the touch.
This is no bargain-basement car cradle, folks. It just oozes style and quality craftsmanship.
Mounting the Cradle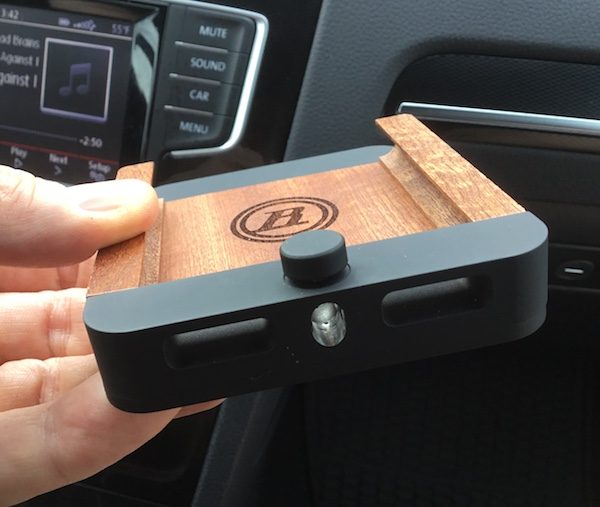 The Berrolia mounts to the air vent on your car, and it requires that your vent employs horizontal fins to clip onto. There's another quality twist here: there's a leather (possibly leatherette) mounting pad included in the package. You place the pad on the fin of your air vent, then slide the clip over the pad. Not only does this add extra grip, but it prevents scratching from the beefy metal clip. In my car, I found that the cradle stayed put once it was mounted, and was not prone to getting knocked off by an accidental bump. Nice.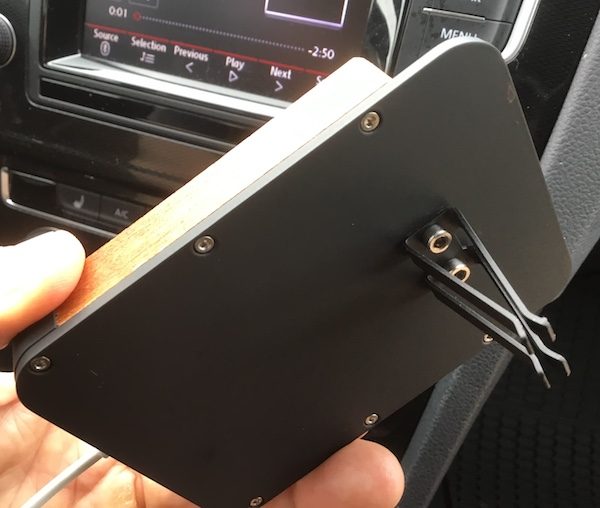 Once you have the mount in place, you can install your lightning cable. I found this to be another nice aspect to the design. There's a knob on the front of the unit that you unscrew to allow the cable to pass through. The cable is inserted perpendicular to the unit. You pull the cable through, twist it to a position parallel to the mount, and pull the cable back down to lock it in position. Screw the knob back in place, and the lightning cable isn't going anywhere.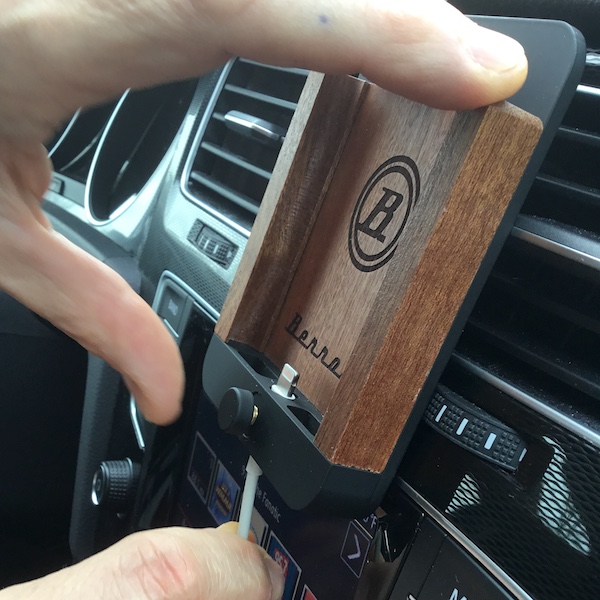 The whole operation took about a minute to complete, at which point I could add my phone.
Daily Use
There are tracks on either side of the mount specifically designed for the iPhone, so it slides smoothly in and out of the cradle and plugs right into the lighting plug. It's a silky smooth, one-handed operation that requires no wiggling or adjustment to get the phone in and out of the cradle.
After dozens of car trips, I've found that the construction continues to deliver. There's no looseness anywhere in the unit. The lighting cable mount hasn't loosened up. The finishes continue to look good after regular abuse, with no abrasions or scratches developing in the surfaces. It's rock solid.
As far as on-the-road use goes, it's a great mount. It stays firmly planted where you set it, even with the occasional bump or nudge. It's nice to have the phone in a position where it doesn't distract you from driving, especially if you are using Google Maps to get from point A to B. And one handed operation is a great for safety, so you are not fumbling around for your phone while trying to focus on the road. I really like it.
Some Caveats
There are three important issues that you should aware of in the middle of all of this luxury precision goodness. First, the mount is designed precisely to fit your iPhone. You can't use it with a cover or case. I don't like my iPhone to go naked, so this required me to take off my case every time I got in the car. I get that this detracts from the whole look and slick performance, but it is kind of an annoyance (especially if you have a complicated cover). Berrolia does make the leather versions of the mount that we have reviewed here, and they appear to have some tolerance for accepting a thin case on your phone.
Second, the cable mount is precisely machined to fit the Apple lightning cable. Third party cables are not likely to work with this setup. I found this out the hard way, as my car has a MIDI port that requires a third party MIDI-to-lightning cable. It would not fit in the mount, so I needed to acquire a lightning-to-USB adaptor, then I could plug the Apple-supplied cable into that. Most newer cars have a USB port so this won't be an issue, but it's a bit of a bummer if you use third-party lightning cables.
Finally Berrolia only provides this particular style of mount in the black/walnut finish, specifically for the iPhone 6, 6s and 7. They do offer a range of leather covers in different colors and styles which also accommodate iPhone 5 models or the larger iPhone 6 Plus and iPhone 7 plus. You'Il want to check your iPhone model and car interior to find the right match for you. 
Conclusion and Pricing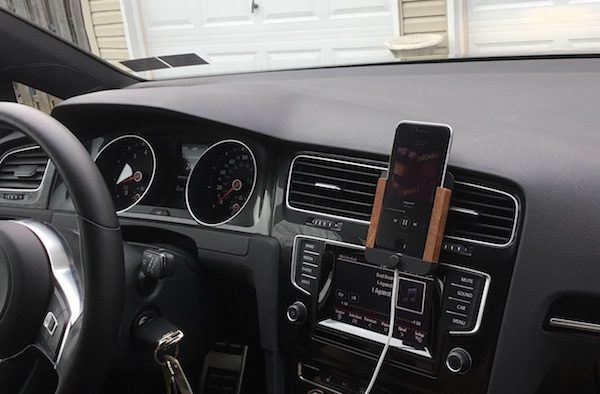 There's no doubt that the Berrolia No. 2 iPhone Mount is a classy upgrade from a cheap plastic car mount. Not only does it deliver on style, but it is impeccably constructed and sure to stand up to years of abuse. Retail price is placed at 79 Euros (about $85 USD) which seems in line with the quality of the unit. If you are OK with the caveats, I feel its a luxury upgrade that's worth the price. Happy motoring!
Updates 05/25/17
This is one that I tend to use mostly on longer trips where I require easy access to Google maps to get to where I am going. The mechanics of having to remove the phone from its case to slide it into the mount tends to be more trouble than its worth for short trips.
Source: The sample for this review was provided by Berrolia. For more info visit their site.
Product Information
Price:
€79 (~$84.50 US)
Manufacturer:
Berrolia
Pros:

Luxury look and feel
High quality materials and construction
Easy to install

Cons:

Does not work with iPhone covers
Requires original Apple lightning cable
Sized specifically to the iPhone 6/6s/7, though leather options are available for other models