We use affiliate links. If you buy something through the links on this page, we may earn a commission at no cost to you. Learn more.

Finally!  A network router that protects all of your connected devices at the START – the point of entry!  No more buying piecemeal software for every device, every year!  It does have a subscription plan; $9.99 per month, but the first year is free.  And it's from Norton, one of the best recognized, highly-respected names in security.
There are TONS of upsides to this device:
Optimized for security and performance

It has more memory and flash storage than typical routers, and has a dual-core 1.7 GHz processor

Dual bands for optimal connectivity

Every device connects to the best available band, because Core simultaneously transmits at 2.4GHz and 5GHz.

Smacks down other routers by providing twice the throughput of Wave-1 11ac technology

You get speeds up to 2.5 Gbps, which means you get blazing fast 4K streaming and lag-free gaming

Beamforming supercharges your signal

Ever had problems getting a good Wi-Fi signal in certain areas?   Not anymore.  The beamforming antenna tower focuses WiFi directly to devices in the farthest reaches of your home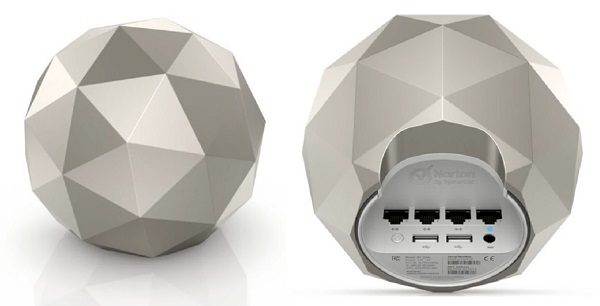 Hopefully you've all heard about the extremely poor security on most IoT (smart) devices.  A smart thermostat, a baby monitoring camera, even a smart refrigerator, can all be hacked, and then you personal information (and privacy) is exposed.  Core discovers smart devices, identifies vulnerabilities and secures them all. If a device is ever breached, Core quarantines the threat.
The Core router is extremely useful for parents, too.  It has powerful and flexible tools to help parents set content filters, manage time by device, and it also lets parents manage and monitor screen time by person.  Another cool feature lets you pause the whole network!  Norton says the app for the router is "as easy to use as a light switch."

Click to enlarge
Yet another sweet option is the ability to give priority to any device in the network.  So if you want to turn down the bandwidth on on the laptop because you're about to stream a movie on your Roku, you can do it with the touch of a button.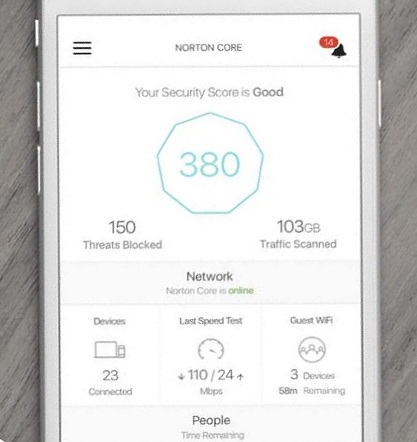 So the Core from Norton protects ALL of your devices.  Unlimited IoT devices, and up to 20 PCs, Macs, tablets, and smartphones.  This device will stop hackers, viruses, and malware from even coming into your network.  No more reactive software to crud that's already in your network.  This device is PRO-active: fending off all forms of nastiness before it can even access your network.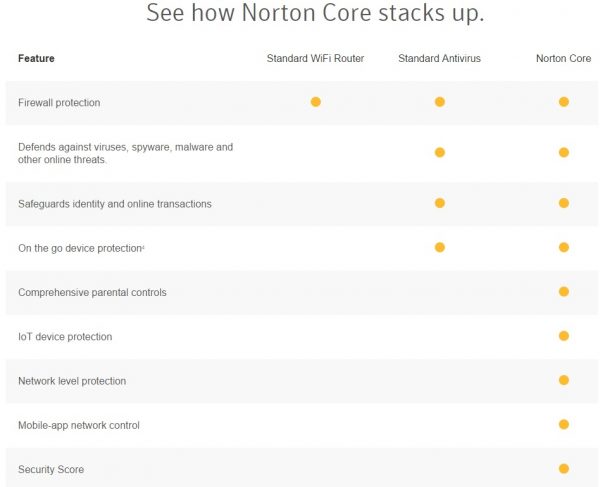 To me, this is a solid BUY situation.  It's in pre-sales right now for $279.99 and will start shipping this summer, 2017.
To get more information, please visit us.norton.com/core