We use affiliate links. If you buy something through the links on this page, we may earn a commission at no cost to you. Learn more.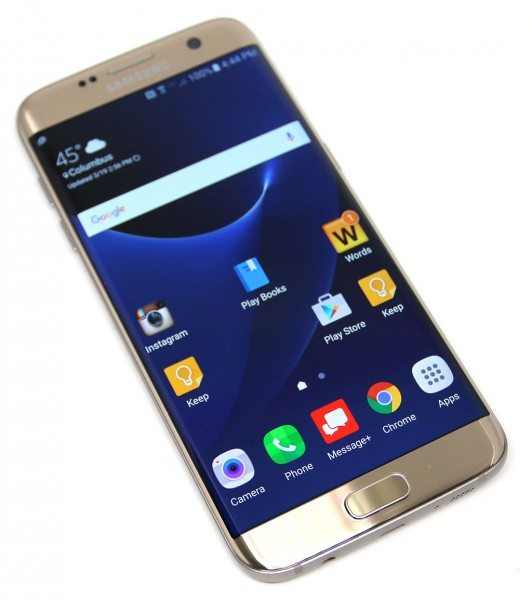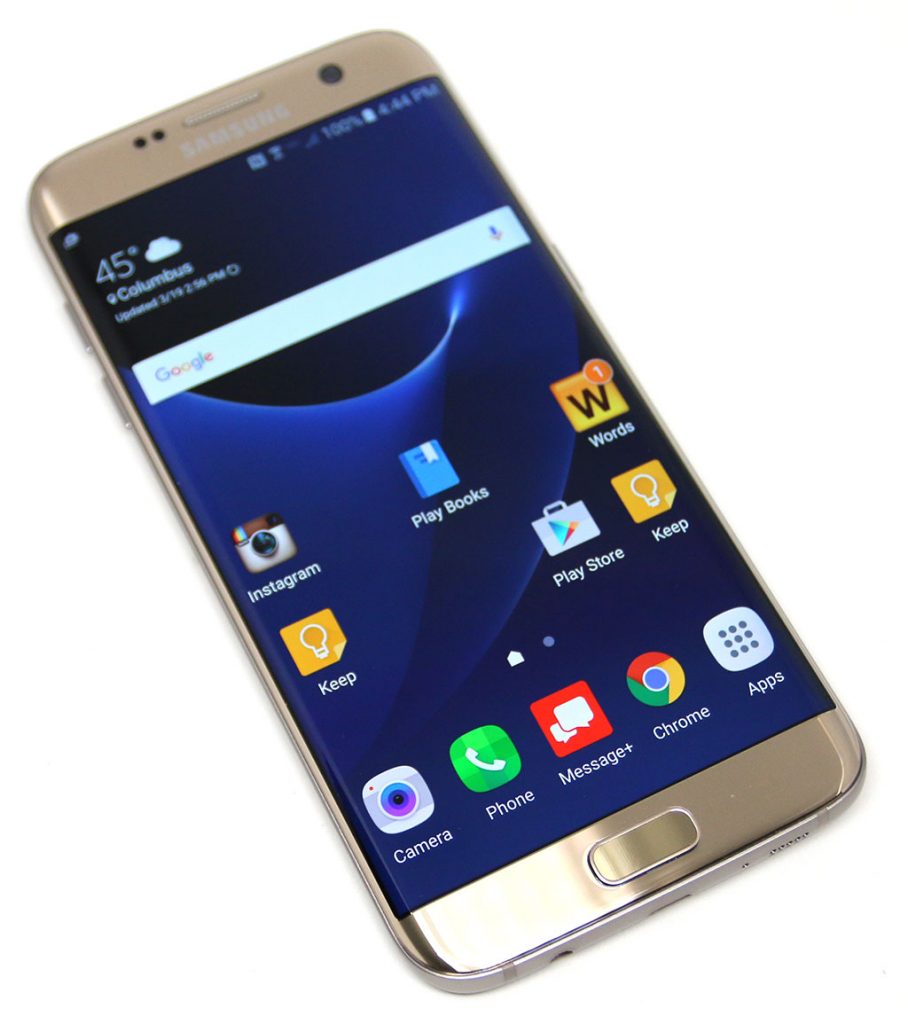 The latest Samsung Galaxy smartphones are here! Dave Rees and I have each been lucky enough to score eval units of the S7 Edge and the Gear VR headset (we'll post a separate review of the VR headset soon) from Verizon Wireless. After a couple weeks with these devices it's time to let you know our thoughts. Are we ready to put our Nexus 6Ps in a drawer and plunk down cash on these shiny new phones? Keep reading to find out.
Dave: It has been nearly 6 months since I switched from my Galaxy Note 4 to the Nexus 6p. Getting the chance to put the S7 Edge through its paces is a good reminder of several features that are sadly missing from the 6p that I occasionally still long for. Plus getting to play with the latest and greatest tech is always a perk.
Hardware specifications
Processor: Qualcomm® Snapdragon™ 820 Quad Core processor (MSM8996, Quad-Core, 2.15GHz + 1.6GHz)
Operating System: Android Marshmallow (6.0.1)
Memory: 32GB on board memory + 4GB RAM
Network: CDMA 1X and EvDO Rev 0/RevA; LTE (Domestic) B13, B4, B2, B5; Global Network: LTE (Global) B3, B7, B20; GSM Quad B5, B8, B3, B2 (850/900/1800/1900Mhz) UMTS Quad B5, B8, B2, B1 (850, 900, 1900, 2100 MHz); TDS CDMA 34, 39 TDD LTE 38, 39, 40, CAT 4 / CAT 6 / (CAT 9 capable)
Display: 5.5" Quad HD, Super Amoled, 535 PPI
Camera (rear): 12MP
Camera (front): 5MP
Wi-Fi, Bluetooth 4.2, NFC, Fingerprint sensor
Expandable Memory: Removable microSD up to 200GB (sold separately)
Headset: 3.5mm Audio Jack
Wireless charging capable
Battery: 3,600mAH, Non-removable
Dimensions: 5.94″ (H) x 2.85″ (W) x 0.30″ (D) inches
Weight: 5.94 oz
In the box
Samsung Galaxy S7 Edge
Pre-installed SIM Card (4FF)
SIM Removal tool
USB Cable
Quick Reference Guide
Physical design and features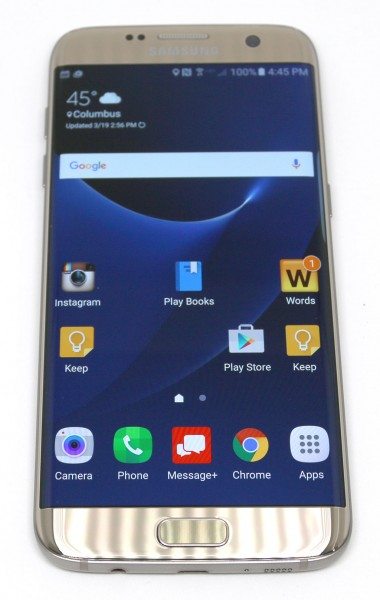 Julie: I was sent the gold version of the Samsung S7 Edge. It's not the color I would have chosen for myself, but I don't hate it either. It is difficult to photograph as you can tell from the image above.
The S7 Edge feels solid, but significantly smaller in hand than the Nexus 6P that I've been using for the past several months. I wasn't sure how I'd feel about a smaller device with a smaller screen, but I've been surprised by how much I like it. The new S7 Edge looks almost identical (as far as I can remember) to last year's Samsung Galaxy S6 Edge. The front of the device has a bright, vivid, crystal clear display that wraps around the sides. There's the front facing camera at the top, along with an ambient light sensor and a status LED. At the bottom is the home / fingerprint scanner button.
Dave: I received the silver version of the Samsung S7 Edge. Not my preference either but definitely a gorgeous piece of hardware nonetheless. I was also surprised how much smaller the S7 Edge feels in my hand compared to the Nexus 6p. The device felt great to hold but after the 5.7 inch screen of the 6p, the S7 Edge seemed a bit cramped.
It took a bit of time to get reacquainted with the fingerprint sensor being on the front of smartphone. Placement aside, the Edge's fingerprint scanner is relatively accurate and zippy. Though you do have to click the button once to wake the Edge up, only then will the sensor recognize your fingerprint.

Julie: I think the scanner on the S7 works faster/better than the 6P. But I'll admit that I don't use it on the 6P very often.
Dave: I use the 6p's fingerprint scanner 99% of the time. For me, I would say they are equals in regards to accuracy and speed, with the Nexus edging ahead of the S7 reader due to its instant on feature.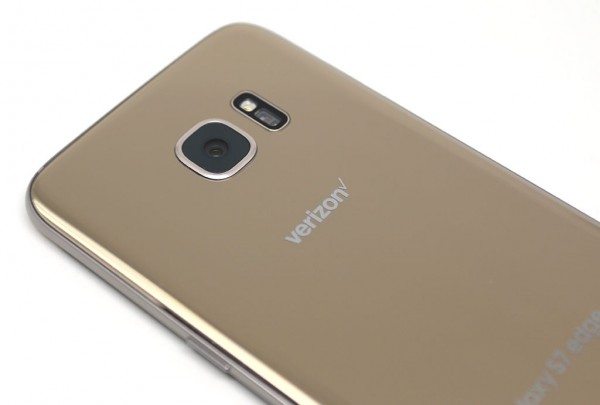 Julie: The back of the device is made of glass, with a camera and LED flash next to it. The sides are curved, which makes the phone feel very comfortable, solid and thin in hand.
Dave: Both the front and back glass panels of the S7 Edge are fingerprint and smudge magnets. I was constantly cleaning them trying to get the built up grease and grime off. With 90 percent of the Edge's surfaces area being glass, the device is also very slick. I was always worried I was going to drop and/or break it.

Julie: I agree that the S7 is very slippery. I'd definitely want some type of thin case on the back to provide some grip.

Julie: The left side of the phone has individual volume buttons that provide very good tactile feedback when pressed.
Dave: The buttons are well placed and easy to press.

Julie: On the other side you'll find the power button.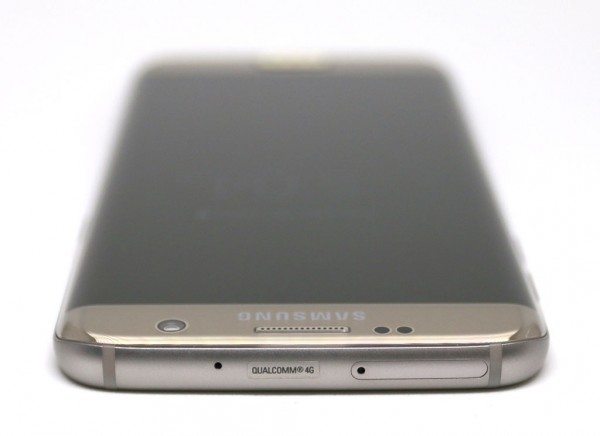 Julie: On the top edge of the phone, there is a microphone and the SIM card / micro SD card slot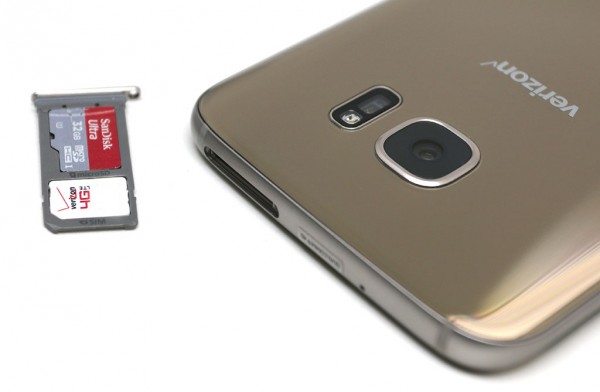 Julie: Since the S7 is only available with 32GB of storage, it's nice to see that Samsung brought back a micro SD card slot. I am also happy that they continue to offer Qi wireless charging. I have really missed both of those features since switching over to the Nexus 6P, haven't you?
Dave: Yes, those are the two features I miss most on the Nexus 6p. I never swapped batteries when I had that option and with better battery life and hardware optimization I see much less of a need for that feature. I could even live without expandable memory. But the convenience of wireless charging was difficult to give up. The Edge charged seamlessly on all my various chargers without issue.
Julie: The S7 Edge would not charge on  my older Nokia DT-910 chargers but worked fine on my TYLT charger.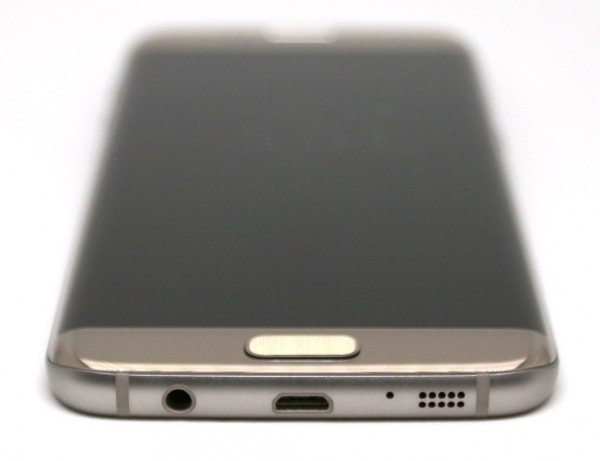 Julie: On the bottom edge of the S7, you'll find a 3.5 mm headphone jack, a micro USB charging port, another microphone and a speaker.
Dave: I was surprised that Samsung did not put a USB C charging port in the Edge. Micro USB seems so old school these days with USB C being the new high end port standard.
The speaker on the base on the phone is fine enough but sounds pretty puny compared to the front facing dual speakers of the Nexus 6p. That said, the S7 Edge is still a top tier smartphone, with its glass and metal construction giving it a definite premium look and feel. Add in the fact that the Samsung engineers have bumped up the chipset, added expandable memory and water-resistance back into the equation, the S7 Edge is not just another pretty face.
Julie: Hmmmm, I'd say that Samsung and Apple have a lot in common with pushing out phones that offer only slight improvements over previous models. The S7 Edge is a very nice phone, but it's not leaps and bounds nicer than the S6 Edge.
Display
Julie: I don't know about you Dave, but I love Samsung's displays. I think they are the best of all the smartphones out there. To my eyes they have the most vivid colors and are so crisp that the icons look like stickers.
Dave: Yes I agree, Samsung makes some of the best displays on the market. They are always clear, crisp and eye-popping. But to my eyes sometimes I find them just a little over the top with the colors being a little too vivid and over saturated. But on those occasions, I just turn down the brightness on the screen.
Julie: As much as I really love Samsung's displays, I really hate the curved display of the S7 Edge. Why? Because the palm of my hand constantly touches the edge of the screen and causes accidental button presses or causes the screen to freeze and not accept any taps. It really drives me nuts and there's no way I'd purchase the Edge version of the S7 because of this issue. Do you have this issue too, or is it must me and my pudgy palms?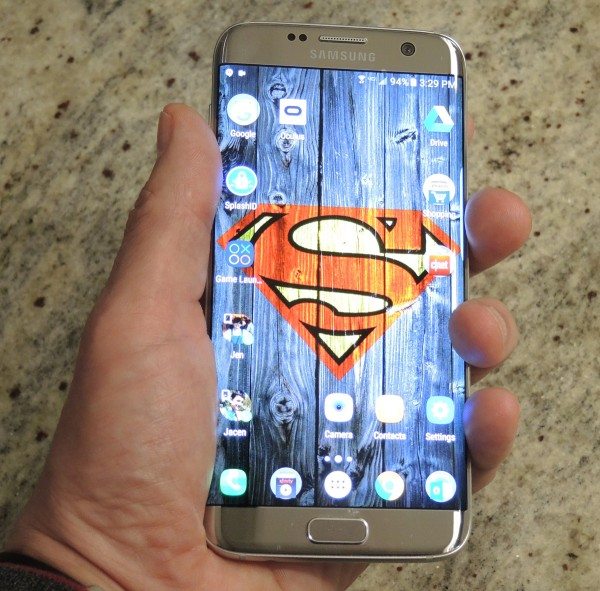 Dave: It is funny how the behind the scenes story actually goes: Julie wouldn't tell me what her biggest gripe about the Edge was until after I had the chance to try the phone. So in less than 24 hours of use, my first negative comment to her was how much I disliked when I held the phone it kept launching the icons along the right and left of the screen. Her initial response was only one word…EXACTLY. While I could probably get used to the Edge, I guess I would prefer to look forward to the inevitable Note 6 😉 .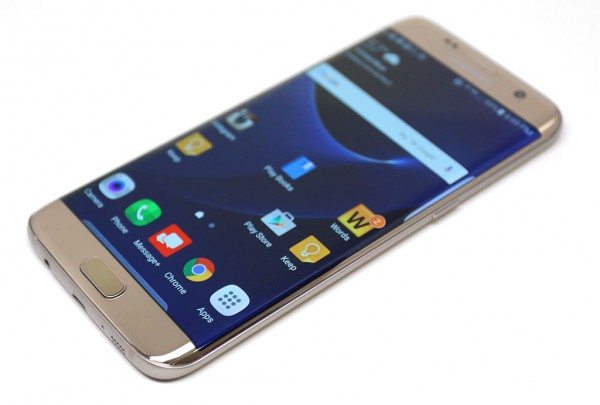 Julie: In order for the curved screen edge feature to be useful and not there only for the design aesthetics, Samsung added a slide out menu panel. See the white line that runs parallel with the right edge of the screen and the power button? When you slide that line / tab to the left with your thumb, it brings up a narrow panel on the right on the side of the screen.
Julie: The panel can be swiped left and right to rotate through up to 9 panels. There's an app launcher, task shortcuts, stocks, sports, events, weather, Milk music app controls, compass, favorite contacts list and news. There are even more panels available for download both free and for $1.50 each.
You can toggle panels off and on, change the order of the panels and customize the contents of each panel. I personally don't see a real advantage to using these panels when I can just as easily tap icons on the display like I always have.
Dave: I added my favorite apps and most used contacts to a couple of the slide out menus. I could see how if you embraced them, they could be a useful tool. But Julie is correct, you could do the same just using the normal Android interface with its icons and folders.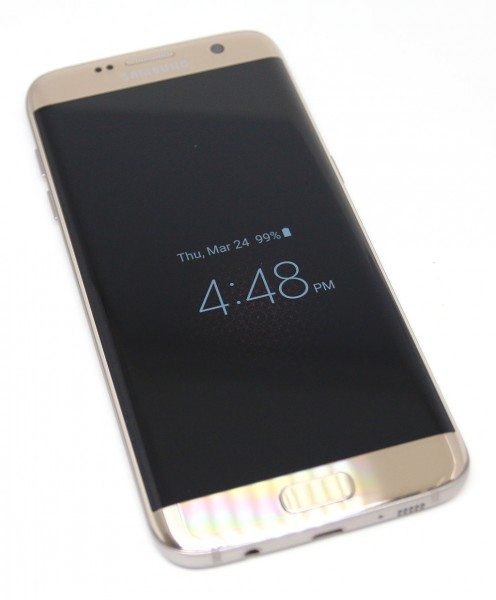 Julie: One my favorite features of the S7 is the always-on display (except when it's in your pocket) that can be customized to show the time, date, full month calendar, battery status or an image. Notifications like the number of unread text messages and missed calls will also show up on the screen. The best thing about this feature is that you don't have to do anything to have the clock popup. The Nexus 6P has this feature but you have to pick up the phone for it to display the time and that doesn't happen 100% of the time. Other brands like Motorola and LG have a similar feature, but you have to either tap the display or wave your hand over it. The S7's clock is always on. Simple.
Dave: I agree this is a great and convenient feature especially on the nightstand.
Julie: I do wish the always-on display could be customized to dim and/or be deactivated based on the time of day. If you use your phone as an alarm clock next to your bed like I do, it will light up the room a little bit.
Camera
Julie: Everyone always goes gah-gah over the iPhone's built in cameras, but I think Samsung's smartphone cameras are excellent in all lighting conditions. Here are a few sample pics:
Dave: The Edge's camera quality is the best I have ever used or seen…hands down, walking away.
Software
Dave: Overall, Samsung has reduced the bloatware and the overbearing nature of TouchWiz to some degree. The Edge's Android OS with its TouchWiz overlay are more than functional. But I would say the biggest drawback to non-Nexus smartphones is the delay or outright lack of OS upgrades into the future. One of the main reasons I purchased my Nexus 6p (and considered going back to the iPhone) was instantaneous updates. I hated the months and months it took for updates to make it through the manufacturer to the carrier to finally make it to my device. It is crazy in today's modern world that major updates should take a significant fraction of a year to make it to the end user.
Julie: I completely agree with you. It's why I also keep using the Nexus 6p. Every time a shiny new device catches my eye, I have to tell myself that the Nexus will get updates first. That quickly makes me reconsider any impulse purchase thoughts that go through my mind when new devices are announced.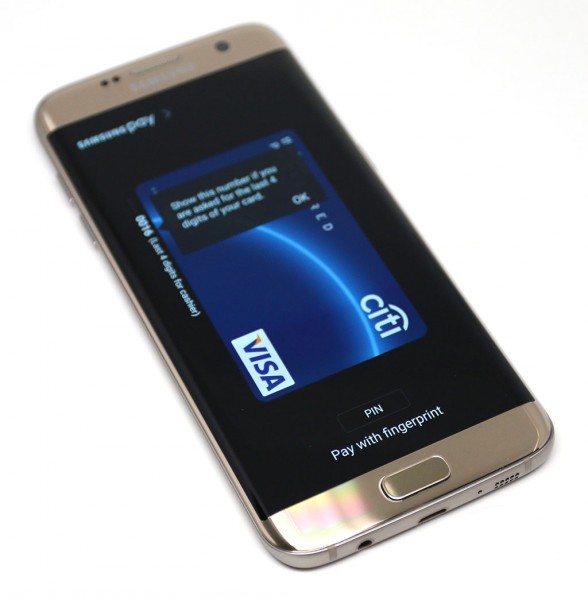 Julie: I was really excited to try Samsung Pay because I do my weekly grocery shopping at Walmart, where Android Pay doesn't work. Setting up Samsung Pay was a snap. I just entered my card info, added a fingerprint and was done. My first try using it was at a self-checkout kiosk at Walmart. I was a little concerned that it won't work because my credit card uses a chip and I've had to plug my card into the machine instead of just swiping it. I didn't know if that type of card meant that Samsung Pay wouldn't work there. But it did! I scanned my items and when it came time to pay I just swiped up on the S7's home button which launches the Samsung Pay, tapped my thumb on the scanner to verify my fingerprint and then tapped the back of the phone on the Walmart credit card scanner. The transaction it went right through. I was impressed.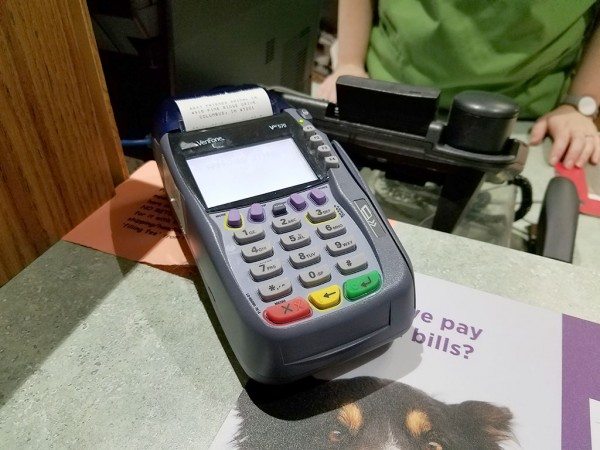 Julie: My next test was at my vet's office. I was sure it wouldn't work there because they use an old stand alone scanner (shown above), but I was surprised when it detected my card. It did ask me to verify the pin number which shows on the S7's screen and the screen of the scanner. This is not your normal card pin, but a pin number that the Samsung Pay app creates.
Dave: To be honest, I have not had the chance to play with Samsung Pay or for that matter, any of the smartphone pay services currently available…though it is on my to do list.
Julie: Samsung Pay is the nicest solution because it works pretty much everywhere…
Using the Samsung Galaxy S7 Edge for phone calls
Julie: I didn't have any complaints from people I talked to while testing the S7 Edge. Conversations on both sides calls were clear and with good volume levels. I also did not have any issues with dropped calls while testing this phone. Signal strength seemed to be no better or worse than other phones I use on the Verizon network in my area.
Dave: I agree, call quality was great on all fronts: handset, speakerphone, and via Bluetooth connection as well.
Overall performance and battery life using the Samsung Galaxy S7 Edge for day to day tasks
Julie: The S7 Edge battery has larger capacity than the S7 non-Edge version (3600mAh vs. 3000mAh). I guess it's due to the Edge's slightly larger display from the curved sides. Seems like Samsung could have added the same battery to the non-Edge version of the phone too though…
That said, I didn't have problems with the phone running out of juice before the end of the day with normal use. What about you?
Dave: On the average day, I made it through with plenty of battery life. But on those days I had my nose buried in my smartphone, I did appreciate S7's quick charge capabilities that would, with just 15 minutes, give me the boost to make it through the remainder of my day.
Final thoughts
Julie: My favorite S7 Edge features in order of my own personal importance are: wireless charging, Samsung Pay, gorgeous display, great camera and the micro SD card slot. But there's one thing that makes it easy for me to send this phone back to Verizon – the curved sides. I really really hate them. Using the phone has been frustrating for me because of the accidental taps and screen freezes. I'm sure the non-Edge version of this phone would be a much better experience for me.
Dave: The Galaxy S7 Edge is a very nice smartphone. It is built from high quality materials, well polished down to the finest detail, and packed with some of the best specs available under the hood. It was nice to have wireless charging and expandable memory back for awhile. Who knows I could probably even get use to the edge feature (aka accidental taps and screen freezes) if I had to. But over all it just felt/seemed so fragile and droppable. Add in its lag time on updates and I'll be passing on the Edge as well. That said, I know the 5.1 inch screen of the non-Edge version of the S7 would be too small for me. So, my Nexus 6p is fine for now and I'll just have to wait and see what new phablets are released this Fall.
Julie: The smaller screen size is a non-issue for me. I've swapped back and forth between the 6p and the S7 for the past couple of weeks and I could happily use the S7 because the display is so nice. When it's all said and done, I think Samsung's latest phone is currently their greatest phone as far as looks and features. Samsung is the current leader in high-end smartphones and I am looking forward to what their new Note devices will offer us.
Source: The samples for this review were provided as short term loaners from Verizon Wireless. Please visit their site for more info.

Product Information
Price:
$792.00
Manufacturer:
Samsung
Retailer:
Verizon Wireless
Pros:

micro SD card slot
Samsung Pay
Gorgeous display
Excellent camera

Cons:

Expensive
Massive delay for OS updates
Accidental screen taps from palm touching curved sides