We use affiliate links. If you buy something through the links on this page, we may earn a commission at no cost to you. Learn more.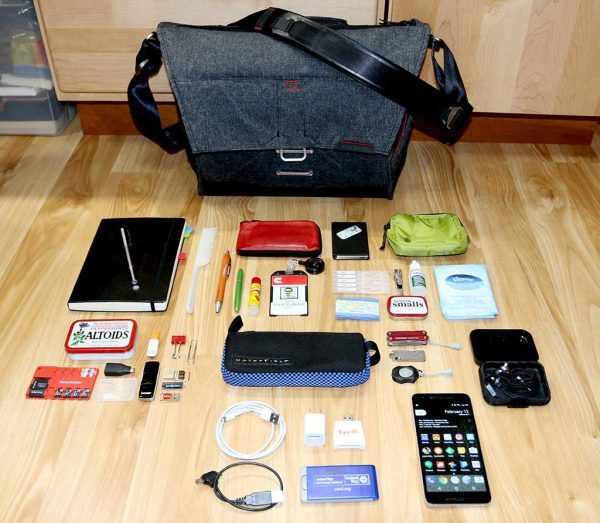 A few weeks ago I suggested that everyone on The Gadgeteer team should post an update to their EDC. We've already posted several updates (see related posts links at the bottom of the page) and now it's my turn. Click through to see a list of all the items that I carry with me to and from my day job every day.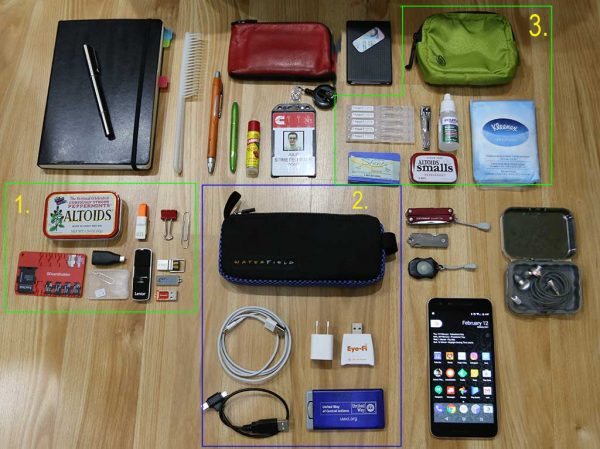 My current gear bag of choice is the Peak Designs Everyday Messenger bag. I really like this bag and have been carrying it for almost a year, but I am currently looking for a new bag because I like to change things up every year or two.
Leuchtturm1917 A5 notebook – I use a very simplified Bullet Journal style system to keep track of things I need to get done.
Big Idea Design Ti Arto pen – I love love love this pen because it will accept almost any refill that I try with it including my favorite Pilot G2 refill.
Comb, Uniball Jetstream backup pen, Fischer Space Pen that I put in my pocket if I know I'm going to be away from my desk for awhile, Carmex lip balm, Cummins employee badge.
Waterfield Designs Finn wallet – I use this one to hold case and cards that I rarely need. It lives in my bag. The wallet that I carry with me when I'm shopping is the Identity wallet. I like the Identity wallet because it's no bigger than a small stack of credit cards and fits easily into my pants pocket.
An old Altoids tin holds the following small tech bits:
microSD card holder – I love this little credit card sized holder because it keeps me from losing microSD cards
OTG adapter – I don't even use this anymore because my Nexus 6P doesn't have a micro USB port
Plastic holder with a SIM tray tool and a Tmobile SIM that's probably expired
mini binder clip and a large paper clip
USB Type-C OTG flash drive
Kingston USB microSD card reader
Lexar 64GB flash drive
micro USB cable
Waterfield zippered pouch holds a few larger tech bits:
Apple lightning cable
Apple USB adapter
Generic micro and mini USB cable
Screen cloth in a plastic holder
EyeFi SD card reader
Timbuk2 Dimebag pouch holds some health bits:
Kleenex
Artificial tears vials and bottle
Fingernail clippers
Small Altoids tin filled with Ibuprofen
Stevia sweetener packets
DUNU Titan 1 earbuds – I'm still searching for my favorite pair of wireless earbuds, but until I find them, these wired buds are my faves.
Leatherman Squirt – Everyone needs a multi-tool and this one is super small but has all the tools I need including scissors and pliers.
Quiet Carry Bandit knife – I either use the Leatherman or this little guy to cut open oranges for snacks at work.
Photon X-Light Micro – Keychain flashlight that's very bright for its size.
Not shown: I often carry my lunch in the bag along with snacks, a fork or spoon, Lifesavers, a folded up plastic grocery bag, and other random items.
Total weight as shown: 6 lbs.
Items I can remove: OTG adapter, extra (orange) micro USB cable or the mini/micro USB cable, lightning cable
Items I want to add: USB Type-C cable, wireless earbuds
Items I want to replace: The gear bag and my smartphone