We use affiliate links. If you buy something through the links on this page, we may earn a commission at no cost to you. Learn more.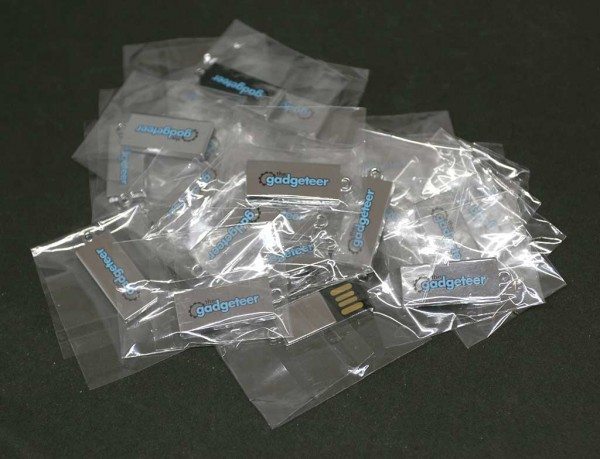 If you have ever attended a trade show, you have probably picked up more than a few freebie USB flash drives with various company's logos emblazoned on them. If you have your own company, club, event or group and have thought about buying a bulk order of flash drives with your own logo to use for giveaways, USB Memory Direct is a company to consider. They sent me some USB flash drives with the Gadgeteer logo printed on them so I could share what I thought about their service.
DON'T MISS: Leef iACCESS iOS microSD reader review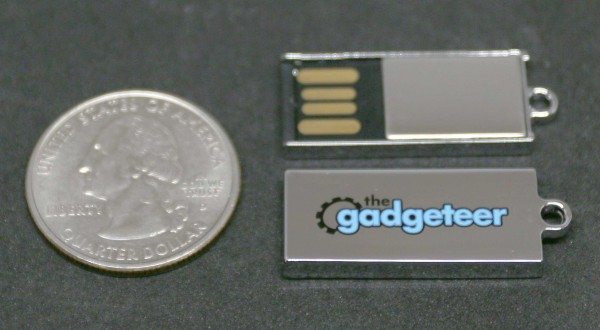 USB Memory Direct offers a large selection of USB drives to choose from. They let me choose the style I wanted and I went with the MM1 style that you see above.
It's a very small metal drive that comes in capacities as low as 256mb and as large as 64gb.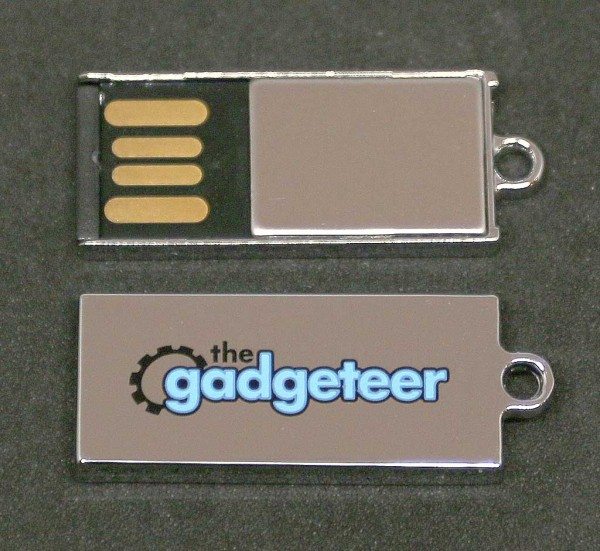 I picked this particular USB drive because it doesn't have a cap that you'll probably lose and it has a built-in loop that you can use to attach it to your keychain. USB Memory Direct has many different drive styles including drives made of wood or with leather.
I provided them with the Gadgeteer logo for the 4-color print and I have to say that the finished USB flash drive looks great. The logo is perfectly centered and sharp. The logo has a slightly raised feel but it's not a sticker and it won't scratch off. At least I wasn't able to scratch it off easily with my fingernail. Yes, I tried…
The flash drives that were sent to me were 8gb and were formatted as MS-DOS FAT. USB Memory Direct uses tier 1 memory chips and I had no problems copying data to and from the drives using my MacBook Pro or a Windows machine.
You're probably wondering how much it costs to get custom printed USB flash drives. An order of 25 drives of this specific style (MM1) and capacity (8gb) has a price of $225. That price includes the logo setup and shipping. Prices will be different depending on the style, quantity and capacity, so if you're interested in ordering from USB Memory Direct, you'll have to request a price quote which they send back within just a few minutes.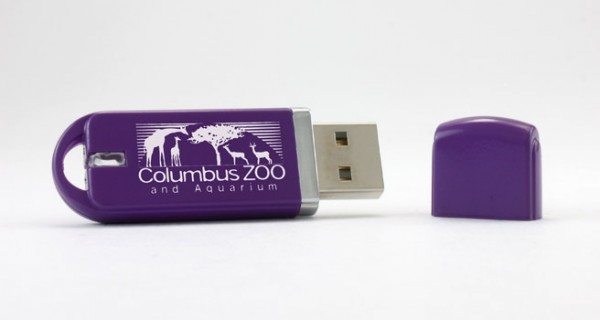 To give you an idea of the price difference when choosing a different drive style, an order for 25 plastic 8gb flash drives like the one shown above would cost $197.50.  I tried to check the prices of other companies offering custom printed flash drives but I was unable to find the exact same flash drive styles for a direct comparison. Similar drives resulted in relatively similar pricing.
I found USB Memory Direct's order process and final product to be better than I anticipated. I would happily recommend USB Memory Direct if you are interested in bulk  orders of USB flash drives with your logo or other custom artwork.
Source: The sample for this review was provided by USB Memory Direct. Please visit their site for more info.

Product Information
Price:
Varies depending on style, quality and memory capacity
Manufacturer:
USB Memory Direct
Pros:

Quick service
Free shipping
Excellent logo print quality
Nice selection of drive styles

Cons: