We use affiliate links. If you buy something through the links on this page, we may earn a commission at no cost to you. Learn more.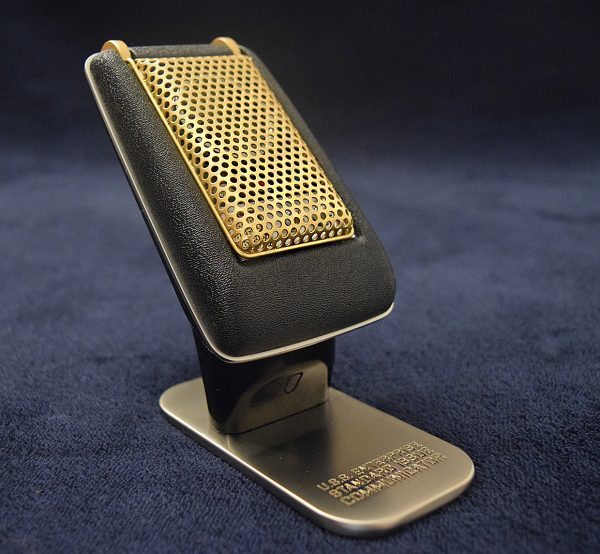 Imagine you're a member of the crew of the USS Enterprise. You are part of an elite away team, along with Captain Kirk, Mr. Spock, and for some unknown reason, Dr. McCoy. Aliens are attacking your team from all sides. You need suppressing fire power to rain down from above. What do you do? As this scene, or one similar, played out in my 9-year old imagination, I would always reach for and open my trusty Star Fleet Standard Issue Communicator. Unfortunately, the voices and commands were all imaginary as my Communicator was just a toy. Not any more!  43 years later, that "toy" has become reality with The Wand Company's Star Trek Bluetooth Communicator.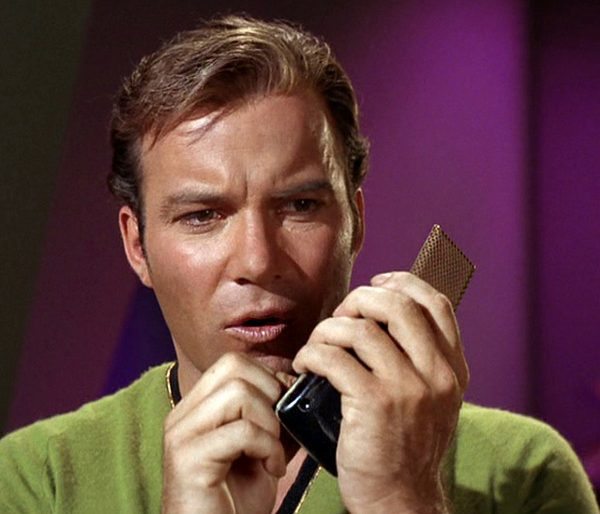 I caught the Star Trek fever after its original run from 1966-1969. I had many Star Trek toys, walkie talkie communicators, trading cards, and of course action figures. I went to Star Trek conventions as early as 12 years old. Star Trek has had a big impact on my life. I am a well-seasoned programmer, partly because of Star Trek. But that's another story for another time.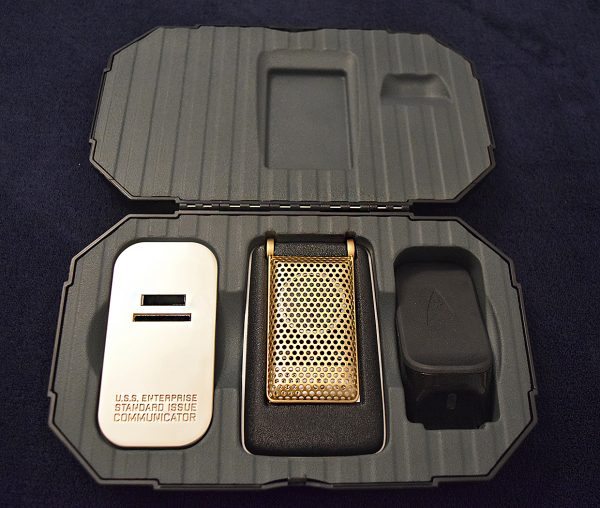 To this day, my love for Star Trek has not diminished. My favorite gadget from the show was what came to be the inspiration for the modern mobile phone, the Communicator. That cheesy little device allowed the crew to communicate with the ship and beyond. I always pretended to talk to distant ships and other worlds with my toy Communicators. Although today's mobile phones can do much more than most computers could in the 1960's, the Communicator was the one I always wanted to see come to life. Well, today that dream has come true. The Wand Company, a workshop of wizards from the United Kingdom, has brought a real, honest-to-goodness Communicator to the masses. These are the same geniuses that developed several museum quality TV and movie prop recreations, including Sonic screwdrivers from Doctor Who, an authentic Star Trek Phaser with TV remote control capabilities.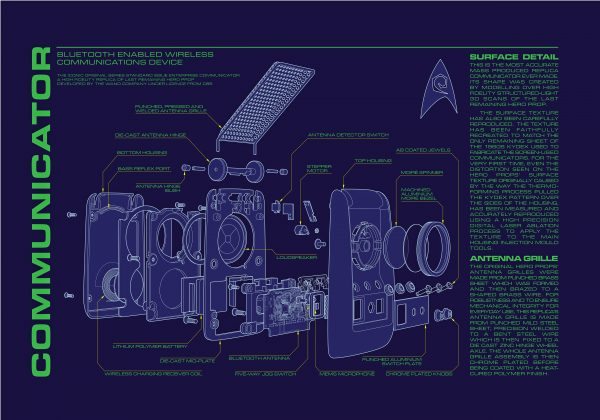 The Communicator that Wand has created with over two years of research and development, is an exact replica of one of the screen-used Communicators from the TV show. When I say exact, I mean it. Down to the millimeter. Each piece of this exquisite product was painfully researched, recreated, and assembled with the utmost care. The Wand Team have reached out to top Trek prop enthusiasts and collectors, as well as the website HeroComm.com to get their product as perfect as possible. You can assemble your own authentic Communicator from the parts lists and specifications from that website, but why would you? Communicator replicas on eBay go for hundreds, and sometimes thousands of dollars, and most of them are just for display purposes. Some toy Communicators include crudely recreated beeps and chirps from the TV show, but that's all they do. Wand's Communicator takes it to the next level.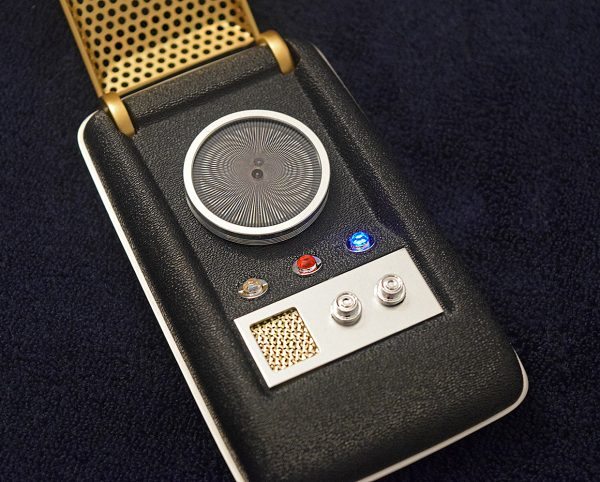 See it in action
With the Wand Communicator, you can actually communicate. Albeit communication requires pairing to a mobile phone, you can communicate through it. You see, The Wand Communicator has Bluetooth built in. After a very simple procedure of pairing the Communicator to your phone, you can perform any number of functions through your mobile device. You can initiate, answer, and terminate calls; listen to music like any Bluetooth enabled speaker, by skipping tracks, fast forwarding, etc. You perform most of these functions by invoking your mobile device's voice command mode. On the iPhone, you can accomplish anything Siri can do for you. Ask it to call someone, current weather conditions, create an appointment, send a text, etc. It can all be done through the Communicator. The Wand Communicator also plays the same familiar Communicator chirps and beeps, and any one of twenty different dialog clips from the show. Familiar voices from Mr. Spock, Dr. McCoy, Scotty, Sulu, and Uhura are all included.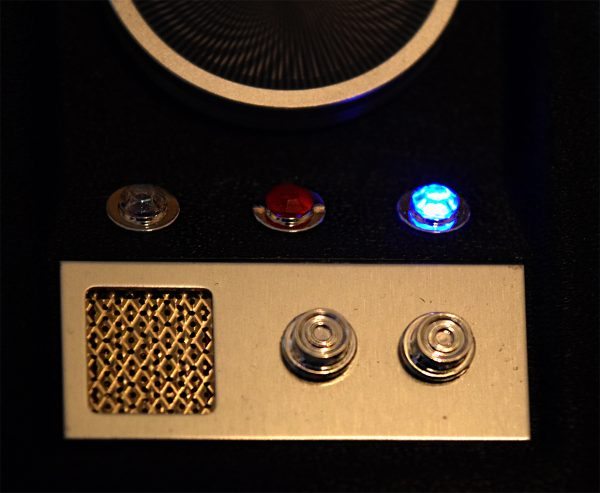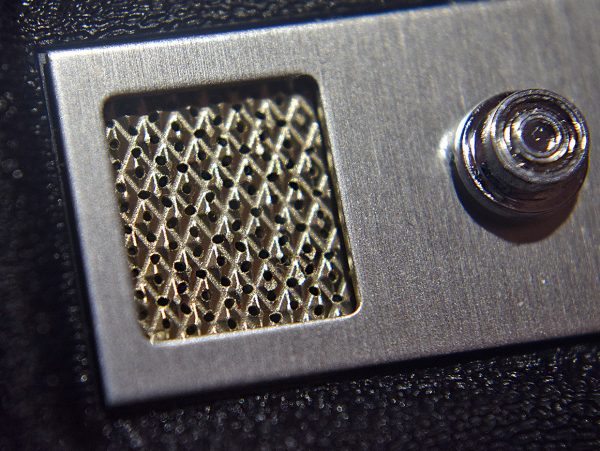 When I called someone via the Communicator, they had no idea I was using it until I told them. They said the call quality was just as if I was just talking on my phone itself. The speaker in the Communicator is quite loud, and clear enough for use in a room, or in your car. Outside, however, it could have been a little louder. For music, the speaker leaves a lot to be desired. It made me feel as if I was listening to music on a 1960's era transistor AM radio.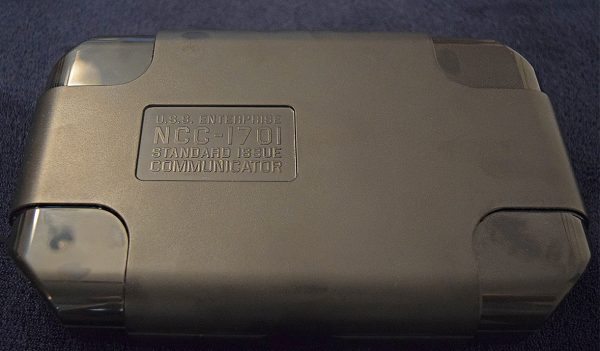 The Communicator includes an attractive stand/charger that holds the device with strong magnets, and displays the device as if it were in a museum. The stand hooks up to any USB port for power, and the Communicator charges while it sits on the stand, wirelessly. The stand has LEDs that indicate charging status. All of this comes packaged in a handsome plastic case, emblazoned with the words "USS Enterprise, NCC-1701, Standard Issue Communicator". The case is lined with soft cushiony foam for protecting the Communicator during shipping. Ample instructions are included, as well as a faux-leather pouch for protecting the device in your pocket. Although, it would have been nice for the pouch to have some sort of belt loops so you can totally geek out with the Communicator at the ready on your side as Captain Kirk always had his.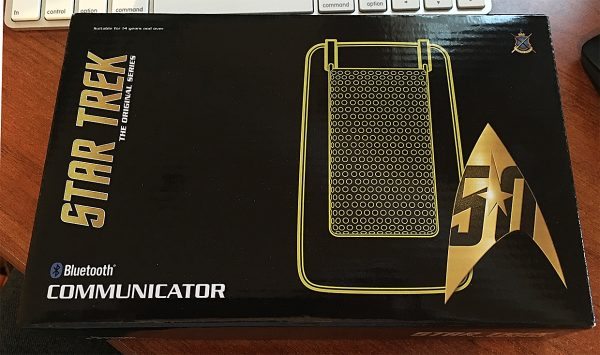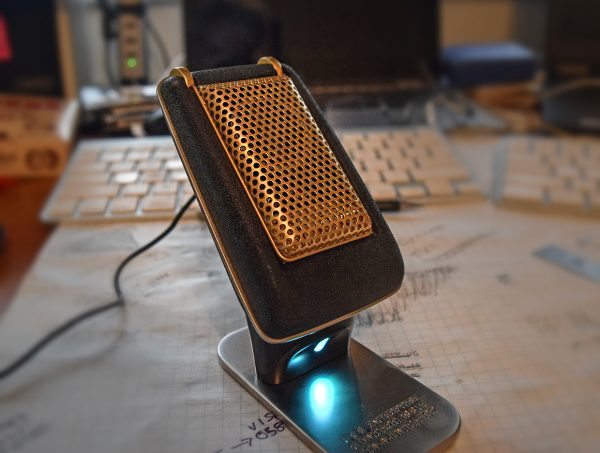 If you want to release your inner-Trekkie and have a capable Bluetooth extension to your mobile phone, then the Wand Company's Star Trek Bluetooth Communicator is for you. Beam one up today.
The Star Trek Bluetooth Communicator sells for $150 US and is available now.
Source: The sample for this review was purchased with my own funds. Please visit the Wand Company for more info and order at ThinkGeek.

Product Information
Price:
$149.99 US
Manufacturer:
The Wand Company
Retailer:
ThinkGeek
Pros:

Museum quality, extremely well manufactured
Great call quality
Easy to learn controls
Very faithful to the original Communicator prop

Cons:

Kind of expensive (but well worth it!)
Speaker is not good for music