We use affiliate links. If you buy something through the links on this page, we may earn a commission at no cost to you. Learn more.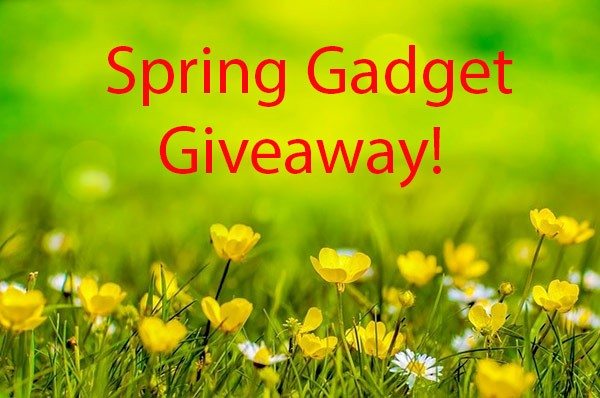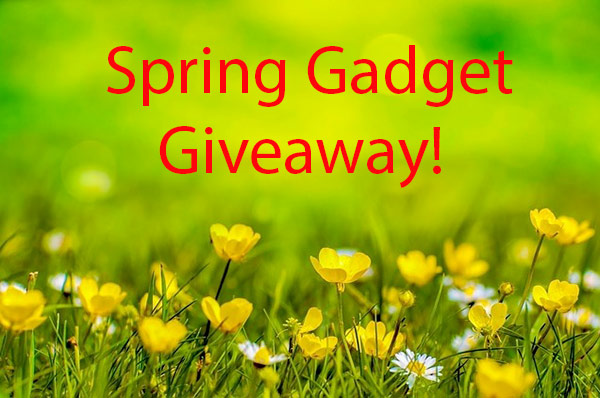 To celebrate the end of winter and the start of spring, we invite you to participate in the Gadgeteer's 2016 Spring gadget giveaway! One very lucky person will win a huge prize pack of 10 different prizes. So click through to read the details on each of the prizes and then submit your entry for a chance to win them!
Prizes:
1 person will win a prize pack consisting of 1 of each of the 10 products shown below: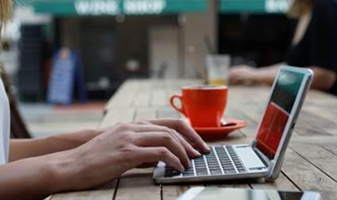 BrydgeMini
This is a premium, aluminum, keyboard with backlit keys & a hinge for 180 degrees of positioning to turn your iPad Mini into a tiny, sleek, and ultra-portable laptop. This keyboard is ideal for an on-the-go business person or student who does not want the bulk, extra weight, and inconvenience of bringing a laptop to travel or to class. It is available in three colors to perfectly match your iPad Mini.
Price: $129.99
Website: www.brydgekeyboards.com/products/brydgemini?variant=7753018625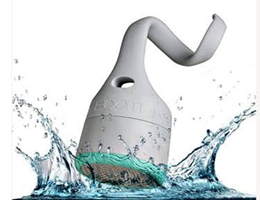 Polk Boom Swimmer Jr.

The Swimmer Jr. by Polk BOOM is perfect for music on-the-go. It is an ultra-rugged Bluetooth speaker that is both water and shock proof. It boasts an 8 hour battery life and includes a flexible "tail" that can be wrapped, looped or hung from any object such as a belt loop, backpack, bike handlebar, etc. The Swimmer Jr is the foolproof, go-anywhere companion, ensuring you'll have the perfect soundtrack to narrate your outdoor adventures. The speaker is available in three colors on target.com and on the Polk Website.
Price: $39.99
Website: www.polkaudio.com/swimmer-jr/d/1256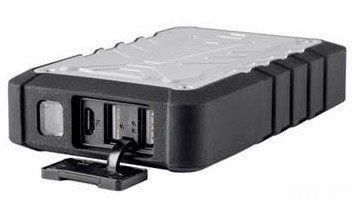 Monoprice  10,050 mAh Power Bank

For thrill seekers, they can keep devices powered while exploring in gritty or damp environments with these tough-as-nails IP65 rated Rugged Power Banks. The sealed case protects the battery from dust and driving rain, and the USB port cover preserves battery function in harsh conditions. Durable materials and heavyweight construction provides long-lasting, worry-free power.
Price: $29.99
Website: www.monoprice.com/product?c_id=108&cp_id=10852&cs_id=1085202&p_id=14576&seq=1&format=2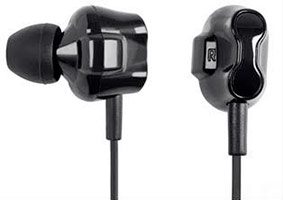 Monoprice Dual driver earbuds

You won't find dual driver buds at this price point. Each earpiece contains two 6 mm speakers guaranteed to deliver deep bass and immersive sound at high and low frequencies. The cable sleeve is made of high tensile strength and bend-resistant materials for durability and flexibility, and includes and in-line mic and controls.
Price: $19.99
Website: www.monoprice.com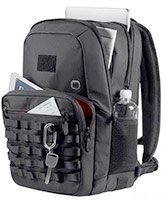 Monoprice Medium Tactical Backpack
This simple, classic style backpack is the perfect tote for short and long hauls. Rather than divide the storage space into multiple small, specialized compartments, it features a single, large compartment, which gives you the flexibility to carry all of your gear. Fill it with books and a 16" notebook computer before going to class, then swap in a change of clothes before heading to the gym. Two exterior front pockets provide storage for pens, keys, and other small items, as well as a small tablet, such as an iPad mini™ or Kindle Fire™. The elastic side pockets are ideal for a water bottle or a can of your favorite energy drink.
Price: $29.99
Website: www.monoprice.com/product?p_id=14340

Bracketron: Earth Elements Si Dash Mount
Attaches directly to most hard and textured surfaces for effortless hands-free driving. Simply adhere the Mounting Plates to the back of your device or inside back of your case. Device effortlessly clicks onto mount for safe driving. The 3M adhesive will ensure the plates stay securely attached to your phone. Integrated cord management for charging cables to keep them out of the way. Collapsible and adjustable support feet help keep your phone securely mounted. Perfect for travel and added support for larger phablet-style phones.
Price: $39.95
Website: bracketron.com

808 Audio: Hex TL
Precision tuned dual-speaker system with bass resonator for huge sound
Hex TL offers a balanced response from a full-frequency driver and thumping bass from a rear bass resonator
Listen to rich, detailed, room-filling audio via Bluetooth from up to 30 feet
Features 3.5mm input for playing wired devices
Two power options: listen continuously using the included AC adapter, or use eight AA batteries for up to 12 hours of wireless listening
808 Audio was born from expression, so whatever your taste is, hear music like it was meant to be heard
Available in black and white
Price: $79.99
Website: www.808audio.com

808 Audio: Canz
Ultra-portable Bluetooth speaker provides BIG sound in a small package
Listen to your music for up to 6 hours on a rechargeable internal battery
Mobile speaker connects to any Bluetooth enabled device for crisp, clear sound
Streams music from up to 30 feet away with 3.5mm input for multiple connecting options
Ultra-portable design with non-slip bottom
Available in blue, white, red, black and purple
Price: $34.99
Website: www.808audio.com

Hercules: DJControl Glow
Affordable DJ controller with built-in lighting effects for the budding disc-jockey
First DJ controller with built-in lighting effects to make the deck glow bright, neon green
Perfect for beginners or casual DJs learning to hone their skills
Features two decks, central mixer, dual jog wheels, a cross-fader and two volume faders
Personalize your mix and store for later using the EQ buttons, adding effects, loops and saving as an audio track to share with friends
Weighing just over 2lbs. and measuring 7.5×10.4 inches, its portable to carry nearly anywhere
All you need is a PC or Mac with a USB port to connect the controller, a pair of speakers and audio files to begin mixing and scratching
Price: $79.99
Website: www.hercules.com

Hercules: WAE Outdoor 04Plus Pack Bluetooth Wireless Speaker
Ideal Ruggedized Speaker for Extreme Sports – BMX & Skateboarding
Ruggedized speaker is perfect for BMX and Skateboarding Crowd that use music to pump them up
IP66 Certified means it is totally protected against sand, mud and even the finest dust particles as well as high-pressure water jets and snow
Features a rugged design, solid rubber end-pieces, protective metal grille, and reinforced access cover for its connectors to ensure excellent shock-resistance, as well as protection against extreme outdoor use conditions
Accessories pack includes a bike mount and an exclusive backpack attachment
Features a standard-size screw thread, allowing users to attach it to the included accessories or to any other ¼" attachment device
Built-in battery provides 12 hours of battery life, while 0.6 lbs. weight makes it easily portable
Inspired by skatewear fashion, two new exclusive colors available are charcoal and light camel
Price: $89.99
Website: www.hercules.com/us/wireless-audio/bdd/p/252/wae-outdoor-04plus-pack
How to enter (please read carefully – any missed steps and your entry will be disqualified):
1. Between now and 03/15/2016 midnight EST leave a comment on this page with any good or bad comments you have about The Gadgeteer. Ideas for improvement, product reviews you'd like to read, etc.
Get a 2nd bonus entry by tweeting:
Celebrate spring and win a giant prize pack of 10 gadgets from @thegadgeteer http://wp.me/p3LRkH-OK7
Get a 3rd bonus entry by linking to The Gadgeteer on Facebook.
Make sure you come back to this page and leave a separate 2nd and 3rd comment with a link to your tweet and / or Facebook post. To get the links for Twitter and Facebook, just click the time stamp of your post and it will give you the page with that post so you can grab the link.
2. At some point on 03/16/2016, I'll pick 1 random winner using random.org. The winner will be contacted by email and will have 48 hrs to claim their prizes. If I do not receive an answer to my emails in that time period, I'll do other random.org drawings till the prizes are gone.
Rules:
1. Only one entry per person (warning: I check IP addresses).
2. Gadgeteer writers and family members may not enter this contest.
3. the-gadgeteer.com is not responsible for any lost packages or incorrect shipping addresses.
4. the-gadgeteer.com is not responsible for the winner not accepting their prize offer within 48hrs. The winner will be posted on this contest page, in the contest page comment section and will be emailed. Check your spam folder.
5. Winner must have a US shipping address.
Update 3/16/16:
The winner is comment #47 Congrats to Chris!
Thank you to everyone who entered, I'll be reading the comments and hope to act on any requests or ideas mentioned.
Thank you to all the sponsors!
This contest is now closed…