We use affiliate links. If you buy something through the links on this page, we may earn a commission at no cost to you. Learn more.
Product Requirements:
Device:
PC running Windows 98/Me/2000/XP
One free USB port
Julie's comments are in BLACK, Judie's are in
italicized BLUE
Hey Sony, you better be watching your back, because there's a new kid on the
block and he's come ready to play. Or maybe I should say that he's come to
go. do. and play.  At least that is the motto that
Tapwave has selected for their company. This Silicon Valley
startup was founded in 2001, and is now the most talked about new Palm OS
licensee on the planet due to their much anticipated Zodiac handheld. Sorry Sony…
Not just sorry Sony, but sorry just about everyone
else, too! Tapwave has created a device with a laundry list of specs that puts
just about every other PDA or gaming device available to shame. Not bad for
their first product…
Tapwave is billing the Zodiac as the first true mobile entertainment console.
With a gorgeous 3.8in color display, ATI graphics accelerator, Yamaha sound
system, analog controls,
128mb of RAM, and 2 SD card slots, it is primed to be a real kick ass gamer's
device.  But let's not forget that this device is not just a game machine.
It is also a PDA. A Palm OS version 5.2.6 PDA to be exact. And with a gorgeous
3.8in color display, 128mb of RAM, Bluetooth, 1540mAh battery, and 2 SD card
slots, it is primed to be a real kick ass PDA. But can it be both a great
handheld game system and a great PDA at the same time?
Well why not? People have long used their PDAs to
play games. Admittedly, some were better suited for it than others. But to
get a machine that someone designed with gaming in mind, plus all the benefits
of an OS that so many are already familiar with…well unless someone totally flubbed
up the formula, I didn't see how such a device could fail.
I entered into this whole Tapwave Zodiac experience as a major skeptic. Judie
and I even had a little argument / debate with each other concerning how we each
thought this new PDA would fare.
It never got bad enough that bystanders were calling
"catfight!" or anything like that, tho…
While I came into this with the thinking that the Zodiac would never get a
foothold in Nintendo's Game Boy turf, Judie was ready to go out and buy stock in
Tapwave before she even received her unit.
My exact words to Julie were that based on the
published preliminary specifications,  unless Tapwave released the Helix
(as it was called at the time) in purple plastic, then I didn't see how it would
fail. As we all know now, they didn't release it in any color of plastic – they
went with a metal case, so I still stand by my original statement.
☺
Okay, I'm exaggerating about Judie's enthusiasm just a touch… In my defense
though, while I was excited about getting my hands on one to play with (we
are The
Gadgeteers after all!), my main concern was with the Zodiac's very game-like body
style. To me it looks like a souped up Game Boy Advance that teens would drool over,
but not a PDA that Joe
Corporate would be comfortable whipping out in a meeting.
See, I have to disagree with you there. Since the
case is black metal and the joystick doesn't exactly look like the one I used to
have on my Atari, or any other game console for that matter, I think that it can pass. As I stated in one of our Bulletin
Board threads, if you are in a meeting and you pull the Zod out and start taking
notes on it, no one is going to say, "what are you doing with that gaming
device?" But let's be realistic…if you pull it out and beeps, blips, and the
theme music to Stuntcar Extreme ensues – along with a rumble effect and a
shout of "woo-hoo!" thrown in for good measure, then you might find yourself in
the unemployment line. It's all relative!
Judie and I were both in New York the day that the Tapwave site began
allowing pre-orders.
September 17, early morning…I remember it well.
We each placed our Zodiac2 orders within minutes of each other and then began
the long wait for the actual shipping to begin.
When you add in the long wait that we had
already endured before Tapwave even began taking pre-orders, you can understand
the sense of relief we felt just to be allowed to place the order!
Luckily we were in the group that received the first batch of shipping units.
Now after we've each had a good week of hands on Zodiac experience, we're ready
to share our thoughts on this new device.
Is the Zodiac the "end all be all" of PDA gaming
devices, or will it go the way of the
Bandai
WonderSwan, Atari Lynx,
Sega
Game Gear, NEC
Turbo Express,
SNK Neo Geo
Pocket,
Sega
Nomad, to name a few…and dare I add, the

Nokia N-Gage? We shall see…
Hardware Specifications
Processor: Motorola� i.MX1� ARM9 processor (200 MHz)
Memory: Zodiac1 = 32MB, Zodiac2 = 128MB (12MB reserved for system use)
Graphics Accelerator: ATI� Imageon� W4200 graphics accelerator (with 8MB
dedicated SDRAM).
Display: 3.8 inch transflective display, 480 x 320 (half VGA), 16-bit color
backlit display (65,536 colors)
Sound: Yamaha� audio components and stereo speakers, standard 3.5mm stereo
headphone plug, Earbud-style headphones included
Interface: USB (for HotSync� operation), Infrared, Bluetooth�
Expansion: Dual expansion slots for MultiMediaCards, Secure Digital (SD) and
SDIO cards
Battery: High-capacity Rechargeable Lithium Batteries � 1540 mAh
Power Supply:  AC Adapter / Battery Charger (120 volt AC, 60 Hz),
International connectivity kit (sold separately)
Size/Weight: 5.6� (143mm) x 3.1� (79mm) x .55� (14mm) / 6.3 ounces
Is it any wonder, after reading all of these specs,
that I was so eager to get my hands on the Zodiac2? I know that there will be
those that are advocates for the 32MB version, but to get a 128MB (116MB
actually user-available) PDA, with no off the wall memory restrictions (like the
Sony CLI� UX50) – how could I
resist? As a matter of fact, keep the UX50 in mind, because many of the things I
liked about that PDA, with the obvious exception of a built in keyboard and
WiFi) have been included and improved upon in the Zodiac.
Yeah, 32mb may be fine for some, but for me it's just too puny, even with the
2 SD slots. If you're going to do it, do it big I always say!
Impressions:
Included in the Zodiac's packaging is the Zodiac mobile entertainment console,
USB Sync cable, Power adapter, Stylus, Earbud headphones, Zodiac wrist strap,
Flip cover, Getting Started guide, CD-ROM with Palm Desktop Software with
Tapwave custom extensions, Zodiac User Guide, and Bonus Software.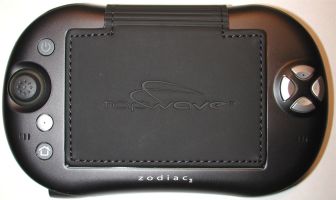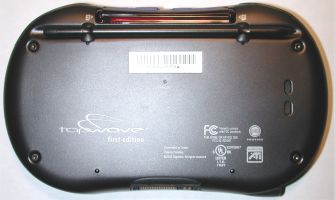 There aren't a lot of frills, opening the Zodiac's
(or the Zod as Julie and I have begun calling it) box. After releasing the box's
flip lid, you are rewarded with your first view of a real live Zod…and as
impressive as it looks in its simplicity, it isn't until you pull it out and
feel the smooth black metal case that you really start to understand that you
are holding something special, something groundbreaking.
I'm not sure that I heard the angels sing like you did upon first seeing this
device, but I did appreciate the feeling of quality that the unit gave me when I
first handled it. Performing our requisite squeeze test yielded no case flexing
whatsoever, and shaking the unit revealed no rattles. The Zod is a very solid
device and at 6.3 ounces, it is one of the heavier PDAs on the market. Size
wise, it is not very pocketable unless you are a cargo pants type of person. I
personally tend to put my PDA in my back jeans pocket while I'm walking around
the building at my day job. I would not feel comfortable doing this with the
Zod.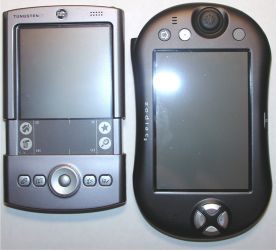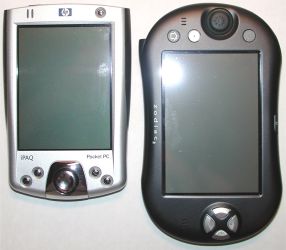 Left to right: Tungsten|T, Zodiac, HP2215, Zodiac
With a few notable exceptions (like my beloved and
long gone

HP 95-LX), the majority of the PDAs I have used over the years have been
portrait-mode oriented. Once I accepted that this is a landscape oriented PDA
and that with time I would and did get used to its unusual layout, then the
buttons on either side of the screen made sense.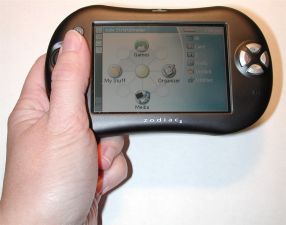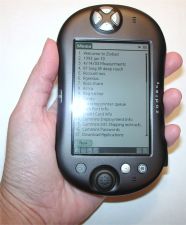 For me, I've yet to really get used to it. Portrait oriented PDAs have been
the norm for so long, that the Zod just feels unnatural to me. This orientation
also drives home the point, that this is more of a game machine, than a PDA.
Although the screen can be easily rotated in most applications, it is evident that landscape mode is the preferred mode for this device. It's the only
mode that the built in application launcher will run in. For PDA functions, I
don't find the Zod as comfortable to hold and use in portrait mode as I do my
HP2215. In this orientation, the device is slightly wider than what I'm used to.
Holding the device in landscape mode feels even less comfortable to me. I
sometimes feel like I could easily drop it. That being said, holding the unit
between my two hands for game playing feels very natural and comfortable.
The front of the Zod houses the 3.32" wide by 2.26"
tall screen. This is exactly the same size as my

CLI� NZ90's, which to me was a very large point in the Zod's favor.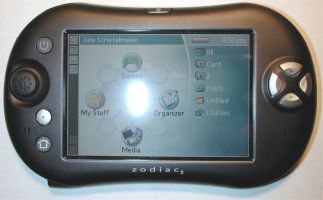 The Zod's screen is brilliant, beautiful, and easily
one of the clearest I have seen on a PDA. The 480×320 resolution is shown here
in all its glory. I can't tell you how nice it is to have this screen, in this
size on a PDA without having to accept a bulk-adding built-in keyboard that I
will never use as part of the deal. As an added bonus, there wasn't a single
dead pixel on my screen!
I agree that this screen is just gorgeous! Colors are rich and text is crisp.
Reading e-books on this baby is a delight to my eyes. Having the extra real
estate that this screen provides means more information that can be displayed on
each page. As far as the digitizer is concerned, writing on the display with a
stylus is easy and comfortable. The display is not spongy or rough. It is as smooth
as glass.
On the left side of the screen, in descending order
are: the Power button with charging status LED backlighting, the "Analog
Controller" (joystick), the Function button, the left speaker and the Home
button.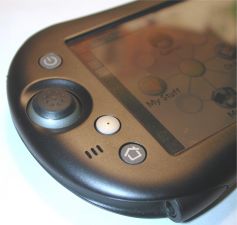 The Power LED glows orange when charging and green
when charged. If you allow your Zod's battery to get low, as I did while testing
it yesterday, you will see a steady orange blinking.
I love the changing colors for the LED! Besides just looking cool, you always
know the charging status. The Power and Home buttons are small and completely
flat. My Power button seems to have less tactile feedback than my Home button.
Mine is the same way, so it must be the way it was
designed.
The joystick is, simply put, the finest I have ever
used on a PDA. It is a true 8-direction with a center push. Topped with rubber
padding, it is easy to control, feels good under the thumb, and is better than
any other D-Pad or joy-pad on any other PDA I have ever owned; bar none.
I agree that it is nice and easy to use. That said, it might be nice if there
was a way to slow down the speed in the launcher application as just pressing it
in the direction of an application will launch that app, whether that is what
you had intended or not.
Right. There is no way to scroll through the choices
and pick one (perhaps by hitting the center of the joystick). Instead, there
are eight choices on the launcher, laid out in the eight directions the
joystick will go, like the spokes of a wheel. Whichever direction you choose
will open the corresponding application or folder. When in a sub-folder, tapping
the joysticks center will activate the middle button of the launcher, the hub,
if you will. Even though this makes for efficient one-handed operation after you
get the hang of it, I don't use this feature very much. I guess I like tapping
on the screen too much. ☺
The Function button is pretty much worthless, except
when playing games, and the Home button will always bring you back to the main
Launcher's home screen.
The Home button will also power the device on and open into the launcher
view.
The Zodiac's right side has the four separate
directional action buttons and the right speaker.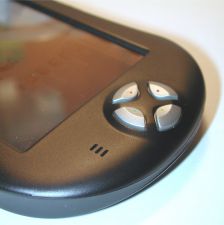 Using the built-in launcher, these four buttons are
re-mappable to any application or function stored in the main RAM of the PDA.
This includes functions like HotSync and features like Prefs. Unfortunately,
these buttons will only launch the programmed applications when you are in the
Launcher view, which may not seem like a big deal, but it feels like a major
oversight when you want to launch something from an open application.
These four buttons totally annoyed me during the review period. I mapped mine
to the 4 main PIM apps: Contacts, Calendar, Memo Pad and To Do. Like Judie said,
these applications only launch when you press them in the launcher view.
Otherwise, the North and South buttons function as page up and page down and the
East and West buttons do anything. I would really like to have a setting where
these buttons could work as application buttons in all apps but games. I
guess I don't understand why these buttons need to be set to move up and down in
a page, when the joystick already does that. They also do not power the device
on when pressed.
The stereo speakers sound surprisingly good.  Having
them on the front of the PDA is probably a big part of that, as is the name
brand quality of the components.
I was also surprised at the how well music sounds while played through the
speakers at maximum volume. The Zodiac can also function as a capable alarm
clock given the loud volume.
The top of the Zod, if you were looking at it as it
is shown in the following picture, houses the right trigger button (which
because of this view is now on the left), SD/SDIO expansion slot, the Bluetooth
button with blue LED indicator, the non-SDIO SD expansion slot, and the left
trigger button (which is now on the right).

Both trigger buttons were placed with gaming in
mind, but the right button serves a function near and dear to my heart – it
allows you to advance a page when using
Palm Reader. Unfortunately, the left trigger button does not do anything,
much less allow you to go back a page, but since the joystick and the four way
directional buttons allow that, this isn't a deal-breaker.
These shoulder buttons are a direct 'rip off' from the Game Boy Advance and
Advance SP. We really need a pinball game! But without a way to remap these
buttons, they won't see a lot of use in non gaming applications.
I was a little bit surprised that there were no
plastic "slugs" in the SD slots. While this is no big deal, it just seemed odd
that they weren't included. The left SD slot is designated as One, while the
SDIO enabled right slot is designated as Two. I love having dual SD slots –
absolutely love it! I can now designate one SD card for programs and use the
second for nothing but music.
I find it interesting to note that only one of the slots is an SDIO slot. I'm
wondering if this is due to a hardware limitation? I can foresee a need and / or
want for two SDIO peripherals to be in use at the same time. For example, an SD
camera and an SD WiFi card.
Bluetooth is activated by pressing the BT button.
When pressed, a message will appear on screen that says "Discoverable for 3
minutes," along with a four note tone. Pressing the BT button again turns the
function off with another four note tone.
<sniff> I wish the Zod had included WiFi instead of Bluetooth… Surfing the
web wirelessly would be great on this device! I
completely agree! While I understand that Tapwave was thinking of networking
game players, I wish they could have thrown in the WiFi module, too…or instead
of! Ah well, that's the beauty of the SDIO slot, I guess… <sigh>
The bottom holds the stereo headphone jack and the
HotSync/charging port.
I've got good news and bad news concerning the audio quality through
headphones. The good news is that the Yamaha sound system used in this device is
freaking awesome! I dare say that MP3s sound better on the Zodiac through headphones
than they do on my iPod! Ack, did I really say that?! The bad news is that while
listening to music through the built in music player, I could detect some
clicking and static type noises every so often in some of my songs. As a better test, I installed
the included trial version of AeroPlayer. These sounds seemed to go away while
using this
player… but, I prefer the sound quality of the built in application. <sigh>
I'll be curious to see if anyone else has this same trouble.
In the beginning, when the Zod was still being
called the Helix, there was talk that the sync and charge port would use the Palm
Universal Connector. What a coup it would have been, had it just been so…but
alas…
The good news is that if you want to add a keyboard,
the new

Targus infrared keyboard will work nicely, and Tapwave has even provided the
drivers to
expedite this.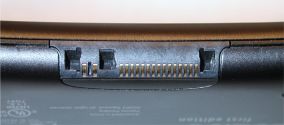 The bad news is that all the other accessories, chargers, cables, etc that
used the Universal Connector are not compatible with the Zod. I find it disappointing but typical that the Universal Connector was dumped
in favor of something proprietary. I do like that the cable can be separated
into both syncing and powering components. This makes traveling light easier as
you can just pack the USB part of the cable and not the AC adapter part.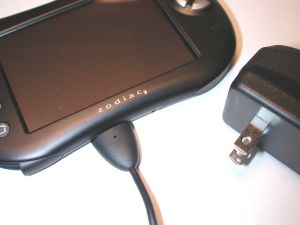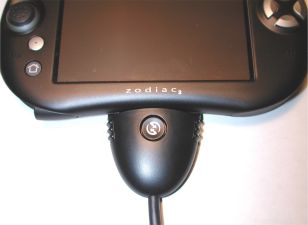 Left to right: charger cable plugged in by itself, hotsync
cable plugged in
The back of the Zod features the clips for attaching
the screen protection flap and the dual clips for holding the stylus. The screen cover is much cheesier than I had
expected,
and other than the nicely designed Tapwave logo gracing it's front, it has
little going for it. The good news is that it is easily removable. The bad news
is that until there are some nice cases available, you might need to keep that
flap in place.
After 5 minutes, I pulled the flip cover off my device and threw it back in the
box. What Tapwave should have done was to create a foldable hard cover like the
good old Apple Message Pad 2000!
The stylus itself is not too bad. It's a simple
smooth stick with indentions where it clips into the holders. I think it is a
metal shaft with plastic ends, and it feels pretty good when being held. That's not to say that I won't be
keeping my eye out for after-market versions, though!
The problem is the way that the stylus is clipped
onto the back of the Zod. Due to the two iffy clips, the stylus is not
super-secure. As if that weren't enough, since the tip of the stylus is always
exposed, I wouldn't even dream of using the Zod without adequate screen
protection.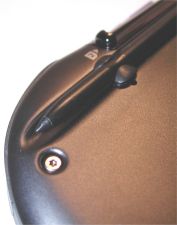 I don't care for the location or method of stylus attachment at all. You have
to practically pry it out of the clips with your fingernail. Doing this on the
stylus tip side can be a big no no as it is easy to damage the tip. Also, the
stylus does not include a reset pin. If your Zod crashes, you'll be hunting
around for a paperclip.
Well, actually, it is easy to disengage the stylus
by pressing on either of its ends. Like a fulcrum and pendulum it will pop out
of the clip on the other side. I can also vouch for the tip of the stock
stylus, as I have had to do a couple resets already. It works fine, but the tips
of all the other larger styli that I keep on my desk won't.
Neither model Zodiac ships with a cradle, instead,
they come with a sync/charge cable. While this will be great for traveling, I
would prefer a cradle when I am sitting at my desk, so I broke down and spent
the $20 to order one. The good news was that this was a very reasonably priced
cradle. The bad news is that it was back-ordered, so I have no idea when I will
actually get it.
It seems pretty lame to me that the $399 model did not include a cradle. I
mean, they are only selling it for $20, so it couldn't have been that much of an
expense to include it. I could not agree more!
The connector on the cable leaves a bit to be
desired. It seems as if the slightest jiggle will dislodge it.
While I've not noticed that with the HotSync connector, I have when just
using the power part of the cable. One time I noticed that when I plugged in the
charger cable, that the power LED would not light up at all. It took several
times of plugging and unplugging the cable, before it began working again.
Now that you mention it, I suppose that is the case.
I haven't had a single broken HotSync, but I do notice the broken connection
when I am charging the Zod. In-ter-es-ting…
Infrared range seems to be acceptable. I was
able to beam and receive programs between the NZ90 and the Zod from no greater
distance than 2 feet.  I don't foresee a second life as a TV remote
control in the Zod's future.
I found the best range I could get to be 3.5 feet, so it's okay, but
not as a remote.
One of the cooler features of the Zodiac is that
Tapwave took the vibrating alarm that some Palms have been offering, and they
integrated it into Tapwave specific games as a rumble effect. Even though I knew
it was coming, I still got a bit of a jolt when I was playing Stunt Car Racer
and after I made a jump, the Zod rumbled as I landed!
I agree that this is a great gee-whiz feature. Everyone that I've allowed to
demo the stunt car game has been very surprised when they felt the Zodiac start
to vibrate. I've never really thought that rumble effects could contribute that
much to game play. I'll admit that I was wrong after playing Stunt Car Racer and
another fun game: Kickoo's Breakout. Fun stuff!
I did a non-scientific battery test yesterday, just
to see what kind of battery life I could expect from the Zodiac. Starting at
9:20 am, I unplugged the power portion of my sync/charge cable, and I went
without fresh juice for the remainder of the day. I listened to MP3s for a
while, did my usual Date Book/Contacts lookup and add-to routines, played some
games, consulted a few spreadsheets and documents, and at the end of the day
finally settled onto the couch to read for a couple of hours. It wasn't until
11:20 pm, and right in the middle of the climax of my book I might add, that the
low battery warning first appeared and the afore mentioned orange blinking LED
light routine began. Ordinarily, I would never allow my battery to get so low,
so hopefully that will be the last time that that happens.
As a handheld gaming device, battery life is key. No one wants to get a low
battery warning in the middle of some hard core gaming. That's why the large
capacity battery in the Zod is a major asset. I believe that the battery has the
largest capacity of any Palm OS PDA to date. I could be wrong though. So far, it's been better than my Tungsten|T and my HP2215 at lasting all day.
I agree.
Overall, I think that the Zod's system speed is
pretty zippy. Even though the included launcher is a bit clunky, it isn't as if
I had to sit here and stare at an hourglass or anything of the sort as any
applications launched. I would compare basic operating speeds to the NZ90, but
when playing Tapwave specific games, there is no comparison. The games roll
smoothly and refresh immediately. I guess that the Graphics Accelerator is
responsible for that.
I also have no complaints with system performance. I guess it's safe to say
that most PDAs on the market right now are fast enough for almost everyone. I never
found myself waiting on the Zodiac during any tasks. Screen refreshes are fast
and applications load in a blink.
Since I was using a Sony CLI� before I started this
review, and as we all know – you can't sync a CLI� and any other Palm OS PDA on
the same computer, I had to remove the Sony version of Palm Desktop. I then
installed the Tapwave version, and watched as the Tapwave programs were
introduced to my C:\Program Files\Sony Handheld folder. Okay…that just
seems weird. There is no telling what will happen if I try to go back to using
my CLI�, but otherwise, I had no surprises during installation. Julie, on the
other hand, had her hands full…
Oh boy, where do I begin? I have a 2800+ homebuilt Athlon system, an 800mhz
homebuilt Athlon system and a Crusoe notebook on my home network. The 2800+
machine is my main computer, and the one that all my PDAs sync to. During the
Zodiac installation, it recognized the Palm desktop for the Tungsten|T, and advised me
to uninstall it. So I did. Then I installed the new desktop, and I started noticing
problems right from the get go. The Zodiac wouldn't successfully hotsync 2 times
in a row. It would get stuck on trying to find the user. Internet Explorer began
acting flakey too. I was unable to register the Zodiac through Tapwave's
website, the registration webpage would come up as not found every time I
would try it. I got so aggravated that I decided to try the software on my other Athlon desktop. The exact same problem
occurred! At this point, I was sure that
it was an incompatibility with the Athlon processor, so I had Judie try
installing the software on her husband's Athlon notebook. Guess what? No
problem. ARGH! So, I uninstalled the software on both desktops and reinstalled.
That was a mistake, because then I couldn't get the USB driver to work AT ALL on
either one! <sigh> The only happy ending to this story is that I finally tried
installing the software on my Crusoe notebook, and it worked fine. But the whole experience has been a
real headache!
If you would like to see the "guts" of the Zodiac,
take a look at these

pictures. Up until I found them, I was seriously
considering cracking the case on mine; I have to admit that I am a bit relieved
that now I won't need to. You gotta love the FCC
(sometimes)!
Software Specifications
Now that we pretty much talked about the hardware till we were blue in the face,
let's take a look at the software that is installed and included with the
Zodiac.
May I say yet again, that I miss classic Graffiti? The
Zodiac comes with Palm OS 5.2.6, which means that it uses
Graffiti2. Even though I am complaining about it, I suppose that I am getting
used to using Graffiti2. There are just a couple of letters that I almost always
have to go back and redo, like "k", "i", "t", "x", and a couple of pronunciation
characters such as "@" and "&". I'll get used to it eventually…I can evolve.

I'm cool with Graffiti2… But I personally like all the input choices that I
have on my Pocket PC ;o)
Tapwave Software:
Music – Built in MP3 player, the screen turns off after
90 seconds and then the LED
throbs green. Icons will light up to tell where the MP3s are stored. In this
instance, they are on SD card 2.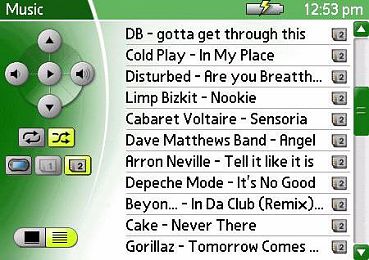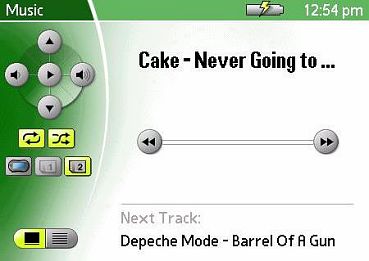 The built in player has a great interface and much better audio than the
trial version of AeroPlayer which is included on the CD. The bad thing about the
built in player is the fact that you can't play music in the background while
other applications are running.
Photos – JPEG Photo Viewer. Displays the photo, it's
name, date taken and the time (if imprinted). Photos are rotateable, and there
is an icon to display where the photo is stored. From this program, you can
delete, beam, send via Bluetooth and copy the photos. You can also run the
photos as a slideshow.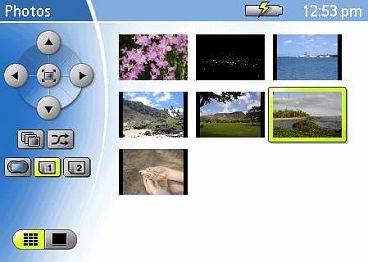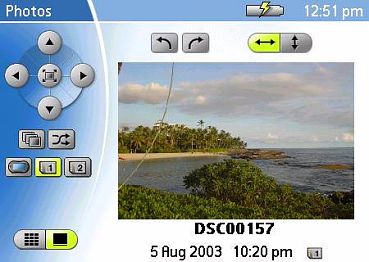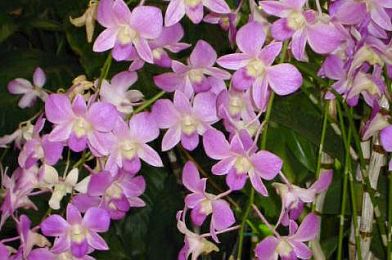 Clock –  Alarm Clock with integrated stopwatch & MP3 music feature.
When you set the alarm to play MP3s, you get 15 seconds of your favorite song to
wake up to. Unfortunately, this MP3 feature is limited to only this
program…which means no polyphonic alarms for the regular alarms. UGH.
No polyphonic alarms!!!! What the heck is up with that? The Zod has an
awesome sound system, and we have to put up with crappy beeps and boops for
calendar alarms. If Sony can play polyphonic alarms, why can't the Zod? Come on!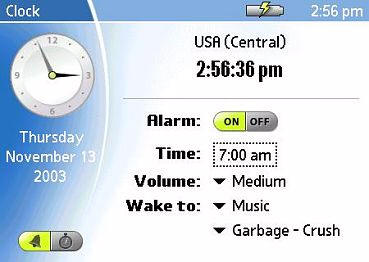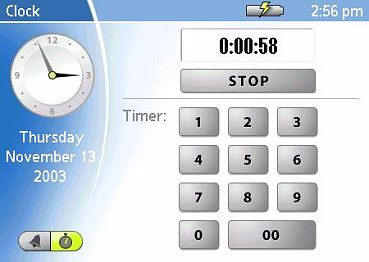 Launcher- As mentioned before, the built in launcher
features an eight-pointed wagon wheel
design, with the hub being the "level up" button. You can place your most often
used programs at the end of the wagon-wheel's "spokes" for quicker launching
with the joystick. Leftover programs will line up to the right of the "wheel".
Launcher is skinnable, as you can see by my buddy
Blue Dog,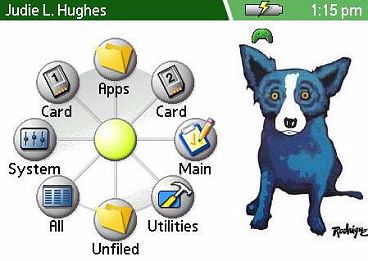 I really want to like this launcher, but there are a
few things about it that prevent a good relationship. Starting with the fact
that it is klutzy, and you can't do basic things like get it to open in the view
you were last in, or delete certain categories "it" feels you should keep – such
as Games – when all of yours are stored on an SD card, and they show up in that
category, instead.
Actually, I am waiting for
MegaLauncher to support 480×320, then
I will be right back to what I prefer using. Heck, I right now I would like the
option of being able to use the plain old Palm Launcher…wonder why it's not
here? The closest thing that the Tapwave has to the original Palm Launcher is
their "All" view, which I am not fond of…to say the least.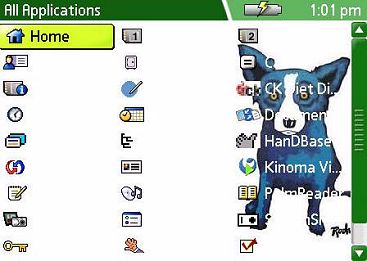 I have actually been using the All application view. I prefer to see all my
stuff in icon view instead of in cutesy circular patterns. Several things drive
me nuts about the launcher in general. One is the fact that you can't rotate it
to portrait mode. Another is that you can't change the icon size in the All
applications mode.
Silkscreen Buttons – On the side bar of the screen
are six silkscreen buttons. unfortunately, our screen shot program can't capture
them. They are, in descending order: Home, Menu, Find, Sound, Rotate Screen and
Collapse/Expand Graffiti Area. Of note is the Sound button. It allows you to
mute the speakers, however it can't be a simple on or off – it is a timed
feature; odd, yet handy in that you won't forget to turn the sound back on
later.
I actually love this feature. It's great to use right before you go into a
meeting. You can quickly set the sound to come back on at a predetermined time.
For me, this works way better than trying to remember to toggle the sound on
after the meeting is over. But that's because I have the memory of a gnat!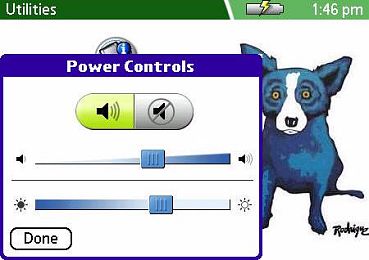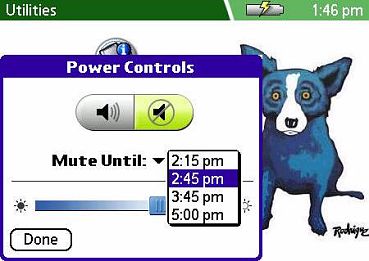 Palm Software: Includes basic Palm PIM
applications that have been adapted to fit a 480 x 320 screen. We won't discuss
all of these applications, as many are the same ol' same ol'.
Address Book  – looks great in landscape mode.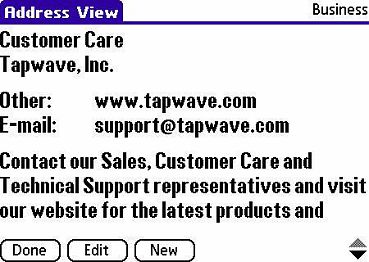 Date Book  – also looks very good in landscape mode...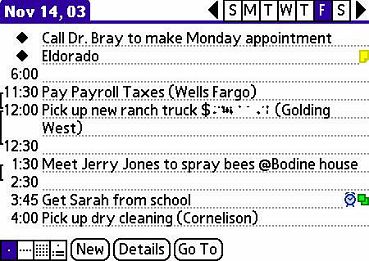 To Do List – lookin' good...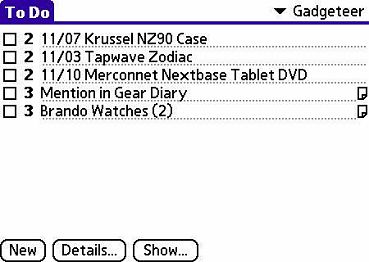 Memo Pad – and yet again, looks good…but with a caveat…
Ok, here comes a big rant… The Zodiac ships with Palm OS 5.2.6 right? 
That's actually a later version than what is shipped with the
Tungsten|T3. Although Zodiac's version of
the OS comes with some of the same great new features, such as the rotating
display, and soft input area, it is missing some major things in my opinion! The
very useful agenda view in the Calendar application is missing, and more
importantly Memos still have the 4K limit! Very disappointing…
Card Info – gives data about the internal
media and added SD cards (if you use them)…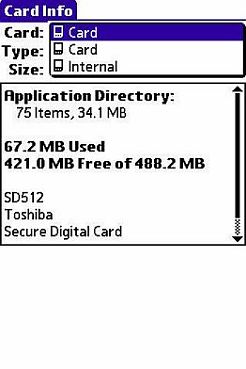 Calculator,
Security,
HotSync
Preferences – There are a couple of special
features, due to the nature of the Tapwave…of note are the orientation for
screen input and the two different types of calibrations necessary to make game
related buttons as well as screen taps register properly.
Nice touch for us southpaws!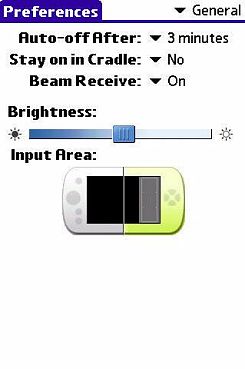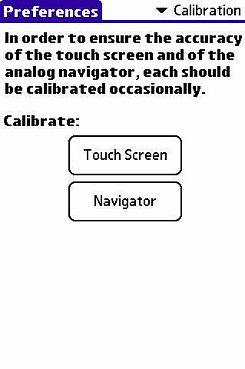 Palm� Desktop v.4.1 (for PC) – This version has been
modified specifically for the Tapwave. It keeps track of high scores on games as
well as allows plug-ind for the Kinoma Producer and other programs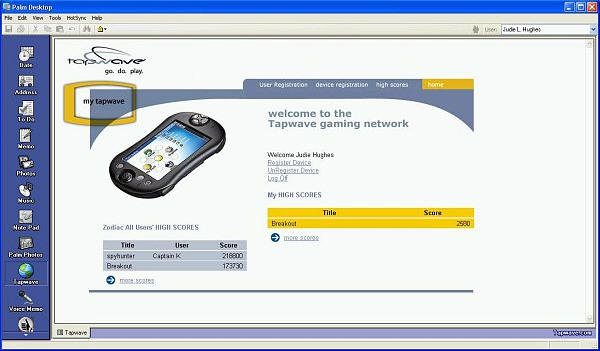 Value Added Software:
Stunt Car Extreme – Oh my goodness, I am so bad
at this game…but I am trying to get better! The ice track really kills me
every time. I like the way you can "chat with" then challenge other onscreen
drivers to races for money/points. This is such a smooth playing driving game.
One day I will master it…really!
I'm probably not much better at it than you are, but I still love playing it!
Gotta love that boost feature! It's definitely a great demo program too. All the
guys at work want to play it whenever they come by my desk. I think Tapwave
picked the right game to bundle in with this device. Too bad there aren't more
games available now! <grumble>
This game also won points from me because I was able
to move it to my SD card and run it perfectly from there. An update for this
game came out the day after we got our Zod's, and I was able to upload the new
version to my card and delete the old with no problem.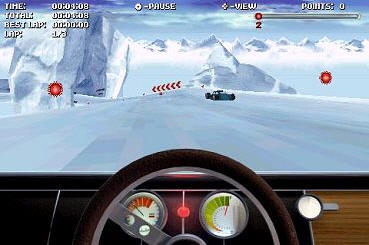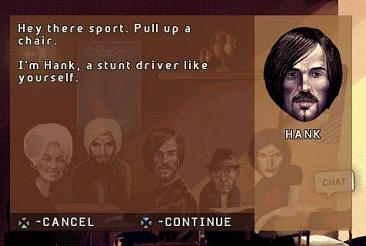 AcidSolitaire – This is my favorite version of
Solitare yet. I know that you don't have to, but I still play it by tapping on
the screen. The sound effects are great, and the graphics are wonderful. This
game also loaded to my SD card with no problem.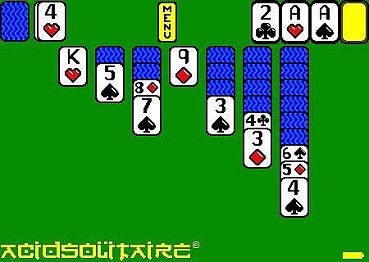 Kinoma Player – I was pretty excited about the idea
of being able to watch movies on the Tapwave's gorgeous screen, until I actually
made one. Sure, it plays smoothly and the sound is great…but look at the tiny
picture!
As people may have noticed from some of the other reviews, I am not impressed
with Kinoma. I'm lazy and don't want to have to convert MPEG files that I
download off the net into a special format in order to view them on my PDA. I do
hear that there is an application called MMPlayer, but I'm not sure if there is
a Zodiac version available yet.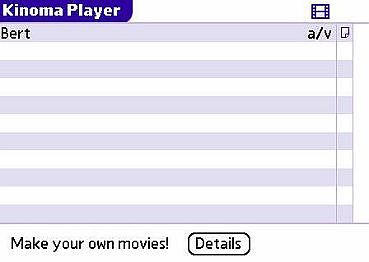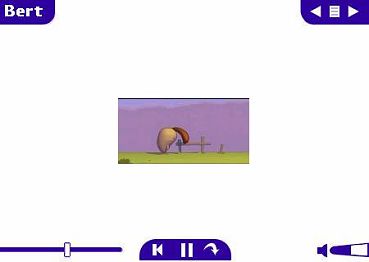 Kinoma Producer – Converts AVI, QuickTime, MPEG1, MPEG4 files
for use on the Zodiac entertainment console. QuickTime software required to use
the Kinoma Producer on PC. Producer integrates with
Palm desktop for an easy to accomplish .mpg conversion.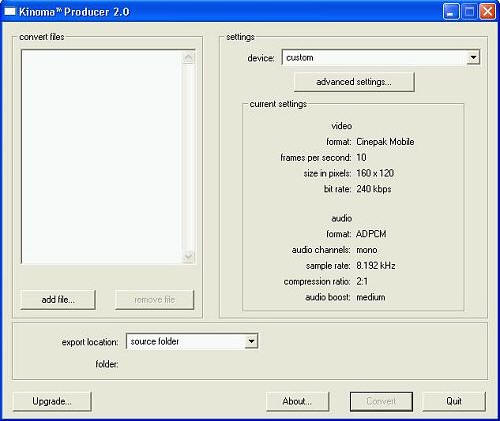 PalmReader – This program is a pleasure to use on the
Tapwave. Pages can be saved by pushing in the middle of the joystick or by
tapping the upper corner of the screen. Pages can be advanced by using the
joystick, down and right directional buttons, or the right trigger button. Pages
can be turned back by using the joystick or the up and left directional buttons.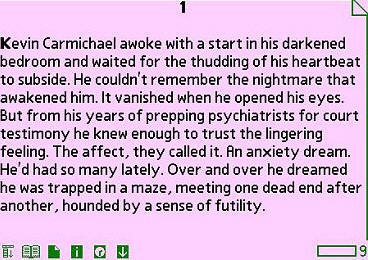 Ack! Judie, do you really read books with a pink background? I'm feeling a
little nauseous right now just looking at it ;o) Hehehe
I do!! But it doesn't show up as this pink when it's
on the screen! Really! <blushing furiously>
Kidding aside, I would
have to say that this application is the one that gets the most use on both my
Palm and Pocket PC PDAs. The large screen on the Zod makes reading a great
experience!
Some of the other applications included on the CD are:
Wireless-based chat & shared whiteboard (PhatPad by Trumpetsoft)
Graphing Calculator (powerOne by Infinity SoftWorks)
Microsoft� Word�-compatible Word Processor (WordSmith by Blue Nomad)
Web Browser and SMS client for use with compatible Bluetooth enabled phones
(bonus software on CD).
Conclusion:
Ok, if you've read this far, you definitely get a gold star!
No kidding, I think we wrote a novel this time!
So, should you buy the Zodiac, or not? I'm still trying to make up my mind on
that question… Since I've been using a Pocket PC for several months, it feels
strange to be using a Palm OS device again. I'm not sure the Zodiac is the right PDA
for me. But as a game device, it's a heck of a lot of fun! I just don't know if
I will play enough games to justify it as a $399 Game Boy, when I already have a
$99 Game Boy.
I on the other hand, have been using a Palm for a
while, so other than the Graffiti2 and getting used to the new screen
orientation, this one just feels like home. You wanna talk about
justification? How do I justify leaving a $799 NZ90 with a 1GB Memory Stick for
this? But believe it or not…I am going to.
As it stands, my HP2215 does everything that the Zodiac can do and even some
things a little better. Both have dual card slots, Bluetooth, both can play
games, and both can play MP3s. The Zodiac has the better graphics system and
sound system, but right now, there are so few games available specifically to
take advantage of these two major features, that it's a wash for me.
Although I will miss having the built in 2 mega-pixel
camera that my CLI� sports and the retro-style graffiti, I think my choice is
clear. Playing anything other than a tap screen game on my CLI� was a joke…and
now that I have tasted full-screen with buttons, a real joystick and rumble
effects – WOO HOO! Good thing that saying that where I work won't get me fired!
☺
The HP is quite a bit smaller than the Zodiac, which is important to me. It also
can play MPEG video right out of the box which isn't a deal breaker, but is a
feature that I value.
I am used to the size of the NZ90, while the Zodiac is
considerably thinner, it is otherwise about the same. I was fine with the size
of the NZ, and I am just fine with the size of the Zod.
Regarding movies – I really don't care if I can watch
them on my PDA or not…that's what a portable DVD player is for.
I guess it really all depends on how you approach this device. Is it a PDA, or is it a
game system? Since it is being marketed as a game machine first, and a PDA
second (at least that is my impression when I visit Tapwave's website), I don't
think that the majority of adults that are in the market for a PDA will even go
for this device. And since it's way more expensive than Nintendo's Game Boy SP,
it's hard to envision many kids coming up with the cash to buy them.
If you are a person that can think outside the box and
that recognizes the Zodiac for what it is, then you would have to agree that
this device has the absolute best specs available on the market right
now regarding built-in memory, battery life, slots, screen, processor, and
sound for a reasonable price. How many times have we lamented the button
layout on a new PDA because it was horrible for gaming? How many times have we
wished someone would release a comfortable D-pad or joy-pad…something more,
dare I say it?? Joystick-like? Here it is, and we are going to look a gift-horse
in the mouth?
Ok, when it comes right down to it, I love the hardware specs of this device,
but I'm just totally over the OS… At this moment in time, I'm enjoying the
Pocket PC experience better than the experience that Palm OS gives me. I know
that if this was the new HP device, I'd be all over it like a cheap suit! But as
it is, I'm not, which surprises even me.
Obviously many of us are people that would buy both a
PDA and a gaming device; look at how conveniently the two have been combined
here! This is the answer to so many of our past gripes and wish lists, but
because of marketing buzz-words and images are we going to turn up our noses? So
what if it's marketed to generation zippedy-do-dah as a gaming device! The Zod
out PDAs every other PDA available. I am going to consider it – a PDA that
happens to be great for gaming, and it is now officially my new Daily
Driver.
I'm leaning towards returning mine to Tapwave, but I've still not made up my
mind completely. I agree with you that it's a great PDA that's also great for
gaming (as soon as more games are available that is…). For someone wanting the
sexiest Palm device available right now, this one is it without question. But
for me, all these spiffy features aren't enough to make me want to make it my
main brain.
Various documents and downloads can be found
here.
By registering your Zod,
you can extend your three month warranty to a one-year limited
warranty.
Price: $399 ($299 for the 32mb version) Get your
best price here.
Pros:
Reasonably priced
Good battery life
Large gorgeous screen
Dual SD slots
Large user-available built in memory
Analog joystick
Awesome sound
Cons:
Inability to remap hardware buttons
No polyphonic alarms in Date Book
Larger size than many PDAs
Wacky stylus attachment method
Cheesy screen cover