We use affiliate links. If you buy something through the links on this page, we may earn a commission at no cost to you. Learn more.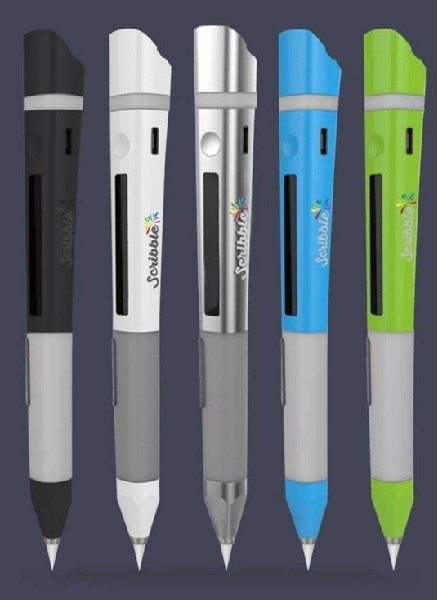 If you get your creativity kicks by putting a pen to paper, or a stylus to your electronic device, but want to do it in the accurate colors of your world, your wish may have just come true.  The Scribble Pen uses "smart ink" technology to accurately mix the ink to the color you select with the RGB color sensor scanner at the back end of the pen.
Scribble offers the Scribble Pen for paper, the Scribble Smart Stylus for electronic devices and the Motley Pen for kids.  All the Scribble pens have a color scanner at one end and a pen or stylus tip at the other. They come with a selection of drawing tips to control stroke weight. The refillable ink cartridges connect to a smart micro pump that creates the custom color you have scanned when you want it.   Colors are coded as Pantone, CMYK and HEX as well as RGB and can be saved to a custom color library.
The Scribble kid's version, the "Motley", has the same color sensor and smart ink but with a kid-friendly grip and 4 bright color styles to choose from.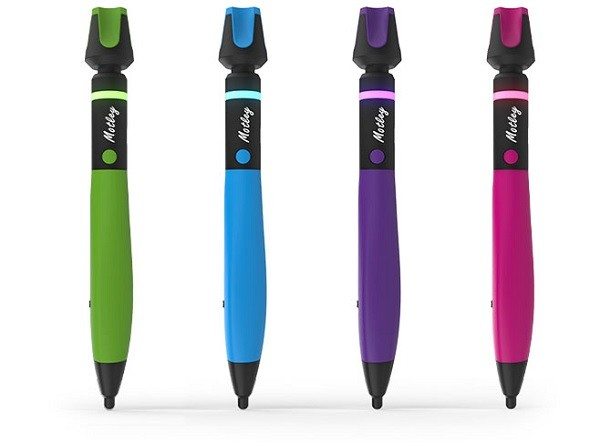 The Scribble Smart Stylus is compatible with iOS 7+ and Android 4.0+.  It connects via Bluetooth or MicroUSB.  Scribble Pen and Stylus batteries can be charged with the micro-USB cable and will last about 7 hours for the pen, 15 hours for the stylus and 10 hours for the kid's Motley pen.

The pre-order price for the Scribble Smart Stylus is $119, and $249  for the Scribble Paper Pen.  Both come in your choice of 5 colors.  The kid's Motley pen pre-order price is $99 and is available in 4 fun kid colors.  You can order any of the Scribbles from their website; thescribblepen.com