We use affiliate links. If you buy something through the links on this page, we may earn a commission at no cost to you. Learn more.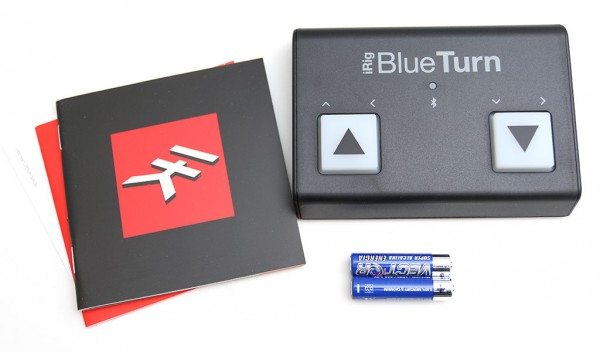 Turning pages and scrolling through documents on your computer or tablet isn't easy when your hands are otherwise occupied. For example, a guitarist who reads sheet music can't easily turn the page without stopping their playing. A way around this problem is to use a hands-free Bluetooth page turning device like the IK Multimedia iRig BlueTurn which is controlled with your foot instead of your hand.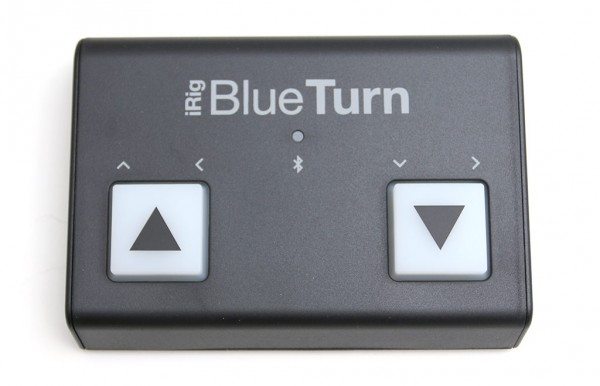 The BlueTurn is a small box that is made of plastic and has two buttons and a status LED on the top surface.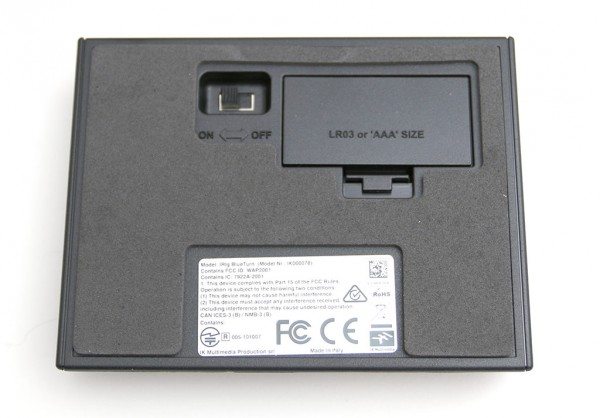 The bottom of the BlueTurn has a non-skid pad, a power switch and a battery compartment. The BlueTurn is powered by 2 AAA batteries that are included in the package.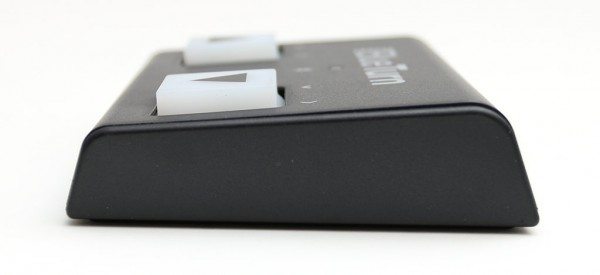 The device has a slight wedge shape with buttons that stick up enough so that you can activate them with your foot.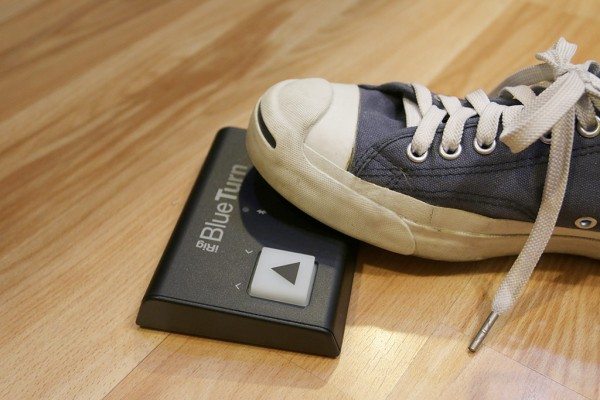 The buttons are large enough, backlit for easy viewing in dark environments and are to easily press. They are completely silent when pressed and have no tactile feedback, so you can't really feel when you've pressed one. Of course you'll be able to tell if you've pressed the button by looking on the display of the paired device to see if the page has scrolled.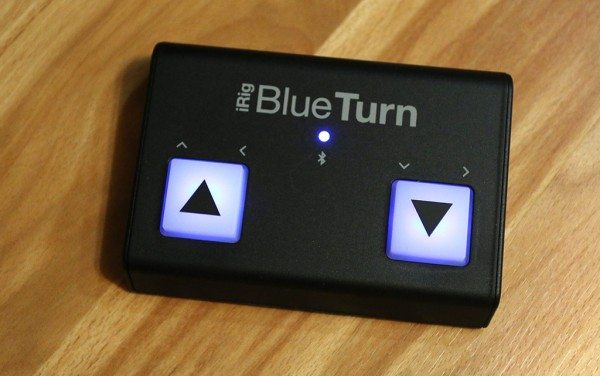 To use the BlueTurn, you just install the batteries and flip the power switch on the bottom. The buttons and status LED will light up in blue. By default, the mode is set to scroll up or down one line depending on which button you press. The BlueTurn has three modes. There's the line by line scroll mode, page scroll mode and left to right scroll mode. To change the mode, you just hold down the left (up) button when you turn on the device and then you press a combination of the two buttons depending on desired mode. Note that you can't hold down the button for continuous scrolling.
Pairing the BlueTurn with my MacBook Pro was as simple as turning on the BlueTurn and then checking the Bluetooth settings on my MBP to see the newly discovered device. No passcodes are necessary and pairing/connecting is fast and easy. Once paired it worked without any other setup. I loaded up PDF files in a browser (Chrome and Safari) and it scrolled through pages using all three modes with no problems. I tried a few other apps and it worked with them too.
I also tested the BlueTurn with my Samsung Galaxy Tab S tablet and didn't have any issues scrolling through webpages using Chrome. I did find that the BlueTurn was not compatible with all Android apps so keep that in mind if that's your primary device.
I like the IK Multimedia iRig BlueTurn page turner because it runs on regular batteries, is compact and is easy to use. Also, compared to AirTurn Duo page turner that I reviewed last year, the BlueTurn is the better buy. If you're looking for a hands-free way to turn pages on your Mac, iPad or Android device, the BlueTurn gets the job done.
Source: The sample for this review was provided by IK Multimedia. Please visit their site for more info.
Product Information
| | |
| --- | --- |
| Price: | $69.99 |
| Manufacturer: | IK Multimedia |
| Pros: | |
| Cons: | |