We use affiliate links. If you buy something through the links on this page, we may earn a commission at no cost to you. Learn more.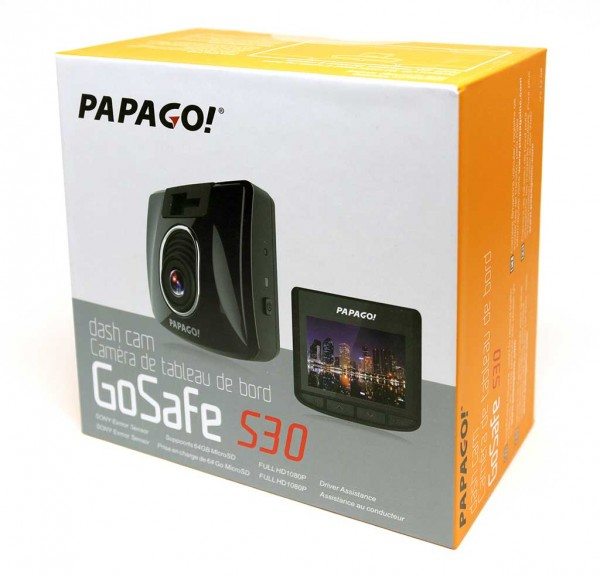 Dash cams are the type of gadgets that you setup and then forget. They are more of an insurance policy than a gadget that you can enjoy on a daily basis. A good dash cam can potentially save you money if you get in an accident. Video footage might help you prove that the accident was not your fault. Choosing a good dash cam can be a daunting task since there are so many to choose from. I'm here to add one more to your list with the PAPAGO! GoSafe S30.
DON'T MISS: Magellan MiVue 658 HD dash cam review
Hardware specs
Lens: 135° wide angle F1.9 lens
Imaging Sensor: Sony Exmor Sensor
Display: 2.0″
GPS Receiver: Optional. Purchased Separately.
Impact Sensor: 3-axis G-sensor
Memory Storage: Class 6 or higher MicroSD or MicroSDHC card (8GB Min-64GB Max) *Please note that some cards may be incompatible- e.g., Sandisk.
Dimensions 2.16Lx2.12Hx1W inches
Power Type: USB 2.0 mini cable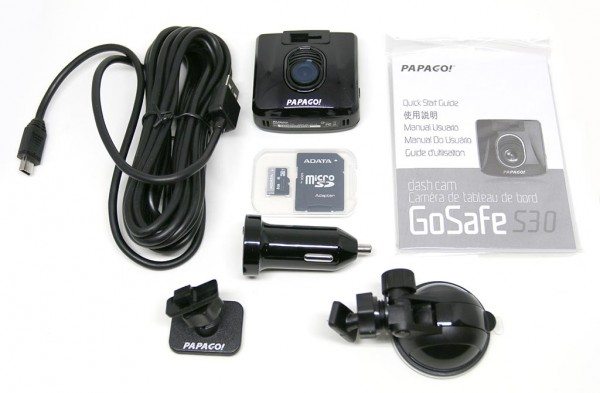 What's in the box?
GoSafe S30 Dashcam
3M Adhesive Mount
Suction Mount
12V-24V power cable with detachable cigarette charger
Quick User Guide
Warranty Card
8GB Micro SD Card with Adapter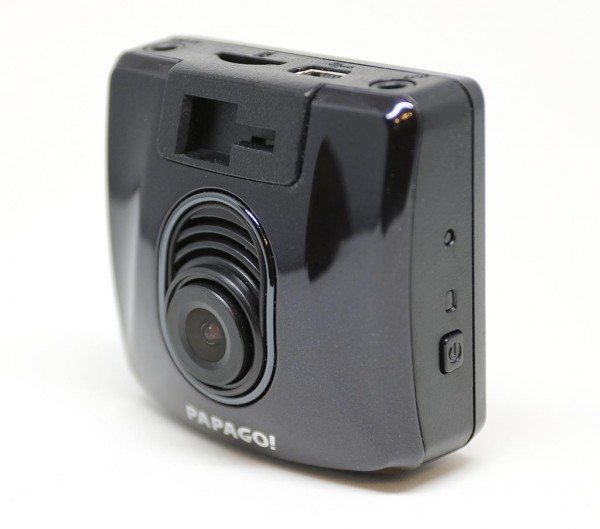 The PAPAGO! GoSafe S30 is a small sized dash cam that doesn't have a lot of flashy bits that make it noticeable in or out of the car. It's made of shiny black plastic with blue flecks that are only seen in certain light. The sides and back are made of a matte black plastic. The front of the camera has a slot for the windshield mount. The camera comes with two mounts – a suction cup mount and a stick-on mount. More about that later.
On one side of the dash cam you find the power button, status LED and reset switch.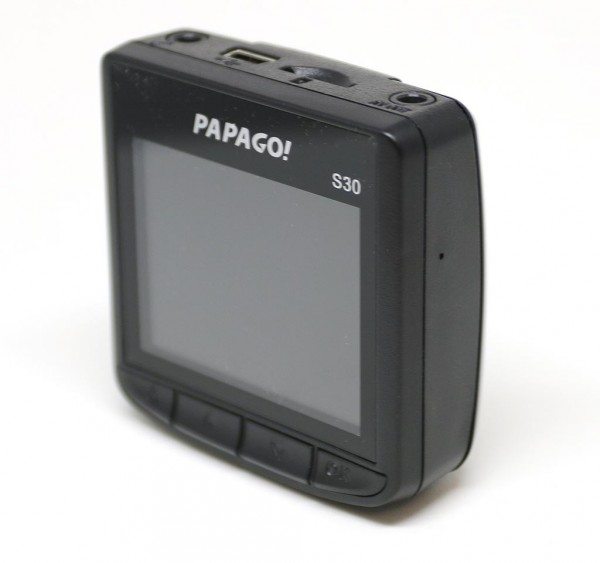 On the back is the 2.0″ color LCD display with four control buttons below it. A microphone is located on the side.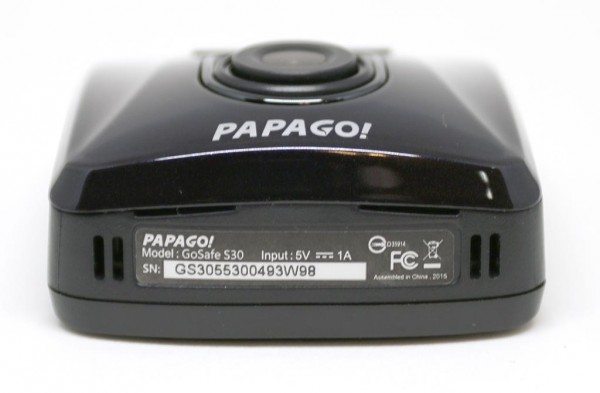 The bottom has two sets of speaker holes on either side of the serial number info sticker.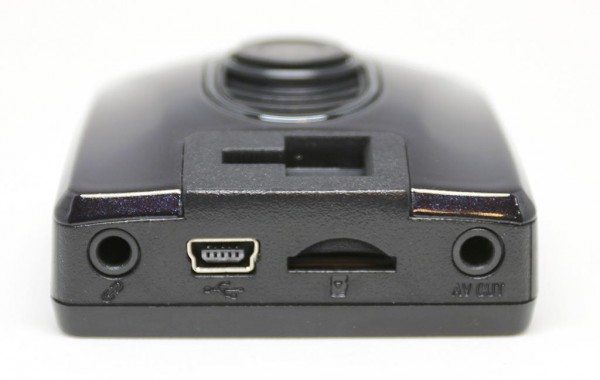 While the top of the dash cam has a port for an optional GPS module, USB power port, micro SD card slot and an AV out port.
Installing the S30 in my car was no more difficult than any other dash cam that I've reviewed in the past. I used the suction cup style mount to stick it to my windshield and then routed the USB power cable along the front edge of my head liner and down the side of the windshield on the passenger side. I then plugged in the included power adapter and was ready to go.
Before your first drive, it's always a good idea to run through the dash cam's menus to configure things like date, time and the other advanced settings. This particular camera has three recording modes and special driver's safety features.
The three recording modes include automatic recording which is the default setting. With this setting, video capture begins as soon as you start your car. Monitor mode is supposed to snap an image every second while also recording video. I never got this to work… The motion detection mode only records video when it detects movement. Note that you'll need continuous power to the camera for that feature to work when the engine is not running.
The S30 has several driving safety features. There's the stop sign recognition feature that will beep at you as you're approaching a stop sign at a fast rate of speed. The stop and go feature will beep when the car in front of you starts to move after you've been waiting behind it for more than 10 seconds. There's a driver fatigue alarm setting that can be set to beep at you after 30mins, 1hr, or 2hrs. This is supposed to prevent you from zoning out while driving for long stretches of time. The dash cam also has a G sensor that will save an emergency recording when it thinks you've been in an accident. Emergency videos are stored in a special folder on the microSD card to prevent them from being overwritten when the card becomes full. Last but not least, there's a light reminder that will beep at you when it's dark enough that you should turn on your head lights.
Other features allow you to mark a video so it won't be overwritten when the card is full. Note that each automatic recording lasts for 5 minutes. Once the 5 minutes are up, a new file is created. When there's no space left on the microSD card, the oldest video (except for emergency videos) will be overwritten.
The PAPAGO! GoSafe S50 dash cam can record video in full HD 1080P resolution with video files saved in the .MOV format. Here is a sample showing night time and day time driving. Unfortunately I wasn't able to include any sunny day driving video clips because it's been gloomy for weeks.
I used this camera for a couple of weeks and quickly got tired of the stop sign recognition feature, stop and go feature and the light reminder features. But the main annoyance with the camera was the suction cup mount. I think the one included with the camera was defective because it would not stay stuck to my windshield for more than a few hours. Every morning when I'd get in the car to leave for work the camera would be on the floor. Then every afternoon when I would get in the car to go home it would be on the floor again. I made sure the windshield and the suction cup were both clean, but that didn't keep it from falling off the window. The S30 does come with a stick-on mount that would no doubt work much better. I've used stick-on mounts before… I still have have a blob of sticky residue from a previous mount on my windshield to prove it. So be careful if you decide to go with the sticker.
I liked the PAPAGO! GoSafe S30 dash cam just fine, but it does have a few missing features that prevent it from becoming one of my favorites. It's missing GPS (although this can be added if you buy the optional GPS module), WiFi to retrieve videos, and a rechargeable battery so that the camera records extra footage after you turn off the engine. Of those three features, WiFi and GPS mean the most to me, with WiFi being the number one feature I miss when using this camera. If you have a dash cam, you know how big of a pain it is to eject the microSD card from the camera and have it go flying somewhere in your car. Or trying to get the tiny card back in the slot when you can't really see what you're doing.
On the bright side, the camera's video quality was sharp and clear, and colors seemed to be accurate. I also didn't notice that the video had a warped fish eye look like some wide angle dash cams that I've reviewed in the past. When it's all said and done, I would say that the GoSafe S30 is a middle of the road dash cam that I neither love or hate. It will easily do the job its intended to do, but will probably leave you wanting more.
Source: The sample for this review was provided by PAPAGO! Please visit their site for more info and Amazon to order.