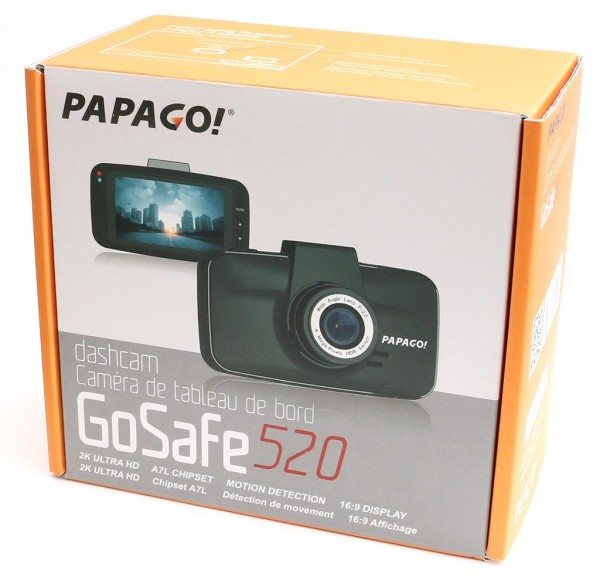 "But officer, he caused the accident, not me. Really, I swear!" Although you may be telling the truth, you need evidence to back up your claims when it comes to traffic accidents. One way to do that is with a dashcam. Dashcams are windshield mounted cameras that automatically record everything you see out of your vehicle's front window from the time you start the engine, until you turn it off. Actually some of them even record longer than that, but I'll talk more about that later. Today I would like to show you the Papago GoSafe 520 dashcam. It has some extra features not found in other dashcams that I've reviewed, let's see if it earns a permanent spot in my car.
Note: Images can be clicked to view a larger size.
Hardware specifications
Chipset: Ambarella chip A7L
Video formats: WHD 2560x 1080p 21:9 30FPS, SHD 2304x1296p 16:9 30FPS, HDR 1920x1080p 16:9 30FPS, HD 2180x720p 16:9 60FPS
Storage: Class 10 MicroSDHC card (8GB Min-32GB Max) *Please note that some cards may be incompatible- e.g., Sandisk.
Aperture: F 2.0
146º viewing angle
Motion detection, G-sensor
USB 2.0, HDMI output
Stop and go alert
Headlight reminder alert
Driver fatigue alert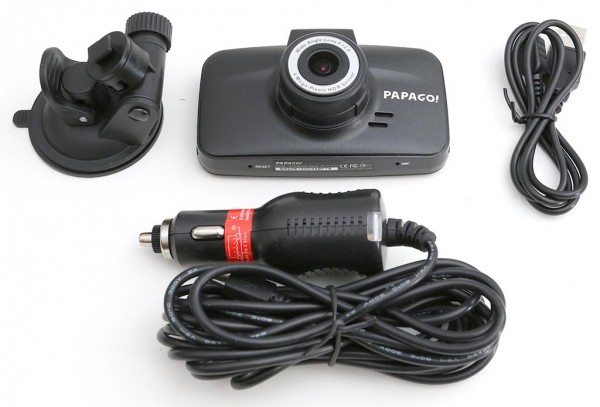 What's in the box
GS520 dashcam
Suction cup mount
Car charger
~10 foot long USB cable
User manual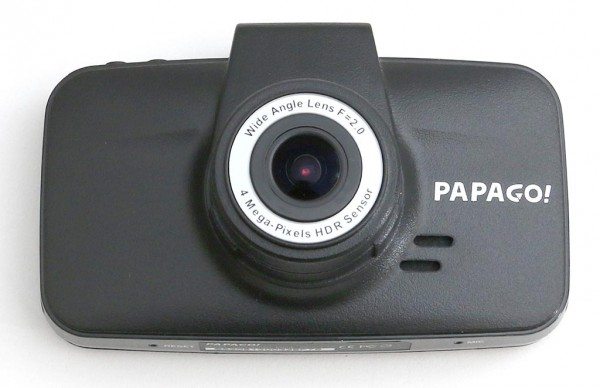 The first thing I noticed about the GoSafe 520 was its size. It's larger (mainly wider) that the other dashcams I've tested in the past. It's not huge, but it is going to be noticed by your passengers.
The front of the camera has a 146° wide angle lens and a speaker.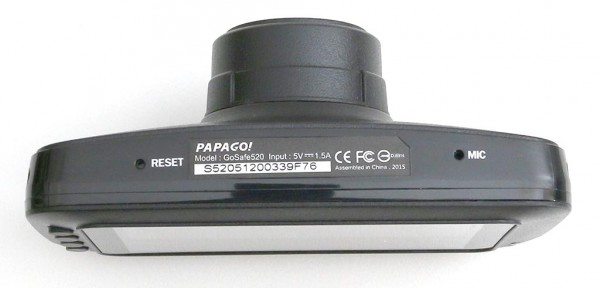 The bottom edge has a microphone and a reset switch.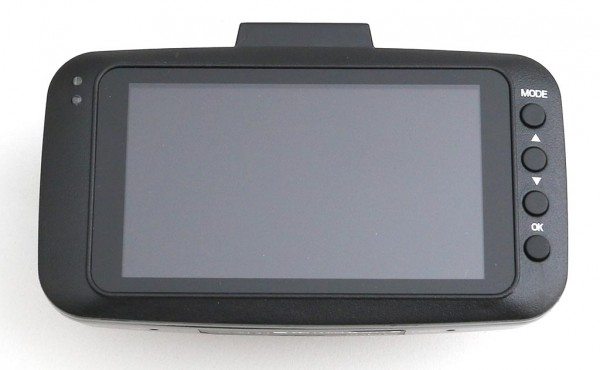 On the back you'll find the large screen with status LEDs on the left side and mode buttons on the right.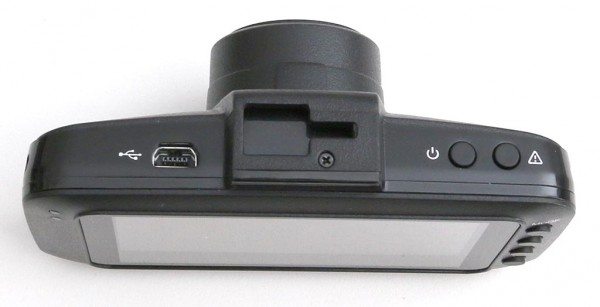 On the top edge there is the mini USB connector required for power, the mount clip, power button and emergency recording button.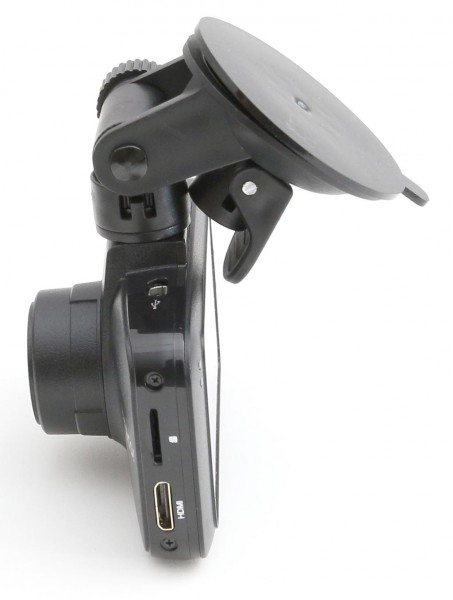 You'll find an HDMI port on the left side with the micro SD card slot. You'll need to supply your own micro SD card as one is not included with the GoSafe 520. Note that 32GB cards are the max capacity that you can use. The info on the Papago site states that some brands like Sandisk are not compatible, but I did my testing with a 32GB Sandisk Ultra micro SD card and had no issues whatsoever.
Included with the dashcam is a suction cup style mount that attaches to your windshield. The mount allows for the camera angle to be adjusted and for the camera to turn around so that you could record the interior of the vehicle if you desired.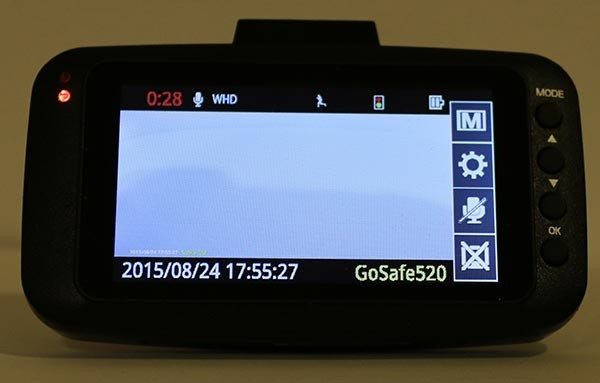 The dashcam's interface is similar to other dashcams that I've tested. The date and time (military time format) is at the bottom, with status info at the top and settings icons on the right.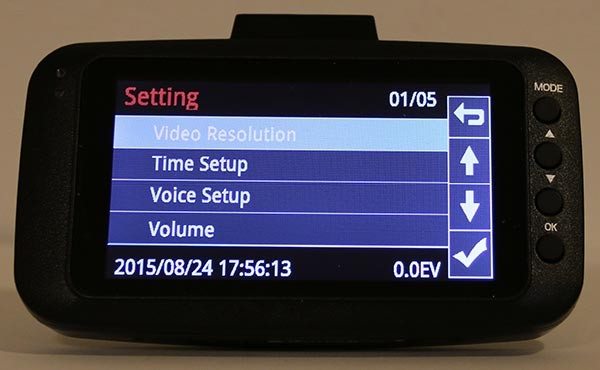 Using the mode buttons on the right, you can navigate through the various menus to customize settings.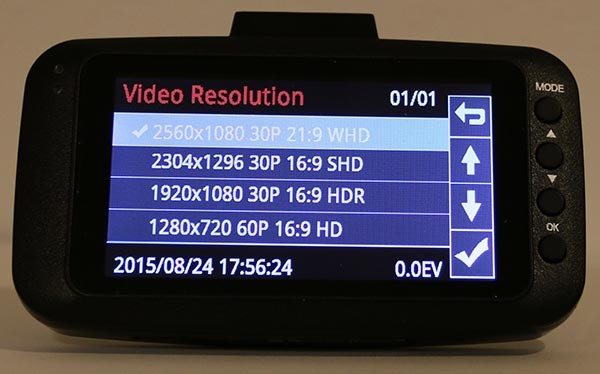 For example, you can customize the video resolution like you see above.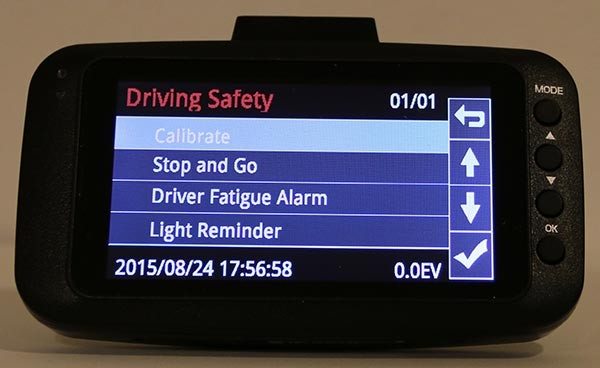 The GoSafe 520 has several safety alerts that can be toggled on and off. After a week of testing this camera, I turned all of the alerts off because I found them to be more annoying that useful. Here's a bit of info about each one.
Stop and Go alert – You know how the person in the vehicle behind you will honk their horn to wake you from day dreaming because you haven't realized that the light has turned green? This alert is takes the place of that impatient person, only it's way more annoying than them. The alert will make what I think sounds like a choo choo train sound as soon as the person in front of you starts moving. The problem is that it makes the alert sound too soon. It got so annoying that I began telling the dashcam to shut up each time it would happen.
Be aware of the fact that the alert will not work if you're the first person at a light. There has to be someone in front of you for it to trigger.
Driver Fatigue Alarm – I didn't test this feature because my drives aren't usually long enough to need it. You can set a timer for 30 minutes, 1 hour, 2 hours, or 4 hours. When the time is up, the alarm will remind you to take a driving break.
Light Reminder alert – This is another alert that became annoying after a very short time. When activated, it will chime and display a headlight icon on the dashcam's display reminding you to turn on your headlights when you're in a dark environment. The problem is that it will sometimes chime even when your headlights are already on and in the daylight when you drive through a moderately shady area.
I think the various alerts are a good idea, but there needs to be a way to adjust the sensitivity so they don't go off so often.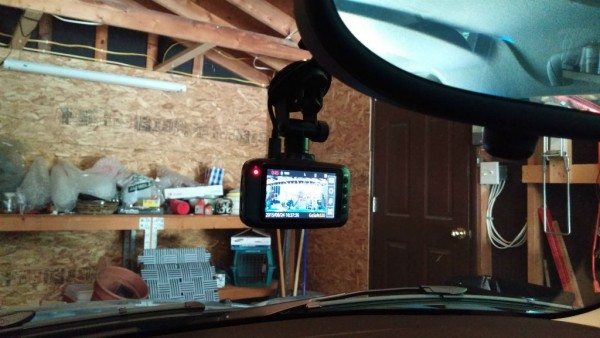 Installing the GoSafe in my MINI Cooper was not any more difficult than installing other dashcams. Using the included suction cup mount, I placed the dashcam in the center of the windshield directly in front of my rear view mirror. I then tucked the long USB cable into my head liner and routed it to the 12V power adapter socket in the center console. My car is very small, so I had a lot of extra length of cable that I had to hide in the glove box.
With the USB 12V adapter plugged into the power socket in your car, the camera will automatically power on and start recording when you start your vehicle. There's a short jingle that plays each type the camera starts. I do wish this could be disabled as it gets a little tiresome hearing it all the time.
If your vehicle has a power port that is always "hot", even when the car's engine isn't running, the GoSafe can be set to activate and record when it detects motion in front of the camera. Another setting lets you adjust the power down time to 1, 3 or 5 minutes so that the camera will continue to record after you shut off the engine. It can do this because the camera has its own internal battery.
The camera saves a new .MOV file to the micro SD card every five minutes and will start overwriting the oldest files when the card becomes full. At the highest resolution setting, you can get about 4 hours of recording on a 32GB micro SD card.
Ok, enough talk, let's see what the GoSafe's video quality is like.
See it in action
I combined three different video clips using iMovie to make the demo above. You can change the YouTube video player settings to watch the clip in 1080p format to see the best quality. The GoSafe 520 captures the best video in night and daylight of any dashcam that I've reviewed to date. The video is clear enough to read road signs and license plates, and the colors seem true to life. It does a good job recording audio too and I like that the camera does not exhibit any fisheye warping that some wide angle cameras do.
Note, you can hear the annoying Stop & Go alert chime at the 3 minute mark.
Right now, I have no problem saying that the Papago GoSafe 520 dashcam is my favorite dashcam. I like everything about it (once I turned off the safety alerts) and can think of only one feature that would be nice to add – GPS. But other than that, this one is definitely a keeper and will be stuck to my windshield until I get a chance to review another dashcam. Happy (and safe) travels gadget fans!
Source: The sample for this review was provided by Papago. Please visit their site for more info or Amazon to buy one at a discount from the MSRP price of $229.99.
Support The Gadgeteer
:
We may earn a small affiliate commission from purchases made from buying through links on our site. As an Amazon Associate I earn from qualifying purchases. Learn more.