We use affiliate links. If you buy something through the links on this page, we may earn a commission at no cost to you. Learn more.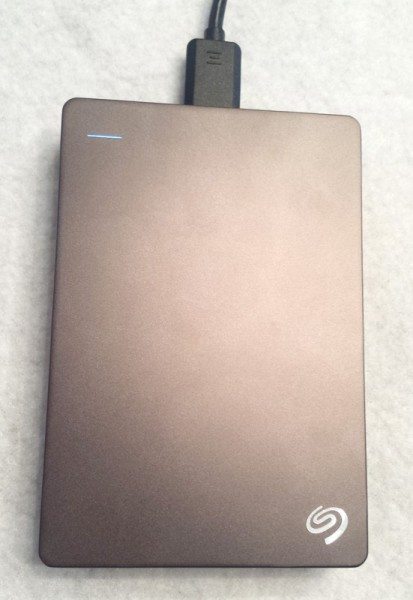 If you have used computers for any length of time, you have experienced it.  Your computer hard drive or your cellphone dies for one reason or another, and all your files are gone, including all those photos and videos you painstakingly organized into those little yellow folders.  In fact, if you are me, that has happened numerous times.  So over the years I have invested in every kind of backup solution that you can think of, including:  jump drives, external hard drives, DVDs, Zip drives, CDs, floppy discs (yeah, I'm that old), and most recently all the popular online backup services like Dropbox, Google Drive, Google+, OneDrive, Box, Mozy, and Carbonite.  I really, really, don't want to lose any files, so I still use all those things I just listed, except for floppy discs and Zip drives.  You gotta draw the line somewhere, right?  So when the Seagate 4TB Backup Plus drive came out, I was of course attracted to it and the new features that I haven't had before in a backup solution.  But is it really just another external hard drive, or is it something more?  Let's find out.
First things first, this drive is about the same size as most external hard drives I have ever owned.  So it is very easy to cart around.  I do wish that it came with some sort of pouch or case to carry it around.  So without that, I am forced to wrap the cable and hard drive with a rubber band so that the cable stays with it.  And the cable is a USB 3.0 Micro-B type of cable, which means that it is designed to carry both power and data for the drive.  That's good news not having to also carry a power cord.  It's bad news though if you lose this cable because my guess is that most people don't have this new type of USB 3.0 cable, which looks like no cable you have probably seen before.  So you can't use a standard USB 1 or 2 cable with this drive.  Here is a close-up picture of the end of the cable that plugs into the drive: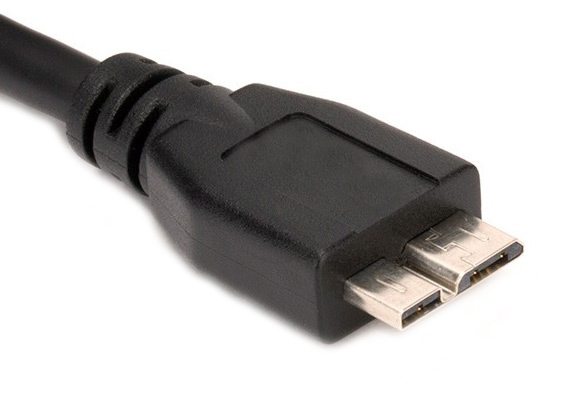 I should probably also share the specs of the drive:
Capacity:              4 TB
Length:                 4.5 inches
Width:                  3 inches
Weight:                1.2 lbs
Warranty:            2 years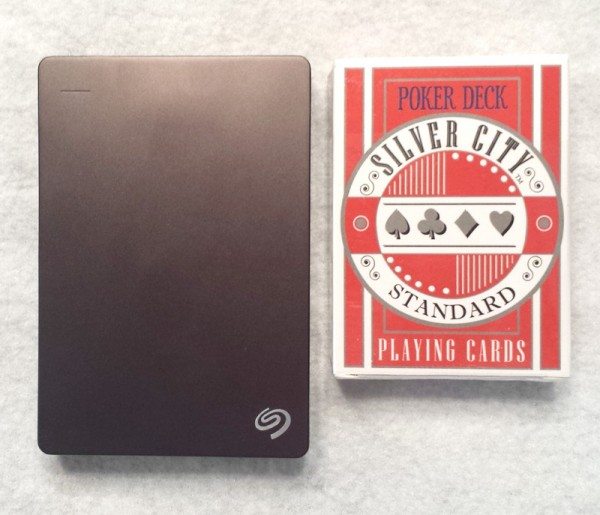 There are 3 items you can install when you install the Seagate Backup Plus drive.  Technically, you don't have to install any of them because you can simply plug the Backup Plus drive into your computer and let it automatically install, and then you can simple drag and drop anything you want to the drive.  But the beauty of this product is in using the 3 apps that Backup Plus drive provides you:  Seagate Dashboard, OneDrive Sync, and Lyve.  I'll go through each of these in this review, because they are the essence of this product.  Without these apps, the Backup Plus is just a really big hard rive.
Seagate Dashboard – This is the main application that allows you to automate several things about the Backup Plus drive:
You can manually or automatically (schedule) backup your computer's hard drive. This type of feature has been around for many years, but this software also allows you to backup your computer to cloud services (Dropbox, Google Drive, OneDrive, and NeroCloud) as well as to the Backup Plus itself.  You can pick exactly which folders/files you want backed up and what schedule you want to run it.
You can backup all your photos and videos from Facebook and Flickr. This is one of the coolest features of the Seagate Dashboard. I entered my Facebook login credentials and it downloaded every photo and video I have ever uploaded to my personal Facebook account. This is something I have always wanted to do, and it worked seamlessly.  Way cool.  And if I leave the Backup Plus plugged up to my computer and keep it on, every hour it will look for new photos and videos on Facebook and back them up.  My wife and I have lamented many times how we hope that Facebook doesn't go under and take our pictures with it.  We don't have to worry anymore.
You can backup your mobile phone. This is also something that I think everyone could use.  I would venture to say that your mobile phone is probably the only camera you carry now, and just about every aspect of your life has been captured on it.  So losing your phone means losing all your photos and videos.  You can install the Seagate Mobile Backup app on your mobile phone and it will backup all your phone's data over wifi when both your phone and computer (with the Backup Plus plugged in and the Seagate Dashboard up) are on the same wifi network.  And not just photos and videos.  I have used the Google+ app for a couple years now to automatically backup every photo and video on my phone, and it works great.  But now using the Seagate Dashboard in addition to photos and videos I can also backup contacts, call logs, music, and text messages.  Again, way cool.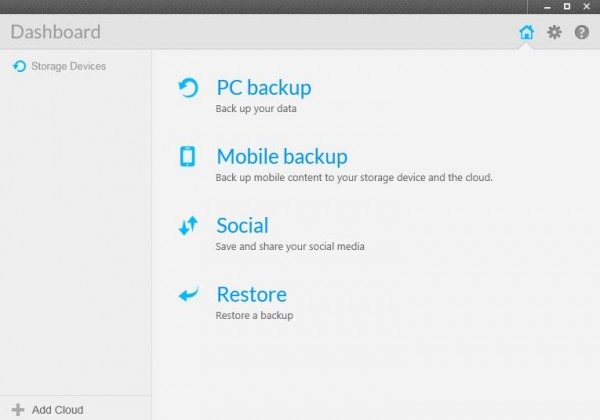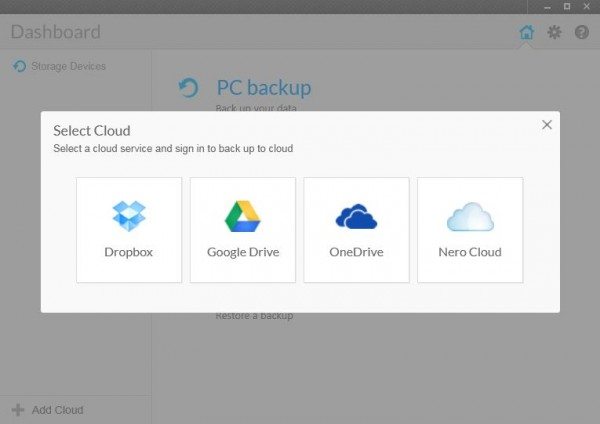 OneDrive Sync – This is a tool that many of you may already have and use, like me.  I got the free 25GB of Microsoft's OneDrive installed a couple years ago when it came out.  It works just like Dropbox for those of you who have that.  It creates a folder on the device you install it on (computer, cellphone, tablet) and anything you put into it will automatically be synced to your OneDrive folder in the cloud.  It works great, but at 25GB, that isn't enough space to really backup everything you have.  But with the Backup Plus drive, they give you 200GB of OneDrive space.  Albeit only for 2 years, but hey, free is free. And as mentioned before, you can backup your data not only to the Backup Plus drive itself, you can back everything up to OneDrive as long as it doesn't go over 200GB.
Lyve – The purpose of this app is to make sure that all pictures and videos on all your devices (I installed it on my Nexus tablet, my Galaxy S4, and my laptop) are organized in one place.  It doesn't however save them to the Lyve website in the cloud, like Dropbox, OneDrive, or Box.  It simply organizes everything inside the Lyve app so you can see thumbnails of everything from all your devices organized by date.  If you want to see the full version of the photo or video you simply click it, and as long as the device that has the original is online at that moment, you'll download it and see it.  So Lyve acts as a 'viewer' that lets you see all your photos and videos that you have everywhere, but it doesn't actually backup anything to a central place.  However, when you have the Backup Plus drive the Lyve app can actually backup all those photos and videos from all your devices and put them onto the Backup Plus drive.  In this way, the Backup Plus drive becomes your 'cloud', as long as it is plugged up to your computer and your computer is connected to the Internet.  When I unplugged the Backup Plus and put it up, I got an email from Lyve saying that my Backup Plus wasn't online anymore and that I needed to plug it up.  Well, thanks.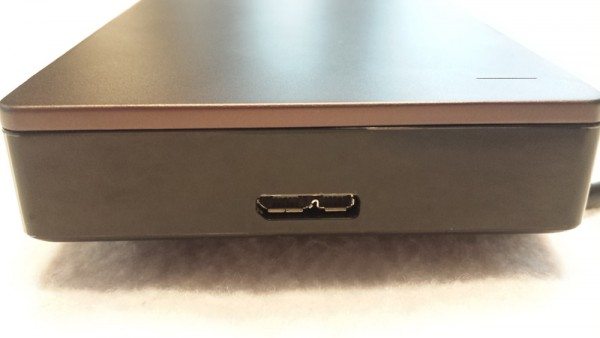 Performance
There is only 1 indicator light on the face of the drive, and it lights up when the drive is plugged up and powered on.  As mentioned, the cable powers the drive when you plug it up to your computer, so no power cord is needed.  And that means there is also no power button.  It just comes on.  It took about 1 hour to backup all the pictures and video from my Galaxy S4 over wifi to the Backup Plus drive.  It was a total of about 10.6 GB of data.
When I initiated the backup of my laptop data, it took 5 hrs and 45 min to transfer 157 GB to the drive.  My laptop is about 6 years old and only has USB 1.0 ports on it, so I wasn't able to take advantage of the speed of USB 3.0  I started the backup before I went to the bed and in the morning it was done.
Bottom line
The Lyve app worked, and it seems like a good idea that works.  I couldn't find a place for Lyve in my life and how I do things, but it works and I am sure some folks will love it.  And the 200GB of space on OneDrive is great, but it only lasts for 2 years and I don't want to have to worry about what to do in 2 years.  So I'll take the space, but I won't rely on it.
I backed up my computer, my cellphone, and my photos and videos from Facebook with the Backup Plus.  Everything is safe and secure.  Now, I do have several backups of my stuff in various cloud services… Box, Dropbox, OneDrive, and Google Drive, so I am not worried about the Backup Plus getting damaged.  But the price of this drive is worth it in my opinion for all the tools that make it easy to backup your mobile phone and your Facebook content.
The Seagate Backup Plus 4TB drive is a great product and I highly recommend it.  If you are going to buy an external drive, get this one.
Source: The sample for this review was provided by Seagate. Please visit their site for more info.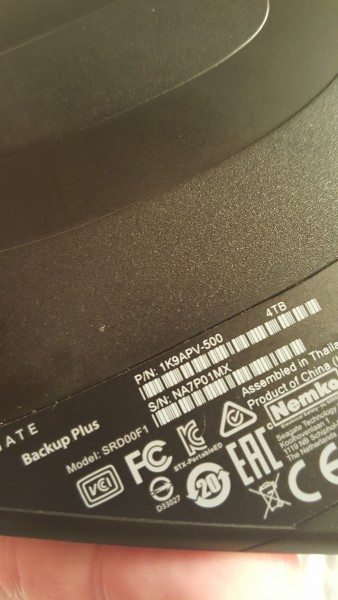 Update 04/05/16
I still use the Seagate Backup Plus at least once per week to back up everything that I have… computer harddrive, Facebook photos, and my cellphone photos and videos. I let it run when I go to bed and everything is backed up while I sleep. Still highly recommend it!
Source: The sample for this review was provided by Seagate. Please visit their site for more info and Amazon to order.