We use affiliate links. If you buy something through the links on this page, we may earn a commission at no cost to you. Learn more.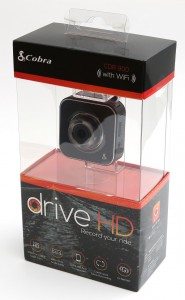 I don't know about where you live, but where I am in Columbus, Indiana, people have horrible driving skills. I constantly see people run red lights and cut in front of you with little to no time to brake. I've often thought that I should consider buying a dash cam to use an insurance policy in case I get in an accident where I'm not at fault and need evidence to prove it. When the Cobra Drive HD Dash Cam with Wi-Fi (CDR 900) was offered to me, I happily agreed to take it for a joy ride – literally.
Note: Images can be clicked to view a larger size.
Technical Specifications
1296P Super HD – Records in 1296P Super HD or 1080P Full HD video.
Ambarella™ A7LA Chipset
Wi-Fi Enabled – Communicates with the Drive HD companion app for iOS or Android devices to view and share videos
2.0" LCD Screen – Includes Micro HDMI output to directly play footage on your HD TV or computer (cable not included)
160° Viewing Angle
Dimensions 2.2 x 2.2 x 1.15 in. (55.88 x 55.88 x 29.21 mm)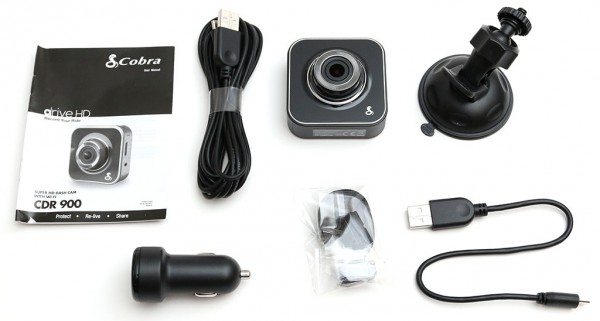 Package Contents
Cobra Drive HD Dash Cam (CDR 900)
Suction cup car mount
12V power adapter
12′ USB power cable
USB sync cable
Lanyard mount
User manual
Hardware design
The camera itself is small and compact, which is what you want in a dash cam since it has to be mounted in your car typically in front of the rearview mirror on your windshield. The face of the camera has the Cobra logo and the lens, while the back side has a 2 inch color display, two buttons that control power and recording, and a speaker.
On one side you'll find a microphone, a microSD card slot with an 8GB card installed and a 2.5mm GPS receiver connector. Cobra plans to offer a GPS receiver at some point that can be connected to this camera to provide realtime GPS location info to go along with captured video.
On the other side of the camera you'll find a micro USB connector and a micro HDMI connector. The USB connection is used to provide power to the camera and to connect it to your computer to view or transfer video. The micro HDMI connector allows you to connect the Cobra Drive HD camera to an HDMI enabled display. You'll need to provide your own micro HDMI cable to use this feature.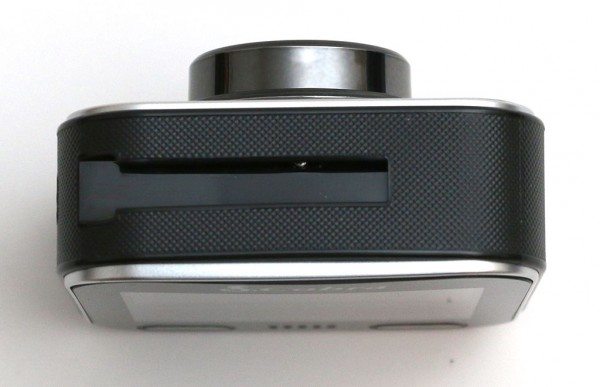 The top edge of the camera has a slot for the included tripod mount.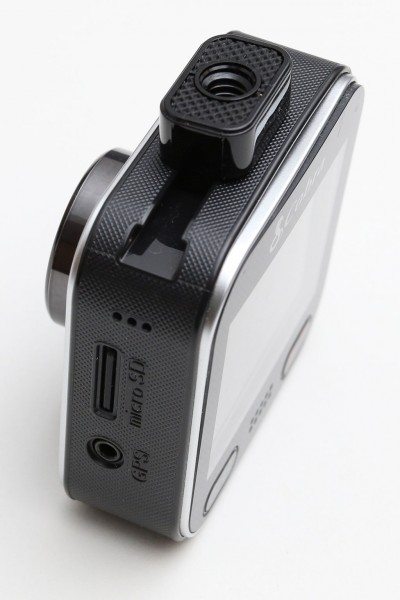 The plastic mount is held in place by friction.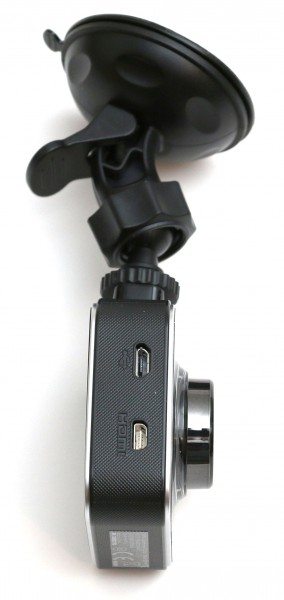 The camera easily attaches to the included suction cup mount.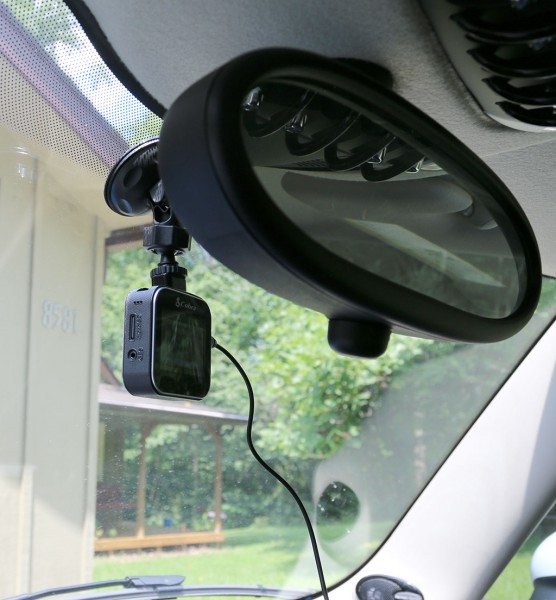 Setup and use
I mounted the Cobra Drive HD dash cam in front of the rearview mirror in my 2013 MINI Cooper. Although the mirror obscured my view of the camera's display, it does provide a distraction free location to mount it. I've had it mounted for several weeks and it has not fallen off the windshield even with the weather switch from very hot to relatively cool.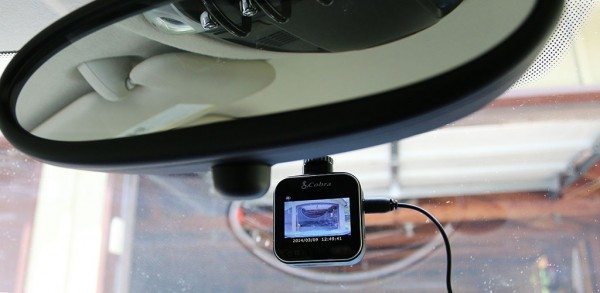 In addition to mounting it on your windshield, you also have to connect it to power using the included USB cable. This is a special cable that only provides power and can't be used to connect to your computer to download the recorded video clips.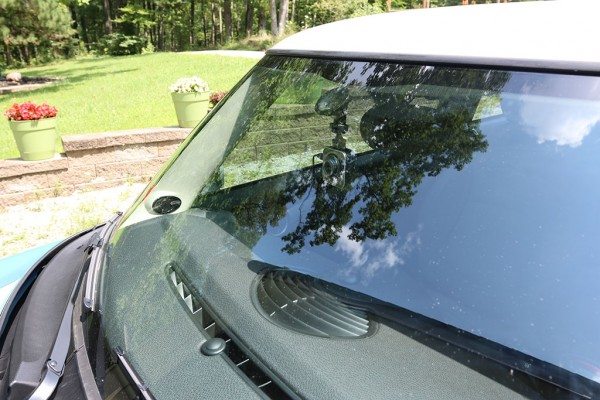 Here's the Cobra Drive HD Dash Cam mounted on my windshield.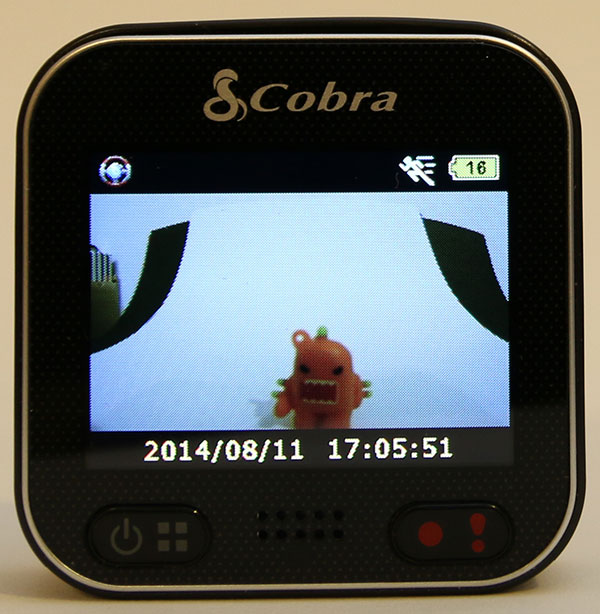 As soon as you start your car's engine, the camera will power on and will make a shutter noise like it's snapping a picture. It then starts recording video automatically. Note that you can use the Drive HD as an action cam too. The difference between using it as a dash cam and an action cam is that in dash cam mode it will record in a continuous loop and will also record emergency videos when it senses that there has been a sudden impact to your car. The built in G-sensor is an accelerometer that can detect impact and will automatically save footage 30 seconds before and after impact in a protected file on the inserted 8GB micro SD card.
The camera's interface is very basic and easy to understand. The top corner shows the camera mode, dash cam or action cam. The other corner shows the available battery life in minutes. The bottom status line shows the date and time.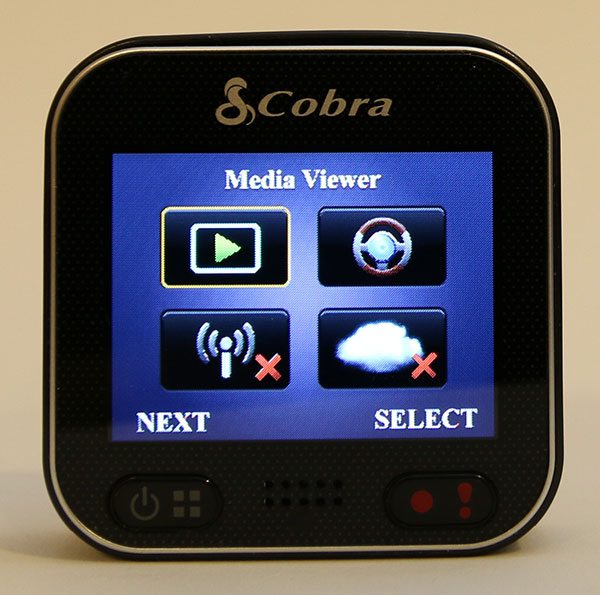 Pressing the power/menu button when the display is on will show the menu. This is where you can play the stored videos, toggle dash cam / action cam mode, toggle WiFi and cloud modes.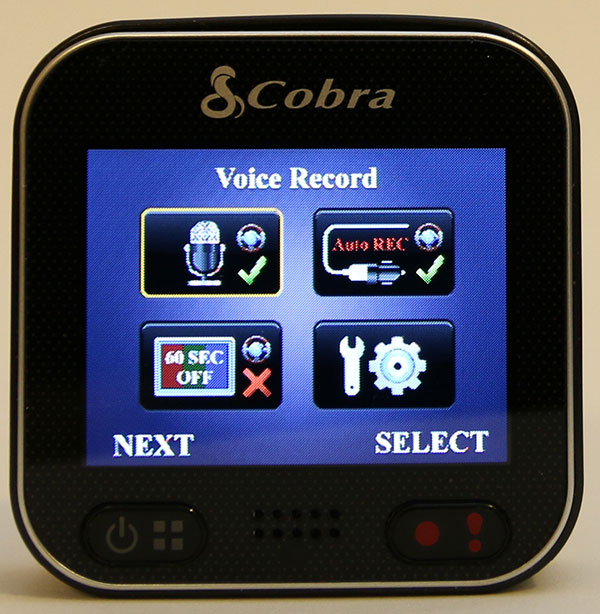 The menus will also let you toggle the microphone, display time out and auto record settings.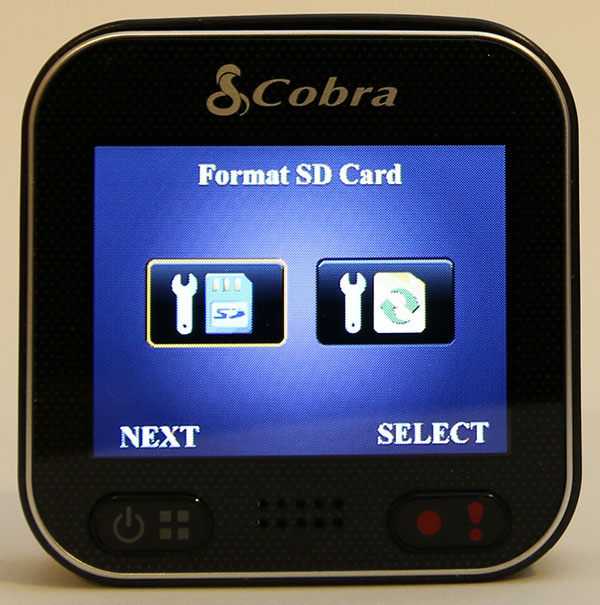 You can reformat the micro SD card too.
After a couple days of letting the camera do its thing, I disconnected and brought it inside to watch the videos. I was a little confused when I noticed that all the videos were only 3 minutes long. I thought there must be a setting that I had forgot to change as I assumed that the video would be as long as the drive or until I turned of the car's engine. So I asked The Gadgeteer's resident dash cam expert Andy Chen if it was normal for a dash cam to only record 3 minute segments of video. Andy has posted several dash cam reviews over the years (check the related reviews list below), so I knew he'd know the answer… and he did:
Yes!  This is very normal.  Actually, it's the norm.  It's actually a GOOD thing.  These cams have to operate under some really odd circumstances, where it starts and stops recording when power is turned on/off.  That's pretty rough.  It if messes up writing the video file you've got corrupted video that probably can't even be opened up.

So instead of one giant hour-long video that gets totally trashed, the worst case, you lose a single 3-min segment.

In practice, this is a good thing, too.  Let's say you want to share a video incident.  Just choose that small 3-min segment.  No need to open a giant hour-long video clip and search, search, search… then EDIT.

Believe it or not, the class-leading GoPro has a real problem with being a dash cam.  The GoPro can be set to record in segments of your choosing, and even "loop record" (rewrite oldest) but (1) it doesn't work, and (2) the GoPro can't be set to record start-stop on power on/off.

If they could ever fix this, I'd toss every dash cam I have into a box and straight to the trash.
So there you have it… Let's take a look at a compilation of video snips that I put together that shows the Cobra Drive HD dash cam in action during the day, early morning and in the rain.
Did you notice anything odd about the footage? Right away I noticed that yellows, reds and oranges are not as they appear in real life. Yellows are too bright and seem to be more orange than actually seen with your eyes. I also noticed that the picture isn't super sharp. I do like the wide viewing angle but image quality is a little disappointing.
Captured video can be viewed directly on the device if you don't mind watching it on a 2 inch display, through a connected HDMI display and through your computer. Another way to view the video is by using the Drive HD app.
I tested this app with my LG G3 and wasn't impressed at all. First of all you have to use the dash cam's WiFi access point to connect to the camera. Connecting was very slow even when the two devices were in the same room within inches of each other.
Once connected, you can view a live stream, record and change settings. The app will also allow you to setup the cloud feature. Unfortunately I never got the cloud feature to work. The idea is that when the camera is within range of a hotspot that you configure, the camera can be viewed with the Drive HD app from anywhere in the world. I tried to set this up several times but it would time out each time I tried. This wouldn't be a feature I'd probably ever use though since I'm not in range of WiFi when my car is in the garage or the parking lot at work.
Final Thoughts
I like the size and design of the Drive HD, but found the color saturation of some colors (yellow, orange, red) to be way out of wack. I think the picture could be a bit sharper too and the smartphone app is a real flop. But even with those issues, I like this camera and plan to continue using it or other dash cams from now on. I think a dash cam in your car is a very useful tool for recording footage of your trips, accidents and more.
Updates 04/02/15
I like this dashcam for its small size and extra feature (WiFi), but the color saturation issue made me put it back in the box a month or so after I finished the review. I continue to try other dashcams with the hopes of finding the right one for me. But so far the quest continues.
Source: The sample for this review was provided by Cobra. Please visit their site for more info.
Product Information
Price:
$249.95
Manufacturer:
Cobra
Pros:

Easy to setup and use
Auto records
WiFi feature lets you stream video to your smartphone
Records 30 secs before and after detected impact

Cons:

Problems with the yellows and reds