We use affiliate links. If you buy something through the links on this page, we may earn a commission at no cost to you. Learn more.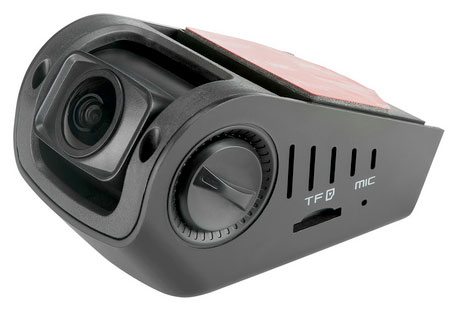 It's a cloudless night with a full moon and you're driving along a deserted road in the middle of nowhere with thick forest on both sides of the road. With the windows rolled down you can hear your tires crunching over the gravel as you drive slowly. The sound almost puts you into a trance but you are suddenly alerted when a huge hairy thing runs across the road in front of your car! Before your brain can understand what you have just witnessed, the thing has disappeared into the woods. What was it? A bear? A hunter in a ghillie suit? Bigfoot?! If only you had a dashcam installed in your car, you would be able to review the video footage! The A118-C Novatek 1080p HD dashcam is an inexpensive camera that attaches to your windshield and automatically records your travels and cryptozoological creatures as you drive. Let's put it to the test – minus the creatures.
Note: Images can be clicked to view a larger size.
Hardware specs
Angle of View: 170°
Screen Size: HD 1.5 inch Screen
Built in image sensor: 3MP
Video Resolution: 30FPS@HD1080P and 60FPS@HD720P
Video Compression Format: H.264 compression mode, and MOV format
Size of Recording File: 90MB/MIN@1080P
Storage Mode: microSD card – Max 64GB
Built in anti-shake feature
Built in G-Sensor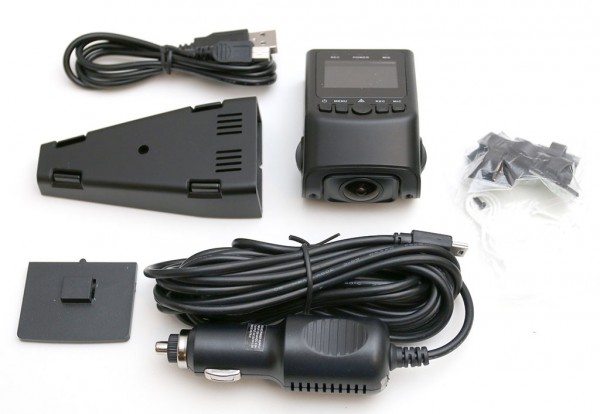 Package contents
A118 Novatek Dash Camera
Cigarette Power Adapter with 13ft Cable
3M Adhesives
Cable Cover
Cable Clips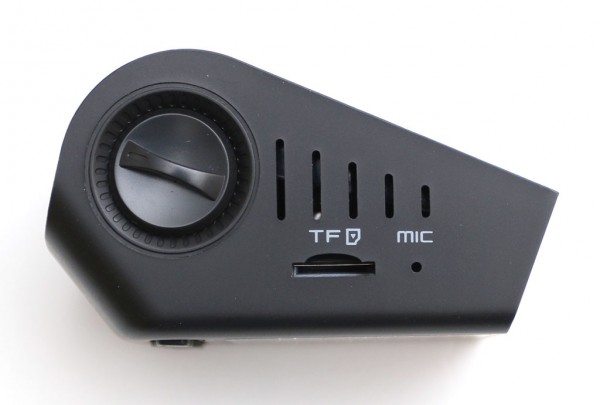 The A118-C Novatek 1080p HD dashcam differs from other cameras I've reviewed by its wedge shape and windshield attachment method. The camera is made of black plastic and has a micro SD card slot and microphone on one side.
The specs say you can use a 64GB card, but from what I've read elsewhere, it only accepts a 32GB card unless you're able to format a 64GB card through the device. The camera uses 90MB per minute, so a 32GB memory card can record approximately 5 hours of video.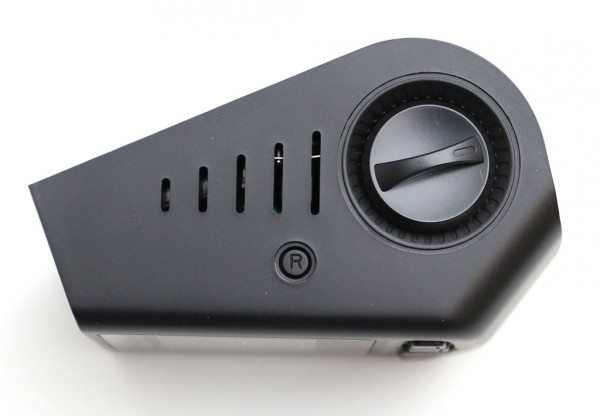 On the opposite side of the camera you will find a small reset button. You'll also notice a knob on both sides of the camera. This knob allows you to adjust the angle of the dashcam camera lens.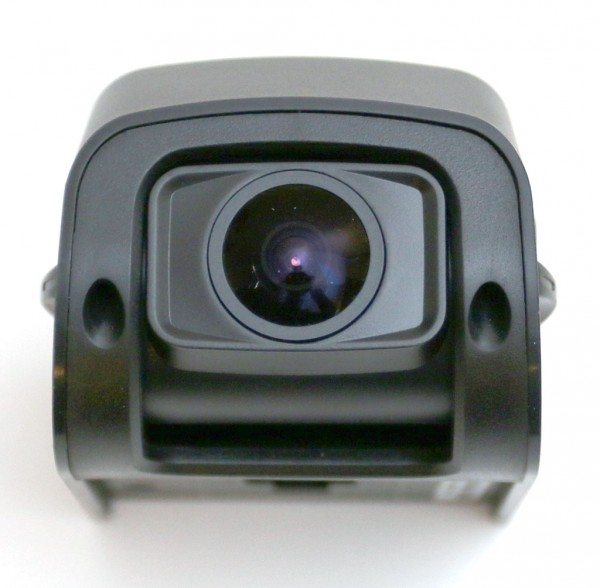 The camera features a lens that captures a 170 degree image. That is pretty wide, so we'll have to check video footage to see if there are any fish-eye effects due to the wide angle.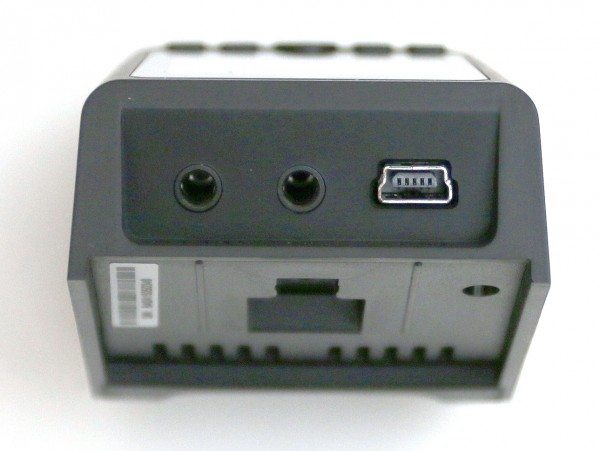 The top edge of the dashcam has three ports. There's an A/V out, GPS input, and a micro USB power port.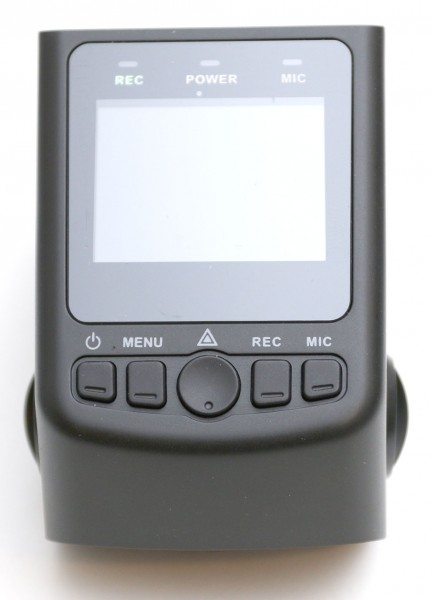 There is a 1.5 inch color display that is used to view live and recorded footage, and configure the camera's settings. Below the display is a row of buttons that are used to navigate the menus. Navigation is pretty self explanatory, but note that pressing the center button while the camera is recording will save the video files in a special folder on the microSD card.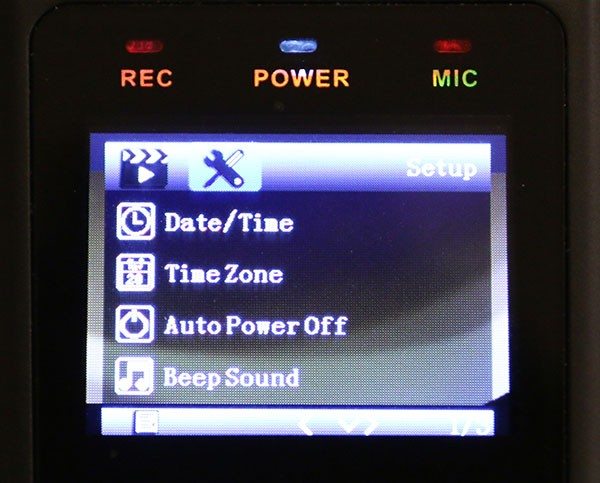 Some of the settings that can be customized include: date/time, time zone, auto power off time…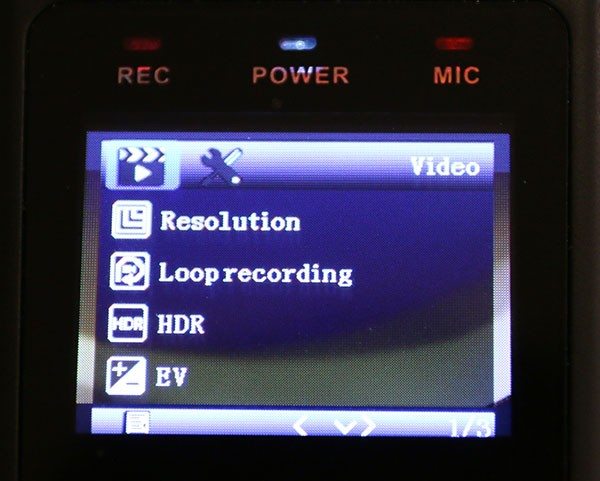 The resolution can be changed from : 1080FHD 1920×1080, 720P60 1280×720, 720P 1280×720, WVGA 848×480 and VGA 640×480. There are also settings for video recording length. This can be set to 1, 3 or 5 minute clips. Three minutes is the default setting. Other settings include HDR, EV and more.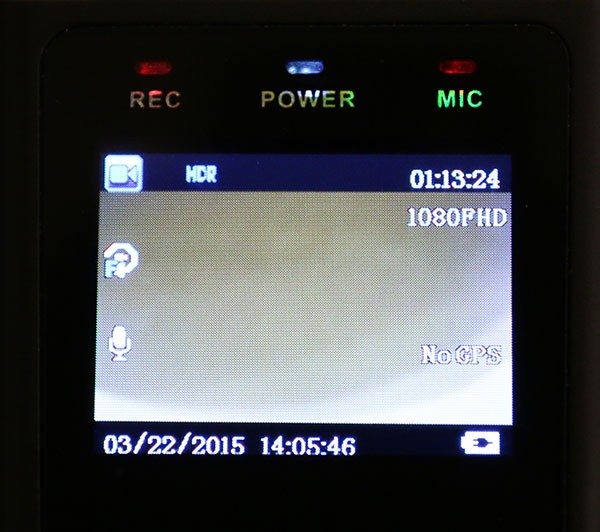 The camera automatically records video as soon as you start your vehicle. The display will then show the date, time, resolution mode, audio mode and GPS availability. Note that you will need to purchase the optional GPS module if you want speed info added to the video clips.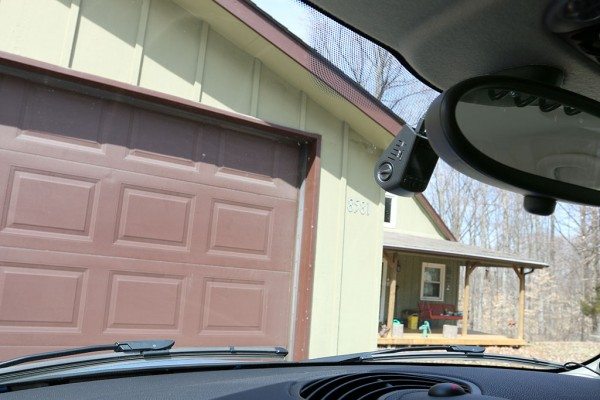 Installing the camera in your vehicle is pretty easy. Instead of using a suction cup style mount, the A118-C Novatek 1080p HD dashcam uses a plastic clip that sticks to your windshield using 3M adhesive. The power cable routes upward so that it can easily tuck under your headliner. Depending on where you mount it, you can use the cable cover to hide the cable.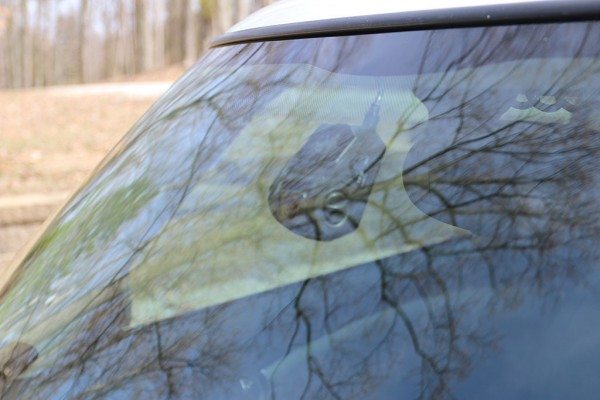 I didn't use the cover, but the result is a nicer looking install than all the cameras I've reviewed in the past. It almost looks like it's a stock feature of my MINI Cooper. An advantage of using the 3M adhesive is that it should stay in place better than a suction cup.
Once everything is attached and connected, you can insert a micro SD memory card in the slot, start your car and it will automatically begin recording video and audio. The camera will record for a set length of time and will then create a new video file and so on until the card is filled. When there is no longer any space left on the micro SD card, the oldest video will be deleted to make room for the next new file.
This camera is equipped with a G-Sensor that has been designed to detect sudden acceleration shifts. If there is a sudden acceleration shift as a result of sudden braking or an accident, the A118-C will detect it and will save the video segment and lock it from being written over.
I wasn't willing to test the G-Sensor feature by getting in a wreck or slamming on my brakes, but I did use the dashcam for several weeks. Here is a short video showing night and day time video.
See it in action
This camera does a respectable job. That said, there are some issues. With night time video, lighted signs and license plates are hard to read because the elements are too over exposed when the EV setting is set to the default value of 0.0. I later set it to -1.0 and the results were better. Video shot on a sunny days has issues too. You will notice the circular rainbow effects when driving into the sun. I don't think I've ever noticed this graphical artifact with other cameras I've tested.
When it's all said and done, I think The $80 A118-C Novatek 1080p HD dashcam is a good value for the money. It installs cleanly in your vehicle and does a decent job recording your adventures, even if your adventures don't include bigfoot.
Updates 07/02/15
Although this dashcam doesn't have the best image or night vision, I continue to use it because I like the way it mounts to my windshield. It's less obtrusive than other dashcams that I've reviewed. It's also one of those set it up and forget it type of gadgets that run in the background and are only needed when they are needed. I'm looking forward to trying newer cameras with more bells and whistles, but until that happens, this one is getting the job done.
Source: The sample for this review was provided by SPYTEC. Please visit their site for more info.

Product Information
Price:
$79.95
Manufacturer:
SPYTEC
Pros:

Clean install
Easy to use
Built in G-Sensor

Cons:

Requires some EV adjustments for best image